Asides chatting over the phone or playing fun games over text, you can go one step further by sending your long distance person a care package.
Care packages are a great way to show how special and important someone is to you.
Whether it is a significant other in college, a boyfriend in the army, a sibling, a best friend that moved away, a sick friend or neighbor or an even for a homeless person, care packages are a great way to show you care.
However, when it comes to sending care packages, the biggest problem you would face is deciding on the items to include in the box.
In this post, I will be sharing some great care package ideas, hopefully, these care package ideas will help you fill your care boxes quicker.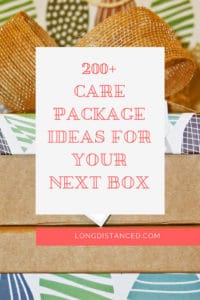 Beauty Care Package Ideas
Sending a care package to a beauty lover? Someone who loves to look and smell clean? So if you are thinking of beauty items to put in a care package, here are some popular choices as well as the essentials to include in your box:
Hand Sanitizer Lotion
Cleansing Facial Wipe
Coconut Oil
Tweezers and Razors
Sunscreen
Manicure and Pedicure Kit
Hairspray
Face Masks
Foot Lotions
Cotton balls
Deodorant
Shower Gel
Shaving Cream
Lip Balm
Colored contact lenses
Bath Oils
Face moisturizer
Face Wash
Shampoo and Conditioner
Hand Cream
Cleansing oil for dry skin
Vaseline
Acne Cream
Curling tongs
Hair mask for dry hair
Hair thickening products
Gel nail kits
Teeth whitening kits
Fragrances and Colognes
Nail File
School Care Package Ideas
Got a young adult away at college? A sibling, maybe even a friend? Students in college could always use a care package, especially one packed with all the right items. Here are a couple of care package ideas for someone in college or any other school:
A pack of highlighters
Socks
Energy Bars
Flip-flops
Vitamins
Envelopes and stamps
Notebooks
Instant Coffee
Cough Syrup
Room Freshener
Over-the-counter painkiller like Ibuprofen
Sleep Mask
Noise canceling headphones
Sticky Notes
Laundry Detergent
Fabric Softener
Colorful straws and napkins
Table clock
Binder
Glue sticks
Colored markers
Safety pins
Safety scissors
Pencil box
Calculator
Work Care Package Ideas
Sending someone a work-themed care package does not require any special occasion. However, most work-related care packages are sent to someone who is starting their first job, a new job, or someone who got promoted or transferred to another city. Here are some of the most thoughtful items to include in an office care package:
Mini wall organizer
Notepads
Coffee Mug
Cufflinks
Internet modem
Stain Removal Pens
Floss
Gum
Hand Lotion
Journals
Pocket Mirror
Set of colored pens
Creamer for coffee
Breath Spray
Business card holder
Wooden desk organizer
Stamp and Ink Pad
Photo frame
Desk timer
Magnets for boards
Office pins
Mist Humidifier
Mini pocket notebooks
Fortune cookies
Keychain
Entertainment Care Package Ideas
A care package cannot be said to be complete if it doesn't include items that can help the recipient kill boredom. The following are some fun items you can include in a care package:
Crosswords
Puzzles
Solitaire cards
Favorite movie poster
Gift certificate
Gaming Headset
Book club subscription
Movie tickets
Game console
Headphones
iTunes Gift Card
Face Paint
Party Noisemaker for special events
Magazines
Concert Tickets
Music box set
Cookbook
Netflix Gift Cards
Music Player; iPod
Novels
Food Care Package Ideas
Got a foodie in your life? One with an overly sweet tooth? Here are some wonderful treats to include in his/her care package:
Hot cocoa
Teabags
A jar of skittles
A box of chocolates
Dried Herbs
Beef Jerky
Instant Oatmeal
Granola Bars
Pop Tarts
Canned Fruits
Iced Tea
Crackers
Peanut Butter
Dried Fruits
Potato Chips
Canned Pasta
Mints
Bag of mini marshmallows
Cookies
Tuna Fish
Canned Chicken
Sausage
Ketchup
Mustard
Honey
Nutella
Vegetable Chips
Bottled fruit juice
Yogurt
Instant soup
Outdoor Care Package Ideas
Got a hiking buddy? A workout or sports fanatic? Or just someone adventurous in your life who enjoys being surrounded by nature more than anything else? Here are some great outdoor gifts or items to include in a care package:
Mini baggies with ziplock
Compass
Band-Aids
Mini Globe
Foam fingers
Flashlight
Cyclist's GPS
Duct Tape
Passport Holder
Phone Lamp
Glow-In-The-Dark Playing Cards
Water filtration straw
Hand warmers
Snowboarding socks
Night-vision trail camera
Pocket-size travel blanket
Plastic outdoor wine glasses
Bendable LED light rope
Map Napkins
Fly Swatters
Disposable camera
Bug spray
Foot powder
Face cap
Anti-bug balm
Tech Care Package Ideas
Know a geek who deserved to be spoilt? One absolutely obsessed with the technology of the 21st century? Here are some gadget ideas for the next care package you send out to them:
Power Bank
Batteries
USB organizers
Smartphone stand
Alarm clock
Home security camera
Power strip
Adaptor
Mini Bluetooth speakers
Portable charger
Selfie stick
Phone dock
USB microphone
GPS watches for runners
Camera lens
Car charger
Portable wireless stereo
Tablet
Mini VR viewer
Smartwatch
Handheld media player
USB drive
Tech gloves
Portable WiFi hot-spot
Streaming stick
Fitness Tracker
E-reader
Electric Toothbrush
Wireless Folding Keyboard
DIY Care Package Ideas
Want to make something sentimental and sweet? A personalized gift, or just something they would always remember you with? Here are a couple of the best ideas that would easily fit into your care package box:
A DIY greeting card
Pictures of recent events
Handmade letters and drawings
DIY Headbands
DIY charm bracelets
DIY sugar lip scrub
DIY Strawberry lip balm
DIY Colorful mini bowls
DIY Yarn ball bookmarks
Hair ribbons
DIY pencil pouch
DIY cosmetic bag
PomPom keychain
Bead Headband
DIY necklace
DIY birthday banner
Homemade brownies
DIY Vintage Teacup Candle
A sign with a favorite quote
DIY jewelry box
Read More:
And that's it, 200+ of best Care Package Ideas to include in your next package. Now, go ahead and build your own care package.
Now, we'd love to know – have you ever sent anyone a care package, what did you include in them and how was the person's reaction when they got your care package?