A great time of the year to express the most sincere emotions to the special people in your life is Valentine's Day. It's the perfect day to send out romantic and sentimental items and putting together a care package is often the first thought that comes to mind.
Sometimes, it's hard to think of the perfect gift items to give but when you consider important factors like preferences, interests, needs and wants, it gets easier to select specific items that the receiver would actually appreciate.
Here, I'd be helping with 200+ Valentine's Day Care Package items to consider including in your next Care box this Valentine season.
How to Make a Care Package for Valentine's Day
Start by deciding on your budget. This would include purchases made for every item selected for your care box/care bag, packaging your items and having them shipped if they're being sent overseas.
Care Packages on Valentine's Day should be more about expressing feelings and so selecting only the most important items is all that is necessary to make it a memorable day.
If you're sending your care package to a Valentine that's far away from you, a post office or a shipping company could be used to get it across.
Important information such as shipping details, shipping regulations, and the shipping date would be communicated to you, and you would be expected to submit a valid and accurate shipping address as well as your address.
A list of all the items in your care box would also be requested of you and a customs form would be filled.
If you're lucky to have that special person close by, you could either choose to deliver it to them yourself or have a delivery service take it to them for you.
Remember that your care package could be a tote bag or a regular box. This is dependent on what items you plan on sending and how your package would be delivered.
When sending fragile items such as glass bottles, jars, frames and any other breakable item, remember to wrap them in newspapers and place them properly in your care box.
Keep away your edibles from items with strong scents that could give these treats an unpleasant smell.
If you'd like, you can also choose to decorate your Care Package Box (which can be bought online or at post offices) with beautiful ribbons, colorful tissues, and markers.
Valentine's Day Care Package Ideas for Boyfriend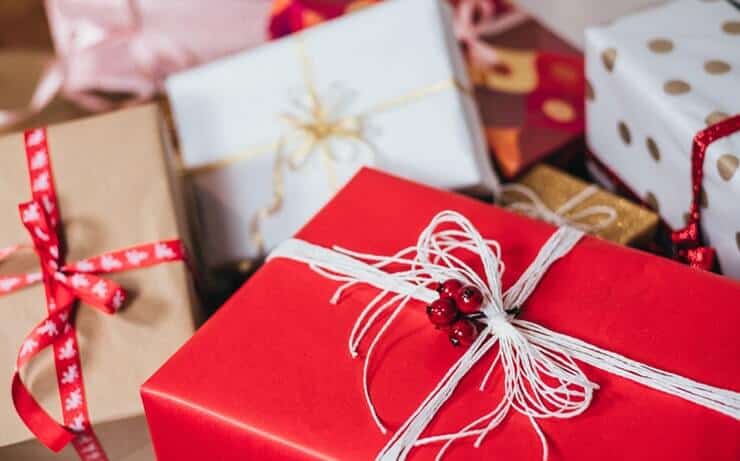 Thinking of the perfect items to include in a care package for your favorite man? If you're short of ideas or need gift ideas that are creative and really sweet, here are some of the most popular items for your boyfriend on Valentine's Day:
Caramel filled cupcakes
Fitted briefs
Crossword puzzles with secret message
World's Best Boyfriend certificate
World's Best Boyfriend Trophy
Heart In Hand figurine
Collar stays with secret message
Red "Adorkable" Tshirt
I Love you coffee mug
Wallet Photo
Cute red bow tie
Heart pocket square
Burberry Brit Perfume for Him
Heart shaped hanging slate
Engraved Stainless Steel Flask
Hidden Message Tie
Portable Shaving set
Superman T-shirt
Cashmere scarf with your perfume on it
Letter Book for Couples
Electronic gaming device
Chocolate Covered Cherries
Bright red sports cap
Bottle of champagne
Monogram Leather wallet
Customized cufflinks
Masculine scented candles
Chocolate covered raspberries
Pocket watch with a sweet message
Portable Engraved Slate
Personalized His and Hers Calendar
Valentine's Day Rubik's Cube
Message In A Bottle set
Personalized memory jar
Pick-A-Stick Sexy Truth or Dare
Personalized leather wristband
A cotton T-shirt with your Lipstick imprint
Engraved Two Heart Pendants
Valentine's Day Care Package Ideas for Girlfriend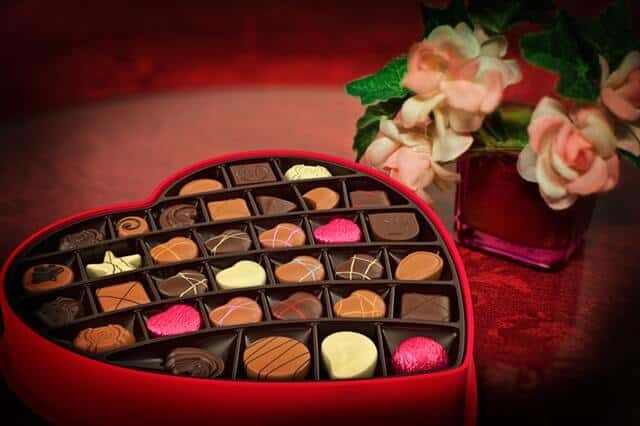 Wondering what that special lady in your life would love to get on a day as romantic as Valentine's Day? Here are some ideas to pick to include in your care package and spoil the girl of your dreams with:
Heart shape bracelet
Sugar candies
Strawberry face packs
Chocolate edible body icing
Photo blanket
Scrapbook of favorite memories
Heart headphone cord wrap
Strawberry Oreo cookies
Love bobby pins
Valentine Chocolate Dipped Oreos
To The Moon And Back Bracelet
Strawberry scented lip balm
Heart shaped salt lamp
Flavored body shimmer
Strawberry body paint
Happily Ever After Wall Poster
Glass love birds figurine
Mini flower touch lamp
Love Spell Massage Bars
Customized jewelry box
Key necklace
Bright red bathroom robe
Portable sculpted Jewelry Tree
Unscented floating candles
Gucci Flora Gardenia Giftset
Bath salts
Bright red lipstick
Cute stuffed animals
Strawberry scented bath bombs
Heart shaped jigsaw
Romance movie CDs
I Dare You: 30 Sealed Seduction cards
Rose Scented candles
Glossy beauty highlighter
Heart shaped earrings
Bottle of wine
Papercut Hearts
Heart shaped candy
Lace lingerie
Phone case with hearts
Heart-shaped phone ring stand
Heart-shaped Milk chocolate
Spa Gift Certificate
Scented massage oil
Pink marshmallows
Spicy Dice couples game
Glitter nail polish
Hershey Chocolate Kisses
Valentine's Day Care Package Ideas for Crush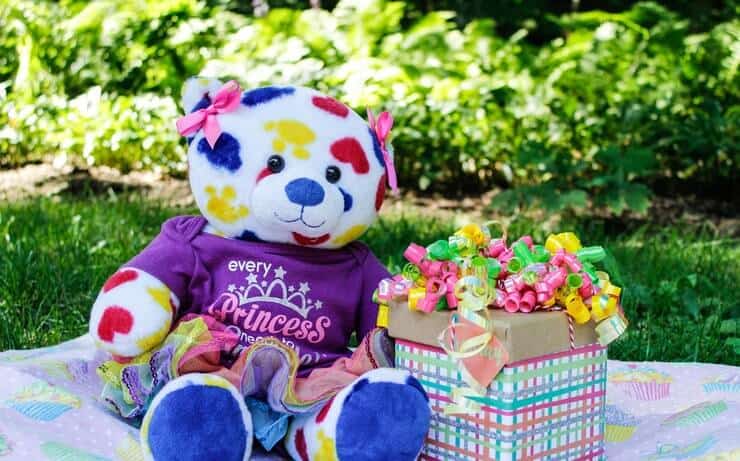 Can't think of a better time to express your feelings to the one you've got a thing for than on Valentine's Day? Here are some sweet and sentimental gift items to send in a care package and reveal your true feelings with to that special someone:
Lyrical love notes
Gummy bears
Heartstring Art
Mini Valentine's Day Canvas
Valentine Themed Glowstick
Valentine bubble gum
Valentine Tic Tacs
Chocolate Strawberry pops
Heart shaped ceramic plate
Chocolate covered roses
Book of Love Quotes
Strawberry Pie
Glow In The Dark roses
Heart shaped lotion bars
Personalized Tin with Biscuits
Unicorn Valentine's Day Card
Mini wishing ball
Mini Wood You Be Mine Notepad
Scented bubble bath
Prescription For Love Valentine Candy
Missing piece puzzle necklace
Single Velvet Rose
Red knitted socks
Colorful beach blanket
Strawberry covered donuts
Portable Cupid Figurine
Heart rock print
Hugs and Kisses Frame
Love Tokens
Heart Plush Toy
Engraved Pebbles
Pack of pink bleeding hearts
In My Heart pillowcase
Secret Message Cuff Bracelet
Heart-shaped laptop stickers
Heart-shaped padlock with keys
Made With Love Plastic Minibags
Scented shower gel
Valentine Themed Tic Tac Toe
Custom Conversation Heart candy
Personalized chocolate bar
Heart-shaped Brownies
Heart-shaped Putty
Bright red love seeds
Soft Bedroom slippers with hearts
A "10 Things I Love you About You" poster
Colorful socks
Romantic Fortune cookies
Heart candles
Valentine's Day Strawberry muffins
Valentine's Day Felt Heart Envelope
Valentine-themed watch
Valentine's Day Care Package Ideas for College Students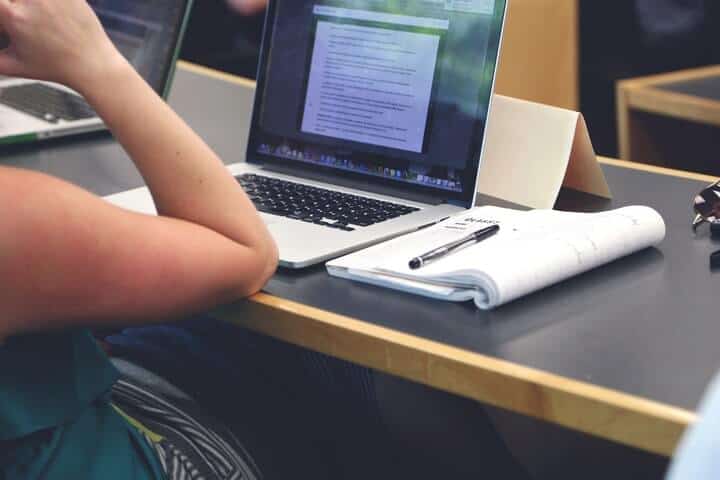 Got a "kid" in college that you'd love to remind how much you still love and care for them? Maybe a housemate or a friend you'd like to surprise on Valentine's Day? Here are some great ideas perfect for students:
Strawberry cookies
Colorful Desk Lamp
Colorful gift tags
Heart Envelopes
Heart-shaped Pasta
Engraved Postcard
Photo Collage Cereal Bowl
Valentine's Day Live Bingo
Follow Your Heart Pocket compass
The LoveBook Activity Book
Valentine's Day Recipes Book
Glitter Heart magnets
Heart-shaped Heat Changing Mug
Phone cards to call home
Monogrammed colorful spoons
Voucher book
Valentine's Day mug
Colorful Pop Sockets
I love you Candy Jar
Heart-shaped sleep mask
Valentine's Day Themed Magazines
Gourmet coffee
Romance movie ticket
Recipe For Love Framed Print
Shopping Gift certificates
Heart-shaped keychain
Heart-shaped stress ball
Video Tape of recent events at home
Open When Letters
Travel map with your initials
Peanut Butter Cup Hearts
Pop tarts
Colorful pillowcase
Colorful paper clips
Colorful apron with hearts
Emoji stress balls
Photo coasters
Personalized Notepad
I Miss You card
Jar of sand from home
Fancy pens
Heart shaped glow sticks
Scented glue sticks
Heart-shaped bath sponge
iTunes Gift Card
Heart shaped pocket umbrella
Heart-shaped mug
We Miss You mugs
Heart-shaped journals
USB mixtape of favorite songs
Heart folded book
Heart stamps
Gel stickers
Portable Valentine's Day bottles
Valentine Themed scrabble
Warm red sweatshirt
Colorful pocket Tripod
Portable heart door hangers
Heart-shaped place cards
Silver heart-shaped bookmark
Mini Valentine's Day Countdown Calendar
Glowing Heart stickers
Valentine Themed Wax Seal
Colorful Travel mug
Heart Brooch
Flowery hair bows
And there you have it – 200+ Valentine's Day Care Package Ideas to share the love with all of the most important people in your life. What's your favorite Valentine's Day Care Package item to receive? We'd love to hear it through the comments section!