Going camping is always a fun activity, whether it's a family trip or at a summer camp with friends. It also makes an excellent time to put together a care package with all the most important items to make Camping as exciting and comfortable as possible.
It's easy to get stuck when one has to decide on the right items to take to camp and what items to avoid, but considering the receiver's likes, needs, and preferences, as well as keeping in mind that Camping can quickly become stressful when you go unprepared usually helps.
If you're looking for some inspiring Ideas to include in a care package for someone who's about to go camping, here is our list of 200+ Camping Care Package Ideas to start with!
How to Make a Camping Care Package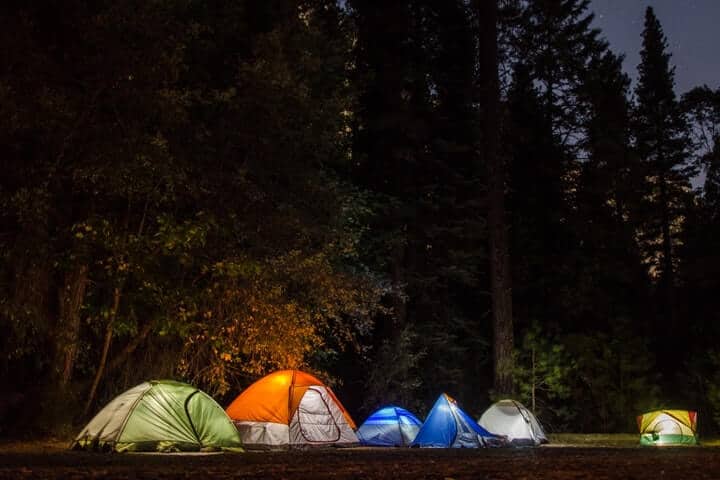 Keep in mind that at most camps, electronic devices are usually frowned upon as Camping is usually a time to connect with your physical environment and those in it.
Handheld gaming devices should be exempted from your list, and including items that can be shared with others is always a great idea.
Remember to have your package sent out on time if it is to be shipped overseas so that it gets to its destination promptly.
Drawing up a budget to clearly define how much you would be spending on purchasing each item, packaging and shipping it to the receiver helps too.
Camping Supplies can be picked up from online websites or your local hardware store, grocery store and supermarket.
Care boxes can also be purchased at online shipping companies and your local post office if you'd rather not use an old box. You can then decorate your box with colorful tissues, ribbons or markers.
If your Care Package is for someone who resides close to you, you can deliver it yourself or make use of a local delivery service.
If you're shipping overseas, you would be expected to fill a customs form and submit specific details such as the receiver's address, your personal address as well as a list of all the content in your care package.
If you're sending fragile items (mugs, glass bottles), wrap them properly in newspapers and stuff your box to prevent items from shifting around before dropping it off.
Essential Camping Care Package Ideas
Trying to decide on the most important items to include in your Camping Care Package? Here are some essential camping items list:
Power bank

Bestseller No. 1

Portable Charger Power Bank 25800mAh Huge Capacity External Battery Pack Dual Output Port with LED Status Indicator Power Bank for iPhone, Samsung Galaxy, Android Phone,Tablet & etc(Black)

【Power bank high capacity】The 25800mAh power bank could charge your phone at least 5-7 times, Suitable for business, travel, going out, you don't have to worry about your phone low battery. [Note:High capacity so the products weight 350g]
【Portable charger with 2-port 3.1A output】 The portable charger with 2 USB ports in combination with a 5V / 2.1A and 5V / 1A output will provide your device with fast enough power.Dual USB Outport Charging let you quick charge your phone and still have some juice to share with other devices.
【External battery with protection system】 We use a high quality A + polymer lithium battery to extend the life of our products. Built-in security devices protect your devices from excessive power, overheating and overcharging.
【Highly compatible】 Suitable for all phones, tablets. (Note: The package comes with a micro USB cable used to charge the power bank and some Android phones. If your phone requires a Lighting cable and a Type C cable, please use your phone cable.)
What You Get: Lanluk Power bank 25800mAh portable charger, Micro USB cable, User Manual, our worry-free 18-month friendly customer service.

Flashlight

Sale

Bestseller No. 1

GearLight LED Tactical Flashlight S1000 [2 PACK] - High Lumen, Zoomable, 5 Modes, Water Resistant, Handheld Light - Best Camping, Outdoor, Emergency, Everyday Flashlights

ULTRA BRIGHT & LONG-LASTING - Easily light up an entire room or focus in on objects up to 1000 feet away! 10 times brighter than old incandescent lights. Conveniently powered for hours with 3 AAA batteries or a single rechargeable battery. (Batteries not included)
COMPACT, ADJUSTABLE FOCUS, & FIVE MODES - 5 Useful Settings (High|Medium|Low|Strobe|SOS) and wide-to-narrow beam zoom makes it ideal for use around the house, dog walking, or camping. It is compact enough to fit in your pocket, backpack, or purse allowing for easy storage and quick access.
WATER RESISTANT & VIRTUALLY INDESTRUCTIBLE - Built for rough handling, this flashlight can survive a 10-foot drop or being temporary submerged under water. You can even freeze or run it over with a truck and it will still work! Suitable for use in rain, snow, or emergency situations.
AS SEEN ON TV + BONUS - Same "military" tactical flashlight as seen on TV, shopping networks, and commercials but at a fraction of the price! Includes a bonus pouch/holster to safely store your flashlight.
EXCEPTIONAL VALUE, 2 FLASHLIGHTS & 2 BONUS CASES - Keep one in your car, one in your home, or gift one to a friend or family member. Every genuine GearLight comes with a one-year no questions asked replacement warranty and friendly customer service provided by GearLight, a U.S.-based company.

Camping Safety manual

Sale

Bestseller No. 1

Safety pins

Bestseller No. 1

Officepal Premium Quality 4-Size Pack of Safety Pins- Top 250-Count – Durable, Rust-Resistant Nickel Plated Steel Set- Best Sewing Accessories Kit for Baby Clothing, Crafts, Arts (4-Size in 1 No.002)

A MULTIPURPOSE PACK: Make your creative work easier in the premium convenience of this excellent craft safety pins set by Officepal! Get inspired and create your own jewels and crafts, prepare your personalized clothing items, or even organize your socks and secure your little angel's diapers with a timeless safety pins set!
4 SIZES FOR ALL YOUR NEEDS: Our upgraded box now contains 4 DIFFERENTLY SIZED safety pins to meet all your daily needs: 0.75"(19mm) 50-count, 0.87"(22mm) 50-count, 1.06"(27mm) 100-count and 1.46"(37mm) 50-count. An all-inclusive pack of 250 large safety pins, which stands out on the market among competitive products for the widest variety ever!
DURABLE FOR LIFELONG USE: Forget all about flimsy craft safety pins that get easily bent or rust after a while! Officepal high-standard larger or smaller safety pins are made of rust resistant nickel plated steel that withstands wear and washing, to guarantee lifelong use for all your family needs.
AN EXCELLENT SAFETY SET: Get creative or just make easier the daily household tasks in premium safety, with our user-friendly sewing accessory kit! Made with your convenience in mind, our heavy-duty safety pins feature a safety clasp which keeps the pins locked and cover the sharp end to protect your fingers from accidents.
NO HASSLE 100% MONEY-BACK GUARANTEE: At Officepal we take pride in the quality and craftsmanship of our strong safety pins and we are sure you will love their convenience! In case you are not absolutely satisfied with them, we have you covered with full refund policy.

Binoculars

Bestseller No. 1

12x42 Powerful Binoculars with Clear Weak Light Vision - Lightweight (1.1 lbs.) Binoculars for Birds Watching Hunting Sports - Large Eyepiece Binoculars for Adults with BAK4 FMC Lens

【Powerful 12x42 Binoculars, but Lightweight Enough】 Weight only 1.1 pounds (0.6 Pounds lighter than 10x50 full size binoculars). Equipped with 12x powerful magnification, 42mm large objective lens and 367ft/1000yds large field of view. Capable of delivering a clear face from more than 650 feet away.
【18mm Large Eyepiece Binoculars, Larger Image, Clearer Details】2.25 times the image size of 12mm eyepiece binoculars (e.g. 10x25, 12x25, 10x21 compact binoculars). Large eyepiece makes full use of 12x magnification, deliver larger image, ensure clearer details
【HD Vison with Quality Optics】 Large 16.5mm BAK4 Prism and Fully Multi-coated lens guarantee the key elements of an HD vision, brighter view and crisp images. Perfect for birds watching, hunting, Concerts and Sports.
【Clear Weak Light Vision】 Adorrgon Binoculars can deliver clear vision in weak light condition, but not in not completely darkness. Perfect for Hunting or Concerts at night. Comes with Carrying Case*1, Eyepiece *1 Lens Protection Covers*1, Cleaning Cloth *1 and Neck Strap*1.
【Lightweight, Durable and Anti-slip Grip】 Binoculars with only 1.1 pounds, perfect for traveling or hunting. Durable structure with odorless rubber armor for shock-resistance and Anti-slip grip.

Tent Pegs

Bestseller No. 1

IIT 71021 30-Piece Galvanized Steel Tent Pegs-Garden Stakes, 9 Inch, Silver

4mm diameter heavy duty steel rod with galvanized finish for superior rust-resistance
9" length with 1" hook for attaching rope or for anchoring
Can be used fro camping for anchoring tents, canopies, tarps or Securing Holiday Decorations on the ground
Sold in sets of 30 pegs
Ideal for anchoring netting, garden fabrics, twine cloches and other garden structures such as landscaping garden plants

Roasting sticks

Bestseller No. 1

Ajmyonsp Marshmallow Roasting Sticks with Wooden Handle Extendable Forks Set of 5Pcs Telescoping Smores Skewers for Campfire Firepit and Sausage BBQ, 32 Inch

✔HIGHEST QUALITY: Telescoping fork set are made from stainless steel and a wood handle - easy to clean, no rusting, and no more hot handles, the comfortable wooden handle gives you a firm, steady grip.
✔SAFE FOR KIDS: Experts recommend our 32 inch roasting and telescoping forks, 32 Inch's of length means you can roast form a safe distance, you can ensure that your child is always at a safe distance from fire.
✔EASY CLEANING & STORAGE: Our telescoping marshmallow sticks come with a free beautiful canvas bag, so you can easily take it with your campfire and camping cooking equipment. Cleaning the roasting sticks is very easy! You just need to put the tips in a glass of water for about 15 minutes.
✔USAGE: With two non-sharp prongs so you can easily hold marshmallows, hot dogs, or veggies without the food spinning and without sticking yourself. Rotating fork axle at a flick of your fingers prevent marshmallow, hot dogs, and sausages from uneven cooking.
✔PERFECT GIFT FOR FAMILY & FRIENDS: Best marshmallow roasting Sticks for anyone looking for a high quality, great value product to enjoy at the cookout. 5 different color sticks, find right color and have a great campfire evening!

Rain gear

Sale

Bestseller No. 1

FROGG TOGGS Men's Classic All-Sport Waterproof Breathable Rain Suit, Stone Jacket/Black Pants, Large

All-Sport Rain Suit includes a jacket and pant
Made with Frogg Toggs breathable, non-woven fabric that is waterproof, wind-resistant, and lightweight
Jacket features an adjustable, removable hood and a full-length parka-cut, open-waist design
Jacket zipper is covered by a snap-down storm flap and elastic cuffs are provided to keep you dry
Pant features an adjustable, elastic waist and adjustable leg openings

Blanket

Bestseller No. 1

Bedsure Fleece Blanket Throw Size Navy Lightweight Super Soft Cozy Luxury Bed Blanket Microfiber

VERSATILE USAGE SCENARIOS: Surround yourself with Bedsure Flannel Fleece Blankets while watching TV series with a mug of hot chocolate on couch, especially on chilly nights - As a perfect companion while having a comfy nap in your work with our super cozy blanket - A must-have for camping or picnic in humid weather while enjoying happy hours.
SENSATIONAL BLANKET BENEFITS: Throw Fleece Blanket for bed measured by 50"x60" is perfect for homeowners with sophisticated tastes in decoration home - The fabulous color revives this blanket with an elegant appearance to complement your room a chic feeling - Protect your luxury bed and couch from dirt and stain to keep them fresh and clean.
UNIQUE DESIGN PHILOSOPHY: Fleece bed blanket brings you more breathable and lightweight feeling than regular cotton blanket throw to keep your body warm - Neat stitches enhance strong connections at seams and better structural strength with integrated outlook - Double-side design offers you different senses of softness to improve your sleep.
PREMIUM MICROFIBER SELECTION: Soft blanket utilizes 100% microfiber fabric all layers to last for long use and provides fade resistance better than others like cotton blanket - Microfiber blanket is NOT tend to bunch with time like cotton which has little elasticity to keep its shape - Save your time with quick drying and wrinkle resistant blanket.
WHAT YOU CAN GET: Available in Flannel Fleece Blanket Throw Size 50" x 60" ,Navy. Machine wash in cold water on a gentle cycle. Caution: NO FABRIC SOFTENER. Tumble dry with no heat, delicate cycle. DO NOT dry clean.

Can/bottle opener

Sale

Bestseller No. 1

Wash Rag

Bestseller No. 1

Simpli-Magic 79078 Linens, 12"x12", Washcloths, White

Includes 24 washcloths for use in bath, office, or gym
Features 100-percent pure cotton materials that provide strength, high absorbency, and fast drying
Materials are soft enough for use on the face but strong enough for general household cleaning
Offers reinforced edges that prevent unraveling
Includes 24-washcloths measuring 12 x 12-inches

Firestarter

Sale

Bestseller No. 1

Pine Mountain StarterLogg Select-A-Size Firestarting Blocks, 24 Starts Firestarter Wood Fire Log for Campfire, Fireplace, Wood Stove, Fire Pit, Indoor & Outdoor Use

QUICK & EASY LIGHTING: The StarterLogg ignites quickly and easily with no kindling, rolled up newspaper or dried grass needed. Simply place it in your fireplace, fire pit, or chiminea and light it, then relax and enjoy your fire with friends and family.
NATURAL & VERSATILE: The StarterLogg is made from real hardwoods and can be easily split into different sized portions depending on your need. It's ideal for indoor & outdoor fires & ready to transport, making it ideal for camping, fishing & hunting trips
CLEAN & GREEN: Our fire logs burn cleaner than cordwood, producing up to 80% less carbon monoxide and 75% less particulate matter. Nearly all the materials in our products are made from renewable resources so you can be sure that your choice is a clean one
EASY & AUTHENTIC: We're dedicated to bringing you only the finest quality, American made, nature-inspired products that make it easy for you & your family to cozy up in front of the fireplace or gather around the campfire, with a simple strike of a match
COMPARE & SEE THE QUALITY: Compare our line of fire starters, fire logs, and fire safety accessories to similar products by manufacturers like Duraflame, Blackwood Charcoal, Earth log, Lightning Nuggets, Better Wood Products, Enviro-Log, Ignite-O, or Western

Antiseptic wipes

Bestseller No. 1

Aluminum foil

Bestseller No. 1

Reynolds Wrap Aluminum Foil (200 Square Foot Roll), 1 Count

This package contains one roll of Reynolds Wrap Standard Aluminum Foil, measuring 200 feet long by 12 inches wide (200 square feet)
Aluminum foil wrap offers a durable way to protect pans, simplify cleanup and wrap leftovers
Use as a tent over roasted meats, pan liners for baking, or a foil packet to infuse holiday dishes with flavor
Standard cutting edge built into the box lets you get even cuts for perfectly sized aluminum foil sheets without rips
The #1 brand of aluminum foil made in the USA, Reynolds Wrap has the trusted strength and quality you can count on for cooking delicious meals with easy cleanup

Water filter

Bestseller No. 1

Brita Ultra Max Filtering Dispenser, Extra Large 18 Cup, Black

SPACE EFFICIENT: The BPA-Free UltraMax Water Dispenser holds 18 cups or 1.13 gallons of water which is great for families and fits neatly on countertops and refrigerator shelves.
CLEANER AND GREAT TASTING: The Brita standard filter reduces chlorine (taste and odor), copper, mercury, zinc and cadmium impurities found in tap water for cleaner great tasting water for the whole family. Substances reduced may not be in all users' water
FILTER CHANGE REMINDER: A helpful sticker indicator on the water dispenser lets you keep track of when you last changed your water filter and when it needs to be replaced. Replace Brita filters every 40 gallons or every 2 months
EASY POUR: This large, 18 cup filtered water dispenser has a spigot that makes pouring easy
REDUCE WASTE & SAVE: One Brita standard water filter can replace 300 standard 16 oz water bottles which saves you money and reduces plastic waste

Pocket knife

Bestseller No. 1

Map

Bestseller No. 1

Swiftmaps World Premier Wall Map Poster Mural 24h x 36w

FOLDED EDITION - portable 8x10 inch folded size
WORLD MAP is printed on 24lb paper
3D SHADED RELIEF: 3D shaded visual terrain relief for land and oceans
PERFECT world map for business, home or educational use
UP-TO-DATE: completely current world wall map poster

Whistle

Bestseller No. 1

Crown Sporting Goods SCOA-001 Stainless Steel Whistle with Lanyard – Great for Coaches, Referees, and Officials by

SPORT WHISTLE: Make the right call with a sport whistle from Crown Sporting Goods!
LOUD AND CLEAR: Features a bold, crisp sound that requires less breath than traditional pealess whistles
SOLID STAINLESS STEEL: Stainless steel, corrosion resistant whistles that come with a braided black lanyard for hands-free use
JUST THE RIGHT LENGTH: Adjust the gold bead to control the length of the lanyard. Find the most comfortable setting and lock it in
MANY USES: Whistles are handy for coaches, referees, linesmen and officials as well as for lifeguards, animal trainers, and traffic police officers

Journal with lock

Sale

Bestseller No. 1

Lock Journal Combination Lock Writing Travel Diary a7 Mini Notebook

CULTIVATE CONFIDENCE:Confidence is a skill you can build. Yes, you. And it's not as difficult as you may think. Every day this locking journal will give you a chance to step outside your comfort zone so you can feel proud of yourself and watch your self-confidence grow.
LOCKABLE:Creative metal password lock,adding a trace of fashion sense 0-9 Three-digit combination, hundreds of password combination, a good degree of confidentiality.Hold latch to the right, set your own code, let go of latch, that's it! Don't worry if you forget the combination, please refer to product images for instructions or Send Us a Message.
SIMPLE and ELEGANT LOCK DIARY: Durable waterproof fabric hard cover forged(4 inch x 5.8 inch).91 sheets (182 pages) lined paper which is environmental, recyclable, pollution-free and has no fluorescer, can effectively protect your eyesight,suit for most pens, but the wettest fountain pen inks. Give you a good writing experience.Packed in a very sturdy gift box .
UNLEASH YOUR PASSION:Want to live a more passionate life? Stop focusing on sh*t that drains you. Seriously. This journal will show you a cool way to power up your energy levels and tap into that inner zen that knows exactly what fuels your fire.
SATISFACTION GUARANTEED: Fall in love with the locking journal! If you don't, return it and receive a full refund; no questions asked.If you not open or forget the passcode,please contact us,we can help you open it and change the code.

Paper cups and plates

Bestseller No. 1

Almanac handbook

Sale

Bestseller No. 1

Bandana/scarf

Sale

Bestseller No. 1

LM 12Pcs Bandanas 100% Cotton Paisley Print Head Wrap Scarf Wristband (Multi Color)

✅Material: 100% Soft Cotton
✅Size: 22 x 22 inches
✅Unisex. Double-Sided Printed Paisley Bandana, Featuring an Old West design; Perfect for all ages and occasions, camping, indoor & outdoor activity, party and etc
✅Could be used as face/hair covering, headband and necktie. For Multi-Color option, 12 random colors will be shipped out. Colors and Patterns may vary.
✅Notes: New Bandana will touch STIFF & THIN. Please wash it by hand with cold water before using and it will turn soft.

Sleep mask

Bestseller No. 1

MZOO Sleep Eye Mask for Men Women, 3D Contoured Cup Sleeping Mask & Blindfold, Concave Molded Night Sleep Mask, Block Out Light, Soft Comfort Eye Shade Cover for Travel Yoga Nap, Black

No pressure on eyes, eye space is wider and deeper than other flat eye mask (Silk eye mask will oppress eyes)
Unique heat-bonded technology instead of glue, sturdy and durable, no easy to fall apart.
Top quality fiber fabric never stain bed sheets or pillows. Memory foam makes you feel comfortable.
Fit all size head circumference, fully adjustable buckle strap, easy to adjust and not catch hair.
Effectively blocking lights and allows your eyes freely blinking. Ideal for meditation, Yoga, travel, napping, insomnia.

Napkins

Bestseller No. 1

Stuffed animal

Bestseller No. 1

Toiletries

Bestseller No. 1

Convenience Kits International Women's Premium 21-Piece Assembled Necessities Travel Kit, Featuring: L'Oreal Paris Hair Products

TRUSTED: Family-Owned, Convenience Kits International has sold Beauty/Grooming/Hygiene Women's-Men's-Kids Travel Kits with Essential TSA compliant Travel-Size Toiletry Products, Since 1985.
KITS INCLUDE: National Brand Grooming, Hygiene and Oral Care Travel-Size Toiletries in Reusable Zippered, Clear, Dopp and Cosmetic Bags. Popular Brands Inside Kits Include: Hair Care: Loreal, Panten, TRESemm, Herbal Essences, John Freida Frizz Ease, Giovanni, Axe, Dove Men & Care, Suave Natural Skin and Body Care: Dove, Nivea, Jergens, Eucerin, Palmers, Axe, Dove Men & Care, Nivea Men, Dude Products, Degree, Secret, Schmidt's Natural, Andalou, Old Spice Swagger, Barbasol, Gillette, Edge Oral Care: Crest, Colgate, Dentek, Oral B, Tom's of Maine and Preserve.
KITS IDEAL FOR: Leisure or Business Airline Travel, Short Auto or RV Road Trips. Also Perfect for: AirBnB, Pandemic Sheltering "Away From Home", Snowbirds, College Students, Gym Bag, Hospitals Stays, Commuter "On the Go" Essentials, Sampling New Products, Emergency Preparedness Backpacks. Ideal for Mother's Day, Father's Day, Last-Minute Sticking Stuffers and All Gift Giving Occasions.

Shaving cream

Sale

Bestseller No. 1

Ziploc bags

Sale

Bestseller No. 1

Ziploc Sandwich Bags with New Grip 'n Seal Technology, 280 Count

Ziploc brand Sandwich Bags are the unbeatable to grab on the go with new Grip 'n Seal technology
These expertly designed reusable food storage bags feature extended tabs and easy grip texture making the bags easier to grip, grab and open even with wet and sticky hands
Use these handy reusable Sandwich Bags to pack lunch for yourself and your family or just to keep snacks fresh and accessible
Pack includes 280 Ziploc brand Sandwich Bags made of durable and long-lasting BPA-free plastic* *Product not formulated with BPA (Bisphenol A)
Ziploc brand Sandwich Bags are ideal for packing a lunch, cookies, chips, fruit, or even organizing crayons and so much more

Lanyard

Bestseller No. 1

Thread Wallets - Cool Lanyards - Key Chain Holder

MINIMALIST'S DREAM: Our neck lanyard is perfect for individuals who want a slim design without sacrificing functionality. This lanyard is designed with convenience and practicality in mind, while showing off your creative side. It is ideal for those looking to keep only the essentials. Don't carry around extra stuff anymore, and enjoy the freedom of your on-the-go lifestyle.
BUILT FOR FUNCTIONALITY & QUALITY: We designed our lanyards to be sturdy, high quality, and useful. Our lanyards are made with durable materials so can feel safe that your stuff is secure. A lightweight and comfortable strap, this lanyard rests easily on your torso when wearing it around your neck. You can also let it hang from your pocket or stuff it in your backpack or purse.
AWESOME DESIGNS: We create original, unique, and colorful lanyards. Our lanyards are meant to be extraordinary. We strive to be the opposite of bland. If your taste is playful and fun, we have countless combinations of bright colors and bold patterns. If you prefer clean looks and sharp lines, we have both chic and simple lanyards. Take a look at our different designs and you are sure to discover a neck lanyard that you will LOVE. You can even find one to match your Thread Wallet!
MATCHES YOUR PERSONALITY: Thread Wallets are made to complement each and every personality. If you keep it classic, we have various simple, basic, and traditional patterns. If you crave adventure, we have outdoorsy and nature-themed lanyards to go with you on all your travels. If you describe your style as bohemian with relaxed or cool vibes, we have numerous artsy and earthy creations for you. If you have innovative and unique taste, we also have one-of-a-kind collections for you too!
THE BASICS: The neck lanyard is ¾ inches wide (2 centimeters) and 17" inches from the bottom of the leather attachment piece to the top of the lanyard. Our lanyards are made of durable polyester and genuine leather, with a quality metal clasp to attach your Thread wallet, keys, ID badges, and other accessories. Comes embossed Thread Wallets logo.

Contact book

Bestseller No. 1

Set of pillowcase

Bestseller No. 1

HC COLLECTION 1500 Thread Count Egyptian Quality 2pc Set of Pillow Cases, Silky Soft & Wrinkle Free Sizes-King Size, White

TOP QUALITY CONSTRUCTION: Our 1500 Series Pillowcases are 100% High Quality Microfiber , Double Brushed on both sides and are softer and more breathable then Egyptian Cotton. *Inside stitching features open pocket creating an envelope enclosure to optimally hide the pillow
PERFECT FIT AND EASY TO CARE FOR: King Size Pillowcase 20" x 40" (51cm x 102cm)Wrinkle free, No ironing necessary, Machine Washable, Do not bleach, Colors made to match all other HC Collection Products
DON'T SETTLE FOR CHEAP IMITATION: There may be cheaper alternatives offered online but our Top selling Quality Bedding Products are made with the HIGHEST QUALITY FABRIC so you know it lasts! Made from 100% Double Brushed Microfiber fabric for OPTIMAL SOFTNESS YOU CAN SEE AND FEEL! Hypoallergenic & Resistant to dust mites
FREE WITH PURCHASE- We've got you covered!- When you purchase with Bed Linens and More you are automically enrolled in our 100% Satisfaction Guarantee Program. Just try our products and if you don't absolutely love them let us know and we will refund your purchase price NO QUESTIONS ASKED!
NO RISK PURCHASE:We are so confident you will love our products like our other 5-star reviewers! You will be amazed at the customer service you receive after the sale! You have nothing to lose so ORDER NOW! Makes the perfect gift for any occasion!

Insect repellant cream

Bestseller No. 1

Ultrathon Insect Repellent Lotion, 34% Deet, Up to 12 Hours of Protection, 2 oz.

Contains 34.34% DEET for superb protection against insect bites
Proven to repel mosquitoes, ticks, biting flies, chiggers, gnats, fleas and deer flies
Repels mosquitoes that may carry Zika virus, West Nile virus, Dengue fever, Chikungunya and deer ticks that may carry Lyme disease
Advanced 3M controlled release technology provides a continuous shield of protection that lasts up to 12 hours when used as directed
Unique time-release technology provides long-lasting protection

Walkie Talkies

Bestseller No. 1

Arcshell Rechargeable Long Range Two-Way Radios with Earpiece 4 Pack UHF 400-470Mhz Walkie Talkies Li-ion Battery and Charger Included

Small and convenient size;it easily fits on your hand;it measures 4.53 inches in height without antenna(antenna length:4.3 inches);1.30 inches thick;2.36 inches in width;6.3 oz light-weighted;solid built;water-resistant;easy to operate for all ages;2 Wattage power output; each radio has a removable belt clip
Frequency range is UHF 400-470MHz;16 pre-programmed channels;each radio has identical frequency on each of the 16 channels out of the box;16 position mechanical rotary switch channel selector;when you turn the knob to change the channel,a synthesized voice will tell you the channel number;channel frequency is programmable within the frequency range;you can program any of 50 CTCSS tones and 105 CDCSS tones on each programmed channel
Each radio comes with a 1500mAh rechargeable Li-ion battery and a charging dock; the charger comes with an AC wall-wart Type A plug and works in 110v-240v; it takes about 2.5 hours to fully charge; battery life is determined by transmit time;it lasts around 8 to 96 hours on a single charge depending on how much you transmit;you can charge the battery alone or charge the radio with battery installed
High quality built-in speaker on the radio provides loud and crystal clear sound; Push-to Talk button and built-in mic on the radio;each radio comes with a single-earbud style earpiece(foam piece included) with a microphone built in and a Push-to-Talk button; earpiece plug is K-type of 3.5mm plug and 2.5mm plug;when you plug in the earpiece,all sound goes to the earpiece and the radio speaker is silent;the radio has a VOX function
Range is very dependant on terrain;up to 5 miles with no obstructions,less in congested area;work great in a commercial construction or around the house;suitable for security team;maintenance team;construction team;fire department;warehouse;factory;kitchen staff;hotel;retail store;at the school;events communications;roadtrip while driving in different cars;family camping and hunting;on a cruise ship;in mountains;it works worldwide;you can add as many as you want and they work great together

Duct tape

Bestseller No. 1

3M 2979 Multi-Use Duct Tape, Silver, 1.88 in x 60 yd x 7 mil, 1 Pack, Temporary Repair, Patching, Tabbing, Capping Pipe, Marking, Labeling

Commercial grade – Silver duct tape resists curling and tears off roll cleanly for light use in professional MRO/construction applications
Flexible adhesive – Aggressive synthetic rubber adhesive sticks immediately to a wide variety of surfaces
Multi-use applications– Great for patching, tabbing, light duty bundling, capping pipe, marking, labeling or temporary repair
Priced for economy – This multipurpose contractor-grade tape is economically priced to best provide a quality temporary solution for light duties

Nail file

Bestseller No. 1

Nail Files and Buffer, TsMADDTs Professional Manicure Tools Kit Rectangular Art Care Buffer Block Tools 100/180 Grit 12Pcs/Pa

【Diy yourself freely as like at salon】 - Professional nail file and buffer set,they have rough grit that can sand down the large ridges in your nails,it also helps get the glue off,will be save money from nail's shop. Also can used for your pet.
【Nail manicure tool set】- 6 pieces nail files and 6 pieces buffer sanding block; Size: the nail buffer block is 3.74 x 0.98 x 0.98 inches/ 9.6 x 2.5 x 2.5 cm, the nail file is 7.01 x 0.79 x 0.16 inches/ 17.8 x 2 x 0.4 cm
【Double sided emery boards】- file and rough up the hard fingernails and toe nails in 100 grit, and use 180 grit smooths up your nail edge with refined shape
【Multiple usages】- these tools are suitable for fingernails, toenails, natural nails, acrylic nails and false nails, fit for girls or women who like nail art
【100% MONEY BACK GUARANTEE】- If you have any question about our product,we will give you no reason return and refund

Pack of batteries

Sale

Bestseller No. 1

Energizer AA Batteries (48 Count), Double A Max Alkaline Battery

48 pack of Energizer MAX alkaline AA batteries
Our No.1 Longest Lasting MAX AA battery powers everyday devices
Leak resistant construction protects your devices from leakage of fully used batteries for up to 2 years. Bonus: It's guaranteed
Power for your nonstop family's must have devices like toys, flashlights, clocks, remotes, and more
Holds power up to 10 years in storage, so you're never left powerless

Autograph book

Bestseller No. 1

Beach Towel

Sale

Bestseller No. 1

Sunglasses

Sale

Bestseller No. 1

SOJOS Small Square Polarized Sunglasses for Men and Women Polygon Mirrored Lens SJ1072 with Gold Frame/Grey Lens

HIGH-DEFINITION UV400 TAC POLARIZED LENSES – SojoS's HD TAC polarized lenses can filter out sunlight reflected glare, and protect your eyes from long-term damage by blocking 100% of harmful UVA and UVB rays.
ULTRA-LIGHT AND ULTRA-THIN FRAMES – These SojoS retro square sunglasses are made of ultra-thin metal materials, so the frames are super light but very strong. These weights are only 40 grams(0.09 pounds), so you will feel very comfortable and no pressure on your nose.
PERFECT ALL ROUNDER – These SojoS sunglasses are the perfect choice for outdoor sports and activities such as taking selfies, shopping, driving, traveling, and are suitable as a high fashion accessory and daily wear all year round.
PRODUCT DIMENSION – Lens Width: 51mm(2.01inches) | Lens Height: 45mm(1.77inches) | Temple Length: 147mm(5.79inches) | Nose Bridge: 20mm(0.79inches).
GIFT IDEAS PACKAGE – Sunglasses*1, microfiber pouch*1, microfiber glasses cleaning cloth*1, glasses box*1. It is also a gift packaged ready, making it a wonderful yet practical gift idea for friends and family!

Pack of Cotton T-shirts

Sale

Bestseller No. 1

Hanes Men's Short-Sleeve Beefy T-Shirt,Black,Small

Heavyweight and durable, yet super-soft ring-spun cotton
Full cut provides roomier fit
Non-chafe fabric taping reinforces neck and shoulders
Lay flat collar keeps its shape wash after wash
Black satin label easily removed for tag-free comfort

Picture Frame

Sale

Bestseller No. 1

Frametory, 11x14 Black Picture Frames - Made to Display Pictures 8x10 with Mat or 11x14 Without Mat - Wide Molding - Pre-Installed Wall Mounting Hardware (Black)

Modern Design: 11x14 Black Picture Frame for 8x10 Golden Gate Bridge In San Francisco As The Famous Landmark Wall Art Decor Giclee Photo Print With an Ivory Color Mat
ATTRACTIVE DECORATION: Black Photo Frame makes the artwork seem lofty. A great choice for living room bedroom kitchen dining room bathroom bar hotel restaurant office wall decoration. Perfect for Christmas and New Year gifts
Fully Assembled: 2 Ready-To-Hang sturdy hangers on the back for vertical or horizontal options. Comes with turn buttons at the back for ease access and to load pictures.
Molding comes in stunning White or beautifully understated black, to suit any piece.Simple and modern, complements any featured document, print, or photograph.
Protective Packaging: Frame is wrapped very carefully in bubble wrap to ensure safe shipping. Order with confidence, no question asks for any of reasons return.

Water Gun

Sale

Bestseller No. 1

HITOP Water Guns for Kids, 2 Pack Super Squirt Guns Water Soaker Blaster 300CC Toys Gifts for Boys Girls Children Summer Swimming Pool Beach Sand Outdoor Water Fighting Play Toys

SUPER VALUE: 2 Pack Medium Size Super Soaker Water Guns for Kids. Specially Designed for kids. Item Measures 12.6'' by 6.0''. Hold up to 10 fl oz (300CC) Water.
EASY & HIGH QUALITY: Easy to operate even for little Kids. Made with High-quality ABS Materials. Tested for Safety and Durability. CPC certified.
LONG RANGE: Shoot up to 27 feet! Just Pump to Shoot after Filling Clean Water. Do Not Aim at Eyes or Face!
COOL DESIGN: Like the design in cartoon and video game. Looks like cartoon hero cosplay when children play with it. Kids would love it. Perfect for Summer Water Fighting, Family Fun, Swimming Pool and Outdoor Activity Toys. Easy to Fill, Easy to Fire!
MONEY BACK GUARANTEE- "Contact Seller" and we will refund you or ship you a replacement if the one you received fails to work in 90 days.

Chat Pack for kids

Bestseller No. 1

Band-Aids

Bestseller No. 1

Johnson & Johnson Band-Aid Brand Flexible Fabric Adhesive Bandages for Wound Care and First Aid, All One Size, 100 Count, Tan

100-count Band-Aid Brand Flexible Fabric Adhesive Bandages for first aid and wound protection of minor wounds, cuts, scrapes and burns
Made with Memory-Weave fabric for comfort and flexibility, these bandages stretch, bend, and flex with your skin as you move, and include a Quilt-Aid comfort pad designed to cushion painful wounds which may help prevent reinjury
These Band-Aid Brand Flexible Fabric adhesive bandages stay on for up to 24 hours and feature a unique Hurt-Free Pad that won't stick to the wound as they wick away blood and fluids, allowing for gentle removal
From the #1 doctor recommended bandage brand, Band-Aid Brand Adhesive Bandages help protect against dirt and germs that may cause infection. Plus, wounds covered with a bandage heal faster than uncovered wounds.
Apply bandage to clean, dry skin for minor wound care and change daily, when wet or as needed. For proper wound care, treat with wound an antiseptic ointment such as Neosporin prior to application.

Hand Sanitizer

Bestseller No. 1

Tissue paper

Bestseller No. 1

Basic Solid White Bulk Tissue Paper 15" x 20" - 100 Sheets

Perfect for Artists: Premium Quality Gift Wrap tissue papers great for making backgrounds and DIY Crafts. Use it for a variety of craft, art and paper projects, including decoupage, party decorations and more. Enhance your creativity with these tissue papers!
Versatile Color Tissue: With this value pack of tissue paper, you'll have a variety of solid colors perfect for any occasion. It is perfect accent for gift wrapping or décor the centerpieces for special occasions. You'll always have the color you need!
High Quality Material: Made of high-quality fine material easy to shape, fold and change in any way you want. Tissue paper can be used for crafty projects like flowers and pom-poms with wide variety of colors.
Dress Your Gifts to Impress: Tissue paper is a must-have to keep in your home for your entire gift-wrapping needs – Use them to wrap blessing boxes and tie off with a string or go the great course and pop a sheet or two inside gift bags.
Great Value Pack: Always have tissue paper on hand for gift wrapping and More | thanks to this 100-piece tissue paper value pack. It includes one hundred 15"x20" sheets of Premium Quality Gift Wrap Tissue Paper.

Handheld fans

Bestseller No. 1

VersionTECH. Mini Portable Fan, USB Battery Operated Desk Fan, Small Personal Handheld Table Fan with USB Rechargeable Cooling Folding Electric Fan for Travel Office Room Household Black

【NOTE】:Please open the battery cover and REMOVE the plastic insulator before using the fan, OTHERWISE it will not be recharged or used. This portable fan is an USB port rechargeable. It can be powered directly by batteries, mobile power, wall charger, etc.
【3 ADJUSTABLE SPEED LEVEL】: Adjust appropriate fan speed by pressing the power button repeatedly. And 6pcs fan blades, strong wind, wind distance up to 3m. Brushless motor makes the fan durable. Efficient power and conversion circuitry can minimize the loss to save energy and protect environment.
【FOLDABLE& MULTIPURPOSE DESIGN】: The mini desk fan can fold up to 180°.You can use this fan: ①hold it on your hand, ②put it on the table, ③hang it on the sun umbrella, ④clip it on other objects; If you don't know how to use it, please look at the picture or contact us. If you find better uses, you can also tell us.
【HANGING UMBRELLA】: Unique design style, you can hang the fan above your umbrella or parasol please check the fourth picture. The design is ideal for outdoor crowds, and you don't have to worry about the outdoors even when the temperature is so high, because this fan can cool you down,It's a must-have for the summer.
【PORTABLE& LIGHTWEIGHT】:When you go outside, you can put it in the bag with you,especially suitable for summer travel or outdoor sports, you can take it to anywhere,like NBA/World Cup Qualifiers/Football Game/or any activity.

Chapsticks

Sale

Bestseller No. 1

Bathing suit

Bestseller No. 1

Flip-flops

Sale

Bestseller No. 1

Havaianas Women's Slim Sandal,Sand Grey/ Light Gold,37/38 BR (7-8 M US)

SLIM FLIP FLOPS FOR WOMEN: A favorite style handcrafted for comfort, style, and durability. These long lasting and versatile womens sandals are perfect for daily wear.
SOFT & STURDY: Made with 100% high-quality, super soft and durable rubber with a cushioned insole. Lightweight feel with a heat resistant and water resistant construction.
NON SLIP TREAD: Slip resistant rice pattern outsole for traction in these flip flops for women. An essential beach bag accessory for summer weather and vacations.
DURABLE & FLEXIBLE: Havaianas casual sandals for women are made with high quality materials to last long yet have flexibility for extra comfort. Pair with a swimsuit for sunny beach day or a sundress for a casual night out.
VARIETY OF COLORS: Inspired by the fun and optimism of Latin America, choose your favorites from a line of bold and vibrant colors that pair easily with all of your favorite outfits, from beachwear to everyday outfits.

Camp Mad Libs

Bestseller No. 1

Camp Daze Mad Libs

A family game, a strategy game, and an award-winning game all in one! Simple to learn, with endless play possibilities, Bolkus starts each player with 21 pieces of different shapes and sizes
Your job is to play all your pieces first - or be the one with the fewest squares left
Can you block your opponents and expand your territory? Our recommended age: 5 years and up Features A strategy game for the whole family 21 pieces per player, of all different shapes Board with raised edges and valleys holds pieces in place Go out or end up with the least amount of squares left to win! Includes 84 total pieces, game board and instructions
Price, Roger (Author)
English (Publication Language)

Camp postcards

Bestseller No. 1

Peaceable Kingdom Postcards from Camp 12 Postcard Booklet

POSTCARDS TO GO: Make it fun & easy for your child to stay in touch with family and friends! Write to everyone from camp with this fun pack of 12 postcards in 3 different designs.
SEND SOME LOVE: A pack of fun colorful postcards gets kids excited to send letters. Try pre addresssing and stamping them for kids going to summer camp or write to friends from vacation.
FUN INTRO TO LETTER WRITING: What better way to introduce kids to letter writing? Short letters on postcards make writing a fun form of communication and isn't overwhelming to the beginning writer.
DETAILS: Features the wonderful artwork that you have come to expect from Peaceable Kingdom. The back has the perfect space for a quick note from your child, an address and a stamp. 4 each of 3 fun styles.
LEARNING & GROWING: Letter writing creates opportunity for social skill development & can be a time to teach children the enjoyment of communication with friends & family with written expressions. (Ages 5 and up)

Face cap

Bestseller No. 1

The Hat Depot 300N Washed Low Profile Cotton and Denim Baseball Cap (Dark Green)

■ The Hat Depot WASHED LOW PROFILE COTTON BASEBALL CAP - This adorable and classic cap is perfect cap for anywhere you go. This cap combines both colorful styles to turn your head and comfort for your all-day wear. You can use it for your usual day-to-day activities. A Must Have Item!
■ PREMIUM QUALITY - The 100% cotton make it, cozy and comfortable for the perfect fit, especially for daily activities. So, you don't want to take it off. Fine cotton fabric protects sensitive scalp from Ultraviolet. Also, soft cotton makes it packable and crush-able, so you can bring it everywhere easily. Comes in Various Colors.
■ ONE SIZE FITS MOST - The Hat Depot washed low profile cotton baseball cap, Cute & Comfortable Fit. Crown - measures 5"H, Brim - measures 2.75" L and 7.5" W. Designed not only in protecting from sunshine and wind, but also stylish in casual occasions day or night for your activities. Adorable and stylish cotton everyday baseball cap.
■ PERFECT COLOR MATCH FOR EVERY STYLE – Designed for unisex our baseball dad caps come in various distinct colors to match your individuality. And also, the unisex simple design makes it suitably perfect for both men and women. It will fit well with your daily shirt or dress.
■ Type "The Hat Depot" in the search box to find all of our great headwear on Amazon

Warm Colorful socks

Bestseller No. 1

Zando Women Girls Winter Socks Cozy Slipper Socks Comfort Home Socks Super Soft Sleeping Socks Thick Colorful Crew Socks Warm Fuzzy Socks for Women 5 Pack Mixed Solid One Size

Super Soft Material: Cozy fuzzy socks are made from high quality fabric, soft and sweat-free on cold nights and mornings, warm, thick, breathable for all-day foot wear. Lightweight slipper socks make it feels like you are walking on a soft padded cloud
Casual Slipper Socks: One size fits most women and girls, easy to slip on as well as off, elastic cuff don't compress your legs, gives you the comfortable wear experience for everyday and even during sleep. Loose fitting all around your feet and ankle
Colorful Fuzzy Socks: Women's thick crew socks great for lounging around the house. Colorful socks add a unique vision to any outfit from dressy suits to casual jeans. Moderate thickness is nice for wearing during sleep, which can keep your feet warm and help you have a sweet dream
Perfect Gift Choice: Womens fuzzy socks could be your perfect gift choices for your loved ones in holidays, like Mother's Day, Christmas, Thanksgiving. Novelty birthday gifts for your mom, wife, daughter, girlfriend, grandma or sister

Reusable bottle water

Bestseller No. 1

Fabric pens

Bestseller No. 1

Fabric Markers Pens Permanent 24 Colors Fabric Paint Art Markers Set Child Safe & Non-Toxic. Graffiti Fine Tip Minimal Bleed by Crafts 4 ALL

PREMIUM QUALITY- This 24 pack Professional Grade Fabric Pen Set includes a wide selection of rainbow,earth and fluorescent colors and uses a DEEPLY RICH PIGMENTED German fabric dye ink producing the HIGHEST COLOR PIGMENT RETENTION and create DIY crafts that looks unique and lasts longer than ever before.
SUPER VERSATILITY- Has a fine writer bullet-tip for doodling, outlining, thick writing, sketching,underlining,easy color picking, creative decorating,pro-grade calligraphic writing or any DIY project on fabrics or paper. Artist or amateur, adult or kid, just let the bright colors delight your life.Less messier than fabric paint.
UNLIMITED CREATIVITY & PERFECT GIFT- Designed for use on any fabric these markers will let your creativity shine. Perfect for wall art, clothing, handbags, placemats, canvas, sneakers,bibs,baby gear and many more!!!
EASIEST & BEST VALUE FABRIC MARKERS – Fabric marker kit is CHILD SAFE, Non-Toxic, Fade Proof, Weatherproof, Light Fast & Washerproof, guaranteeing your art retains its original beauty, regardless of light, time or weather.
CUSTOMER SATISFACTION - If you EVER have an issue with this item we will send you a replacement on us, no questions asked.

Mini reading lamp

Bestseller No. 1

Rechargeable Book Light, TOPELEK LED Reading Light with 3-level Brightness (Cool & Warm), Flexible Easy Clip On Reading Lamp, Eye Protection , Soft Table Light for Night Reading in Bed

【4 LED & 3 Brightness Settings】This reading light offer 3 different brightness settings: High light with 4 LEDs & White light with 2 LEDs & Warm light with 2 LEDs, which are suit for working, sleeping, reading, just by clicking the button
【Rechargeable Lithium Battery】The built-in rechargeable lithium battery allow you to enjoy your wireless reading time conveniently. Supporting 4 power mode, laptop, power banks, 5V phone charger (not included) and car charger, enabling you to recharge your reading light anytime, anywhere. Note:The battery is rechargeable but not replaceable
【360° Flexible Neck】The flexible neck can bend in pretty much position for ideal placement, adjustable clip with silicone surface protects pages being clamped and ensure secure grip. 【NOTES】 Please remove plastic films on both sides of the clamp before use
【Non-Flicker & Eye-Protection Light】The book light with natural and non-flickering light which protect your eyes. There are multi different brightness settings, bright enough to prevent eye strain, but also soft for you to read in bed without disturbing your partner
【Lightweight & Portable Design】This new book light is only 2.3 oz, lightweight enough to clip on books for your nighttime reading in bed. Foldable goose neck make it convenient for you to take around while travel

Pajamas

Bestseller No. 1

Ekouaer Women's Long Two-Piece Soft Sleep Pajama Set(Black, Medium)

Super comfortable – Ekouaer pajamas set made from 95% Viscose+5% elastane premium-quality materials
Two-Piece cute sleepwear pajamas featuring long sleeve top and pants for relaxed fit
Top: Button-down sleep shirt hits at hip ,chest pocket with notch collar
Bottom: Pant with chiffon drawstring elastic waist,this soft pajama pants making relaxing as comfortable as possible.Comfort and lightweight sleepwear for women is the best pajamas
Handwash.To prevent wrinkles, no dryer.Our size are standard US size,please just choose your normal sleepwear size

Pictures of loved ones
Sunscreen

Sale

Bestseller No. 1

Neutrogena Ultra Sheer Dry-Touch Water Resistant and Non-Greasy Sunscreen Lotion with Broad Spectrum SPF 100+, 3 fl. oz

3-fluid ounce bottles of Neutrogena Ultra Sheer Dry-Touch Non-Greasy Sunscreen with SPF 100+ that helps defend against the signs of sun and decrease the risk of skin cancer when used as directed
This lightweight sunscreen is fast-absorbing with Dry-Touch technology for a non-greasy, matte finish and is formulated with Helioplex for superior sun protection for your skin
From the #1 dermatologist-recommended suncare brand, this sunscreen is also available in both spray and stick form and can be used at the pool or in the ocean for up to 80 minutes of water-resistance
Sunscreen lotion formula uses Avobenzone for optimal broad-spectrum protection from skin-aging UVA rays and skin-burning UVB rays for both your body and face
Both PABA-free and non-comedogenic, this lightweight sunscreen is suitable for all skin types and provides powerful face and body sun protection without the heavy finish

Swimming goggles

Sale

Bestseller No. 1

Aegend Swim Goggles, Swimming Goggles No Leaking Anti Fog UV Protection Triathlon Swim Goggles with Free Protection Case for Adult Men Women Youth Kids Child, Multiple Choice

【COMFORTABLE? OF COURSE!】Flexible silicone frame and improved nosepiece provide extreme comfort that never hurt your nose or leave a mark on your face.【Higher Nosepiece】
【FOG-UP?NO!】The inner surfaces of the lenses are anti-fog coated by the latest Environmental Treatment Technology which enhances the anti-fog ability of the goggles and does no harm to your face.
【LEAKING? NO!】Premium silicone material and Ergonomic design used on the goggles ensure a snug fit on different facial forms and never allows water leak in.
【STYLISH LOOK? ABSOLUTELY!】The colorful outer surface of the lenses with UV-Protection coating which enables the lenses to reflect harmful UV rays and protect your eyes from heat and damage of the sunrays. With the fashionable color, we strongly believe that the goggles are high-fashion and will make you stand out of the crowd.
【HIGH-PERFORMENCE】Polycarbonate lenses stay strong even in the toughest conditions. Well-designed clasp make it easy to put goggles on and take off without pulling hair. *ALL OF OUR AEGEND GOGGLES HAVE 12 MONTHS GUARANTEE! ◉CAUTION: Customers who are allergic to silicone please don't buy this product.

Glow-In-The-Dark bracelets

Bestseller No. 1

PartySticks Glow Sticks Bulk Party Favors 100pk with Connectors - 8 Inch Glow in the Dark Party Supplies, Neon Party Glow Necklaces and Glow Bracelets

MULTICOLOR GLOW STICKS PARTY PACK: Enjoy 100 pieces of super bright light sticks plus 100 pieces of dependable connectors that stay put for hours
LONGER LASTING GLOW PARTY SUPPLIES: Party all night long! These 8-inch long glow in the dark sticks glow bright for 10-14 hours
WATERPROOF GLOW STICK PARTY ACCESSORIES: Use these glow in the dark party favors even in the pool; these waterproof glow sticks party supplies are non leaking and nontoxic
SAFE AND QUALITY ASSURED: Kid-safe glow in the dark party sticks are CPSIA-compliant; We'll provide a full refund if you're not glowing bright with your glow sticks bulk party supplies
INFINITE GLOW IN THE DARK FUN: Make glow stick bracelets and glow in the dark necklaces for pool parties, birthdays, carnivals, raves, concerts, weddings, campings, and more

Bug Bite relief

Bestseller No. 1

Bug Bite Thing Suction Tool, Poison Remover - Bug Bites and Bee/Wasp Stings, Natural Insect Bite Relief, Chemical Free

Removes insect venom, saliva, and other irritants left under the skin using suction
By removing the irritant, the body stops producing the reaction that is causing you to itch & swell
Works on: mosquitoes, bees, wasps, biting flies, no-see-ums, chiggers, sea lice & more
Compact, lightweight, reusable and easy to carry
Clinically Proven, kid friendly, 100% guarantee

Guidebooks

Bestseller No. 1

2020 Emergency Response Guidebook

DOT Department of Transportation, United States Government (Author)
English (Publication Language)
395 Pages - 08/09/2020 (Publication Date) - Independently published (Publisher)

Bug spray

Sale

Bestseller No. 1

Aloe Vera Lotion
SPF Lip balm

Bestseller No. 1

Sun Bum SPF 30 Sunscreen Lip Balm | Vegan and Cruelty Free Broad Spectrum UVA/UVB Lip Care with Aloe and Vitamin E for Moisturized Lips | Variety Pack |.15 oz

LASTING LIP PROTECTION. Our unique SPF lip balm is not just for a day at the beach. This triple action formula will protect, heal and moisturize your lips, whether you're hitting the beach, slopes or just cruising around town. We've got you covered.
HOW TO USE. Apply liberally on lips to keep them safe and soft. Reapply frequently on sun-centric days and adventures! Sonny's Tip: Try to not lick it off, even though it smells like a tasty treat!
PROTECT YOUR LIPS. The key to safe sun is to protect and moisturize your skin. Our Sun and Lip Products are enriched with Vitamin E, and are Hypoallergenic, Gluten, Cruelty and Paraben Free to ensure a fun, active day in the sun.
TRUST THE BUM. What does that mean? It means trust us, the ones who live on the beach and need products that work on the most intense days in the sun. The simple truth is, when you make products to protect the ones you love, you make 'em better.
SPF 30 SUNSCREEN LIP BALM - VARIETY PACK. Our fav SPF lip balm trio with Aloe and Vitamin E to protect and moisturize your kisser all day long! Our smooth and hydrating formula with Aloe and Vitamin E is great for everyday lip protection.
Treats Camping Care Package Ideas
When away at camp, one of the best things to have in abundance are yummy tasting treats to keep hunger at bay and share with family and friends. Here are some edible ideas to include in a care package:
Entertainment Camping Care Package Ideas
Camping is the perfect time to enjoy nature and bond with the ones that matter to you, but it doesn't mean you can't go with all the best, most entertaining things so that there's never a dull moment! Here are some fun items for your camper to take along:
Miscellaneous Camping Care Package Ideas
If you're still looking for some extra items to include in your package that are usually easy to forget but still serve a useful purpose when that special person is out Camping, here are some random but helpful Ideas:
And that's it – 200+ Care Package Ideas perfect for going camping to make it as exciting and comfortable as can be. What are your favorite items to go camping with? What are the most important things to include in a Camping Care box to you? Tell us through the comments section!