Going camping is always a fun activity, whether it's a family trip or at a summer camp with friends. It also makes an excellent time to put together a care package with all the most important items to make Camping as exciting and comfortable as possible.
It's easy to get stuck when one has to decide on the right items to take to camp and what items to avoid, but considering the receiver's likes, needs, and preferences, as well as keeping in mind that Camping can quickly become stressful when you go unprepared usually helps.
If you're looking for some inspiring Ideas to include in a care package for someone who's about to go camping, here is our list of 200+ Camping Care Package Ideas to start with!
How to Make a Camping Care Package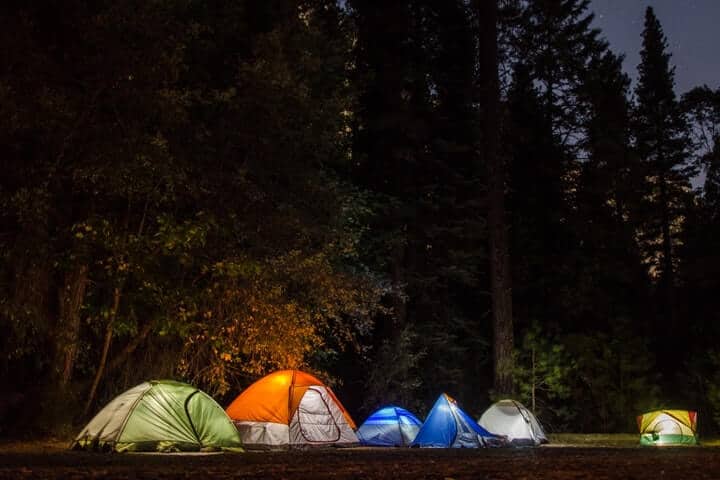 Keep in mind that at most camps, electronic devices are usually frowned upon as Camping is usually a time to connect with your physical environment and those in it.
Handheld gaming devices should be exempted from your list, and including items that can be shared with others is always a great idea.
Remember to have your package sent out on time if it is to be shipped overseas so that it gets to its destination promptly.
Drawing up a budget to clearly define how much you would be spending on purchasing each item, packaging and shipping it to the receiver helps too.
Camping Supplies can be picked up from online websites or your local hardware store, grocery store and supermarket.
Care boxes can also be purchased at online shipping companies and your local post office if you'd rather not use an old box. You can then decorate your box with colorful tissues, ribbons or markers.
If your Care Package is for someone who resides close to you, you can deliver it yourself or make use of a local delivery service.
If you're shipping overseas, you would be expected to fill a customs form and submit specific details such as the receiver's address, your personal address as well as a list of all the content in your care package.
If you're sending fragile items (mugs, glass bottles), wrap them properly in newspapers and stuff your box to prevent items from shifting around before dropping it off.
Essential Camping Care Package Ideas
Trying to decide on the most important items to include in your Camping Care Package? Here are some essential camping items list:
Power bank
Flashlight
Camping Safety manual
Safety pins
Binoculars
Tent Pegs
Roasting sticks
Rain gear
Blanket
Can/bottle opener
Wash Rag
Firestarter
Antiseptic wipes
Aluminum foil
Water filter
Pocket knife
Map
Whistle
Journal with lock
Paper cups and plates
Almanac handbook
Bandana/scarf
Sleep mask
Napkins
Stuffed animal
Toiletries
Shaving cream
Ziploc bags
Lanyard
Contact book
Set of pillowcase
Insect repellant cream
Walkie Talkies
Duct tape
Nail file
Pack of batteries
Autograph book
Beach Towel
Sunglasses
Pack of Cotton T-shirts
Picture Frame
Water Gun
Chat Pack for kids
Band-Aids
Hand Sanitizer
Tissue paper
Handheld fans
Chapsticks
Bathing suit
Flip-flops
Camp Mad Libs
Camp postcards
Face cap
Warm Colorful socks
Reusable bottle water
Fabric pens
Mini reading lamp
Pajamas
Pictures of loved ones
Sunscreen
Swimming goggles
Glow-In-The-Dark bracelets
Bug Bite relief
Guidebooks
Bug spray
Aloe Vera Lotion
SPF Lip balm
Treats Camping Care Package Ideas
When away at camp, one of the best things to have in abundance are yummy tasting treats to keep hunger at bay and share with family and friends. Here are some edible ideas to include in a care package:
Nuts
Dark chocolate chips
Jam
Rice cakes
Canned Meat
Nachos
Almonds
Cinnamon cookies
Cream cheese
Bubblegum
Mint
Dried cranberries
Coconut chips
Graham Crackers
Bacon
Canned veggies
String cheese
Tuna
Coffee
Condiments
Popcorn
Pasta
Pita bread
Canned beans
Bottle of Ketchup
Oatmeal
Nutella
Cereal Packets
Potatoes
Herbal tea
Tinned sardine
Jelly beans
S'mores
Fruit juice
Soybean milk
Pretzels
Cheese
Peanut butter
Sausage
Marshmallows
Sweetened yogurt
Mustard
Bagels
Kool-Aid
Bananas
Homemade Scones
Licorice
Canned soup
Maple syrup
Granola bars
Sliced Apples
Gummy bears
Bag of potato chips
Peppermint
Entertainment Camping Care Package Ideas
Camping is the perfect time to enjoy nature and bond with the ones that matter to you, but it doesn't mean you can't go with all the best, most entertaining things so that there's never a dull moment! Here are some fun items for your camper to take along:
Coloring book
Waterproof Disposable camera
Jigsaw puzzle
Glow sticks
Frisbee
Sticker book
Musical instrument (Harmonica or flute)
Whoopee cushion
Knock Knock Jokes cards
Storybooks/Magazines
Checkers
Fake Moustaches
Magic Tricks book
Weird But True Gross book
Mini Radio
Art supplies
Juggling balls
Mini light up night ball
Joke Book
Finger Puppets
Riddle book
Box of questions
Wireless Headphones
Glow-In-The-Dark Snowballs
Crossword Book
Marbles
Bubbles
Colorful Kite
Tiddlywinks
Sticky eyes
Emoji Stationery pack
Unicorn string lights
Bouncy ball
Miscellaneous Camping Care Package Ideas
If you're still looking for some extra items to include in your package that are usually easy to forget but still serve a useful purpose when that special person is out Camping, here are some random but helpful Ideas:
Needle and thread
Charm bracelet
Travel alarm clock
Garbage bags
Nail clipper
Portable mallet
Eye drop
Matchbox
Hand warmers
Hot/Cold compress packs
Stamped Envelopes
Portable Umbrella
Cloth pegs
Antibiotic cream
Tweezers
Compass
Organic Body Lotion
Pepper spray
Ibuprofen
Sinus medication
Face towel
Fleece jacket
Portable mirror
Gloves
Tin opener
Fruit/Vegetable Slicer
Antacids
Thermometer
Dry shampoo
Stress Balls
Snake Bite Kit
Dental floss
Candle Holder
Plastic food container
Waterproof watch
Thermal Flask
Ropes
Cotton swabs
Wool sweater
Hair bands
Friendship Bracelets
Scissors
Glow-In-The-Dark stars
Baby wipes
Hacky sack
Nails
Breath spray
And that's it – 200+ Care Package Ideas perfect for going camping to make it as exciting and comfortable as can be. What are your favorite items to go camping with? What are the most important things to include in a Camping Care box to you? Tell us through the comments section!