Halloween is undoubtedly one of the most exciting holidays in the year, and it is the only time you can send a Halloween Care Package to a loved one without coming across as a weirdo.
A Halloween care package is a box with all the necessities to make it a memorable Halloween.
As mentioned earlier, Halloween is fun alright, but you know what isn't fun? Putting together a Halloween care package. You have to decide on the items to include, the things to leave out, and of course, you have to ship the box as well.
In this article, you are going to learn how to put together an excellent Halloween package. Also, to help you fill your box quicker, we are going to share a ton of wonderful Halloween care package ideas with you.
How to Make a Halloween Care Package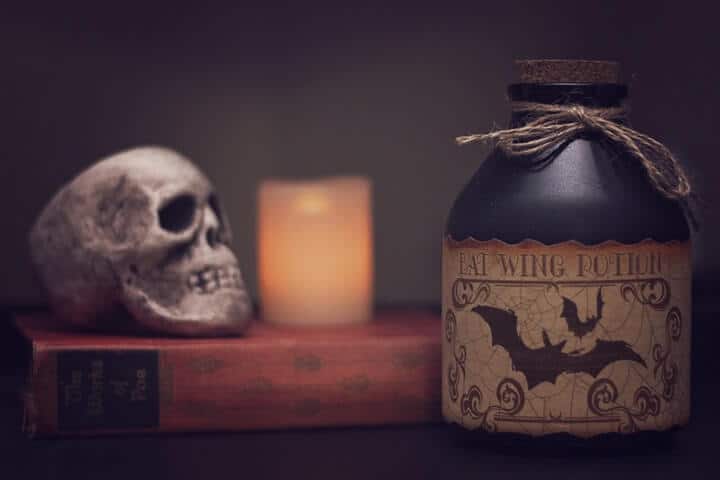 Just like when you're putting together a care box for certain holidays with specific dates, (like Christmas, Valentine's Day etc), it is best to have them sent out before the holiday so that it gets to its destination on time, most especially if decorations and costumes are included in the package, and to avoid any unforeseen delay.
Next, decide on how much you'd be spending on purchasing each item you plan on including in your box, packaging (including buying a care box if you'd rather not use an old box at home) and shipping your package (if it's going overseas).
There are a good number of Halloween themed sites on the internet to get supplies, and you can choose to obtain a Care Package box from your post office or a shipping company.
Ensure all fragile items are carefully wrapped with newspapers and your box is stuffed to keep items from shifting around.
Edibles should also be kept as far away as possible for other items that could give them an unpleasant scent or taste.
Also, you can decorate your box with orange and black markers, ribbons and even colorful tissue papers to give it an attractive look. Also, remember to tape your box securely before dropping it off for delivery.
If you're sending your care package to someone who resides close to you, you can have it sent out through a local delivery service or drop it off yourself.
When shipping overseas, you would be expected to fill a customs form and also submit information such as the receiver's address, your personal address as well as a list of all the content in your box.
Shipping regulations are expected to be abided to at all times.
Essentials for Halloween Care Package
Trying to decide on the most important items to include in this year's Halloween Care Package? Want to shop for only the best and most essential that'll kick-start the Halloween spirit? Here are some exciting Ideas to start with:
Witch Candy bowl

Bestseller No. 1

SWIMYAR Halloween Skull Bowl,Witch Candy Bowl with LED Eyes and Creepy Sound (Sound Activated) for Trick-or-Treat,Plastic Luminous Skull Ghost Candy Bowl

[Halloween Decoration]:Our Skull Bowl is a Halloween themed decoration that comes to life when you pick up the candy. This spooky candy stand will make trick-or-treating even more exciting. It can hold a lot of candy.
[High-quality Materials]:Halloween Candy Bowls are made of high-quality PVC and electronic components; the material is strong, hard-wearing, durable, fade-resistant, non-damaging, and reusable for a long time; enchant your family and friends with our Halloween Candy Bowls
[Motion And Light Sensors]: Surprise people with motion sensor Halloween decorations. Just flip the switch, move in front of the sensor, and the prisoner moves and screams. Please don't use it in complete darkness, the light sensor needs some light.
[Unique Design]:This witch candy bowl will charm your friends and neighbors. This is uniquely designed according to the Halloween season. This design looks like a witch holding a big bowl where you can put some candy. This is the perfect way to offer some treats to your guests.
[Endless Fun]:This special candy bowl is perfect for Halloween nights and parties, haunted houses and witch garden themed home decorations. Scare your guests while giving them a sweet treat with this spooky witch candy bowl. The ideal party decoration for any time of year.

Mini Halloween "Boo!" Arrow sign

Bestseller No. 1

Halloween Boo Wood Hanging Sign Halloween Wall Sign Halloween Door Hanging Sign with LED Light String for Night Ghost Home Indoor Outdoor Decor Party Supplies, 12 x 6 x 0.2 Inch

What you get: 1 piece of Halloween door hanging sign, 2 pieces of 2 meters LED warm light, Halloween door wreath BOO size is 12 x 6 x 0.2 inches/ 30 x 15 x 0.5 cm, not too large but just the proper size to be hung on the door, entryway, office door, can easily catch your guests' attention
Diversified elements: bats, spiders, and ghosts are the classic elements of Halloween, Halloween Boo wall sign includes these elements design, say Boo to all your trick-or-treaters with this charming sign
Luminous decoration: each boo door sign is packed with LED string lights, which can be strung on the Boo door sign to light; At night, turn on our Halloween decoration boo wall sign, so that others can see your decoration from a distance, attract everyone's attention and praise
Reliable material: this boo hanging sign is made of quality solid wood, exquisite in painting, not easy to crack, fade or peel, smooth in hand, and can be applied for a long time, please rest assured to buy
Applicable occasions: lovely Halloween wooden boo sign is an ideal choice in the basket when you decided to boo someone, this wooden door hanger is suitable for decorating your homes, gardens, bars, restaurants, parties, just hang it on anywhere that you like, good for Halloween decoration

Pumpkin Patch Garden flag

Bestseller No. 1

Fall Garden Flag Pumpkin Patch Vertical Double Sided Seasonal Autumn Yard Outdoor Decoration 12.5 x 18 Inch

【GOOD QUALITY】Burlap Material Thick and Durable Fabric,Weather and Fade Resistant to Provide The Autumn Garden Flag Lasting Durability
【STANDARD SIZE】Fall Garden Flag is the Standard Small/mini Size and Measures Approximately 12.5 x 18 Inches
【ONLY FLAG INCLUDES 】For Use with Any Standard Garden Flag Stand (Flag Stand Not Included)
【DOUBLE SIDED】Double-Sided Pattern Design, The Image is Visible from Both Sides.Add a Personalized Flair to Your Space with This Garden Flag
【NO RISK PURCHASE】30 Days Free Return and Full Refund with No Question Asked

Trick-or-Treat mini beverage tub

Bestseller No. 1

BREX Alehouse 8-Pack Ice Bucket, Beverage Bucket, Champagne, Planter

SET OF 8: Whether you're wanting a centerpiece to chill a bucket of beverages for a gathering or want a simple planter, these ice buckets are the perfect choice. This decorative bucket will look great in any indoor or outdoor venue.
KEEP DRINKS COLD: Keep all of your favorite beverages chilled in this metal cooler. From beer to wine to champagne to soda, this ice bin can do it all. Thanks to its leak-proof design, drinks will stay chilled for hours! Drink Responsibly
LONG-LASTING: Unlike tin or aluminum buckets, this chiller is built with strong, durable materials. Ditch the flimsy containers and buy a metal tub you can rely on.
MULTIUSE: This metal bucket can be used for a variety of functional and decorative uses. Plant flowers, store blankets, and of course, keep your bottles cold. Looking for a unique basket or storage container? This multipurpose bin offers the perfect rustic farmhouse touch in any home.
HIGH QUALITY: Thanks to the high-quality construction and design, this drink tub is leak proof, so you don't have to worry about cleaning a big spill or having to refill the ice. It's also rust proof, so it can hold ice and water and even survive a storm—just dry after each wash. We are proud to use lead-free materials.

I've Got My Eyes On You mug

Bestseller No. 1

Halloween themed Chocolate Bar Covers

Sale

Bestseller No. 1

90 Pieces Halloween Candy Decoration, Halloween Mini Candy Bar Wrapper Stickers Pumpkin Boo Treat or Trick Candy Chocolates Bar Stickers for Kids Halloween Party Favors Decoration, No Candy

Package includes: there are 90 pieces of Halloween decoration label stickers you will receive, which are all printed with the different Halloween elements, which are sufficient for your daily application demands or share with others
Beautiful appearance: these trick or treat stickers are designed in a beautiful and adorable appearance, full of classic Halloween patterns, which can well increase the atmosphere and bring you a memorable Halloween party
Suitable dimension: our candy bar wrapper measures about 6.7 x 3.6 cm/ 2.6 x 1.4 inch, which is appropriate for you to wrap your candy bars or decorate other things, creating an adorable Halloween party decorations
Available occasions: this label sticker is available on various occasions, such as Halloween, holidays, horror themed parties, or other events, which can easily catch the attention of your guests and friends, giving them nice visual enjoyment
Make a good decoration: the pumpkin party favor sticker features fine craftsmanship, clear patterns, and exquisite appearance, which is an ideal and cute decoration accessory, can have an unexpected decorative effect

Yarn for fake spiderweb

Sale

Bestseller No. 1

Halloween Decorations - 12 FT Giant Round Spider Web and Fake Large Hairy Spider Props Scary Halloween Yard Door & Outdoor Decor with Super Stretch Cobweb Halloween Clearance Decorations Party Favors

[Halloween Decorations Outdoor] - This halloween decorations set comes with 12 FT Giant Round Spider Web, a bag of super strechable cobweb and 29.5 inch large fake spider! Attract and spook your neighbors!
[Realistic & Spooky] - The giant spiders web is made of thicker and firmer strings that are so hairy that makes the spider web look absolutely real! All the legs of spiders can be bent whatever you like. Realistic fake spider with black hair,red eyes that look real.
[Perfect Scary Halloween Decorations] - This halloween decor is great for christmas decorations and halloween decoration, an ideal outdoor Halloween yard decoration, halloween party decorations, halloween door decorations. So scary and funny!
[Durability] - This big spider web is made of strong polyester threads, hand knotting, not easy to stick together. And the spider using non-itchy plush with metal wire, it makes a softer sense of touch and high quality for durable and reusable.
[AFTER-SALES SERVICE] - Your satisfaction is our top priority. If your product does not perform properly, please contact us for a perfect service. Any problem with our products will be a priority settled.

Mini light-up Ghost

Bestseller No. 1

4 Pieces Ghost Hunting Cat Ball Motion Light Up Cat Balls LED Motion Activated Cat Ball Motion Light Up Cat Dog Interactive Toys Pet Glowing Mini Running Exercise Ball Toys for Animals Activity

Package includes: this package contains 4 pieces of motion light up cat balls, and the diameter is approx. 3.4 cm/ 1.3 inch, sufficient quantity can meet your little pet's needs, and increase more fun activities for pets to play
Quality materials: the flash cat ball is made of quality PC material, which is reusable and durable, safe and has no smell, the built-in LED light is soft, will not make pets feel dazzling and uncomfortable, the built-in battery can be applied for about 24 hour, please rest assured with confidence
Chic and interesting interactive pet toys: flash cat and dog ball adopts flashing design, just press the button, it will emit bright light and flash continuously, which can attract pets' attention, pets can play happily even in a dark environment, and can exercise pets agility, a certain exercise intensity can make your pet more healthy and cute; If the light does not flash when you press the button, try shaking the cat ball
Wide applications: the flash cat balls are colorful and easy to carry, they are suitable for playing at home, yard, park, lawn and other places, so that your pet is full of vitality and passion, these pet balls can be applied as a good toy to interact with your pet, throwing these balls out and let them bring them back, which can strengthen the connection between you and your beloved pet, allowing you to enjoy leisure time with your pet
Nice pet toy gift: you can give these flash running cat balls to your pet or share with your friends who have pets to help train pet's ability to run and jump and make them active and; At the same time, you can also enjoy the happy time brought by pets with your friends

Pumpkin carving kit

Sale

Bestseller No. 1

Halloween Pumpkin Carving Kit - 22 Pcs Stainless Steel Pumpkin Carving Knife Sets with Stencils & Storage Bucket for Halloween

🎃【Enjoy Halloween with Your Family】Enjoy your Halloween time with your family.Creating a jack-o-lantern is a fun job for the whole family. You can design and carve your own special pumpkin. Inspire your imagination, Come up with a unique design, Create your happy memory with your kids.
🎃【All-in-one Pumpkin Carving Set】The complete kit includes 6 x heavy duty stainless steel sculpting tools, 1 x pumpkin scooper,2 x tooth saw,1 x etching tool,1 x pumpkin drill,1 x premium nylon organizer case and 10 pieces of different Pattern Stencils. these solid tools allow you to carve out a creative and unique Jack-O'-Lantern with ease.
🎃【Heavy Duty Stainless Steel Tools & Comfortable Anti-Slip Handle】Made of thickened heavy duty stainless steels, Bifrost pumpkin carving kit is 0.7in thick, twice as thick as ordinary ones, which makes sure it can be long-lasting for years. The ergonomically designed handle of the knife tool is made of PP material, no rust or any pungent smell but provides better comfort and grip.
🎃【Nylon Handbag Design】Pumpkin carving kit can be neatly organized and stored in the sturdy zippered premium nylon organizer case after use. Each tool in the case is individually secured by an elastic band. Adult supervision is required when tools are in use. Not recommended for children under 9 years.
🎃【Strong Customer Service & Online Answers】: We have a strong customer service team with a professional knowledge base. Patiently and friendly answer any questions about Pumpkin Carving Kit. We will respond within 24 hours and give a solution. Welcome to ask any questions about products.

Halloween Is A Season Tshirt

Bestseller No. 1

Star Wars The Mandalorian Grogu This is The Way Halloween T-Shirt

Official Star Wars Merchandise
Star Wars Halloween Shirts for Men, Women, Boys, and Girls; The Mandalorian Shirts for Halloween; Star Wars Shirts for Halloween; Star Wars Shirts; Funny Halloween Shirts for Kids and Adults; Grogu Halloween Shirts
Lightweight, Classic fit, Double-needle sleeve and bottom hem

Happy Halloween card

Bestseller No. 1

TUPARKA 30 Pack Halloween Greeting Cards with Envelopes and Halloween Stickers, 6 Halloween Designs

Halloween greeting cards set, includes 30pcs of greeting card, 30pcs of envelope, 30pcs of Halloween stickers
Halloween themes design, 6 different styles include: spooky, spider, pumpkin, Halloween words, bats, and castle
Materials: each card is printed on good quality paper card stock for extra durability
Size: card folding measure 4.72" x 3.95"/ 12 x 10cm, envelope size 5" x 4.15"/12.7 x 10.5cm
Blank on the inside, note cards with white envelopes, plenty of room to write your own personalized note

Eyeball ice-cubes

Bestseller No. 1

Chatter Teeth

Bestseller No. 1

Red-eye Teddy bear
Spooky movies

Bestseller No. 1

Spooky House

Amazon Prime Video (Video on Demand)
Sir Ben Kingsley, Mercedes Ruehl (Actors)
William Sachs (Director) - Margaret Sachs (Writer) - William Sachs (Producer)
English (Playback Language)
English (Subtitle)

Monster Tattoo stickers

Bestseller No. 1

Tazimi Temporary Tattoos for Kids - 100Pcs Monster Tattoos Stickers Animal Waterproof Tattoos for Kids Party Favors Birthday Party Supplies

【Animal Temporary Tattoos For Kids】You will get 12 sheets 100 styles cartoon monster temporary tattoos for kids , colorful cartoon style design for children boys girls birthday party and festival decor .
【Monster Theme Design】Funny cartoon monster temporary tattoos, tattoos sticker set include variety of little boys favorite characters,create more fun for kids.
【Healthy, Waterproof ,Long Lasting Temporary Tattoos】Our monster tattoos stickers are unique, long-lasting with bright colors,just like real tattoos. moreover, these tattoos are non-toxic, non-allergenic, easy to remove, durable and lasting for many days on your body , suitable for children .
【Easy To Use And Remove】Our temporary tattoos is easy to use. first, wipe your skin clean, then stick the pattern face down on the skin then cover with wet sponge for 20-30 seconds, and uncover the back paper, you will get a perfect tattoo! cartoon animal tattoos long last for 3-6days. durable and waterproof,they can last over one week with care.the temporary tattoos can be easily removed by rubbing with alcohol, olive oil.
【Applicable Occasions】 Birthday party supplies for boys girls, gift for kids and rewards,halloween,decorations, fun games for kids, goodies bags and get together ,also can apply them to some smooth objects, for example, glass, stationery, paper, plastic, phone case.

Glow-In-The-Dark mini Pumpkin

Sale

Bestseller No. 1

PartySticks Glow Critters 30pk Glow in The Dark Bug Toys and Glow Sticks - 3 Inch Fake Bugs Party Favors, Glow in The Dark Party Decorations - 10 Light Up Fake Toy Bugs, 20 Mini Glow Sticks

GLOW IN THE DARK FAKE BUG TOYS: This 30-pack of light up plastic bugs and insects for kids includes (10) fake critters ranging from fake lizards, fake spiders, fake beetles, fake flies, to fake rats also includes (20) mini glow sticks and (10) bonus necklace or decoration hanging strings
20 MINI GLOW STICKS: These bug toys for kids and adults are powered by glow light sticks in blue, red, green, yellow and purple; snap to activate the mini glow sticks and install into each critter to glow for hours
NONTOXIC LIGHT UP TOYS: These kid-safe glow in the dark toys for kids can be used as party favors, goodie bag fillers, neon party decorations, wearable glow jewelry, and glow in the dark party decorations
GLOW PARTY DECORATIONS SPECS: Glow in the dark plastic bugs and insect toys measure 3" long each; pack includes 10 hanging strings to wear or hang these glow party decorations; waterproof glowsticks glow for 6-10 hours
KID-SAFE AND QUALITY ASSURED: Have fun with your glow critters glow in the dark party favors! We'll provide a full refund if you're not totally satisfied with your glow in the dark toy bugs

Monster Party Cups
Peek-A-Boo Top

Bestseller No. 1

Seafolly Women's Standard Peek A Boo Bralette Bikini Top Swimsuit, Sun Dancer Spicy Orange, 8

Peek A Boo Detail At Center Front. Removable Quick Dry Cups. Adjustable Straps.
Clean Lines & Classic Details For An Effortless Resort To Beach Look. Wherever Your Vacation Takes You, From Tropical Beach To Pool Side Resort, This Stunning Seafolly Piece Creates A Head To Toe Effortlessly Chic Look.
Search Amazon For "Seafolly Sun Dancer" For More From This Collection
Click on Seafolly Logo Above For More From Our Full Collection of Swimwear, Cover Ups and Kids Swimwear
Sizing is listed in US sizes. Please refer to size chart for size details. If in between sizes, go up one size.

Giant plastic fist

Bestseller No. 1

Neighbourhood Zombie Watch Poster
CD of spooky soundtracks

Sale

Bestseller No. 1

Frozen: The Songs

Shrink-wrapped
Audio CD – Audiobook
09/30/2014 (Publication Date) - Walt Disney Records (Publisher)

Magnetic spiders

Bestseller No. 1

Black bath bombs

Sale

Bestseller No. 1

Zombie Cookie Cutter

Bestseller No. 1

Walking Zombie Halloween Cookie Cutter

The Walking Zombie Cookie Cutter measures 3 1/4" X 5 1/2" X 3/4"
Zombie Cookie Cutter is made from solid heavyweight copper, jointed using lead free solder.
Made in the USA the Zombie cookie cutter is built for years of use. It also looks good hanging on a tree as an ornament. Great Zombie Silhouette.
Perfect Halloween / Zombie birthday party gift idea
Handmade in Indiana, USA

Pumpkin candle holders

Bestseller No. 1

WDHODEC Fall Candle Holders Set of 6, Glass Pumpkin Tealight Votive Candle Holder for Halloween Thanksgiving Table Decoration

Votive candle holder: Set of 6 votive holders in fall colors, each votive measures 2" in diameter (top), 2" inner diameter(bottom), and a height of 2.1", It's an elegant way to display regular tealights, votive candles less than 1.8" width diameter and LED light
Thicker glass craft: Our glass tealight candle holders are carefully crafted from premium thick glass which is more durable than regular votives, use the small frosted glass votives to easily decorate your home, shelf, fireplace, office, back porch, or as a gift for your love ones will also a good choice
Unique design: Cute glass pumpkin candle holder helps enhance the warm glow of the candles, the unique embossed lines on the holder will add flavor to your decorative event, Vintage rope fills your home with the joy of harvest
Wide range of applications: This glass candle holder is the perfect table centerpiece decoration for fall weddings, birthday party, baby showers, and anniversary party, it will also add a festive touch on fall, Christmas, Halloween, Thanksgiving, helps create an elegant and romantic atmosphere to your parties and home decor
Safe and careful packing: The tealight candle holder was carefully packaged and placed in separate compartments to avoid damage, but in the rare case the clear pumpkin holder arrives damaged, please contact us for a solution

Natural face paint kit

Bestseller No. 1

Earth Paints Natural Face Paint Kit 7 Colors, 1 EA

Face painting fun for Halloween, festivals, theater, circus or parties!
Safe, eco-friendly face & body paints with over 70% Certified Organic ingredients. Washes off easily with soap and water.
Free of nano particles, heavy metals, parabens, phthalates, formaldehyde, and animal products such as carmine.
Includes: 6 containers of face paint and 3 bamboo makeup applicators. Colors: Red, yellow, green, blue, black, and white. Each container contains 11 grams/ .38 oz.
100% Vegan. Non-Toxic. Made in the USA.

Black candles

Bestseller No. 1

Halloween Voice Changer

Sale

Bestseller No. 1

Scary Halloween Voice Changer | Black | 1 Pc

PACKAGE INCLUDES: 1 black voice changer
FEATURING: Features three different voice effects Monster, Alien, or amplification of your own voice and runs on 3 AA batteries (not included).
BEST CHOICE FOR YOUR PARTY: Great for Halloween parties, costume parties, themed events, or stage performances.
ADD CHEER TO YOUR CELEBRATION: This is the perfect addition to your party accessories.
EASY MATCHING: Coordinate with other Halloween party decorations and party supplies.

Halloween Coloring Book

Bestseller No. 1

Pumpkin place cards

Sale

Bestseller No. 1

Pumpkin outline path lights

Bestseller No. 1

Set of 4 Halloween Pumpkin Pathway Markers Lights with Four Halloween Pumpkin Light, 7 Ft Expandable Path Light String Waterproof Halloween Lawn Walkway Lane Marker Lighting Decoration

HIGH QUALITY:1 sets of 7 feet Halloween Pumpkin pathway lights driveway markers string lights with 4 C7 Halloween Pumpkin pathway lights and 4 stakes, end to end connectable.Light bulbs have E12/C7 candelabra socket base, UL listed.
CONVENIENT&PRACTICAL: 6" lead with male plug, 12" spacing between Halloween Pumpkin bulbs, 6" tail with female connector.The male plug contains a spare fuse. 5Watt/Bulbs (totals 4 bulbs).Each set Halloween Pumpkin pathway Lights outdoor 20 watts, can connect up to 21 sets holiday pathway string lights(Max 432 watts) plug in and enjoy it
WATER-RESISTERN: Halloween Walkway outdoor decorations string lights , commercial-strength casing withstands extreme temperatures and wet weather. Keep the string lights plug as dry as possible.If a light bulb that goes out does not affect other lighting bulb
Halloween ATMOSPHERE: C7 Halloween lawn decorations pathway markers stakes lights easy to installation.shatterproof and IP44 waterproof, Fits great for patio, backyard, deck, bistro, café, pergola, garden, market, wedding party, Halloween decoration and many other occasions or events.
EASY TO INTALL:C7 Halloween lawn decorations pathway markers stakes lights easy to installation, Halloween pathway lights plug in and use it, Empty sockets be firstly and then install bulbs. Set up your string lights in minutes. Each 7foot strand offers end-to-end connections.

Trick or Treat Halloween stickers

Bestseller No. 1

Halloween Round Stickers Gift Kids Adult Character Seal Labels Roll 500pcs 1.5inch Big Happy Pumpkin Witch Cute Ghost Spider Trick or Treat Theme Large Set Party Favors Decoration Supplies Goodie Bag

Happy Halloween Round Stickers - 500 pieces,3.8cm/1.5 inch big assorted Halloween theme stickers,8 adorable alternating halloween characters,including cute Ghost saying Boo!,vintage Witch Flying orange Moon,classic happy Pumpkin,Trick or Treat-Spider, kawaii black Cat and pumpkin, cool Witch Feet with Bat and Hat, loverly Puppy Dog in witch hat w pumpkin Canides, trick or treat-cute Ghost deadpool; No spoopy for the lil kids, great variety nice non-food treat for adult to hand out on Halloween!
Kawaii Halloween Theme Stickers Cheap Pack- Good variety and high quality glossy thick big stickers made of self adhesive paper, non-toxic and safe, no irritating smells; 1.5" circles,perfect large size and prime material is very nostalgic and great for halloween party favors,trick or treaters,school,home parties,teachers classroom rewards,grab-and-go paper goody bags,daycares,businesses,affordable non-candy/non-food alternative goodies,diy favorite crafts and personal use.
Cool Halloween Character Stickers Decals- Multicolored self-adhesive stickers,easy peel-and-stick back, look cute in scrapbooking,water bottle,envelop mailings,notebooks, planner, laptop, sketchbook, greeting cards, photo frames, macbook, skateboards, luggage, cars, bumpers, bikes, motorcycle, snowboard, Mugs, Vehicle, Guitar,Wall Decals, windows, doors, mirrors, glasses,gift boxes, seal canidy,trick or treat goodie bags,DIY Projects crafts,books, photo albums (any dry, smooth,clean surface)
Valuable Assorted Halloween Stickers Roll- the unique classic stickers are designed for kids,girls,boys,unisx children,teens,toddlers,adult,teachers,backer stores,business retailers for halloween party favors decaorations,scary theme birthday,costume party, kindergarten preschool classroom supplies, art craft project activities, outdoor events, family gathering celebration,room decor,pumpkin basket bucket,non-candy treat grab bags for the trick-or-treaters,cute prize stickers for students,ect.
Novelty Halloween Gift Label Tag Stickers- Fall is upon us and that means Halloween! Vibrant full-color, full-bleed printing,well perforated,sticky enough,good variety of large round face stickers are great for adult,parents,teachers to give kids,child,students,any trick-or-treaters as non-candy/non-food alternative goodies or reward prize,perfect for the classroom and excellent October 31/All Saints' Day;Also a great Christmas,birthday present for your little girls,boys or friends.

"Spell Book" Covers

Bestseller No. 1

handmade deckle edge paper mother of earth leather journal writing notebook tree life antique embossed bound daily notepad unlined cover with colourful print for women blank spell book of shadows lock clasp prop vintage diary prayer pagan journal 7x5

JOURNAL FOR WOMEN: A perfect Leather Journal for Women. Journals are made with genuine leather so each vary in look and shade producing a unique item. The Distress Leather combined with Antique Vintage paper makes it a perfect Book of shadows - Spell Book.
OUR PROMISE: - Vintage Leather Journal comes with the Trust and promise of Purity of craftsmanship with each Writing Journal. Leather Village prides itself on making products from the highest quality materials with attention to detail. But for any reason if you are not satisfied with the quality of your journal kindly contact us for replacement.
UNIQUE GIFTS - Stunning gifts for men on Father's Day, Graduation or the perfect gift for women on Mother's Day, Valentine's Day, Birthday's or Anniversary. A True Art Treasure, this blank unlined notebook will become a Family Heirloom!
Organizer contains recycled deckle edge blank pages 200 which are perfect for mini notes. Handcraft leather diary is an awesome find for book lover or literature present
Handmade deckle edge paper mother of earth leather journal writing notebook tree of life antique embossed bound daily notepad unlined paper cover with colorful print journal for women 7x5 inch

Halloween party invitation cards

Bestseller No. 1

Halloween Party Invitations - Halloween Party Supplies 24 Pack 5" x 7" Invitation Cards with Envelopes for Kids Halloween Theme Party Birthday Baby Shower Pumpkin Fill-in Invites

IMPRESS YOUR GUESTS - The annual Halloween is coming, are you ready for this carnival? We've prepared a unique pumpkin invitation for you, and your guests are sure to be excited about your Halloween-themed party!
PREMIUM MATERIAL - Halloween party invitations are made of high-quality thick card stock, eco-friendly and durable. The surface of our invitation card is specially treated to make it easier to write on.
DETAILS - These Halloween invitation cards are exclusive watercolor style designed, advanced printing process makes the pumpkin pattern more vivid. We provide pumpkin stickers, you can easily seal the envelope up with stickers.
PACKAGE INCLUDE - Each pack includes 24 x 5" x 7" invitations, 24 x envelopes and 24 x stickers. Allows plenty of room for important party information. Let' s start the unforgettable Halloween party with these exquisite invitation cards.
VERSATILE USE - Perfect for all Halloween theme parties! 24 pieces of invitations with envelopes are suitable for various invites such as birthdays, costume parties, baby showers and any other celebration. Leave a deep impression on friends, family and kids.

Halloween Party Crackers

Sale

Bestseller No. 1

JOYIN Halloween Party Favors Set No Snap Party Table Favor with Halloween Themed Toys Inside for Party Favors, Halloween Gift Exchange, Carnival Game Prizes,Trick or Treat(10 Pack)

SUPER VALUE PACK: JOYIN Halloween no snap party favor set comes in 10 pieces in 5 different designs. Each favor contains a Halloween joke paper, a paper hat and a random Halloween gift. The gift could be different kinds of Halloween themed toys, like erasers, stamps, yoyos, foam stickers, rulers, bracelets, bouncy balls, sticky skeletons, slap bracelets, etc.
IDEAL PARTY FAVOR. Our Halloween party table favor set not only gives satisfaction but also happiness to your family and friends! A fun way to celebrate Halloween through sharing with family, friends, and classmates.
PERFECT GIFT. These party favors are great as Halloween gifts for children.They can be used as carnival prizes, birthday party toys, Halloween prizes and Halloween toys, goody bag toys, etc.
NOTE: Please note that our no-snap table favors are different from traditional crackers since there is no snap inside.
CUSTOMER SATISFACTION. Providing a great shopping experience is our main priority to our customers. Feel free to message us through "contact sellers" if products don't meet your expectations. The celebrations start at JOYIN!

Halloween Pumpkin keychain

Sale

Bestseller No. 1

It's All About The Candy poster

Bestseller No. 1

Inspirational Motivational Wall Art & Decor - Entrepreneur Positive Quotes Poster Prints 8x10 - Home Office - Classroom Decor - Success Sayings - Encouragement Gifts for Men, Women - Encouraging Motto

8x10 UNFRAMED PRINTS - NOT Canvas or Tin Sign
UNIQUE WALL ART DECOR - Cool original home decorations for office, living room, bedroom, bathroom, family room, man cave, dorm, dining room, kitchen, classroom, apartment, bar, baby nursery
PERFECT PRESENT FOR EVERY OCCASION - Cute gift ideas for women, wife, girlfriend, her, girls, daughter, men, guys, boys, son, husband, boyfriend, him, kids, teens, best friend, cat lover, Christmas, Xmas, holiday, Halloween, housewarming, cheap inexpensive gag gifts, presents, bridal shower, wedding, birthday, anniversary
SO MANY STYLES! Boho, bohemian, abstract, aesthetic, mid century modern, minimalist, contemporary, black art, African American, goth, gothic, pagan, country, rustic, vintage, shabby chic, farmhouse, typography, positive quotes, inspirational, motivational, Zen, religious, Christian, funny sayings, nautical, tropical artwork, beach, arte decoracion, retro, encouragement, glam
SAVE ON MULTIPLE POSTERS, PRINTS, PHOTOS, PICTURES - See details at left

Inflatable black balloons

Bestseller No. 1

Creepy doll

Sale

Bestseller No. 1

Skeleton Figurine

Bestseller No. 1

NABIAN Halloween Movable Mr. Bones Skeleton Human Model Skull Mini Figure Full Body Toy

💀Human skeletons can be moved, very cute, material: PVC, color: white.
💀Great size for your needs: 9 cm/3.54 inch Halloween decorations make your festival more interesting, and they will be cool for each festival.
💀Movable joint skeleton: the structure of shoulder joint, elbow and wrist can provide a certain range of motion for the arm of the skeleton to be placed in any position.
💀Realistic movable skeleton: It is made of hard plastic, painted with imitation bone color, and can pose realistically all over the body.
💀It is very suitable for haunted houses, cemetery scenes, Halloween parties, terrorist tricks, street carnivals, Easter, etc.

Halloween-themed glow sticks

Bestseller No. 1

JOYIN 33 Pcs Halloween Glow Stick Bulk Pumpkin Themed Party Supplies with 3 Pendants, 3 Rings, 3 Wands, 3 Bracelets and 21 Glow Sticks for Halloween Glow in the Dark Party Favors Goodie Bag Fillers

SUPER VALUE. Our Halloween glow stick set for pumpkin themed party favor accessories includes 3 pumpkin bracelets, 3 pumpkin necklaces, 3 pumpkin wands, 3 pumpkin rings and 21 glow sticks in 2 colors (orange and yellow) in a total of 33 pcs in a pack.
CUTE DESIGN. Each of the accessories design is creatively made to provide a cute output but with a touch of the halloween season. Its glow sticks are also effective in creating glow effects in your room and any other places to enhance the halloween ambiance.
IDEAL HALLOWEEN GIFT. These Halloween accessories are the best substitute if parents are looking for non-candy treats for kids. Could also be given to kids who are doing trick or treats, prizes in school, and also as a gift this halloween. These Glow Sets are perfect to keep any event lively! Perfect for glow-in-the-dark party supplies, neon themed party favors, birthday parties, halloween party favors and glow parties.
SAFE FOR CHILDREN. Non-toxic, non-BPA. Meet US toy standards. Safety test approved.
CUSTOMER SATISFACTION. Providing a 100% satisfaction experience is our main priority to our customers. Feel free to message us through "contact sellers" if products don't meet your expectations. The celebrations start at JOYIN!

Halloween-themed paper plates

Bestseller No. 1

125 Piece Halloween Paper Plates and Cups and Napkins Party Supplies Bulk Halloween Dinnerware Sets (Serve 25 ), Halloween Themed Tableware Set Party Decorations

Rich Enough for 25 People: this Halloween party supplies tableware includes 25 pieces of 9 inches dinner paper plates, 25 pieces of 7 inches dessert plates, 25 pieces of 9 oz paper cups, 50 pieces of 6.5 inches lunch napkins, a nice combination is designed for Halloween party
Creative Design: each festival has its distinctive characteristics, so the required outfits are also different; Our Halloween party plates and napkins sets are carefully designed according to the characteristics of Halloween, like witch, bat, which will help you successfully create a Halloween festive atmosphere, so that you and your family, friends can easily enjoy a happy holiday
Safe and Quality: our Halloween plates Halloween party supplies set all adopt water based inks that are safe for food contact, made of quality paper material, they are thick and reliable, will not deform when carrying food; The halloween party cup features good size without leaking, so it is suitable for hot and cold drinks like coffee, hot chocolate or iced cola; What's more, soft and absorbent napkins can add the astonishing touch to your table
Convenient and Disposable: designed with disposable feature, our Halloween paper plates and napkins sets can be thrown away when cleaning up after the party, which can save time and effort, giving you more time to spend with family and friends
Scenarios of Use: Halloween tableware and decorations are suitable for Halloween party, school, office, street and so on; These tableware will be your ideal companions when prepared for Halloween, let's look forward to Halloween together

Fake blood bottle

Bestseller No. 1

Spooktacular Creations Pint of Vampire Blood, 16oz Liquid Fake Blood, Bottle of Vampire Blood for Halloween Makeup Costume, Decoration

SUPER VALUE. This halloween party favors prop blood containing 16oz fake blood in a bottle.
VARIOUS APPLICATION. The fake blood is perfect for any Halloween, role playing, and other bloody scenes. Can put on clothes, body, face, pathway, and many more. This does not stain on skin and is easy to wash with soap and water.
IDEAL HALLOWEEN DECOR. Our halloween fake blood is a perfect blood effect you can think of. This looks like real blood making it as a great addition for your costumes bloody look like for vampires, zombies, monsters, creepy clowns, and many more. Have that creepy and scary halloween home vibes with our realistic fake blood.
SAFE FOR CHILDREN: non-toxic, non-BPA. Meet US toy standards. Safety test approved.
CUSTOMER SATISFACTION. Providing a great shopping experience is our main priority to our customers. Feel free to message us through "contact sellers" if products don't meet your expectations. The celebrations start at JOYIN!

Mini Glass Skull bottle

Bestseller No. 1

MINELEVEN Crystals and Healing Mini Stones with Skull Spell Jars-Crystal Chakra Stones Cute Glass Bottle-Healing Crystals (7pcs)

Different color mini crystal and healing stone with cute skull jar.The skull bottle is about the same size as a nail polish bottle.
Order different sets according to your needs, each set covers this different crystal stone variety, it is worth collecting .
In each set we will name the gems so you can recognize them. Each gemstone has a different meaning.It's excellent for dowsing, meditation, energy healing, chakra balancing.
You can give the gemstone gift set to friends, children, families, crystal healing enthusiast or someone you love.The crystal and gemstones is perfect for Home Décor, Minerals study, jewelry crafts or collecting.
Note: Different stones has different shape and size. The size of chips is between 3mm to 9mm.Minerals are the gift of the earth: different shades of color, different shapes, Different size. This is the beauty of nature.
Treats for Halloween Care Package
Ready to spice up this Halloween with unique and great tasting treats perfect for the holiday? If you're looking for some of the yummiest Ideas to gift out, here are a couple of our favorite:
Fall-themed Gourmet Berries

Sale

Bestseller No. 1

Back to the Roots Organic Mini Mushroom Grow Kit, Harvest Gourmet Oyster Mushrooms In 10 days, Top Gardening Gift, Holiday Gift, & Unique Gift

100% ORGANIC AND NON-GMO: There's no need to worry about intoxicants that may hinder your plant's growth because the Back to the Roots Mushroom Growing Kit is completely organic and not genetically modified; You can cook them however you want or add them to your favorite dishes
GROW YOUR PLANT ALL YEAR-ROUND: This organic mushroom indoor kit allows you to grow your own crop all-year round; Just place the box near a window with indirect light, mist twice a day, and you'll see delicious, beautiful mushrooms growing within a week; Included in this kit is an organic plant-based soil infused with mushroom spawn and a booklet with instructions
CONVENIENT AND EASY: Mushrooms are one of the easiest to grow indoors; All you need to do is open, spray daily with the included mister, and in 10 days you'll be harvesting your own mushrooms right out of the box; Each crop produces three to four servings of mushrooms, and each box can grow up two crops
THE PERFECT GIFT: The perfect holiday gift, it comes in a beautiful packaging so that it's ready to be given to foodie, garden-loving and eco-conscious friends and family; This kit is also part of our Grow One Give One campaign, simpy share a picture on social media, tag us and use the campaign hashtag, and we'll donate a kit to a classroom of your choice
GUARANTEED TO GROW: Made in the USA and 100% Guaranteed to grow. If you are not satisfied, simply message us and we will send you a Back To The Roots replacement

Chocolate covered Strawberries

Bestseller No. 1

Pumpkin muffins

Bestseller No. 1

Simple Mills Almond Flour Baking Mix, Pumpkin Muffin & Bread Mix - Gluten Free, Plant Based, Paleo Friendly, 9 Ounce (Pack of 1)

Receive 1 box of Simple Mills Almond Flour Pumpkin Bread Mix. Perfectly spiced pumpkin mix that uses actual pumpkin and actual spices. Great for fun and nutritious baking.
Take a look at our nutritious baking mix ingredients. Nutrient dense, purposeful ingredient list for these delicious baking products from Simple Mills.
See our reviews on your iPhone, iPad, Android, or laptop by scrolling down to see how other consumers rate our delicous taste!
Nothing artificial, ever. Shelf stable snack that is perfect for stocking up the pantry and great way to gain energy and boost productivity
Made With Simple Ingredients, Certified Gluten free, Non-GMO, Grain Free, Corn Free, Paleo Friendly, Plant Based

Halloween-themed Candy stash

Sale

Bestseller No. 1

90 Pieces Halloween Candy Decoration, Halloween Mini Candy Bar Wrapper Stickers Pumpkin Boo Treat or Trick Candy Chocolates Bar Stickers for Kids Halloween Party Favors Decoration, No Candy

Package includes: there are 90 pieces of Halloween decoration label stickers you will receive, which are all printed with the different Halloween elements, which are sufficient for your daily application demands or share with others
Beautiful appearance: these trick or treat stickers are designed in a beautiful and adorable appearance, full of classic Halloween patterns, which can well increase the atmosphere and bring you a memorable Halloween party
Suitable dimension: our candy bar wrapper measures about 6.7 x 3.6 cm/ 2.6 x 1.4 inch, which is appropriate for you to wrap your candy bars or decorate other things, creating an adorable Halloween party decorations
Available occasions: this label sticker is available on various occasions, such as Halloween, holidays, horror themed parties, or other events, which can easily catch the attention of your guests and friends, giving them nice visual enjoyment
Make a good decoration: the pumpkin party favor sticker features fine craftsmanship, clear patterns, and exquisite appearance, which is an ideal and cute decoration accessory, can have an unexpected decorative effect

Black lollipop

Sale

Bestseller No. 1

Black and White Swirl Pop Suckers (24 individually wrapped lollipops) Party Candy

These black and white swirl suckers are a great candy to have around during birthday parties, carnivals, fundraisers or wherever you need to brighten up your treat table or candy buffet. Sweet, tasty fun for both kids and adults,
Each 2" sucker comes on a 4 1/2" plastic stick.
Cherry flavor.
Individually wrapped
Bulk set of 24 swirl pops. Total weight, 14 oz.

Cheese Crackers

Bestseller No. 1

Candy Corn

Bestseller No. 1

Brach's Classic Candy Corn, 11 oz bag

A HALLOWEEN CANDY CLASSIC: The original, sweet, tricolored treat! Celebrate the flavor of fall with this classic candy corn staple that adds a special touch to any autumn moment. Brach's Candy Corn is the perfect sweet treat to fill your Halloween candy bowl, trick or treat candy bags, and decorate delicious halloween snacks. The Halloween season isn't complete without candy corn, and there's no better than the original—Brach's Classic Candy Corn!
MADE WITH REAL HONEY: Brach's Classic Halloween Candy Corn is full of flavor you can count on every fall season. Rich in both texture and taste, this candy corn is the perfect Halloween snack and decoration for all your Fall recipes and treats.
BAKE AND MAKE HALLOWEEN MOMENTS: Add a true touch of fall to all of this season's treats. Candy corn is perfect for candy bowls, trick-or-treat bags, movie nights, fall parties and pumpkin carving contests. Create memorable seasonal treats, cookies, cakes, pies, and snacks with a touch of candy corn that brings Autumn home.
AMERICA'S #1 CANDY CORN: Brach's classic candy corn delivers on the iconic, unique, rich, and velvety texture and real-honey flavor that makes us America's favorite candy corn. Nothing signifies Halloween and the fall season more than candy corn, and Brach's has been delivering this widely recognized treat to you to enjoy at your family celebrations, children's parties, work gatherings, and other fall-themed events.
AMERICA'S CANDY MAKER: Brach's has been making America's favorite candies since 1904. Our delicious variety of classically crafted confections are sweet treats that celebrate the season and all the moments in between. Share a little, or a lot, and make your memories sweeter.

Halloween cheese balls

Bestseller No. 1

Utz Cheese Balls Barrel, Tasty Snack Baked with Real Cheddar Cheese, Delightfully Poppable Party Snack, Gluten, Cholesterol and Trans-Fat Free, Kosher Certified, 36.5 Oz

CHEESY AND CRUNCHY – When you taste the pairing of tangy cheddar flavor and a satisfying crunch, you'll never want to put this barrel of Utz Cheese Balls down. These crunchy, munchy cheese balls are finger-licking fun.
PARTY SNACKS – So poppable and delicious, these crunchy cheese balls are the perfect party snack. Our largest size cheese ball barrel is perfect for parties or families with big snackers—all you have to do is put it in a bowl and serve, or enjoy right out of the barrel!
RESEALABLE CONTAINER – Utz Cheese Balls come in a conveniently resealable plastic 36.5 oz. barrel, so you can order in bulk and snack as you please. Just snap the cap back on tightly to maintain freshness.
GLUTEN FREE – Enjoy these delicious, crunchy cheese balls without the guilt. They are cooked without hydrogenated oils and are gluten, cholesterol, and trans-fat free. Kosher certified.
WE ARE UTZ – Since 1921, Utz has been making and selling quality pretzels and other delicious snacks in Hanover, PA, the snack capital of the world! The Utz Team works hard each day by bringing family crafted flavor in our world-class snacks. As a result, our snacks are crunchier, lighter, and fresher earning Utz smiles on the faces of generation after generation.

Halloween Edition Oreos

Bestseller No. 1

OREO Orange Creme Chocolate Sandwich Cookies, Limited Edition, Halloween Cookies, 3 - 1.25 lb Packs

Three 1.25 lb packages of OREO Orange Creme Chocolate Sandwich Cookies, Limited Edition Halloween Cookies
OREO Halloween snacks with orange-colored original creme and assorted Halloween cookie designs
Kosher OREO cookies are perfectly dunkable and shareable and make fun Halloween Snacks
Bulk cookies are great for lunch boxes, Halloween treats, and trick or treat bag snacks
Resealable cookie packs keep OREO Halloween cookies fresh and ready to share with friends and family

Oatmeal-Butterscotch cookies

Bestseller No. 1

Beast Energy Cookie, Protein Cookie Oatmeal Raisin - Vegan Oatmeal Raisin Cookies, Contain 180mg of Caffeine & 10g of Protein, Dairy-Free, Soy-Free, Egg-Free, Non-GMO - 3 Oz, 6-Pack

HEALTHY PROTEIN COOKIES - Beast Energy makes healthy protein snacks packed with 10g of vegan protein that satisfies hunger & provides the energy needed to get through your day
VEGAN PROTEIN SNACKS - A healthy high protein food made with high quality ingredients & baked to perfection. Our cookies are Non-GMO, dairy-free, soy-free & egg-free
OATMEAL RAISIN PROTEIN COOKIES - Instantly indulge in cinnamon-spice greatness, Beast Energy is the protein cookie that satisfies your sweet tooth and keeps you energized
NATURAL CAFFEINE - Beast Energy Cookies are infused with 180mg of caffeine from all-natural green tea extract & provide long lasting, untamed energy
MADE IN THE U.S.A. - Beast Energy Cookies are the tastiest & most energizing protein cookies that the market has ever devoured. Fresh & unbelievably delicious

Eyeball Bubble Gum

Bestseller No. 1

Pepper beef jerky

Sale

Bestseller No. 1

Jack Link's Beef Jerky, Peppered, 1/2 Pounder Bag - Flavorful Meat Snack, 9g of Protein and 80 Calories, Made with Premium Beef - 96% Fat Free, No Added MSG** or Nitrates/Nitrites

GOOD SOURCE OF PROTEIN – Protein is an essential part of your diet and Jack Link's Beef Jerky is a delicious way to get more every day. With 9g of protein and 80 calories per serving, it's a must-have snack to help keep you satisfied and energized all day
MADE WITH 100% BEEF: Jack Link's Beef Jerky is made from cuts of 100% beef. Our delicious beef jerky is 96% fat free with no added MSG** or Nitrates/Nitrites. **Except for that naturally occurring in soy sauce, hydrolyzed corn protein, and yeast extract
FULL ON FLAVOR: Love a little spice. Our Peppered Beef jerky delivers. Expertly seasoned with a special blend of herbs and spices and finished off with cracked black pepper. Then, it's slow roasted over hardwood smoke.
PERFECT EVERYDAY SNACK: How did ancient civilizations fuel themselves to build pyramids or win sword battles. Meat. If it worked for them, Jack Link's beef jerky can definitely help you power through a late day at work or fuel a workout.
RESEALABLE SHARING SIZE: The jumbo 1/2 pound sharing size bag is resealable so your beef jerky will always be fresh and as delicious as the first time you opened it! It's perfect for sharing with family and friends.

Peanut Butter Eyeballs

Bestseller No. 1

Halloween Milk Chocolate Peanut Butter Spooky Eye Balls, Trick-Or-Treat Party Bag Fillers, Individually Wrapped in Multi-color Eye Design Foils, Kosher Certified (1 Pound)

HALLOWEEN PEANUT BUTTER CREEPY EYE BALLS: These Halloween Milk Chocolate Peanut Butter Creepy Peepers are perfect for Halloween Parties, Pirate Parties and all Spooky entertainment. They come wrapped in Eyeball Foil Design and add Fun, Decoration and Atmosphere to your Halloween party that will leave good memories to all your guests!
PARTY FAVOR: The Halloween Milk Chocolate Peanut Butter Creepy Eye Balls are the perfect addition to any Spooky Fun Halloween or Pirate Party. All your guests will enjoy seeing them as decoration and eating them! It will enhance and add a little bit of fright to your party! They are wonderful for Trick-Or-Treating, Office Celebrations, Birthday Parties, Carnival Prizes, Classroom Rewards, Goodie bag Fillers, Gatherings and much more!
PACKAGING: The Halloween Chocolate Peanut Butter Creepy Eye Balls come in a 25-Pack, Half-Pound Pack, 1 Pound Pack, 2 Pounds Pack and 5 Pounds Pack Individually Wrapped in Green, Blue, Orange, Purple Multi-color Eyeball Design Foils! Great for hiding in Goody Bags and Hand Them Out to All Your Party-Goers as a Tasty Party Favor!
BUY RISK-FREE: At Fruidles we fully stand behind our products with total satisfaction and 100% money-back guarantee.
Kosher Certified

Pumpkin Cake

Bestseller No. 1

Arianna's Bakery Homemade Pumpkin Roll Dessert, Favorite Amish Food, 23 Oz. (Pack of 2)

Made in the USA; A wonderful Thanksgiving dessert homemade at Arianna's Bakery in Pennsylvania's Amish country
Tasty, cream cheese filling oozing out of a soft, delicate layer of pumpkin cake
Lancaster County, PA Dutch, Amish-style delectable taste; Pack of 2 to share with friend and neighbors
Perfect for a Thanksgiving or Christmas or birthday meal
Buy in bulk and save!

Sweet and Sour candy

Bestseller No. 1

Trolli Sour Brite Crawlers Gummy Worms, 28.8 Ounce, Cherry, Lemon, Strawberry, Grape, Orange and Lime

Trolli Sour Brite Crawlers: Trolli sour gummy worms in neon colors & sugar coating pack a punch of tangy sweetness in weirdly-awesome fruity flavor combinations like orange-lime, cherry-lemon, & strawberry-grape.
Product Note: Exposure to heat or sunlight may lead to melting/damage of product. Hence customers are expected to be available during the product delivery
Sour gummy worms: We think of Sour Brite Crawlers, our classic combo of sugary sweet & lip smacking sour gummy worms in flavors for every taste, as glowing deities that wiggle their way into your snack habit.
Trolli resealable candy bag: Can't get enough of the sweet & sour lip-smacking taste of Trolli candy. Be the hit of party if you can bear to share, and close the bag up for next time when you're done
Mind-blowing flavors: Are very berry gummies or a fruity tropical paradise more your style. How about our Slurpee gummy worms. For the bravest, we have fruit & fire crawlers: Sweet, sour, & spicy hot.

Cheetos

Bestseller No. 1

Black jelly beans

Bestseller No. 1

SweetGourmet Jumbo Black Licorice Jelly Beans | Bulk Unwrapped | 2 Pounds

Enjoy the taste of classic black licorice in every one of these jumbo-sized jelly beans!
Each soft and chewy jelly bean is full of spicy anise flavor that can be combined with traditional fruit flavored jelly beans or can be enjoyed on their own as a unique snack.
Net Wt.: 2Lb. Packed in resealable Zip-Lock Stand Up Pouches. Approx 78 pieces per pound. Contains: tree nuts(coconut)
Country of Origin: Mexico. Distributed and Repackaged by SweetGourmet PA 19440
A great licorice treat!

Slim Jim snack sticks

Bestseller No. 1

Slim Jim Snack-Sized Smoked Meat Sticks, Original Flavor, Keto Friendly, 0.28 Ounce, 120 Count (Pack of 1)

Includes (1) 120-count box of 0.28-ounce Slim Jim Original Flavor Snack Size Smoked Meat Sticks
Each individually wrapped snack stick is made to please your carnivorous cravings with a bold taste your taste buds will love
Enjoy this beefy protein snack food for an easy, on-the-go meat feast that'll kick hunger to the curb
The intensely bold original flavor is prime for snack time, lunchtime, after school or anytime
Keto friendly snack – 7 grams of protein, 1 grams net carbs (1 grams total carbs minus 0 gram dietary fiber), and 0 gram added sugar per serving

Spider Web cotton candy

Sale

Bestseller No. 1

Gummy Eyes Halloween Candy

Bestseller No. 1

Fruidles Gummy Eyeballs Halloween Candy, Trick-Or-Treat Party Bag Fillers, Party Favor (Half-Pound)

HALLOWEEN GUMMY EYEBALLS: These Halloween Gummy Eyeballs Candy are perfect for Halloween Parties, Pirate Parties, and all Spooky entertainment.  They add Fun, Decoration, and Atmosphere to your Halloween party that will leave good memories for all your guests!
PARTY FAVOR: The Halloween Gummy Eyeballs Candy are the perfect addition to any Spooky Fun Halloween or Pirate Party. All your guests will enjoy seeing them as decorations and eating them! It will enhance and add a little bit of fright to your party! They are wonderful for Trick-Or-Treating, Office Celebrations, Birthday Parties, Carnival Prizes, Classroom Rewards, Goodie bag Fillers, Gatherings, and much more!
INGREDIENTS: Corn syrup, sugar, dextrose, water, gelatine, modified corn starch, acids: citric acid, corn starch, natural and artificial flavor, gelling agent: pectins, vegetable oil (palm oil), glazing agent: carnauba wax, beeswax, color: Yellow 5, Red 40, Blue 1, Titanium dioxide.
MAKE IT A GIFT: Lovely decorated gift tray for family, friends, coworkers, loved ones, or yourself! Tastes as good as they look! Make Yummy Additions to Party Favor Bags at A Child's Birthday Celebration and are guaranteed to satisfy your sugar cravings!
PACKAGING: The Halloween Gummy Eyeballs Candy come in Bags of 8oz and 1Lb! Great for hiding in Goody Bags and Hand Them Out to All Your Party-Goers as a Tasty Party Favor!

Peppermint candies

Bestseller No. 1

Gummy sharks candies

Bestseller No. 1

Funtasty Blue Sharks Gummy Marshmallow Candy, Raspberry Flavor - 11 Ounce Bag

Our bright Blue Gummy Sharks are not only fun to look at; they're fun to eat as well; these two-sided blue and white Sharks feature a blue-raspberry top and a white marshmallow bottom
These gummies have a soft, chewy texture and mouthwatering raspberry flavor; made with real fruit juice; gluten-free and fat-free
Eye-catching Gummy Sharks make a great addition to candy buffets, favor bags, candy bowls, gender reveal parties, baby showers, and under-the-sea or beach-themed parties
From Halloween, Christmas, and Easter to an everyday treat, Blue Baby Sharks will satisfy all gummy candy lovers
You will get 11-ounce bag of Blue Gummy Sharks Candy; approximately 35 pieces per order

Skull chocolate

Sale

Bestseller No. 1

Skull Shaped Hot Chocolate Melting Balls with Mini Dehydrated Marshmallows, Christmas Stocking Stuffers Party Favors and Gift Basket Fillers, Pack of 3, 1.6 Ounces

FRANKFORD hot chocolate balls have become a staple of the holidays. This pack includes 3 - 1.6 ounce skull shaped Hot Chocolate Balls, as well as a candy swirl accessory
SWEETZO purchases only from licensed manufacturers. We combine complimentary items for the perfect gift giving. We repackage all items in our custom packaging to ensure arrival in perfect snacking condition. Whether you're giving or receiving this season, purchase confidently from Sweetzo!
SKELETON hot cocoa ball is made of a milk and white chocolate swirl, and on the inside are mini dehydrated marshmallows. They puff back up as soon as they soak up that delicious hot chocolate!
DIRECTIONS are included on the side of the box. All you have to do is place the ball in the bottom of a mug, pour warm milk or water over it, and watch it melt into a delicious and creamy drink!
CHRISTMAS is one of the sweetest times of the year, so make it even sweeter with this skull shaped spooky hot chocolate ball!

Halloween sugar cookies

Bestseller No. 1

Halloween Cookie Gift Basket, Hand Decorated Vanilla Sugar Cookies Gourmet Dessert Spooky Trick Or Treat Gift Box For Boys Girls Kids Children Adults 3 Count

HAND-DECORATED BY OUR IN-HOUSE BAKERS: Every order comes with (3) fun, Halloween cookies 1 witch cookie size 5*3 inches 1 pumpkin cookie size 3*2.5 inches 1 trick and treat cookie size 3*2 with cool designs all created in-house by our talented team!
EVERYONE LOVES THESE DELICIOUS COOKIES: Forget about assortment of chocolate candy snacks treats or snack box for delivery as a gift this year do a unique Halloween gift This cookies are all handmade and freshly baked in our state of art bakery so that the lucky recipient gets a batch of the freshest, best-tasting cookies they ever had. You've been warned; it's hard to eat just one! Add Your Gift Message By Checkout!
SEND A TRICK OR TREAT GIFT: These delicious cookies are the perfect gift for Him, friends, family, military soldiers, students, co-workers, teens, toddler, young kids, boyfriend, girlfriend, friend, boy, girl, son, daughter, yourself, women, men, inmates, pregnancy, new mom, mother, father, dad, boss, teacher, partner, business, kid, baby, any year old or age, husband, wife, grandchild, grandson, granddaughter, grandmother, grandfather, grandma, grandpa, niece, nephew, aunt, uncle, cousin, etc.
BEAUTIFULLY PRESENTED IN STYLISH GIFT BOX: We like to think the cookies taste and design do all of the talking, but everyday customers tell us how much they love the cookie box! We neatly present the fresh baked goods in the gift box to really "wow" the recipient.
THE COOLEST SPOOKY GIFT OR YOU DON'T PAY: If our cookies don't receive rave reviews, then we don't think you should owe us a dime. We strive for 100% satisfaction, so we'll give you a full refund if we fall short. No questions asked. Freshness is not a goal, it's a guarantee.

Jelly-filled Chocolate bars
Pumpkin seeds

Bestseller No. 1

Terrasoul Superfoods Organic Pumpkin Seeds, 2 Lbs - Premium Quality | Shelled | Raw | Unsalted

Terrasoul Superfoods Organic Pumpkin Seeds (Pepitas), 2 Pounds
USDA Certified Organic, Non-GMO, Raw, Gluten-Free, Vegan
Unsalted and 100% organic pumpkin seeds are good for your health and for any diet.
Terrasoul Superfoods is a family-run business that sources the freshest and highest quality superfoods from all over the planet. Our mission is to make these amazing, healthy foods available to you at the lowest prices possible while paying our growers and employees fair wages.
100% Money-Back Satisfaction Guarantee - We stand behind our products and offer a 30-day money back guarantee, backed by an outstanding customer service team.

Halloween S'mores

Sale

Bestseller No. 1

Party City S'Mores Snack Couple Halloween Costume, Adults Standard Size, Chocolate and Marshmallow Graham Cracker Tunics

You and your partner or friend will look like a snack in this S'mores Snack Halloween Costume for adults that includes two tunics
Includes two comfortable graham cracker tunics, one with toasted marshmallow and the other with chocolate that will turn your duo into a delicious s'more
This duo costume is an adult standard size; Just pull these two campfire snack tunics over your clothes for an effortless, easy-to-wear costume that sits comfortably on your shoulders with the attached straps
Perfect for Halloween trick or treating, themed birthday parties, and dress up events
Care for these funny 100% polyester (exclusive of decoration) costume by spot cleaning only; Shoes, pants, shirt, and hat not included

Chocolate dipped Caramel Apples

Bestseller No. 1

Milk & Dark Decadence Chocolate Dipped Caramel Apples Pair

Two Pure milk and dark chocolate covered caramel apples presented in our signature gift boxes
One Pure milk chocolate dipped caramel apple drizzled with white and dark chocolate.
One Pure Dark Chocolate dipped caramel apple drizzled with white chocolate and decorated in dark chocolate jimmies
Apples are individually packaged and tied with gift bows, each in their own gift box.

Velvet cupcakes
Sugared black marshmallows

Bestseller No. 1

Sugared Marshmallows 2 Pounds (Black, 2 Pounds)

Need Black Candy for an Event? These are Great for Events With a Black Candy Theme. About 1.25 Inch Circumference
Great for themed parties including weddings, birthdays, bar mitzvahs, bat mitzvahs, bridal showers, baby showers, quinceaneras or graduation parties.
These Would Be the Highlight of a Black Candy Buffet! Make Great Party Favors, Imagine these as favors in your containers! Make Great Party Favors, Imagine these as favors in your containers!
APPROXIMATELY 100 MARSHMALLOWS, A Must Have For all Candy Buffets
SO SOFT AND FRESH! TRY THEM FOR YOURSELF!

Chocolate-covered Pretzel

Bestseller No. 1

Mrs Prindables 24 Chocolate Dipped Caramel Pretzel Rods

Direct from Mrs Prindables - We are the only direct seller of our pretzels on Amazon.
24 Salty, crunchy pretzel rods dipped in buttery caramel then drenched in chocolate, and finished with gourmet premium chocolate.
Our collection of Gourmet Pretzels combines crunchy, salty pretzel rods with our famous homemade caramel, rich milk or dark chocolate, and decadent toppings
Package includes: 8 Milk Chocolate & Toffee Pieces 8 Dark Chocolate with White Chocolate Drizzle 8 Milk Chocolate with Rainbow Sprinkles.
Mrs Prindables heritage lies in the soft buttery caramel that has enriched our gourmet gifts for over a quarter century.

Black sugar doughnuts

Sale

Bestseller No. 1

Pumpkin soda
Canned Pumpkin soup

Bestseller No. 1

Weruva Classic Dog Food, Funky Chunky Chicken Soup with Chicken Breast & Pumpkin in Gravy, 14oz Can (Pack of 12)

Funky Chunky Chicken Soup (14oz can, Pack of 12) Featuring boneless, skinless, white-meat chicken with pumpkin, carrots, and peas.
Weruva Classic Dog Food - Our premium lineup of artfully-crafted recipes with high-quality ingredients you can actually see and your dog will love
Your pup can stay funky, and not get chunky with this all-natural, low fat and low carb chicken soup.
Grain-free, Gluten-free, & Carrageenan-free. No corn, wheat or soy. Free from any artificial colors & preservatives.
Produced in Human Food Facilities under the Strictest B. R. C. Global Standards for Foods with responsibly sourced ingredients

Halloween-themed powdered hot chocolate

Bestseller No. 1

Swiss Miss Marshmallow Hot Cocoa Mix, (30) 1.38 oz Envelopes

Includes (1) 30-count box of Swiss Miss Marshmallow Hot Cocoa Mix with 1.38-ounce packets
Swiss Miss classics milk chocolate flavor hot cocoa mix with marshmallows contains 160 calories per serving
This creamy, delicious hot beverage features mini marshmallows loved by moms and kids.Contains no artificial sweeteners, preservatives, flavors, or colors. Item Form: Powdered
Starting with real milk, this classic Swiss Miss Marshmallow Hot Cocoa Mix has the timeless flavor that brings delight with every sip
After hours playing in the snow, reach for this hot cocoa mix with mini marshmallows as a delicious treat for kids and a moment of relaxation for you

Mummy cookie cutter

Bestseller No. 1

Halloween Cookie Cutters, 12Pcs Mini Stainless Steel Halloween Cookie Cutters Set -Ghost, Bat, Pumpkin, Cat, Witch Hat, Spider Web, Skull, Witch, Tombstone, House, Mummy, Bone for Baking Party

Food Grade Stainless Steel Cookie Cutters: The cookie cutters halloween are made of 430 stainless steel, which is food grade, will not rust, durable and safe to use. It can be used repeatly. Smooth metal surface doesn't hurt your hands when you and your family use the cookie cutter set.
Holiday Cookie Cutters Kit Shapes: The biscuit cutters for halloween contains 12 different shapes. Ghost, Bat, Pumpkin, Cat, Witch Hat, Spider Web, Skull, Witch, Tombstone, House, Mummy, Bone, which is easy to make various Halloween style cookies for kids,friends and family.
Easy to Use:Excellent welding technology make these cookie molds surface smoothly, no sharp corners or edges. Press lightly to quickly make cookies of various cute models, easy to demold.The non-stick surface enables you to use them conveniently. Please hand wash and dry your cookie cutters after using.
Widely Application: The halloween food cutter not only is a good choice to make halloween cookies, but also can be used to cut bread, fruit, pizza, sandwich, which make your party more interesting and creative. It is a perfect gift for halloween decorations or another parties.
Halloween Cookie Cutter Service:Halloween cookie cutters for baking are suitable for a school party or decorate the house for Halloween.If you have any questions about MANKAYOO small halloween cookie cutters for kids,you can contact us anytime and we will reply online within 24 hours.

Dark chocolate Truffles

Bestseller No. 1

Lindt Chocolate Lindor Truffles, Dark Chocolate, Great for Holiday Gifting, 60 Count

Contains 1 - 25.4 Ounce Box of Dark Chocolate Truffles
Lindt delivers a unique chocolate experience with a distinctly smooth and rich, gourmet taste
Contains a delicious smooth dark chocolate center surrounded by a delicate dark chocolate shell
Product of the USA
Made with premium ingredients from world-renowned regions; Great for holiday sharing and gifting

Black sprinkles

Bestseller No. 1

India Tree Decoratifs, Black Magic, 2.9 Ounce

The package length of the product is 6.0 inches
The package width of the product is 5.0 inches
The package height of the product is 4.0 inches
The package weight of the product is 0.96 pounds

Hot Cinnamon candies

Bestseller No. 1

Red Hots Cinnamon Candy, 5.5 Ounce Box, Pack of 12

CAN YOU HANDLE THE HEAT Experience the powerful, fiery taste of cinnamon with Red Hots Cinnamon Candy. Their round shape nestles on your tongue, delivering wave after wave of spicy flavor.
MANY WAYS TO ENJOY: Whether you eat them by the handful, put them on a birthday cake or use them as a decorative touch to your gingerbread house, there are a million fiery ways to enjoy Red Hots
THEATRE BOX: These delicious, fiery red candies come packaged in a theatre box that's the perfect size to enjoy by yourself or to share with friends. Whatever mood you're in it's a satisfying treat
GREAT FOR ALL OCCASIONS: Whether you're filling Easter candy baskets, birthday swag bags, handing out candy to trick-or-treaters, or just craving a spicy-sweet treat, these Red Hots are sure to please.
A CLASSIC FAVORITE: Red Hots have a signature, fiery taste that can't be imitated. They're made the way they always have been: with a careful cold-panned candy process perfected over generations.

Red punch drink

Sale

Bestseller No. 1

Hawaiian Punch Fruit Juicy Red, 10 Fluid Ounce Bottle, 6 Count (Pack of 4)

FRUIT FLAVORS: Hawaiian Punch is inspired by tropical fruits and bursting with bold fruit flavors.
VITAMIN C: Hawaiian Punch is an excellent source of Vitamin C.
FRUITY GOODNESS: Hawaiian Punch is less than 100 calories, caffeine-free, gluten-free and carbonation-free.
FUN REFRESHMENT: Hawaiian Punch has a fun and delicious taste kids and the whole family can enjoy anytime and anywhere.
FLAVOR VARIETY: Available in flavors Fruit Juicy Red, Polar Blast, Lemon Berry Squeeze, Orange Ocean and so many more. There's a flavor and color for everyone.

Nachos

Bestseller No. 1

Black licorice
Pumpkin cheesecake

Bestseller No. 1

Harry & David The Cheesecake Factory Pumpkin Cheesecake (10 Inches)

A pleasing combination of pumpkin pie and cheesecake, the cake is crafted with a graham cracker crust and spiced pumpkin filling.
Topped with whipped cream rosettes, the cheesecake is a fantastic way to celebrate during the holidays.
Note: This item is shipped with dry ice in an insulated container via 2-Day Express delivery to ensure it arrives in perfect condition. To avoid weekday transit, orders placed after 10 a.m. PT/1 p.m. ET on Wednesday will shop on Monday of the following week.
America's first choice for fruit and food gifts since 1934, Harry & David is committed to providing premium quality and excellence in every way.
Measures 10 inches in diameter and weighs 5 pounds 10 ounces; 12 pre-cut slices.

Apple slices

Sale

Bestseller No. 1

Newness Apple Slicer Corer, 16-Slice [Large Size] Durable Heavy Duty Apple Slicer Corer, Cutter, Divider, Wedger, Integrated Design Fruits & Vegetables Slicer for Apple, Potato, Onion and More, Red

Upgraded: 16-Sharp Blades, just press down with both hands holding the handle and with a slight twist to quickly get 16 thin apple slices! (Please refer to the picture for operation details)
Material: Made of food grade stainless steel blades and comfortable plastic handle. Easy to use and will last long. Easy to clean, recommended hand wash.
Large Size: Diameter up to 5.11 inches (13 cm), suitable for many different round fruits, like apples, oranges, pear, etc. (Even with large apples)
Make you no longer confused with pies, salads, fruit desserts, juice, fruit platter, as well as entertaining guests! Save your time and enjoy your life better. It's a perfect holidays and birthday present for family, friends and kitchen lovers.
Sturdy and durable, easy to use, dishwasher safe.

Apple Cider

Bestseller No. 1

Mountain Cider Spiced Apple Cider Concentrate | Gluten Free, No Preservatives, No Added Sugar | 16 fl. oz (16 servings)

WHY MOUNTAIN CIDER: Mountain Cider Company started over 30 years ago as a family business with a strong passion for making apple cider concentrate. The cider is made by boiling down freshly pressed apples and mixing it with a traditional blend of mulling spices.
SIZE & INGREDIENTS: 16 fl. oz (16 servings), Our 100% Natural Spiced Apple Cider Concentrate contains Apple Cider and Natural Spices. No Added Sugar, No Preservatives, Gluten-Free
USE OF THE CIDER: Mix 1 oz. of concentrate (add more or less to suit your taste) with 7 oz. hot water to make a warming cup of cider.
CIDER STORAGE: Our cider concentrate will last 24 months from the date code on the bottle with no refrigeration required. A seasonal favorite now available all year round.
PERFECT FOR BAKING: Our Apple Cider Concentrate can be used for more than just drinks - it's also great for baking, brines, glazes, soups and so much more.

Homemade Meatball Mummies

Bestseller No. 1

Pumpkin patch Brownies

Sale

Bestseller No. 1

Stupell Industries Pumpkin Patch Fall Halloween Holiday Word Wood Texture Design Wall Plaque, 7 x 17, Multi-Color

Dimensions: 7 x 0. 5 x 17 Inches
Our wall plaques start off as high quality lithograph prints that are then mounted on durable MDF wood. Each piece is hand finished and comes with a fresh layer of foil on the sides to give it a crisp clean look.
Our wall plaques start off as high quality lithograph prints that are then mounted on durable MDF wood. Each piece is hand finished and comes with a fresh layer of foil on the sides to give it a crisp clean look.
Design By Artist Stephanie Workman Marrott

Bag of Unicorn Fart Cotton Candy

Bestseller No. 1

Bag of Unicorn Farts (Cotton Candy) Humorous Present Idea For Friend, Coworker, Mom or Dad

Now WIth More Cotton Candy! Funny Unique Gift For All Ages.
Do You Like To Make People Laugh? Bag of Unicorn Farts are guaranteed to brighten a friend's day.
Scientific fact: Farts In A Bag Are Funny! The 3oz fruit punch cotton candy is delicious!
Be Original! The perfect birthday gift, retirement or 2nd Anniversary present. Epic Easter basket stuffer.
Perfect Present! Creative Stocking Stuffer And Birthday Gift Idea. Funny granddaughter or grandson present.

Candy Pumpkin

Bestseller No. 1

Brach's Mellowcreme Pumpkins Candy, 11 Ounce Bag

Made with real honey, this creme candy is shaped like festive pumpkins
Brach's Mellowcreme Pumpkins Candy provides rich and creamy flavor in every bite
A candy essential for parties and candy dishes this Halloween season
Brach's Mellowcreme Pumpkins Candy is the perfect fall treat to share with family and friends
Experience the goodness of America's Candy Maker since 1904 in every bite

Chocolate cookies with fillings

Sale

Bestseller No. 1

Cheesecake

Bestseller No. 1

Pumpkin bread

Bestseller No. 1

Libby's All Natural Pumpkin Bread Kit with Icing - Makes 2 Loaves

Libbys All Natural 2 Loaf Pumpkin Bread Kit With Icing Thanksgiving Holiday Gift Box
This all natural pumpkin bread kit comes with everything you need to make 4 delicious loaves of Libbys all natural pumpkin bread
Great for any pumpkin bread lover, makes a perfect Christmas, Hanukkah, or Thanksgiving Gift

Pepper popcorn

Sale

Bestseller No. 1

Halloween pumpkin pinata

Sale

Bestseller No. 1

Halloween Pumpkin Pinata for kids and adults, size 17"x10"x5" includes wood stick, Perfect for Halloween Party Decorations, Photo Prop, October Birthday, Funny and Spooky Games - Fits candy/favors

OUR traditionally handcrafted Pumpkin piñata will be the sensation of your special event, we include a beautifully decorated small wooden stick matching the pinata colors.
PERFECT for Halloween party decorations, October birthday party, Spooky theme party or centerpiece decorations, our piñata also has an opening ready for you to put candies or other surprises.
AMAZE your guests with this pumpkin pinata, this item measures approximately 17x 10 x 5 inches and can fit up to 3lbs of candy (adult supervision recommended)
STRONG and traditional materials are used in the making of this Halloween Pumpkin pinata which allows you to play with it for a longer time.
WE GUARANTEE you'll love this piñata so much you wouldn't want to break it.

Gummy worms

Bestseller No. 1

Black Forest Gummy Worms Candy, 5 Pound, Pack of 1

So juicy. So good: No need to get squirmy, Black Forest Gummy Worms are made with real fruit juice. Dirt not included. Fat-free & gluten-free, each wiggly gummy worm is as delicious as the last.
Black forest gummy worms: Our gummy worms will squirm their way to the top of your snack list faster than you can eat them. Made with real fruit juice, these juicy earth worms are even sweeter shared.
Get your gummy on: From gummy bears to gummy worms, fruit snacks to sour heads, Black Forest candy is the perfect sweet snack to add flavor to your day. Real fruit flavors, naturally juicy.
Taste the difference: What makes Black Forest gummies, fruit chews, & fruit snacks so good? Our classic & organic snacks have real fruit juice, so each gummy bear, chew, or fruit snack is soft, chewy, & fruity.
So Juicy, Ja. You'll love the juicy goodness of Black Forest gummies and fruit snacks. Add a moment of fun to your day with Black Forest candy, whether you treat yourself or share with others.

Halloween-themed Oreo cookies

Bestseller No. 1

OREO Orange Creme Chocolate Sandwich Cookies, Limited Edition, Halloween Cookies, 3 - 1.25 lb Packs

Three 1.25 lb packages of OREO Orange Creme Chocolate Sandwich Cookies, Limited Edition Halloween Cookies
OREO Halloween snacks with orange-colored original creme and assorted Halloween cookie designs
Kosher OREO cookies are perfectly dunkable and shareable and make fun Halloween Snacks
Bulk cookies are great for lunch boxes, Halloween treats, and trick or treat bag snacks
Resealable cookie packs keep OREO Halloween cookies fresh and ready to share with friends and family
Clothing/Accessories for Halloween Care Package
Trying to decide on the best Halloween apparels that'll give that frightfully delightful look to someone who's short of costume ideas? Here's a list of ideas to get that transformation for Halloween:
Harry Potter tie

Bestseller No. 1

Kangaroo Harry Potter Tie and Glasses - Harry Potter Costume Accessories for Adults and Kids - Fun Halloween Costume - Wizard Griffindor Tie

Premium Quality - Made of soft and shiny fabric, our tie would make you stand out at a harry potter theme party. These tie feature a Griffindor-inspired striped design and color. Black and rounded Harry Potter glasses are made of sturdy plastic for lasting use.
For All Dress-Up Occasions - Be a strong-headed Hermoine, clumsy Ron, or ever charming Harry Potter this Halloween with our glasses and tie. Perfect accessories for any costume party, Harry potter Cosplays, dress-ups, harry potter birthdays, and wizard theme parties. You can also use them as Halloween or birthday harry potter decor and bring the essence of Hogwarts to your place.
Spell Your Magic Everywhere - We all love harry potter, and the magical world portrayed in the series fascinates all of us. Kangaroo harry potter costume adult gryffindor tie and glasses set helps you live and turn those fantasies into reality. Mesmerize your friends and family with your witchcraft this Halloween.
Harry Potter Costume Accessories - Complete your hermione granger costume adult women or harry potter costume with our pack of griffendor ties and black harry potter glasses with lenses. Our wizard accessories work great for most adults, girls, boys, and teens aged 14 plus.
Your Satisfaction, Our Priority - Kangaroo presents a range of valued and fun Halloween costume accessories for kids and adults. We lead by quality assurance and your satisfaction. Don a perfect wizard attire with our harry potter tie official and harry potter glasses for adults.

Exorcist mask

Bestseller No. 1

NC Halloween Mask COS Exorcist Smile White Face White Eyes Demon Mask Creepy Horror Mask Halloween Cosplay Props

【Smiling Horror Mask】- Even if you have watched thousands of horror movies, you have seen some of the most creepy art works and creations. This must be the most creepy face you have ever seen. This is really realistic, scary, and disturbing.
【Unique Halloween decoration】- This exorcist smile evil mask has realistic devil skin texture to make your dress more horrible. A scary face will scare your friends and you will be the center of attention. Everyone will be shocked by your scary mask!
【Halloween smile devil face】- The scary evil mask is made of 100% natural latex material, environmentally friendly, non-toxic, comfortable and breathable, without smell. Creepy Halloween smiling demon face. Creepy scary smiley with shoulder straps. You can see through your eyes!
【Optional】-The evil horror mask has two styles, green and white, with luminous eyes or non-luminous eyes. The illuminated face shield should be charged with 2 button batteries. (The battery is not included in the product)
【Applicable occasions】- This scary demon mask is suitable for Halloween, cosplay costumes, masquerades, fancy dress parties, carnivals, Christmas, Easter, theme parties, etc. It is also an exquisite gift for friends.

60's black scarf

Sale

Bestseller No. 1

Sheer Chiffon Scarf Vintage Style Accessory for Women and Children, Black Polka Dot

CUTE '50S DESIGN: Share your retro flair by wearing this cute chiffon scarf. There are several colors to choose from, including black, navy blue, hot pink, light pink, orange, peach, purple, red, royal blue, shocking pink, teal, white, yellow, and polka dot variations! This scarf is just what you need to complete your 1950s look. Just pair it with a poodle skirt, and you're all set!
COMFORTABLE & LIGHTWEIGHT ACCESSORY: Your scarf shouldn't feel heavy on your neck or head, which is why we made this scarf from sheer chiffon. The chiffon is 100% polyester, making it machine washable. This scarf will feel soft and smooth against your skin. In fact, it'll feel so comfortable, you won't even notice you're wearing it.
VERSATILE: There are several ways to wear this versatile scarf! You can put it around your neck like an ascot for a retro vibe. You can also wear it on your wrist as a bracelet. Finally, you can tie it in your hair, adding spunk and sass to your ponytail. Check out our chart for all the different ways you could wear your scarf in your hair, including a bow, headwrap, and top knot.
PERFECT FOR SOCK HOPS & DECADE DANCES: Step back in time with this adorable vintage-inspired accessory. Whether you're going to a sock hop, decades dance, or 50s-themed party, you'll fit right in with your new retro attire. Get ready to twist and shout and rock 'n' roll by wearing your new chiffon scarf!
FOLDS TO A SQUARE: When you're not wearing it, just fold it into a square for easy storage. Additionally, it won't wrinkle or kink when folded properly, preserving the aesthetic of your scarf. You'll enjoy this scarf for years to come!

Pumpkin Enamel Pin

Bestseller No. 1

Halloween Decorations 5 Pcs Enamel Pins Halloween Pumpkins Cute Party Brooch Lapel Pins for Backpacks Jacket Badges Hats Decoration Gift for Women Girls Kids

CUTE DESIGN: These 5 pcs Halloween enamel pins set is composed of pumpkins, a ghost, moon and wizard, a cup. Fun and special for Halloween and parties. Different colors are available for you to choose, adding charm and elegance to your outlook.
PREMIUM MATERIAL: Enamel pins are made of high-quality Zinc Alloy with nickel plating, enamel handmade painted coating, and hard enamel coloring. The brooch pins are sturdy and snug, the enamel is bright and the lines are crisp. No need to worry about fading. The enamel pins are high quality for durable and long-lasting use.
SUITABLE FOR ANY OCCASION: The Halloween enamel pins set is suitable when you go to travel, parties, and any social entertainment activities. Add a fun and unique pumpkins enamel pin to decorate your T-shirt, Dress, Sweater, Jackets, Coats, Pants, Backpacks, Hats, Scarves, and anything you like. Enamel pins for backpacks are the most widely used.
PERFECT GIFT: The cute Halloween is worth choosing whether you collect it as a souvenir or give it to your families and friends. Give these adorable enamel lapel pins for Children's Day, Children's Birthday Parties, Holiday, Christmas day, Outdoor activities, and various life surprises.
ENJOY SHOPPING: If there is any question about our enamel pins, please feel free to contact us. We will provide the best service for you.

Hulk hands

Bestseller No. 1

Superhero Gloves Boxing Gloves Smash Hands Big Soft Plush Hero Fists, Superhero Toys for Boys Girls, Role Play Costume Birthday Gift for Toddlers Kids Age 3+ ( 1 Pair Green)

👊 HIGH QUALITY and SUITALBE: Our boxing gloves are soft but durable for punching play. Stuffed superhero gloves with soft and thick PP fabric, very Comfortable to wear and will protect your kids from hurting by a strong impact. Good workmanship, easy to wash and dry.
👊 INSIDE HANDLES: There are handles inside the smash hands for support and control movement, also can prevent them falling off your fists while you are wearing the smash hands.
👊 FOR ALL AGES: Detailed with giant fingernails. Smash fists fit anyone's hands, from kids to adults.
👊VERSATILE HANDS: The Big Fists can be used as boxing gloves or cosplay props. Height:30 cm/11.8 inch. Bring endless fun for thes who get the gift.
👊GREAT GIFT for KIDS: The fists is a good choice as gift for Birthday, Christmas ,Halloween and so on. It will surprise them. Such a gift can help them to be more brave, a good company for kids.

Glow-In-The-Dark Zombie Teeth

Bestseller No. 1

24 Pieces Glow Vampire Fangs Luminous Vampire Teeth Glow In The Dark Vampire Fangs Fake Denture for Cosplay Party Props Halloween Party Favors Costumes Accessory

Package includes: 24 pieces of glow vampire fangs, enough quantity to satisfy your needs for character playing, such as zombie, vampire, werewolf and so on, and you can also share these glowing fangs with your family and friends
Safe material: our vampire fangs are made of safe and reliable luminous materials, which are non-toxic and odorless, lightweight and will not let you feel uncomfortable when wearing, giving you a nice using experience
Glow in the dark: these vampire fangs can glow in the dark and are great for wearing at a party on Halloween night, cool and special design will make you to stand out from the party, gain the praise of others, and enjoy the joy of the party
Eye-catching Halloween accessories: these vampire dentures are great props for Halloween or cosplay themed events to dress up as vampires, werewolves, zombies and other animals, making people look creepy and increasing the festive atmosphere
Wide applications: these glow vampire fangs are nice choice for Halloween party, scary houses, cemetery scenes, masquerades and other fun activities, they can also be given as a gift to friends and family

Pretty Little Pumpkin kid's shirt

Bestseller No. 1

Thankful Grateful Blessed Shirts Toddler Boys Girls Thanksgiving Pumpkin T-Shirt Graphic Fall Tshirts(Orange,130)

PREMIUM MATERIAL: This cute toddler Thanksgiving pumpkin shirt is made of cotton blend.Soft touch, breathable, lightweight. Our shirts are a little stretchy and won't shrink or pilling. When you put on this cute pumpkin graphic t-shirt, it will give you comfy touch, exceeding your expectations.
UNIQUE DESIGN: The thankful grateful and blessed letter printed on this casual short sleeve t-shirt are full of sweet happiness, good wishes, cute funny pumpkin and classic o-neck design. When you wear it, it will bring you softness and comfort.
YOUR VERSATILE T-SHIRT: Easy match well with your shorts, or jeans, dress, leggings, high heels, boots in your daily life and will suitable for all season.
IDEAL GIFT:This Thanksgiving pumpkin T-shirt is perfect for your children,kids,Daughter or son. Perfect for Thanksgiving.
A THANKSGIVING PARTY SHE WON'T FORGET!:Click "Add to Cart" now! This thankful grateful blessed letter print t-shirt is perfect for pictures and is sure to be a hit.

Skull Pin

Bestseller No. 1

Hot Leathers PNA1155 Pirate Skull Biker Pin

Classic skull and crossbones design
Hot Leathers pewter biker pin is a perfect addition to your leather jacket
Pin is hand carved and contains no lead
Some things just scream BIKER! This is one of them
1 x 1.5 x 0.4 inches

Black Hooded Cape

Sale

Bestseller No. 1

Rubie's Adult Full Length Hooded Costume Cape, Black, One Size

Ankle length black cape with hood
Buttons at the base of the hood
One size fits most perfect for dress-up, role play, stage costuming witches, vampires, royalty, and more
Look to rubies for all your character accessory needs
Rubies costume company is a family owned business based in new york with more than 60 years of experience bringing children and adults the costumes and accessories they want to halloween and year-round dress up

Assorted fake mustaches

Bestseller No. 1

96pcs Fake Mustaches Self Adhesive Novelty Fake Mustache, Black Costume Mustache Colorful Fake Beards Mustache for Mustache Party Halloween Festival Performance Supplies Photo Decorations,16 Style

HIGH QUALITY FAKE MUSTACHES:Fake mustaches are made of high quality artificial fiber, these mustache stickers are self adhesive and has a realistic look. Easy to use and removed. Novelty masquerade mustaches can be used for a few times, you just need to replace the adhesive tape after the first usage.
WHAT YOU WILL GET:Each package contain 96pcs assorted self adhesive moustache in total, 16 different styles and several different color like black, green, purple, blue, yellow, light brown, some of the color is mixed color. 96pc mustache stickers is enough for you and your family to use a long time.
EASY TO USE :Choose a style and right color of realistic fakes mustache according to your needs and than slowly peel off the backing white film on the back of black costume mustache , then stick it to the middle of your nose and mouse. Done!So easy and won't take your many time.
ASSORTED STYLE AND COLORFUL FAKE BEARDS MUSTACHE: Novelty masquerade mustaches for costume, booth, props or party set is not just a set of same style and color, instead there are 16 different styles and several different color. These black face mustache can meet almost all your needs for different dress up party, also easy for a removal.
WIDE APPLICATION:Assorted self adhesive fake mustache are suitable for Halloween, costume party, game play, dress up party, booth props, photo decorations, performance props and etc. As there are different shape and color, they can be applied by most people, adults.

Black cream makeup

Sale

Bestseller No. 1

Black Cream Make Up - 0.7oz, 1 Pc

PACKAGE INCLUDES: 1 cream makeup - 0.7 oz
EASY TO APPLY: Squeeze the theatrical grade makeup out of the tube and apply it with your fingers
PERFECT FOR HALLOWEEN: This cream makeup is perfect for Halloween, costume parties, dress-ups, and stage performances
PIGMENTED: Tube of non-toxic cream makeup that is easy to apply to create the foundation for your look
EASY TO WASH: After the event, this blue makeup can easily remove with soap and water

Halloween Bloody Tshirt

Bestseller No. 1

Women's Halloween Humor Funny Bloodstained I'm Fine Bloody Sweatshirt Thin Material I'm Fine Shirt Blood I'm Fine Bloody T-shirt Funny Scary Bloody Halloween Costume Bloody knife

Features: This Vankruk sweatshirt printed with "I'm fine" is a great way to show your humor. The handwriting is perfect. The blood stain looks very realistic. It's the best combination of sarcasm and novelty in a funny sweatshirt. Great ice breaker. You are the most eye-catching person in it.
Great Gift: No gift can beat our Funny Sarcastic Sweatshirt! It makes a great birthday gift, friend gift, Christmas gift, graduation gift for friends, family, sisters. Also perfect for Halloween. You can also wear it to party movies and events throughout the year. A really great funny Halloween costume. Everyone needs a little humor and sarcasm. This would make the most novel and unique funny gift.
Care instructions: Turn apparel inside out; Machine wash in cold water; Put in the dryer at a low temperature; Do not iron directly on the design
Service & Shipping️: If you have any questions or concerns about your purchase, please let us know and we are always here for you. We will also do our best to make sure you get a good experience. Our delivery time is faster than Amazon's estimated time. If you need it urgently,please contact us and we could arrange premium shipping for you.
Style: Women's Halloween Humor Funny Bloodstained I'm Fine Bloody Shirt I'm Fine Shirt Blood I'm Fine T-shirt Bloody Halloween Costume Wierd Gifts for Women Birthday Humor Bloody knife Bloody knife Sarcastic Women's Halloween Humor Funny Bloodstained I'm Fine Bloody Sweatshirt Thin Material I'm Fine Shirt Blood I'm Fine Bloody T-shirt  Funny Scary Bloody Halloween Costume Bloody knife Sarcastic Novelty

Batman Mask

Bestseller No. 1

Rubie's Batman Adult Mask (One Size)

REALISTIC DESIGN – Turn yourself into a superhero that saves the night. The Batman Tm Injection Molded Mask is designed from your favorite DC Comics Superhero; Batman. The mask is colored in black and turns you into a superhero once you wear it.
PERFECT FIT – It fits mostly on all adults and teens. It has a rubber strap on the back that can be stretchable for perfect fit.
MADE DURABLE – The mask is made from high quality materials such as hard plastic that makes it sturdy, durable and long-lasting. It can be easily be store for future used.
IDEAL USED – It is best to use Cosplay parties, Halloweens, Birthday parties or any other parties. It will turn you and your child into a cool superhero like The Dark Knight.
OFFICIALLY LICENSED - Batman Tm Injection Molded Mask is officially licensed by DC Comics, making it genuine and authentic.

Black Halloween gloves

Bestseller No. 1

Skeleteen Black Satin Opera Gloves - Roaring 20's Fancy Flapper Elbow Gloves - 1 Pair

Skeleteen Black Evening Gloves Costume Accessories will give any princess costume a polished look.
Each glove measures 18" and is made of a satin like spandex that fits the arm snugly.
On the arm of an adult it reaches a little past the elbow, and on a child, it will reach much farther up.
These fashion gloves are ideal to wear with the costumes of Holly Golightly costume.
Skeleteen items are made of tested materials that are non-toxic and safe.

Skeletal Hair clips

Sale

Bestseller No. 1

Hair Clips for Girls, Funtopia 100 Pcs No Slip Metal Snap Hair Clips Barrettes for Kids Teens Women, Cute Candy Color Cartoon Design Hair Pins (Animals Fruits Crowns Stars)

Great Value Set: The set contains 100 pieces hair clips in total, including 40 drop-shaped clips in solid color, 20 drop-shaped clips in flower pattern, 20 animal-shaped clips, 4 stars, 6 crowns, 6 fruits, 2 trees, and 2 rainbow clips.
Assorted Patterns and Colors: The popular patterns with bright colors fit various kinds of outfits, hair colors and hairstyles, which make your little girl to stand out every day.
Durable Material: The hair clips are made of quality metal, resisting daily wear and drops.
Versatile Use: A perfect snap hair clip set for kids, teens and women. Ideal for birthdays, parties, school activities, holidays and more.
Hassle-Free Customer Service: We stand firmly behind our products. Each Funtopia product comes with worry-free 12 months and friendly customer service. For quality related issues, a replacement or refund is allowed.

Rubber snake

Bestseller No. 1

Realistic Rubber Black Snake 52 Inch Long Scare Toy by Brandon super

Extreme simulation Black Mamba, belly is yellow. green coating on the side
The new process is made. The paint it will not fall off.
Used to decorate the garden, disperse the squirrels and disperse the birds.
It looks like the realistic snake if you are not carefully observed .This is a Trick toy, you can also go to dupe your friends.
Length: about 52 inches long/130cm

Zombie Necklace
Goddess Arm Cuff

Sale

Bestseller No. 1

Spider rings

Sale

Bestseller No. 1

Max Fun 300pcs Spider Rings Halloween Rings for Kids Party Favors 1.96'' Black Plastic Spider Rings Bulk for Kids Costume Accessories Halloween Party Decorations Supplier

Plastic Spiders Bulk: This Plastic Spiders Rings Bulk Includes 300 Black Realistic Plastic Spider Rings Each measures approx. 1.96" x 1.18" x 0.66''.
High Quality: Our plastic spiders bulk is made of non-toxic Plastic. One size fits kids. Long Lasting, reusable and perfect for decoration.
Halloween Party Favors: Our Halloween plastic spiders bulk will ensure to spark your Halloween party. Perfect for Halloween Trick or Treat Handouts, Halloween Party Gift Goody Bag Fillers.
Wide Application: These Spider Plastic Rings can be applied at Halloween party or on cookies and cupcakes toppers! These plastic spider rings bulk for kids can serve as a Great Costume Accessory for Creepy and Spooky Themed Party Supplies.
Horrible Atmosphere: Well-designed and realistic spider rings can foster a creepy and freaky atmosphere in the air in Halloween, providing joy of fun while children playing with.

Elf Ears

Sale

Bestseller No. 1

GREAT&LUCKY Cosplay Fairy Pixie Elf Ears - Soft Pointed Tips Anime Party Dress Up Costume Masquerade Accessories for Halloween Christmas Party ,2 Pair

WIDE APPLICATION: Great for Cosplay,Halloween,Christmas,Carnivals,Masquerade and Fancy Dress Parties. The most real Fairy Pixie Elf Ears, increase your charm, help you to be the focus in the party.
PEFECT DESIGN: 2 different pairs elf ears,fit for most ears , give you a special experience, You can dress up like fairy, pixies, zombie, vampire, monster,ghost, elf,alien, devil, demon, etc.
EASY TO USE:Hang directly on the ear,fit well with almost all ears,you can use eyelash glue or double-stick tape on the ear root to make it more firm If it feels a little loose, the packaging does not contain glue.
SOFT MATERIAL: Made of latex, that are soft and comfortable material, skin friendly can folded and knead, will not be deformed, it can be repeated to use.
SATISFACTION GUARANTEED: Please rest assured to buy it. We stand behind our product with pride, If you have any issues, worries or concerns , Please feel free to contact us in advance, you are backed by our 100% Customer Satisfaction.

Chucky Mask

Bestseller No. 1

Ghost Doll Chucky Mask Halloween Scary Vinyl Mask Scar Mask Horror Cosplay Costume Tag Party Set

【Chucky】--a classic horror horror movie character. Horror doll latex mask with cut scars covers the entire head. The ghost baby Chaqi is very detailed, the price is very competitive, and it is a great value for money!
【Non-toxic and tasteless】--The horror mask is made of high quality 100% natural eco-friendly vinyl. Deodorization treatment is carried out during the production process. Non-toxic, odorless, waterproof insulating, very natural and easy to clean. A very tricky toy for young people.
【Visibility and Breathability】--There is no obstacle to your sight and breathing. You can see through your eyes and breathe through the nose of the scary mask. This will add more joy and liveliness to you. Vinyl is elastic and stretchy, with plenty of space and breathability. And others will think it's a real ghost baby!
【FUN USE】--Halloween, Christmas, Easter, Carnival, Costume Party, Tag Party or just a scary mask set for going to the nightclub. It can also be played with the kids at home or on weekends. In any case, you'll see many uses outside of Halloween!
【After Sales Service】: 100% Money Back Guarantee - If you are not satisfied for any reason, you can return the adult mask for a full refund. We are willing to provide you with quality service.

Wonder woman lasso

Bestseller No. 1

Rubie's DC Comics WW84 Wonder Woman Light Up Lasso, One Size

OFFICIALLY LICENSED Warner Bros. and DC Comics WW84 costume accessory, look for trademark on label and packaging to help assure you've received authentic safety-tested item
Lighted Lasso costume accessory
Finish your Wonder Woman look
For a photo worthy costume look, combine Wonder Woman's classic hero and winged golden outfits with Cheetah's distinctive look - available in sizes for children and adults
Rubie's brings fun and fantasy to dress-up with the broadest selection of costumes and accessories, offering everything from full mascot suits to masks and wigs, from deluxe licensed costumes to simple starter pieces, from costume shoes to character make-up, and so much more

Black Magnifying glass

Sale

Bestseller No. 1

Black Fishnet Pantyhose

Bestseller No. 1

E-Laurels Womens High Waist Patterned Fishnet Tights Suspenders Pantyhose Thigh High Stockings Black (Black Fishnet Tights M_hole)

Amazing Quality Materials:88% Nylon,12% Spandex;Soft touch,breathable and comfortable, very good elasticity
Unique Designs:Flatter your legs with sexy styles,making you feel beautiful, sexy,and desirable.suitable for daily wear, stage shows and cosplay party
Trendy Sexy Fishnet Style,The fishnet stockings giving your legs a skinny and unique appearance. Dressing the fishnet tights coupled with your favorite skirts or shorts, these are a perfect fit and will let you show off your fashion sense in a creative manner.
Package Includes:1 x Fishnet Tight,Onesize Fits US(4-12); Hand wash cold, do not bleach, drip dry, do not iron
The E-Laurels Promise - 100% Money-Back Guarantee: If you have any problems with our products, simply let us know. We'll issue a prompt replacement or refund, no questions asked. cold, do not bleach, drip dry, do not iron

Eye-patch

Bestseller No. 1

2PCS Eye Patch, Adjustable Eye Patches, Medical Eye Patch, Amblyopia Lazy Eye Patches for Left or Right Eyes, Black

❤【Skin-Friendly Material】This eye patch made of soft & smooth materials, comfortable and would not to put pressure on your eyes.
❤【Adjustable Elastic Headband】The elastic band's adjustment range is from 11.8 inches to 21.6 inches. It is adjustable, so you can adjust it to the desired length according to the size of your head. Suitable for adults and kids.
❤【Care Your Eyes】Our patch features 3D groove design, it doesn't irritate or touch the eyelid and eyelashes. Great for lazy eye training, surgery recovery period, daily use.
❤【Suitable for Either Eyes】 Each eye patch measures 2.95 inches x 2.76 inches / 7.5 cm x 7 cm. One size fits most. And it can be used on either eyes.
❤ 【What You Get】You will get 2 pack black eye patch, and our friendly customer service.

Inflatable Unicorn horn

Sale

Bestseller No. 1

Black Rhinestone Whip

Sale

Bestseller No. 1

Leg Avenue Women's OS Rhinestone Handle, Black, Long

Add some spicy flair to any costume with the Faux Leather 54" Braided Whip With Rhinestone Look Handle, featuring a 45-foot leatherette whip with tickling tassels, rhinestone accent, and convenient wrist strap
Command attention with the 45-foot braided whip and durable woven handle
You're sure to delight with the tickling tassels and sparkling rhinestone-look accents
A convenient wristlet handle makes it easy to keep the extended whip close and your costume-look on point
No matter how you style the dazzling whip, add a naughty touch to any Halloween costume, DIY cosplay, theme costume party, or naughty look

Demon Horns With Teeth

Bestseller No. 1

Glow-In-The-Dark outfit

Bestseller No. 1

Black body glitter gel

Bestseller No. 1

Yeweian Black Body Glitter, Face Glitter Gel, Mermaid Sequins Lip Eye Nails Hair Body Glitter Makeup, Liquid Holographic Chunky Glitter Festival Rave Accessories, Body Glitter Gel for Women

Holographic Glitter Gel --- This face glitter gel is made of holographic glitter,which is light and durable. Large number of holographic sequins, the color and shine of the laser sequins vary with the perspective, like a rainbow
Easy To Use And Clean --- Body Chunky Glitter is a glitter body gel that is sticky, so you don't need to use glue when using it,save your makeup time.It can be used directly in the body wherever you want to decorate. Apply to hair and body with fingertips, sponge or brush. Remove it easily with soap and water
Safe For The Skin --- Holographic sequins liquid is formula mild enough for sensitive skin. They are hypoallergenic, natural, non toxic. You dont have to worry about glue irritating your skin, gel of the glitter can protect your skin from sequin
Widely Used --- This mermaid sequins glitter gel perfect for your body from head to toe: face, body, hair, eyeshadow, cheeks, lips, collarbones, shoulders, nail art, and more. Suitable for stages, parties, bars, wedding, halloween, Christmas
Perfect Gift --- Lightweight, easy to carry, natural luminescence, suit for multiple occasions, making you be the eye-catcher in any occasion.Suitable for personal use or as a perfect gift for friends and family

Dripping Blood Ghost Face Mask

Sale

Bestseller No. 1

Ghost Face Bleeding Adult Mask Standard

Size: Standard
New material only, polyurethane foam
Mask w/ attached tubing
2 layer mask allows blood to flow w/o the mess
Care instructions, refilling the heart, concealment directions on the back

Evil Clown mask

Sale

Bestseller No. 1

Lab coat

Sale

Bestseller No. 1

VOGRYE Professional Lab Coat for Women Men Long Sleeve, White, Unisex M

High quality, which is breathable and lightweight.Protect your clothes from stains, acids, and dust.
This professional lab coat is suitable for many occasions, whether you are a doctor, student, biologist, chemist, scientist, or anyone who needs a white coat, you could choose it.
It is an excellent biology lab coat, medical lab coat, chemistry lab coat, student lab coat, science lab coat. It could use as kid lab coat or teen lab coat.
It features side vent openings for easy access to your tools, a pocket on the left chest, & 2 lower front pockets for easy storage
Machine washable.

Black police Badge

Sale

Bestseller No. 1

Yinder 30 Pieces Police Mourning Band Stripe Funeral Honor Guard Elastic Straps Police Officer Badge Mourning Twill Band (Black)

Package contains: you will receive 30 black police mourning band stripes, sufficient quantity to meet your needs, suitable for use at funerals
Appropriate size: this double-sided funeral honor guard strap is 1.5 cm/ 0.59 inch in width, 10 cm/ 3.93 inch in total length, the proper size is suitable for most badges on the market
Quality material: funeral honor guard straps are made of reliable material, which are designed to be flexible, can fit most badges, and are durable to use; Wide mourning strap for the badge has subtle black stripes, fine workmanship
For expression: this elastic police mourning band can be applied for expressing support for fallen heroes; It cross the badge to symbolize the loss of those who have served and show your thoughts and respect
Applicable occasions: when you need a mourning belt for the department in a short time, these black badge guard straps are very useful and necessary

Googly eyes

Bestseller No. 1

450Pcs Black Wiggle Googly Eyes with Self-Adhesive, 6mm 8mm 10 mm 12mm 15mm Mixed Packaging,3 Years and up

【Variety Choices】suitable size for using include:6mm, 8mm, 10mm, 12mm,15mm, multiple size for your choice.
【Premium Material】Craft sticker eyes are made of high quality plastic, safe, environmentally friendly. Each piece is carefully selected after strict quality control. Packed in high quality transparent plastic boxes for easy storage and portability.
【Simple Used】Googly eyes are self-adhesive, just peel off stickers the sticker and paste, no glue is needed. They are really sticky and durable and won't come off easily even if used for a long time.
【Infinite Imagination】These googly wiggle eyes for craft are great to DIY. Open your imagination such as Christmas, Halloween, monster party, birthday party, school teaching, parent-child interaction, home decorations, office. Just peel off sticker and stick on anything you like.
3 Years and up

Marilyn Monroe Wig

Sale

Bestseller No. 1

GNIMEGIL Short Blonde Curly Wigs for Women Big Wavy Layered Cosplay Wigs Costume Party Synthetic Fiber Platinum Blond Hair Natural Mommy Wigs with Wig Cap

🎈High Quality: Full wig is made of synthetic high-temperature fiber, you can make the final style easily. It will bring you more confidence and more charming.
🎈Fashion Style: Fashionable short platinum blonde hair wig looks sexy natural and stylish, it's very thick and soft, keeps the curls well, and really nice color.
🎈Adjustable Straps: 21 - 23''. There are 2 straps within the wig net, you can adjust its size to fit your head perfectly, it can fit most women or girls.
🎈Occasion: Natural-looking suit for Daily, Party, Fancy Dress, Celebrity, Halloween, Cosplay, or Any Other Occasion you want. Stylish design will make a new you.
🎈Warm Tip: The color that appears on your monitor could vary from the original color of the wig due to different monitor settings.

Black classical beret

Bestseller No. 1

Rothco Monty Wool Beret, Black, Large

Lightweight 95% Wool / 5% Nylon Construction Is Designed To Maintain The G.I. Beret's Shape
Drawstring Vinyl Trim Prevents The Military Berets From Fraying And Allows You To Adjust The Fit
Built-In Clutch Will Hold The Structure Of The Beret While A Flash Is Attached (Badge Not Included)
Comfortable Cotton Liner
Dual Side Eyelets For Breathability

Halloween Themed bracelets

Bestseller No. 1

CupaPlay 24 PCS Halloween Party Favors Rubber Bracelets - Halloween Party Supplies Trick or Tread Gifts/Goodie Bag Stuffers Silicone Wristbands

24 Pack of Halloween themed silicone bracelets are just what you looking for.
Made of tough, durable silicone rubber.Flexible but strong, these bracelets will hold their shape and not break easily.
They are approx. 2.56" dia. and 0.5″wide, suit for adults and teens.
This stretchable Wrist come with pumpkin, haunted house, ghost, bat, witch hat, black cat and spider prints ,this halloween bands are perfect for making fun at halloween themed party, Trick or tread,halloween themed gatherings, classroom party or celebration event.
Perfect as a party favors, or goodie bag stuffers or gift for friends,family members or anyone.Ideal as party favors for halloween parties and Trick or tread gatherings.

Vampire Fangs

Sale

Bestseller No. 1

Scarecrow Small Deluxe Custom Fangs

Equipped with a quick and easy molding kit
Designed for people with smaller teeth, or aiming for a subtle look
Clip-on fit, reusable
Comfortable and realistic
Non-toxic and safe on teeth

Bleeding Heart Necklace

Bestseller No. 1

Rubie's Costume Co. Women's Wicked Gems Bleeding Heart Necklace, Multicolor, One Size

Deluxe Bleeding Heart necklace makes a bold statement
Silver-tone design with Bleeding Heart and dangling red gemstones as drops of blood
20-inches Chain; decorative portion is just over 4-inches X 3-inches
Look for all of Rubie's Wicked Gems costume jewelry; combine with matching earrings
Statement jewelry for any fancy-dress occasion: weddings to Mardi Gras, fan conventions and cosplay to prom or girl's night out, and even Halloween

Harry Potter charm bracelet

Bestseller No. 1

Black lipstick

Sale

Bestseller No. 1

MAEPEOR Matte Lipstick and Lipliner Set 2Pcs Non-Stick Cup Velvety Liquid Lipgloss Set Waterproof and Long Lasting Liquid Lipstick Set for Women and Girls (2PCS Set, Black)

💋【Bold Black Colors】MAEPEOR black matte lipsticks and lipliner set have a full-size and the most bold colors, rejects the ordinary and creates a different self.
💋【Soft Smooth and Creamy】This Matte Lipstick smells like sweet delicious as chocolate, but do not have a taste as the weird chemical. It's so seamless and creamy that you don't feel clumpy or thick, and don't leave the lips cracked or chapped.
💋【Non-stick Cup & Long Lasting】It's a non-stick cup and non-fade lipstick, that it could last through all days when completely drying. And the color do not transfer when you drinking and kissing for its high coverage.
💋【Easily Apply & Remove】This Velvety Lipstick goes on smoothly without skipping or pulling. If like the dark effect, you could put on more coats. And it's pretty easy to remove with Coconut oil (any oil or oil based cleanser), never worry about pigmentation.
💋【Good Shades of Halloween】Perfect as a gift for the shades of Halloween, making you the most dazzling person. Its compact design makes it easy to store and carry. It can also be used as a gift for family and friends.

Grumpy old man mask

Sale

Bestseller No. 1

Graveyard scene earrings

Bestseller No. 1

Beistle Graveyard Backdrop, 4' x 30'

This item is a great value!
Includes 1 backdrop in package
Measures 4 feet tall by 30 feet wide
Printed on thin plastic that can be taped to walls
Use this backdrop to decorate for a spooky Halloween

Black fake teeth

Bestseller No. 1

Mehron Makeup Black Tooth FX (.125 ounce bottle with brush) Temporary Black Tooth Paint

Tooth FX️ is a Theatrical Special Effects Tooth Paint to enhance character Makeup, cosplay, Halloween makeup, and more.
Black Tooth FX️ is perfect for creating chipped, broken, or missing tooth fx.
To apply, dry teeth and brush the paint onto teeth with the easy brush applicator.
The professional formula stays on until you want to remove it. Remove Tooth FX️ by brushing teeth. Do not apply Tooth FX️ to dentures or veneers.
Safe, non-toxic, cruelty-free, and made in the USA

Kiddies Mickey Mouse Ears

Bestseller No. 1

Disney boys Mickey Mouse Ears Hat, Set of 2 for Daddy and Me Baseball Cap, Black, 2-4T US

STYLISH 2 PIECE SET: ​Father and Son can share in Disney's whimsical charm with these adorable Ears Baseball Hats, 1 Daddy adult-sized ear Hat, and 1 Little Boy Hat Size 2-4, featuring Mickey Mouse from Disney Junior.
PREMIUM QUALITY: Black 5-panel Baseball Caps are made of durable cotton twill. Features a curved brim, black dimensional cotton twill ears, inside Sweatband and black Velcro closure for easy adjustments.
GREAT FIT: Available in your choice of 2 Sizes, One size for Adult Men, One size for Little Boy ages 2-4 each Mickey Ear Hat Features 3-dimensional Black poly-filled Ears. The playful Hats are adjustable for a comfortable fit when heading out to visit Mickey and friends. Designed for Daddy and his Little Boy.
FUN AND PRACTICAL: Daddy and his Little Boy will be ready for all daily activities and enjoy a fun day in Disneyland with this fun and stylish uniquely designed Mickey Ears Cap. Disney Mickey Mouse accessories are a great gift and accessory that Boys will always love and play with.
LICENSED PRODUCT: Officially licensed Disney Mickey Mouse product. CARE INSTRUCTIONS: Wipe clean with a damp cloth.

Black Phantom mask

Sale

Bestseller No. 1

Beistle 60820-BK Phantom Masks (24 Pack), Black

Includes 24 Novelty Phantom Masks in the package
One size fits most - will fit most adults
Elastics are attached for wearing
Made of black plastic
Perfect mask to wear as a Halloween Party Costume Accessory

Black skull Bandana

Bestseller No. 1

Cotton Doo Rags Motorcycle Dew Rags Black Cycling Skull Cap Bandana Head Wrap Sweat Hard Hat Helmet Liner Chef Do Rag for Men and Women (Black Pack)

Cotton Doo Rags. 4 pcs cotton black doo rags packed into 1 package, 4 season adjustable cycling hard hat sweat helmet liner for men and women.
Doo Rag: Cotton cooling motorcycle do rag head wrap bandana hats. Say goodbye to sweat and hair getting into your eyes. This cotton skull caps absorb sweat, keeping moisture out of your eyes and face so you can stay cool.
Biker Skull Cap Rags: Cotton helmet liner beanie hat can be used under your cycling helmet skull caps. It is breathable, adjustable for cycling, motorcycle, running, pretied chef hat, scrub working hat, pirate head wraps, welding hat, chemo caps, chef do rags. .
One Size Fits Most: Cooling dew rag skull caps with straps on the backside that can tie back, you can tie the straps to fit you in the most comfortable way, no need to worry about the wind will blow off your cool skull doo rags.
Machine Washable. Easy to care, but no shrinkage, no fading, no pilling. Lightweight hard hat skull cap wraps would be an ideal gift for your family and friends.

Harry Potter glasses

Bestseller No. 1

Big Mo's Toys Wizard Glasses - Round Wire Costume Glasses Accessories For Dress Up - 1 Pair

Big Mo's Toys Round Wizard Costume Glasses are perfect for Halloween and every day pretend play dress up.
These lenses have a diameter of 2.5", the glasses is a total of 5" wide, and the arm length is 5".
These Circular Fashion Eyeglasses fit kids and most adults and can be used for dressing up as a grandma or grandpa.
These Circle Glasses also work well for a Mr. Smee, Edna Mode, or Harry Potter Costume.
Big Mo's Toys items are made of High Quality materials that are Non-Toxic and Tested to ensure your Child's safety.

shark-biting hat

Bestseller No. 1

Metal handcuffs

Sale

Bestseller No. 1

Western Deluxe Toy Cuffs with Key Western Handcuffs Role Play Toys | Cowboy Sheriff Police Costume for Kids | Two Keys with Safety Release – Maxx Action

REAL METAL: These sturdy hand cuffs are made of real metal. They are durable and lightweight to use and wear. Perfect for any cowboy, sheriff or wild west.
SAFETY RELEASE: Lose a key? Not to worry - these cuffs feature a safety latch for quick release. Just push the button on the side of the lock to easily take them off.
WORKING LOCK WITH 2 KEYS: Cuffs are equipped with a working lock for realistic role play adventures.
ADJUSTABLE CUFFS: Handcuffs are fun for boys and girls of all ages. The cuffs are adjustable to fit almost any wrist size.
COSTUME PROP: The perfect accessory for kids who love cowboys and the wild west. Provide hours of imaginative, role play fun.

Adult Food Funny Outfits

Bestseller No. 1

Adult Sushi Roll Costume Funny Food Adult Costumes Standard

Size: Standard
COSTUME INCLUDES: This funny food outfit comes with a circular tunic with a set of plastic hoops to help maintain the shape.
FROM FUN COSTUMES: We're devoted to crafting a costume for everyone! This sushi costume is a simple outfit designed to delight all of those Japanese cuisine lovers out there.
PRODUCT DETAILS: The tunic has printing on the front and back, complete with tuna, avocado, and cucumber. It looks like it's ready for a dip in soy sauce with a side of ginger.
HIGH QUALITY COSTUME: This men's sushi costume uses durable poly-foam material and plastic to craft a look based on the iconic Asian delicacy!
Entertainment/Miscellaneous For Halloween Care Package
Looking to include fun and eerie looking items in your care box to give someone a good scare, a helpful Halloween supply or just an exciting holiday? Here are some of the most loved Halloween-themed items to shop for:
Mini Jack-O-Lantern Bear

Sale

Bestseller No. 1

Milisten 20pcs Halloween Mini Pumpkin Bells, Pumpkin Shaped Jingle Bells, Pumpkin Bells Charms Pendant, Jack O Lantern Face Pumpkin Bells Jingle Beads for Fall Halloween Decoration

Sufficient quantity: the package comes with 20 pieces of Halloween bells, namely orange, each bell is about 1.9 X 1.9 X 1.8cm in diameter, enough quantity and mini size for your decorative use and replacement.
material: The cartoon bell is made of copper, with a lively and lovely shape and a crisp sound. Features mischievous and creative mini pumpkin shape, beautiful halloween accessories.It is also a lovely and cute gift for your pet.
Easy to: Each bell has a small hole reserved for threading, hanging, etc. very simple and convenient to decorate. Multiple styles to choose from, playful and creative mini pumpkin shapes, and exquisite Halloween accessories.
Halloween style: these mini pumpkin bells feature in Halloween style, combined with jack o lantern face design, which makes these mini pumpkin bells look interesting and weird, and each bell has a bead inside, bringing you a clear sound when shaking it, adding a Halloween atmosphere to your home.
DIY application: you can use these Halloween bells to make many crafts, such as decorative lights, gift bags, candy bags, necklaces, bracelets for Halloween, personalized collars for pets, or install them with decorative wooden cards in front of the door, you can give full play to your imagination and make many personalized crafts.

Werewolf cookie jar

Bestseller No. 1

Halloween bubbles

Sale

Bestseller No. 1

VKTEN 32Pcs Halloween Bubble Wands Mini Bubbles Party Favors for Kids Halloween Party Favors Treat Bag Stuffers Goody Bag Filler Halloween Treats Prizes

【Super Value Pack】Bubble Soap Liquid set of 32pcs 8 Halloween (Bat, Cat, Spider, Pumpkin, Ghost, Witch, Skull, Mummy)with cute theme design, as Halloween party supplies reunion fun for kids, perfect for kids, boys, girls, toddlers, Halloween party favors,gift, school event, game prize, school projects and goodies bags, especially for Halloween giveaways.
【Mini Size for Kid's Hand】Each bubble toy measures 4.2", easy for kids to hold and keep anywhere(poket, goody bag,canvass bag, book bag, etc.) Prefilled with non-toxic smelless soap solution, Very Safe to kids' skin and face. Child can contstantly enjoy these mini wands! Recommend for children 3 years up.
【Safe for Kids】These bubbles bulk are prefilled with environmental-friendly and non-toxic soap solution. There is no residue on hands and cloth. Very Safe to kids' skin and face. Kids can easily blow out colored bubbles in the sun.
【Endless Bubble for Child Play】The VKTEN Halloween Bubble toys not only Ideal for Halloween party use, but also as a perfect gift for Bubble Parties, Pool Parties, Outdoor Activity, Festivals, Carnival Prize, Contest Prizes etc.
【Professional After-Sales】Thank you so much for your great support on us. I understand your concern about the product quality, 90-Day Money Back Guarantee or Exchange, No-Worry Purchase!

Halloween finger puppets
Halloween stickers

Sale

Bestseller No. 1

Happy Storm Halloween Stickers Halloween Party Games for Kids Make Your Own Jack-O-Lantern Make a Face Stickers DIY Halloween Party Activities Halloween Party Favors

VALUE 24 PACK: This Halloween party supplies favors - Make A Face Stickers set for kids comes with 24 sheets to let girls and boys create original sticker art all their own. Our sticker is colourful printed, easy to post and remove, no smell and harmless to children!
FUNNY PARTY GAMES: DIY craft stickers for kids to decorate their own Halloween pumpkin, ghost, skeleton and monster. Creative games for Halloween party night, stickers are funny and cute, children would love to decorate their party. There are 4 styles in one set, each styles has 6 sheets. Each design is unique, children can paste different decorations for monster according to their own preferences.
EASY TO USE & REUSABLE: The make a jack o lantern stickers are made of high quality, our magical monster stickers can be used multiple times by gentle peeling, lifting and re-sticking each piece in one-of-a-kind design.
EXCELLENT PARTY CHOICE: Show these " Make A Pumpkin" stickers to the children at the party, they will definitely love this game. This sticker sheets are perfect as a party favor for your guests. Finished stickers can be used as room decoration, refrigerator stickers, notebook decoration, pumpkin basket bucket, Halloween treat bags, window, wall, door, invitation card, thank you card etc.
SERVICE: Our top priority is customer satisfaction, if you have any question, please contact with us, we will answer in 24 hours.

Halloween-themed Yoyo's

Sale

Bestseller No. 1

Duncan Toys Metal Drifter Yo-Yo, String Trick Yo-Yo with Counterweight, Ball Bearing Axle and Aluminum Body, Mystery Color

WIDE BODY DESIGN: The Metal Drifter yo-yo features a lightweight, precision-machined aluminum body, a flared shape and a wide string gap to make it ideal for string tricks. The wide string gap makes landing the yo-yo on the string much easier!
COUNTERWEIGHT: This yo-yo includes a collectible skull counter-weight that allows players to perform counter-weight yo-yo tricks. It is perfect for seasoned yo-yoers to practice new skills as they enter the realm of 5A.
RESPONSE PADS: The Metal Drifter yo-yo is equipped with a silicone sticker, also known as response pads. It enables the yo-yo to return by increasing the friction on the sides of the yo-yo.
BALL BEARING AXLE FOR LONG SPINS: This yo-yo has a special ball-bearing axle to ensure long spin times. This axle setup employs a yo-yo sleeve with tiny metal balls inside which allows the yo-yo to turn freely.
PRODUCT DETAILS: Advanced/intermediate level yo-yo. Made from precision-machined aluminum metal. 52.60mm diameter. 39.30mm width. Weighs 61.1g. Colors May Vary. Includes 1 yo-yo.

Halloween PlayDough

Sale

Bestseller No. 1

Play-Doh Treat-Without-the-Sweet Halloween Bag, 15 1-Ounce Cans

Treat without the sweet Halloween Bag comes with 15 one-ounce cans of PLAY-DOH modeling compound
Hand out cans of PLAY-DOH modeling compound on Halloween instead of sugary treats
Bag comes with one-ounce cans of PLAY-DOH modeling compound
Give something fun and functional this Halloween instead of candy

Halloween maze puzzle

Bestseller No. 1

Fall Placemats

Sale

Bestseller No. 1

Ruvanti Placemats for Dinning Table. 100% Cotton 13x19 Inch Placemats Set of 6, Brown Check Woven Placemats. Tablemats for Farmhouse, Spring placemats, Tablemats for Christmas / Thanksgiving Dinners.

Premium Material: Table Mats Set of 6 is made with top-notch quality 100% Cotton Duck Weave Fabric and Anti Slip fusing lines. Fabric is Soft, Wrinkle & Shrink-Resistant, and Perfect to Protect Table from Stains, Scratches & Heat Damage.
Countless Matching & Value for Money: Place Mats Indoor Set of 6 is Over Size 13 X 19 Inch. Vibrant Colors are Crafted to Mix and Match with Other Kitchen Linens Napkins, Table Runners, Table Cloth & aprons which is impressive.
Placemats You Love: Reversible Pattern Table Mate brings new life to your table. Edges are Nicely Hemmed and Mitted Corners with Reinforced Edges help to keep Placemats from Fraying. It will blow a fresh breeze during indoor and outdoor use.
Countless Uses: Excellent Quality Premium Placemats are best for use in businesses such as restaurants, hotels, homes, and farmhouses placemats. Different colors with a Great look are perfect for hosting weddings, birthdays, Cocktail parties, Christmas, and Thanksgiving Dinner.
Easy Care: Placemats are Machine Washable with cold water, gentle cycle & tumble dry low. Low iron If needed. Do not bleach. We have Proven Customer Satisfaction and our products come with a 100% money-back guarantee on a single email.

Halloween-themed book

Bestseller No. 1

Skeleton shaped pillow

Sale

Bestseller No. 1

Flower-Shaped Throw Pillow Cushion Floor Cushion Cushion Office Sedentary Tatami Car Butt Cushion (Green, 40cm)

Simple and beautiful petal pillow, everyone likes it.
Fabric material: stretch plush Filling material: pp cotton Seat cushion model size: 40cm, 60cm, 80cm Color: yellow, blue, pink, white, green
The petal-shaped cushion is sunken and wrapped to relax your buttocks, so that you do not feel tired after sitting for a long time.
Three-dimensional flower shape design, each petal is filled with fullness, supporting force, comfortable sitting, skin-friendly fabric, delicate and soft.
The delicate and soft elastic fabric is comfortable to the touch, does not shed hair, and does not fade. A variety of color options, applicable to multiple scenarios

Masquerade ornaments

Bestseller No. 1

Big Dot of Happiness Mardi Gras - Masquerade Decorations - Tree Ornaments - Set of 12

Mardi Gras Ornaments INCLUDE 12 sturdy, flat, and professionally printed single-sided mask ornaments. 12 satin ribbon strands are included for easy DIY hanging.
TREE DECORATIONS: Deck the tree with Mardi Gras tree ornaments. With the included pre-cut ribbon strands, thread the ribbon through the ornament's slit. Tie the ribbon ends together and hang the ribbon loop on a tree branch.
ORNAMENT SET: Hanging ornaments is a magical part of holiday decorating. Easily dress up your tree with Mardi Gras Ornaments. This flat ornament set can be used for all kinds of holiday decorating. Use to embellish stockings or as a fun gift wrap accessory.
PREMIUM HOLIDAY DECOR: Mardi Gras Ornaments are made of flat and sturdy PVC material. Holiday Ornaments are professionally printed on 1 side, back will be white. This set of 12 mask ornaments includes satin ribbon for DIY assembly and hanging.
MADE IN THE USA: Mardi Gras Ornaments are designed and manufactured at our Wisconsin facility using materials that are Made in the USA. Mardi Gras Ornaments use a No-Mess Glitter Print: Our ornament decorations are designed with a printed image of glitter, eliminating glitter flake while maximizing bling effect!

Giant googly eyes

Bestseller No. 1

5.9 Inches Giant Wiggle Eyes with Self Adhesive, Black White Googly Eyes for DIY Crafts Christmas Tree Decoration

Black White Googly Wiggle Eyes: You will receive 2 pieces 5.9in/150mm of craft wiggle eyes. These eyes are made of quality materials with Plastic.
Self-Adhesive: These googly wiggle eyes have glue on the back, there is no need to apply additional adhesive. When you are ready to use these google eyes, you only need to tear off the back film, which can make the eyes be firmly bonded to the surface of the object.
3D Effect:These craft wiggle eyes can add a different kind of fun to your work. They look 3D and can easily turn flatwork into a three-dimensional effect, making your work more attractive.
Easy to Use: This set is a giant one, you can easily peel off the self-adhesive back and then apply it anywhere you like, it will stick tightly on the surface and leave no stain after moving off, very durable and convenient.
Wide Application: These self-adhesive oversized eyes are big on character and perfect for adding to art projects, gifts, large puppets, Halloween costumes, Christmas trees and so much more! (Such as, They are suitable for many projects, card making, scrapbooking, DIY craft projects, DIY handmade art projects, and can also be used for decoration, such as furniture, bottles, photos, lanterns, shoes, chairs, salt shakers, posters.)

Zombie Ballerina Figurines

Bestseller No. 1

4 Pcs Dancing Ballerina Girl Figurine, Miniature Ballerina Girl Figure Collection Playset Doll Toy, Ballerina Girl Cake Topper, Ballerina Girl Plant Pot Craft Dollhouse Decoration, Cake Decoration

Size: approx.4.13 inches tall; Material:Made of PVC, Environmental Material; Warm Tip: The Recommended Age Grade: AGE 3+
They are good ornament. bedroom, car, drawing room and so on. Ideal for cake decor or cupcake toppers, birthday cake.
Such cute & detailed animal figures is worth to be collected, decorating children's bookcase, desk and room.
Great Decorations or party favors. They are good for children 4 and older and make a neat gift idea.
Ideal for miniature fairy garden, your home decoration, your small flower pot or any other place that you want to decorate.

Plastic Tarantula Spider
Mini Lunar Color Changing Lamp

Sale

Bestseller No. 1

BRIGHTWORLD Moon Lamp Galaxy Lamp 5.9 inch 16 Colors LED 3D Moon Light Lava Lamp, Remote & Touch Control Star lamp Moon Night Light Gifts for Girls Boys Kids Women Birthday

✅ Magic Star Moon Light: Making the 3D effect of the moon's surface based on astronomical data by NASA satellite. Color drawing craft make the ball colorful and gorgeous. The hollow shell with built-in LED lights, When the light is turn on, it seems to be in the splendid galaxy. As the color and perspective change, it presents a magical and colorful color.We took some pictures from a few different angles for your reference.
✅ Remote and Touch Control: Touch the metal ring to switch 7 color, remote control to switch 16 colors remote control dimming. And it also support one color or colorful automatic conversion.
✅ Long-lasting Battery(500mAh): built-in USB rechargeable battery, it is easy to carry. And can normally use during charging (3 hours fully charging, 4-12 hours of use, depends on its brightness ).
✅ Cool Decorative Lamp: This moon night light can use as decorative light, child lamp, night lights. Colorful color changes give children a feeling of novelty transformation, perfect as children/kids room decorative and special occasion.
✅ Excellent present: The colorful star sky 3D effect gives people unlimited imagination to the universe or distant galaxies, and many customers shared beautiful photos of galaxy lamps from various poses. It could be treated as an excellent gifts for children kids girls.

Skeleton bookmark

Bestseller No. 1

Halloween rubber ducks

Sale

Bestseller No. 1

Halloween Rubber Ducks Bulk - 24 Pack, 6 Variety Themes, 2.5" for Halloween Party Favors for Kids, Goodie Bag Fillers, Jeep Ducking, Trick or Treat Toys for Toddlers by 4E's Novelty

24 PACK - Halloween Rubber Ducks bulk, an adorable Halloween gift your kids will cherish
6 DESIGNS - Includes Pumpkin, Cat, Zombie, Witch, Skeleton, & Ghost. A nice variety of scary and cute designs Halloween rubber duckies
HALLOWEEN DUCKS - Halloween Themed Rubber ducks in bulk for kids bath toys, goodie bag fillers, Halloween party table decorations, trick or treat candy alternative
JEEP DUCKS - Spread joy this fall season in the jeep community by ducking these Halloween Ducks for jeeps bulk for jeep ducking. Cards are not included, great for rubber ducks for cruise ships
TRICK OR TREAT TOYS - Smart replacement for trick or treat candy. Kids and moms will be delighted! Halloween toys in bulk for Trick or treating prizes for kids boys & girls. Halloween giveaways for kids, Halloween goodie bag fillers and Halloween party favors for kids & toddlers, Cute stress relief Halloween fidget toys

Mini skull stress balls

Bestseller No. 1

3 Pack Rainbow Stress Balls Fidget Toy, Full Silicone Rainbow Pop Ball it Push Pop Bubber Fidget Stress Ball for Kids or Adults Squeeze Ball Fidgets Toys (3Pcs Rainbow Color)

Durable & Safe Material: The stress balls fidget toys are made of non-toxic food-grade silicone material, and size is 2.75inch/7cm, so it is safe for kids to play freely and safely, also no need to worry they will eating inside by mistake.
Unique Fidget Ball: The pop balls it combine 2 in 1 function design. It is combination of squeeze ball and push bubble pop toys. There are many bumps evenly allotted on the ball. When you press down multiple bumps and squeeze the ball, you will hear much "pop pop pop" sounds, which will clear away your terrible mood. It can additionally bounce like a normal ball. This is interesting stress balls for adults and kids.
Relieve Stress and Focus: When you feel stress or anxiety, you can press on the bumps and squeeze the ball,it will make slight popping sound, which will make you relax and it also can make you focus on something you are working on.
Educational Significance: The pop ball fidget toy is a Good hand training toy. It can help children to improve fine motor skills, concentration. Parents can have fun playing with your kids.
Perfect Gift for Kids&Adults: This decompression ball is small size and portable to carry to play anytime, anywhere. It will be best Christmas gifts or Birthday gifts to your kids, families and friends. Absolutely believe they will enjoy to play with it.

Mini Bloody brain

Sale

Bestseller No. 1

30 Pcs Brain Stress Ball Halloween Brain Toy PU Balls Hand Muscle Exercise Sensory Pressure Ball Eye Stress Balls for Teen Adult Prank Stuff Improve Grip Strength Object Recognition()

Mini Intimate size: the brain pressure ball has a length of 1.57 inches/ 4 cm, a width of 1.18 inches/ 3 cm, and a height of 0.78 inch/ 2 cm, so it is slightly smaller than other styles, but fits the palm structure of the human body better, or you can hold more than one at one time, giving you double effect
PU toys for reducing stress: you will receive 30 brain pressure ball toys, in 6 colors, including, white, yellow, orange, dark blue, green and red, so you can put some at home, office, school or in the car, releasing pressure anytime
Interesting for everyone: whether you are 6 years old or over 60 years old, the stress brain ball is designed for anyone in need of relief, nice for students, office workers, artists, time-killers and those who suffer from stress, bringing a lot of joy to your dull life
Thoughtful gift: if you don't know what gift to give to your lover or friend who needs to relax, then give them a fun brain PU toy to enjoy; It can also be applied as a party gift, very suitable for birthday parties and social gatherings, conducive to closer relationships
Material composition: these sensory pressure ball is made of PU material, without any filling material, ideal resilience, which can be applied repeatedly, no irritating smell, giving you pleasant play experience

Godzilla Monsters figurine

Bestseller No. 1

Stuffed scaredy-cat

Sale

Bestseller No. 1

Manhattan Toy Lanky Cats Ziggy Black Cat Stuffed Animal

BLACK CAT STUFFED ANIMAL PLUSH: Ziggy is the black kitty cat from our popular plush stuffed animal Lanky Cat collection by Manhattan Toy, a group of cats epitomized by their under stuffed and flexible midsection that allows for many humorous cat-like poses. Lanky cats are each sold separately.
PROMOTES SELF-COMFORTING AND EMPATHY: The world can be a far less scary place for a little one with a huggable, comforting companion like Ziggy at their side. Pretend play helps develop empathy and social skill development as children imagine the world through other eyes. Caring for their furry friend helps set the stage for later relationships with their not so furry friends.
ENDEARING PLUSH ANIMAL TOY: Lanky Cats Ziggy is an endearing kitty stuffed animal plush toy and gift to soften any room, when not in a child's caring clutch. With our long history of sourcing the finest plush materials and knowing just where and how much to stuff animals, Manhattan Toy knows soft. Curious kitty plush toy features oversized paws, big ears, and large feline eyes to playfully capture the essence of a cat.
A GIFT FOR ALL AGES OF CAT LOVERS: Manhattan Toy knows that stuffed animals aren't just for kids. Beyond all of the soft and the cute there's usually some fun and whimsy - personality is always a huge design component. For a cat lover or lovers of super soft stuffies in general, a Manhattan Toy stuffed animal gift is heartfelt and timeless; plush kitty cat toy measures 12"D x 5"W x 2.5"H.
STANDING BY OUR BRAND: If you're reading this, you've found a safe toy from a real company and a brand that cares. Since 1978, Manhattan Toy has been a trusted source of imaginative toys for babies, toddlers and kids of all ages. All of our toys are rigorously safety tested and every toy has our 800 number with a dedicated customer support team to answer your call.

Mini Mummy Piñata

Sale

Bestseller No. 1

Auihiay 4 Pack Halloween Pumpkin Pinatas, Pull String Mini Pinatas, Halloween Mini Pinata for Halloween Party Kids October Birthday Party Decorations

Pumpkin Halloween Pinata for Kids: The mini pull-string pumpkin pinatas are about 4.5 x 4.5 x 1 inch, and can fit up candy and small toys. Like a blind box, Kids can reveal pumpkin pinatas with different facial expressions
Pull String Pinatas Game: No need to beat, just pull the string of pinatas, then open it to release the contents. Hanging the pumpkin pinta on the wall and filling different confetti, pull the string and pull the surprise. Everyone will enjoy this surprise party game
Halloween Theme Party Decoration: There is a built-in hanging string on the top of the pumpkin, which can be connected in series and hung on the wall, you can also hang it directly on the tree, or placed it on the table to create a Halloween atmosphere
For a Variety of Activities: Our mini pumpkin pinata can be used for kids' birthday parties, Halloween-themed parties, school parties, enjoying a little scary fun during the holiday season
Note Tips: The original opening measures 1cm, you can use scissors to make the opening larger, then fill candies and tape it tightly, you will enjoy a fun party game

Halloween Bloody shower curtain

Bestseller No. 1

Halloween Bloody Shower Curtain Horror Blood Hands Scary Halloween Decor Bathroom Curtain with Hooks, 72 x 72 inches

Design: Blood Splatter Splashes. The eerie bloody handprints and the blurred blood that densely opens up the atmosphere of intense terror. This is a Halloween shower curtain created specifically for your Halloween themed bathroom. Scary Halloween Decorations
Size and Shape: Standard 72x72 inch shower curtain, square, suitable for most bathtubs and shower stalls.
Premium Fabric: The tight weave of the fabric and high quality polyester fabric provide a smooth and strong texture for the shower curtain, long service life. The fashionable shower curtain keeps your bathroom clean and beautiful.
High Definition Printing: Our blood shower curtain adopts high definition digital printing technology. Bright color, clear image, no fading, bring you the ultimate visual enjoyment and bath experience.
Eazy Care: Machine wash in cold water, dry at low temperature. Do not bleach.

Voodoo Doll Toothpick holder

Bestseller No. 1

Voodoo Doll Toothpick Holder

Hand designed voodoo doll
Made of unpainted resin
Made to loosely hold toothpicks
3.25 inches long, 2.25 inches wide and 1 inch thick

Jar of Pumpkin slime

Bestseller No. 1

Shark socks

Bestseller No. 1

Knit Crocodile Socks Unisex Novelty Shark Socks Funny Animal Socks Alligator Socks Winter Warm Thick Knit Wool Casual Socks (Shark)

【High Quality】These socks are made of high-quality knitted cotton fabrics. Wearing such a pair of socks in winter is not only warm but also very fashionable. It can be a nice gift for your friend or family
【Animal Pattern Socks】Designed to mimic a crocodiles skin, raised eyes, nose bobbles, a gapping maw, and arms and legs. Fine detail offers button eyes and individually stitched teeth ready to eat up your leg
【One Size Fits Most】One size fits most men or women (recommended for adults or children of size 36-40 per day), and it is recommended that the daily shoe size for adults or children is between 36-40. The warmth effect is remarkable, and some interesting and cute socks are very suitable for this winter
【Warm And Cozy】The socks have a significant warm-keeping effect.Brighten up those cold winter mornings with these snuggly warm socks to keep your toes warm
【Ideal Gift】Christmas is coming, no one will refuse such a gift, it looks like a fish that eats your feet, socks are suitable for men and women. These socks are creative gifts for yourself, family and friends!

Monster Pen

Bestseller No. 1

20 Pieces Rainbow Monster Pens Cute Monster Fluffy Pen for School Office Christmas Birthday Carnival Party Favor Supply

Novel Patterns: these rainbow pen is composed of funny facial expressions and fluffy plush in gradient colors, different styles of eyes look cute and novel, easy to attract children's love and liking
Practical Function: these lovely rainbow pens have silky fluffy which possesses comfortable tactility, which can enhance kid's sensory ability of tactility and vision, very easy to grip in your hand, it can keep children or adults in active
Large Quantity: you will receive 20 pieces of rainbow pens in bright and gradient colors, enough for everyday use and sharing with friends and classmates, present them to your friends, classmates and kids
Widely Applicable: these cool rainbow plush pens are a packing filler idea for kids parties; Kids can use pencils at school to make learning fun; Nice for parties, classrooms, church festivals, carnivals and parties, or as writing requirements for school, home, office and so on
Easy to use: just twist the pen cap to open, with smooth writing blue ink, can bring you a comfortable writing experience, portable and convenient for carrying in your bag or pocket

Spooky Skeleton Bones

Sale

Bestseller No. 1

Crazy Night 100 Pieces Skeleton Bones Mini Bones for Halloween Decor or Spooky Graveyard Ground Decoration

Mini bones decor: Includes 100 bone pieces
Perfect for a haunted house, spookiest graveyard scene, Halloween party decor, April Fool's day and more.
Realistic design, affordable pricing and great quality; re-use for all your spooky special events and parties
Transform any outdoor location into an unforgettable experience not just for Halloween but also for other special occasions
Package includes: 100 pieces acrylic bones;size:0.35inch*1.0inch

Colorful worms

Bestseller No. 1

ONESING 19 Pcs Magic Worms Toys Wiggly Worms On String Twisty Fuzzy Worm Toys for Carnival Kid Party Favors Xmas Gifts

👻PACKAGE INCLUDE - 19 pieces in total. 18 pcs magic worms in 6 distinctive colors, 3 pieces for each color, 1 piece storage bag. Size is about 8.7 inch in length, 0.7 inch in width.
😇MATERIAL - Worms toys are made of soft polyester and transparent string. They are soft and comfortable to touch. These twisty fuzzy worm toys have 2 realistic eyes. You can share these toys with your family and friends. They are also perfect play toys for your pets.
🎀COLORFUL MAGIC WORMS - The magic worm toys have 6 colors, including green, blue, yellow, orange, pink, purple. These bright and lovely colors are fulled of energy, can meet people's different color needs, suitable for kids and adult.
🤡FUNNY USE METHOD - Tie the tail with a transparent string, twine the magic worm on your finger, then pull the string to make it moves and crawls around your finger. Using funny magic worms to do magic will be wonderful and will amaze the audience.
🧡VARIOUS APPLICATIONS - Colorful magic worms toy is a useful magic prop, can attract audience's attention and interest. Twisty fuzzy worm also can be a toy to kids and pet. Cat will be happy to chase magic worm. Perfect for different parties, festival decorations, birthday party, etc.

Howling Wolf Wax Seal Stamp

Bestseller No. 1

Popcornflix™ – Free Movies & TV

No subscription or fees!
Stream over 1500 movies & TV shows instantly.
Lots of popular genres, including: Comedy, Romance, Family/Kids, Drama, Urban, Action/Thrillers, Horror, Espanol, Documentaries, Bollywood and many more.
No limit on the number of movies that can be viewed!
English (Publication Language)

Plastic spider confetti

Bestseller No. 1

SaktopDeco 3600 PCS Halloween Confetti Plastic Little Star Cat Bat Pumpkin Spider Witch Cobwebs Confetti Table Party Decorations Mixed Color

PACKAGE INCLUDED: About 3600 PCS glitter confetti, Weight approx. 2.1 oz/60 g.
PRODUCT SIZE: Please refer to the dimensions in picture 2.
PRODUCT MATERIAL: Black confetti is made of plastic. The surface is flat and the edge is smooth and reusable.
STAR CONFETTI PRODUCT DESCRIPTION: Throwing confetti is consists of 7 styles including cobwebs, spiders, pumpkins, star, witches, bats, and cats.
BAT CONFETTI EXTENSIVE USE: Can be used them to decorate your party table, wishing bottles, invitations, cards, scrapbooks, DIY craft, favor bags, gift basket, etc.

Boo Dough PlayDough Wrappers

Bestseller No. 1

Play-Doh Ultimate Color Collection 65-Pack of Modeling Compound for Holiday Gifts & Christmas Stocking Stuffers,1-Oz Cans - Sapphire, Sparkle, Confetti, Metallic & Color Burst (Amazon Exclusive)

IMAGINE A WORLD OF PLAY-DOH COLOR: This 65-pack of Play-Doh modeling compound has a wild variety of 60 different colors with classic rainbow colors, Sparkle, Confetti, and Color Burst compounds
65 SMALL 1-OUNCE CANS: These 1-ounce fun size Play-Doh cans are see-through to show off the fun colors inside, and each can is resealable for storage to play again next time
FEATURING PLAY-DOH SAPPHIRE SPARKLE: 5 cans of super sparkly Play-Doh blue sapphire compound add extra shimmer and shine to kids' creations
SO MANY WAYS TO SHARE: These small Play-Doh cans are perfect for sharing - holiday gifts, Christmas stocking stuffers, school supplies, birthday party favors, arts and crafts activities, or a great gift for kids 3 and up who love to get creative with modeling clay
ORIGINAL PLAY-DOH QUALITY: A favorite since 1956, Play-Doh modeling compound is made primarily with wheat, water, and salt, and goes through vigorous testing so it's always high quality and super fun

Halloween-themed Nail Polish

Bestseller No. 1

Sally Hansen Insta-Dri Nail Polish - Glow In The Dark - Witch, Please - 0.5 fl oz

Sally Hansen Insta-Dri Nail Color is the #1 quick-dry polish in the US*. *Nielsen $ latest 52 wks - W/E 12/04/21
Our 3-in-1 formula with built-in base and top coat offers shiny, extended wear in a single step and our Swift Precision Brush allows for a perfect application.
Dries in 60 seconds.
1 Stroke. 1 Coat. Done.
No wait. No smudge.

Skeleton candle
Temporary Talking Hands Tattoo

Bestseller No. 1

Oottati Waterproof 9 Sheets Back of Hand Scar Cover Fake Temporary Tattoo Stickers - Colorful Red Rose Flower Skull Poker Card King Queen

【TEMPORARY TATTOO PACK FOR MAN WOMEN ADULTS KIDS】Contains 9 sheets temporary tattoo paper stickers which are printed with non-toxic ink.
【GREAT DESIGNS FACTORY REALISTIC EXTRA TEMPORARY TATTOOS PACK】If you've wanted a large custom temporary tattoo but worried about the pain and cost, now's your chance!
【DURABLE, WATERPROOF, REMOVABLE, LONG LASTING PARTY ACCESSORIES】Long lasting for 3-5 days, depends on how many showers you take and how many times you scrub temporary tattoo with soap and water.
【EASY TO APPLY】Easy to apply in 10-20 seconds with water and easily removed by rubbing alcohol, body oil, olive oil. Ideal gifts for adults, boys, women, man, guys, girls, teenagers, bikers, rockers.
【ENOUGH NATURE NAUGHTY NAVY REALISTIC TATTOO APPLICABLE OCCASIONS】 Wear them day or night cover up Sternum Chest face anywhere, and change them instantly!

Halloween-themed Lego set

Sale

Bestseller No. 1

LEGO BrickHeadz Halloween Witch 40272 Building Kit (151 Pieces) (Discontinued by Manufacturer)

Buildable LEGO BrickHeadz Halloween Witch construction character features green skin, decorated eyes, pointy hat and a detachable broom, also a buildable cauldron scene with a bone element
Each LEGO BrickHeadz construction character comes with its own buildable collector's baseplate featuring a seasonal calendar and BrickHeadz logo
Have fun growing your LEGO BrickHeadz collection with other characters from your favorite films, TV series, games and comics
Mash up your LEGO BrickHeadz construction characters to create supercool hybrids or your own amazing characters
Stands over 3" (9cm) tall without baseplate and baseplate measures over 4" (11cm) wide and 2" (6cm) deep

Halloween Playing cards

Sale

Bestseller No. 1

Bicycle Tragic Royalty Playing Cards

Country Of Origin : United States
The Package Height Of The Product Is 1.8 Centimeters
The Package Length Of The Product Is 9 Centimeters
The Package Width Of The Product Is 6.6 Centimeters
Polish (Publication Language)

Halloween Activity Book

Bestseller No. 1

Pick Your Poison candy jar

Bestseller No. 1

Pick Your Poison Card Game: The "What Would You Rather Do?" Game - After Dark Edition + Expansion Set

Pick Your Poison Card Game: The "What Would You Rather Do?" Party Game for All Ages - After Dark Edition + Expansion Pack Set
Pick Your Poison After Dark is an card game of unfathomable "What would you rather do?" scenarios. Three or more players compete to create the hardest scenario possible by combining two Poison cards.
This Pick Your Poison After Dark base game plus After Dark expansion set gives you a total of 500 cards for thousands of hilarious combinations.
Find out about your friends - See how they will choose between some difficult, dirty, and disgusting situations.
Ages: 15+ | Players: 3 - 16 | Time: 30-60 minutes | 500 Scenario Cards

Trick-r-Treat Halloween Phone case

Bestseller No. 1

iPhone 12 Pro Max Trick 'R Treat – So Many Ways to Take a Life Case

Official Legendary Product
Poison, Drowning, Claw, or Knife. This Halloween, or any time of the year, don't let Sam make you miss out on this macabre collection!
Two-part protective case made from a premium scratch-resistant polycarbonate shell and shock absorbent TPU liner protects against drops
Printed in the USA
Easy installation

Bloody syringe with red ink pen

Sale

Bestseller No. 1

Allures & Illusions Syringe Pen (60-Pack), Red

Pack of 60 syringe pen
Perfect for doctors/nurses/mad scientists
Makes a great gift or countertop accessory for your store
Fully functional, outside of pen is red. Pens contain blue ink
By Allures & Illusions
And that's it – 200+ Halloween Care Package Ideas perfect to spice up the holiday for family and friends. What's your favorite item on the list to receive in a care package? What items are essential for a Halloween Care Package to you?
Let's hear them through the comments section!