Halloween is undoubtedly one of the most exciting holidays in the year, and it is the only time you can send a Halloween Care Package to a loved one without coming across as a weirdo.
A Halloween care package is a box with all the necessities to make it a memorable Halloween.
As mentioned earlier, Halloween is fun alright, but you know what isn't fun? Putting together a Halloween care package. You have to decide on the items to include, the things to leave out, and of course, you have to ship the box as well.
In this article, you are going to learn how to put together an excellent Halloween package. Also, to help you fill your box quicker, we are going to share a ton of wonderful Halloween care package ideas with you.
How to Make a Halloween Care Package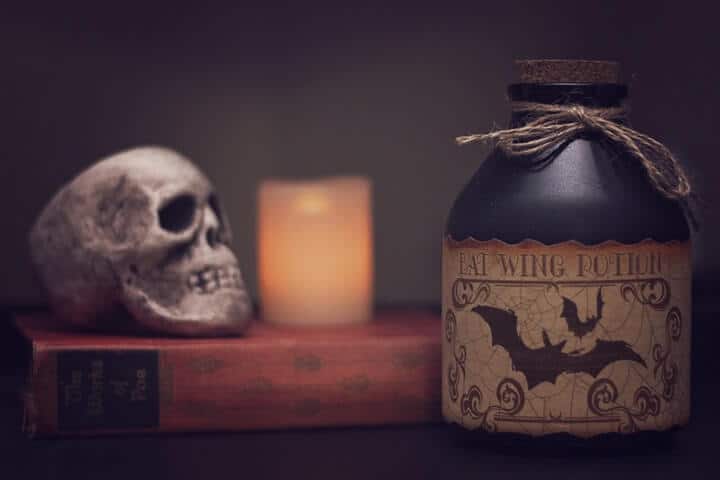 Just like when you're putting together a care box for certain holidays with specific dates, (like Christmas, Valentine's Day etc), it is best to have them sent out before the holiday so that it gets to its destination on time, most especially if decorations and costumes are included in the package, and to avoid any unforeseen delay.
Next, decide on how much you'd be spending on purchasing each item you plan on including in your box, packaging (including buying a care box if you'd rather not use an old box at home) and shipping your package (if it's going overseas).
There are a good number of Halloween themed sites on the internet to get supplies, and you can choose to obtain a Care Package box from your post office or a shipping company.
Ensure all fragile items are carefully wrapped with newspapers and your box is stuffed to keep items from shifting around.
Edibles should also be kept as far away as possible for other items that could give them an unpleasant scent or taste.
Also, you can decorate your box with orange and black markers, ribbons and even colorful tissue papers to give it an attractive look. Also, remember to tape your box securely before dropping it off for delivery.
If you're sending your care package to someone who resides close to you, you can have it sent out through a local delivery service or drop it off yourself.
When shipping overseas, you would be expected to fill a customs form and also submit information such as the receiver's address, your personal address as well as a list of all the content in your box.
Shipping regulations are expected to be abided to at all times.
Essentials for Halloween Care Package
Trying to decide on the most important items to include in this year's Halloween Care Package? Want to shop for only the best and most essential that'll kick-start the Halloween spirit? Here are some exciting Ideas to start with:
Treats for Halloween Care Package
Ready to spice up this Halloween with unique and great tasting treats perfect for the holiday? If you're looking for some of the yummiest Ideas to gift out, here are a couple of our favorite:
Fall-themed Gourmet Berries

Bestseller No. 1

Goli® Apple Cider Vinegar Gummy Vitamins (1 Pack, 60 Count, Gelatin-Free, Gluten-Free, Vegan & Non-GMO Made with Essential Vitamins B9 & B12)

Vegan, Non-GMO, Gluten-free & Gelatin-free: Each bottle of Goli contains 60 delicious, vegan, non-gmo, gluten-free & gelatin-free Apple Cider Vinegar gummies, which makes them suitable for almost any lifestyle.
Made in the USA with locally and globally sourced ingredients. Goli Gummies are made in allergen-free, cGMP certified facilities in the United States with local and globally sourced ingredients to ensure that our products are reputable and of the highest quality standards.
Patented Formula, Essential Vitamins, Great Taste: Our patented formula contains essential Vitamins B9 and B12 to help support cellular energy production, immune function, heart health, healthy nutrient metabolism, a healthy nervous system and overall health and wellbeing. Apple Cider Vinegar has traditionally been used for digestion, gut health and appetite. Our unique flavor profile combined with essential vitamins makes Goli ACV Gummies a delicious addition to your daily health routine.
Vitamin Angels: Goli is a proud supporter of Vitamin Angels

Chocolate covered Strawberries

Sale

Bestseller No. 1

Golden State Fruit Chocolate Covered Strawberries, 12 Dark/Milk/White Delight

Each berry is delicately hand dipped and decorated in our own kitchen for both culinary artistry and exquisitely decadent taste
Freshness and premium quality are 100 percent guaranteed
Made to order and shipped overnight with ice in our signature gift box to ensure perfect arrival
Freshness and premium quality are 100 percent guaranteed
Delivery is not available on Saturday, Sunday or Mondays

Pumpkin muffins

Bestseller No. 1

Simple Mills Almond Flour Baking Mix, Pumpkin Muffin & Bread Mix - Gluten Free, Plant Based, Paleo Friendly, 9 Ounce (Pack of 1)

Receive 1 box of Simple Mills Almond Flour Pumpkin Bread Mix. Perfectly spiced pumpkin mix that uses actual pumpkin and actual spices. Great for fun and nutritious baking.
Take a look at our nutritious baking mix ingredients. Nutrient dense, purposeful ingredient list for these delicious baking products from Simple Mills.
See our reviews on your iPhone, iPad, Android, or laptop by scrolling down to see how other consumers rate our delicous taste!
Nothing artificial, ever. Shelf stable snack that is perfect for stocking up the pantry and great way to gain energy and boost productivity
Made With Simple Ingredients, Certified Gluten free, Non-GMO, Grain Free, Corn Free, Paleo Friendly, Plant Based

Halloween-themed Candy stash

Bestseller No. 1

TWIZZLERS Twists Strawberry Flavored Chewy Candy, Low Fat, 5 lb Bulk Container

Contains one (1) 5-pound bulk container of TWIZZLERS Twists Strawberry Flavored Chewy Candy
A perfect movie marathon treat and classic everyday, strawberry-flavored chewy snack that provides long-lasting goodness
Low-fat, kosher-certified, strawberry-flavored candy in a bulk candy container sealed for sweet freshness
Use TWIZZLERS candy for filling birthday and retirement party dessert tables or bridal and baby shower candy dishes
Chewy TWIZZLERS Twists candies with the "Twist You Can't Resist" to enjoy as Christmas, Valentine's Day, Halloween and Easter candy

Black lollipop

Bestseller No. 1

Black and White Swirl Pop Suckers (24 individually wrapped lollipops) Party Candy

These black and white swirl suckers are a great candy to have around during birthday parties, carnivals, fundraisers or wherever you need to brighten up your treat table or candy buffet. Sweet, tasty fun for both kids and adults,
Each 2" sucker comes on a 4 1/2" plastic stick.
Cherry flavor.
Individually wrapped
Bulk set of 24 swirl pops. Total weight, 14 oz.

Cheese Crackers

Bestseller No. 1

RITZ Cheese Sandwich Crackers, 48 Snack Packs (6 Boxes), 1.38 Ounce (Pack of 48)

Each layers a mouthwatering cheese spread, made with real cheese, between two crisp Ritz Crackers.
Ritz Cracker Sandwiches are a great anytime snack and perfect for lunchboxes or quick meals.
Each individually wrapped pack is sealed for freshness and includes six Ritz Cracker Sandwiches.
This includes 48 - 1.35oz packs of Ritz Cracker Sandwiches with cheese.
Delicious Ritz Cracker Sandwiches are the classic go-anywhere snack that kids and adults love.

Candy Corn

Bestseller No. 1

Brach's Candy Corn, Classic Halloween Candy, Bulk Packaging, 5 Pounds (Classic Candy Corn)

CANDY CORN: It wouldn't be Halloween without candy corn, and Brach's Candy Corn adds to the festivities with candy Harvest Corn. Great for baking or for the perfect seasonal candy dish.
SWEET TREATS FROM BRACHS: Candy corn to jelly beans, chocolate to butterscotch, gummy bears to peppermints—whatever your favorite sweet treat is, Brach's Candy makes every moment special.
HOLIDAY CANDY FROM BRACH'S: Sweeten the season with Brach's holiday candy, from individually wrapped bulk candy for Tricker Treating, to classic candy corn or pumpkins, to our autumn mix & football candy corn.
MAKE ANY DAY SWEETER: From kid's birthday parties or gift bags, to Halloween candy for tricker-treaters, to a sweet treat in a busy day, Brach's makes every day sweeter.
BRACH'S MADE TO SHARE: Brach's Candy has something sure to please everyone's sweet tooth, from classic hard candy to sugar-free to chocolate to gummy candy. Share a little or a lot & make your memories sweeter.

Halloween cheese balls

Bestseller No. 1

Halloween Edition Oreos

Bestseller No. 1

OREO Chocolate Sandwich Cookies, Green Colored Creme with Glitter & Popping Candy, Trolls World Tour Limited Edition, 1 Pack (10.7 oz.)

This package contains 1 individually wrapped 10.7 oz. pack of limited edition OREO Chocolate Sandwich Cookies with Green Colored Creme, Glitter & Popping Candy.
The classic combo of creme sandwiched between two wafer cookies is iconic—just like "Trolls World Tour"! Unlock a playful trolls experience at home by scanning the QR code on your pack of cookies.
Celebrate Tiny Diamond, a Glitter Troll, with chocolate OREO cookies filled with glittery green colored creme and popping candy. Be sure to look for all 3 special cookie designs inspired by the movie!
From the movies to the office to school to bus trips, gift bags, goodie jars, party favors, care packages, and dessert baskets, everything is sweeter with OREO cookies.
These cookies are Kosher. Each serving is 140 calories and has no trans fat.

M&M's chocolate

Bestseller No. 1

M&M'S Fudge Brownie Chocolate Candy Party Size, 34 oz Bag

Contains one (1) 34-ounce Party Size Bag of M&M'S Fudge Brownie chocolate candy
Experience real chocolate candy with a fudgy, chewy center surrounded by a colorful candy shell
Share this fun chocolate candy with the whole family
Stock up on M&M'S Fudge Brownie chocolates to add to your favorite recipes and fill candy dishes
Pass around the rich flavor of fudge brownies in bite-sized chocolate candy form at all your celebrations

Oatmeal-Butterscotch cookies

Bestseller No. 1

Flavored worm snacks

Bestseller No. 1

Gummy Rainbow Worms Candy, Assorted Fruit Flavored Worm Gummies, On the Go Snacks for Boys or Girls, 5 ounce Share Bags, Pack of 3,

GUMMY CANDY share size bags! This comes with 3 - 5 ounce Haribo Rainbow Worms Share Size Peg Bags.
Needzo purchases only from licensed manufacturers. We combine complimentary items for the perfect gift giving. We repackage all items in our custom packaging to ensure arrival in perfect snacking condition. Whether you're giving or receiving this season, purchase confidently from Needzo!
MMMM WORMS said no one ever until summer 2022! Enjoy these deliciously juicy gummy candies
COLORFUL AND JUICY! these gummy candies come in assorted fruit flavors lemon, strawberry, and black currant
GREAT gummy candy or fruit snack to take on the go for summer 2022! From vacation, to work, to sporting events or the drive in! These candies will taste great

Eyeball Bubble Gum

Bestseller No. 1

Pepper beef jerky

Bestseller No. 1

Jack Link's Beef Jerky, Peppered, 1/2 Pounder Bag - Flavorful Meat Snack, 9g of Protein and 80 Calories, Made with Premium Beef - 96% Fat Free, No Added MSG** or Nitrates/Nitrites

GOOD SOURCE OF PROTEIN – Protein is an essential part of your diet and Jack Link's Beef Jerky is a delicious way to get more every day. With 9g of protein and 80 calories per serving, it's a must-have snack to help keep you satisfied and energized all day
MADE WITH 100% BEEF: Jack Link's Beef Jerky is made from cuts of 100% beef. Our delicious beef jerky is 96% fat free with no added MSG** or Nitrates/Nitrites. **Except for that naturally occurring in soy sauce, hydrolyzed corn protein, and yeast extract
FULL ON FLAVOR: Love a little spice. Our Peppered Beef jerky delivers. Expertly seasoned with a special blend of herbs and spices and finished off with cracked black pepper. Then, it's slow roasted over hardwood smoke.
PERFECT EVERYDAY SNACK: How did ancient civilizations fuel themselves to build pyramids or win sword battles. Meat. If it worked for them, Jack Link's beef jerky can definitely help you power through a late day at work or fuel a workout.
RESEALABLE SHARING SIZE: The jumbo 1/2 pound sharing size bag is resealable so your beef jerky will always be fresh and as delicious as the first time you opened it! It's perfect for sharing with family and friends.

Peanut Butter Eyeballs

Bestseller No. 1

Atkinson's Candy Atkinson Halloween Peanut Butter Eyeballs Candy - 12 Ounce Bag

Peanut Butter Eyeballs from Atkinson Candy. Crunchy bite-sized hard candy with a Peanut butter filling.
Each piece is individually wrapped.
Classic Peanut Butter Bars in a crunchy bite-sized piece perfect for Trick-or-Treat! Made with simple ingredients and dressed up for Halloween."
Crispy, crunchy and completely peanut buttery!
Kosher Certified, Gluten Free, Vegan Friendly

Pumpkin Cake
Sweet and Sour candy

Bestseller No. 1

SOUR PATCH KIDS Original Soft & Chewy Candy, Easter Candy, 12 - 3.5 oz Boxes

Twelve 3.5 oz boxes of SOUR PATCH KIDS Original Soft and Chewy Candy
Chewy snacks in assorted fruit flavors that are SOUR. SWEET. GONE.
Soft and chewy candy has the traditional SOUR PATCH KIDS shape for a hint of mischief
Bring this SOUR THEN SWEET candy to parties, holidays, movies and more
Sealed box keeps these snacks flavorful and soft

Cheetos

Bestseller No. 1

Black jelly beans

Bestseller No. 1

SweetGourmet Jumbo Black Licorice Jelly Beans | Bulk Unwrapped | 2 Pounds

Enjoy the taste of classic black licorice in every one of these jumbo-sized jelly beans!
Each soft and chewy jelly bean is full of spicy anise flavor that can be combined with traditional fruit flavored jelly beans or can be enjoyed on their own as a unique snack.
Net Wt.: 2Lb. Packed in resealable Zip-Lock Stand Up Pouches. Approx 78 pieces per pound. Contains: tree nuts(coconut)
Country of Origin: Mexico. Distributed and Repackaged by SweetGourmet PA 19440
A great licorice treat!

Slim Jim snack sticks

Bestseller No. 1

Slim Jim Snack-Sized Smoked Meat Sticks, Original Flavor, Keto Friendly, 0.28 Ounce, 120 Count (Pack of 1)

Includes (1) 120-count box of 0.28-ounce Slim Jim Original Flavor Snack Size Smoked Meat Sticks
Each individually wrapped snack stick is made to please your carnivorous cravings with a bold taste your taste buds will love
Enjoy this beefy protein snack food for an easy, on-the-go meat feast that'll kick hunger to the curb
The intensely bold original flavor is prime for snack time, lunchtime, after school or anytime
Keto friendly snack – 7 grams of protein, 1 grams net carbs (1 grams total carbs minus 0 gram dietary fiber), and 0 gram added sugar per serving

Spider Web cotton candy

Sale

Bestseller No. 1

Gummy Eyes Halloween Candy

Sale

Bestseller No. 1

Trolli Glotzer 75g

Foamed Sugar Gumdrops with fruity filling
75g bag, 4 pieces
original from Trolli Germany

Peppermint candies

Bestseller No. 1

Brach's Star Brites Peppermint Hard Candy | Mints Individually Wrapped | Fat Free, Low Cal, Gluten Free Candy, Made with Real Peppermint Oil | 4 lb Bag

SHAREABLE TREAT: One (1) 4-pound bag of Brach's Star Brite hard candies. Each bag of candy contains over 360 pieces of individually wrapped candy mints. This bag of white and red candy is the perfect fresh, sweet treat.
CLASSIC CANDY: Add a delightful touch to any moment with the classic minty fresh taste of Brach's Star Brite Peppermint Candy. With each hard candy individually wrapped to maintain taste and freshness, this bulk candy bag Is perfect for any party mix, candy tray, or office candy dish.
REAL PEPPERMINT OIL: Freshen up any time of day with a nostalgic taste that carries a fresh touch. This mint candy is made with real peppermint oil for a refreshing addition to your day.
LIGHT AND SWEET: Whether after dinner or in the middle of the day, these individually wrapped mints are easy to unwrap, eat and enjoy. Fat free and gluten free, you can satisfy your sweet tooth guilt free as well.
MAKE MINTY MOMENTS: Brach's Star Brites hard candy are nostalgic sweet treats and must-haves in every candy bag. Each individually wrapped candy can be used in a fun, candy assortment that will help make sweet, new memories.

Gummy sharks candies

Bestseller No. 1

Gummy Sharks Candy - 1 LB Resealable Stand Up Candy Bag - Blue and White Sharks - Blue Raspberry Flavor - Novelty Candy - Bulk Filler Candy for Parties and Holidays

No need to head to the beach to enjoy these ocean themed gummies. This resealable stand up candy bag contains one (1) pound of delicious blue and white gummy sharks with delicious raspberry flavor.
The tiny shark gummies are a great treat to share at a ocean themed birthday party, school party, office party, movie night, Easter party, Halloween party, beach party, or for a casual family gathering.
With their shiny blue bodies, the shark candies are perfect to fill up candy jars, candy baskets, candy dishes, party favor bags, Halloween candy bags, gift bags, gift baskets, and thank you gifts.
The unique candy makes a great gift for a science teacher, biology teacher, marine biologist, college student, shark lover, shark fan, fisherman, sailor, or teacher.
Whether you're planning on enjoying your gummy treats alone or sharing them with friends and family, the bulk candy bag is a great way to make sure you keep your favorite candies on hand for Christmas, Easter, Valentine's Day, or Halloween.

Skull chocolate

Bestseller No. 1

Webake Silicone Chocolate Molds Skull Candy Mold for Jelly Crayon Resin, Pack of 2 (Dia 1.7 inch)

Mold Size: 8 x 4.3 x 0.9 inch. Each skull cavity measures about 1.7inch in length, 1.2 inch in width.
Temperature tolerance from -40 to +446 degrees Fahrenheit (-40 to +230 degrees Celsius). Compatible with oven, freezer, microwave and dishwasher.
This skull shaped chocolate mold is made of food grade durable, flexible silicone. LFGB Standard. Pinch test passed. Easy release and easy to clean.
Great for making fat bombs keto snacks, hard candy, chocolates, crayon, jelly, fondant, Jello, fudge, mint, frozen yogurt treats, ice cubes with fruit juice, cake decorating, and so much more.
This skull shaped chocolate mold is made of food grade durable, flexible silicone. LFGB Standard. Pinch test passed. Easy release and easy to clean. There are 5 different Halloween edition skull patterns in total. Perfect for Halloween party and christmas party.

Halloween sugar cookies

Bestseller No. 1

DecoCookies - Halloween Hand-Decorated Cookies - Vanilla Flavor - Individually wrapped - 16 cookies

Halloween Collection 🎃 Halloween DecoCookies are the perfect touch for Halloween-themed parties or events at work, school, or home. They also make spook-tacular gifts and treats for your favorite trick-or-treater! Halloween DecoCookies are sure to bring smiles to loved ones this Halloween.
HAND-DECORATED COOKIES 🍪 From our kitchen to your occasion. Handcrafted and hand-decorated in our North American bakery by expert pastry chefs (us!).
YUM! 🍪 Taste and texture made perfect by quality ingredients. Made with Natural Vanilla and AA Grade Butter. NO Artificial Fillers or Flavors. 100% Peanut and Tree Nut-Free.
INDIVIDUALLY WRAPPED 🍪 Individually wrapped and labeled for easy sharing and storage. Labels include UPC, Ingredients, Allergens, and Nutrition Facts, and more for individual resale. Guaranteed to stay bakery-fresh at least 30 days after purchase.
BOX INCLUDES 🍪 16 individually wrapped cookies in 4 designs. Packaged safely so your cookies arrive in perfect condition, every time.

Jelly-filled Chocolate bars

Bestseller No. 1

Sweet's Milk Chocolate Orange and Raspberry Sticks 10.5 oz boxes, 2 Count

Now made with real fruit juice! No artificial colors or flavors! Made in the USA!
Each box contains 10.5 ounces of pure delight, approximately 35 sticks per box
Sweet's Jelly centers drenched in Real Milk Chocolate make this timeless confection irresistible!
Gluten Free and Kosher Certified
Perfect for gifting, care packages, corporate gifts, birthdays, anniversaries, and Christmas/New Year's holiday parties!

Pumpkin seeds

Bestseller No. 1

Terrasoul Superfoods Organic Pumpkin Seeds, 2 Lbs - Premium Quality | Fresh | Raw | Unsalted

Terrasoul Superfoods Organic Pumpkin Seeds (Pepitas), 2 Pounds
USDA Certified Organic, Non-GMO, Raw, Gluten-Free, Vegan
Unsalted and 100% organic pumpkin seeds are good for your health and for any diet.
Terrasoul Superfoods is a family-run business that sources the freshest and highest quality superfoods from all over the planet. Our mission is to make these amazing, healthy foods available to you at the lowest prices possible while paying our growers and employees fair wages.
100% Money-Back Satisfaction Guarantee - We stand behind our products and offer a 30-day money back guarantee, backed by an outstanding customer service team.

Halloween S'mores

Bestseller No. 1

Party City S'Mores Snack Couple Halloween Costume, Adults Standard Size, Chocolate and Marshmallow Graham Cracker Tunics

You and your partner or friend will look like a snack in this S'mores Snack Halloween Costume for adults that includes two tunics
Includes two comfortable graham cracker tunics, one with toasted marshmallow and the other with chocolate that will turn your duo into a delicious s'more
This duo costume is an adult standard size; Just pull these two campfire snack tunics over your clothes for an effortless, easy-to-wear costume that sits comfortably on your shoulders with the attached straps
Perfect for Halloween trick or treating, themed birthday parties, and dress up events
Care for these funny 100% polyester (exclusive of decoration) costume by spot cleaning only; Shoes, pants, shirt, and hat not included

Chocolate dipped Caramel Apples

Bestseller No. 1

Milk & Dark Decadence Chocolate Dipped Caramel Apples Pair

Two Pure milk and dark chocolate covered caramel apples presented in our signature gift boxes
One Pure milk chocolate dipped caramel apple drizzled with white and dark chocolate.
One Pure Dark Chocolate dipped caramel apple drizzled with white chocolate and decorated in dark chocolate jimmies
Apples are individually packaged and tied with gift bows, each in their own gift box.

Velvet cupcakes

Bestseller No. 1

Sugared black marshmallows

Bestseller No. 1

SOL DE JANEIRO Brazilian Bum Bum Cream 240ml

SMOOTHS & TIGHTENS: Fast absorbing body cream for your bum bum, legs, tummy - and all over - contains Guaraná to tighten and smooth the appearance of skin.
HYDRATES & SOFTENS: Brazilian Beauty Blend of Cupuaçu Butter, Açaí Oil, and Coconut Oil softens while a light mica shimmer creates an all-over highlighting gorgeous glow.
DELICIOUS FRAGRANCE: Pistachio and Salted Caramel fragranced body lotion cream. Non sticky and non greasy.
FORMULATED WITHOUT: Cruelty free, vegan, gluten free, soy free, paraben free, free of artificial colorant, 5 free, 3 free, phthalate free, paraben free, no PEGs, talc free, sulfate free, mineral oil free, nut free.

Chocolate-covered Pretzel

Bestseller No. 1

Mothers Day Yogurt Covered Pretzels - Delicious Selection Of Flavors With Gorgeous Packaging - Delivered To Your Door As A Gift For Holidays Or Special Occasions - by Mountain Glaze

ARRIVES AT YOUR DOOR FRESH - Our experts have been working for years to bring you a yogurt-covered pretzel selection that tastes fresh out of the oven no matter where they find you. Our tried and tested recipe brings soft and rich treats to homes across the globe, with a crispy crunch that never disappears.
THEY LOOK AS GOOD AS THEY TASTE - Feast your eyes on a delectable-looking box of pretzels for gifts or your own munching pleasure, with a luxurious taste and style. The box blows our customers away with every arrival, as the treats are neatly organized in a wheel of gorgeous pastel colors — ready to satisfy!
EXPLORE A WIDE RANGE OF FLAVORS - We've got a little something for everyone with a unique set of flavors you'll adore. They're the best assortment of sweet pretzels around, offering fantastically fruity flavors like strawberry and blueberry or deeper and richer options like chocolate and yogurt. The choice is yours!
BEAUTIFULLY PACKAGED FOR YOU - We want you to fall for this set at first sight, so our team boxes the pretzels in a transparent container that allows you to view the delicious treats within. Now you can get excited from the word go with a sneak peek of your goodies that's wrapped up in a beautiful silver bow!
A UNIQUE GIFT IDEA - On the hunt for a Valentine's Day gift or mothers day present? This selection offers a unique way of showing your affection and adoration for a loved one, with a lush look and lavish taste they will appreciate. We pride ourselves on speedy deliveries, so you can organize a last-minute gift that warms their heart and tickles their taste buds.

Black sugar doughnuts

Bestseller No. 1

Pumpkin soda

Bestseller No. 1

Canned Pumpkin soup

Sale

Bestseller No. 1

Weruva Classic Dog Food, Funky Chunky Chicken Soup with Chicken Breast & Pumpkin in Gravy, 14oz Can (Pack of 12)

Funky Chunky Chicken Soup (14oz can, Pack of 12) Featuring boneless, skinless, white-meat chicken with pumpkin, carrots, and peas.
Weruva Classic Dog Food - Our premium lineup of artfully-crafted recipes with high-quality ingredients you can actually see and your dog will love
Your pup can stay funky, and not get chunky with this all-natural, low fat and low carb chicken soup.
Grain-free, Gluten-free, & Carrageenan-free. No corn, wheat or soy. Free from any artificial colors & preservatives.
Produced in Human Food Facilities under the Strictest B. R. C. Global Standards for Foods with responsibly sourced ingredients

Halloween-themed powdered hot chocolate

Bestseller No. 1

Orgain Organic Protein + Superfoods Powder, Vanilla Bean - 21g of Protein, Vegan, Plant Based, 5g of Fiber, No Dairy, Gluten, Soy or Added Sugar, Non-GMO, 2.02lb

New look and label, same great product. Includes 1 (2.02 pound) orgain organic protein & superfoods vanilla bean plant based protein powder
Combined benefits of protein and superfoods: 21 grams of organic plant based protein (pea, brown rice, and chia seeds), 3 grams of organic dietary fiber, and only 1 gram of sugar in each serving. 50 organic superfoods per scoop
Vegan, USDA organic, dairy free, lactose free, gluten free, soy free, non GMO, doctor developed. Note: May contain wheat
Our organic superfoods blend includes organic veggies, herbs, greens, grasses, berries, fruits, sprouts, and ancient grains. Good source of food based vitamin B6 and C, iron, riboflavin, thiamin, and pantothenic acid
Ideal for healthy, on the go nutrition for men, women, and kids. These are great for an antioxidant boost, weight management, meal replacement drinks, a breakfast shake, smoothies, building lean muscle, muscle recovery, and pre or post workouts

Mummy cookie cutter

Bestseller No. 1

Tovolo Coffin Holiday Cookie Cutters, Templates Reverse, Dishwasher Safe - Set of 6

This set includes 1 coffin cookie cutter and 3 reversible coffin templates each with a unique pattern that make decorating easy and fun
The templates imprint each cookie with your favorite Coffin pattern
These cookie cutters act as your guide to make professional looking cookies every time
All the pieces snap together for easy storage allowing these cookie cutters to take up less drawer space and won't get lost
These cookie cutters are dishwasher safe

Dark chocolate Truffles

Bestseller No. 1

Godiva Chocolatier Dark Chocolate Truffles Assorted Chocolate Gift Box, 24 pc.

GOURMET CHOCOLATE: This 24-piece Godiva chocolate gift box features an exciting assortment of gourmet dark chocolate truffles crafted with classic Belgian fillings
DELICIOUS FILLINGS: Sweet fruit, savory salted caramel, spiced ganache, and other delectable fillings sit beneath dark chocolate shells
TIMELESS TASTE: Add sweetness to any special occasion from birthday parties to anniversaries to corporate gift swaps; This chocolate assortment is always a perfect choice
ELEGANT GIFT BOX: Surprise someone special with this exquisite chocolate box, wrapped with a gold ribbon or satiate your sweet tooth as you sample each assorted candy
BELGIAN HERITAGE: Founded nearly 100 years ago, Godiva continues to adhere to a long-standing tradition of quality, Belgian craftsmanship using only the world's finest ingredients

Black sprinkles

Sale

Bestseller No. 1

Hot Cinnamon candies

Bestseller No. 1

Red Hots Cinnamon Candy, 5.5 Ounce Box, Pack of 12

CAN YOU HANDLE THE HEAT? Experience the powerful, fiery taste of cinnamon with Red Hots Cinnamon Candy. Their round shape nestles on your tongue, delivering wave after wave of spicy flavor.
MANY WAYS TO ENJOY: Whether you eat them by the handful, put them on a birthday cake or use them as a decorative touch to your gingerbread house, there are a million fiery ways to enjoy Red Hots!
THEATRE BOX: These delicious, fiery red candies come packaged in a theatre box that's the perfect size to enjoy by yourself or to share with friends. Whatever mood you're in it's a satisfying treat!
GREAT FOR ALL OCCASIONS: Whether you're filling Easter candy baskets, birthday swag bags, handing out candy to trick-or-treaters, or just craving a spicy-sweet treat, these Red Hots are sure to please.
A CLASSIC FAVORITE: Red Hots have a signature, fiery taste that can't be imitated. They're made the way they always have been: with a careful cold-panned candy process perfected over generations.

Red punch drink
Nachos

Bestseller No. 1

Black licorice

Bestseller No. 1

Italian Black Licorice Wheels | Bulk Candy | Natural Colors and Flavors, GMO Free | 1 Pound

Country Of Origin: Italy. Distributed and Repackaged by SweetGourmet PA 18974
Considered as an International Favorite! Black licorice in a fun wheel shape.
Free From Fat - GMO Free - Natural Colors - No Artificial Flavors - FIRM TEXTURE.
Net Wt.: 1Lb. Approximately 46 wheels per pound. Packed in resealable Zip-Lock Stand Up Pouches.
These SweetGourmet wheels provide a wonderful licorice taste sensation for the black licorice lover. These wheels can also be pulled apart and turned into laces for your decorating needs.

Pumpkin cheesecake

Bestseller No. 1

Jordan's Skinny Syrups Pumpkin Cheesecake, Sugar Free Flavoring Syrup, 25.4 Ounce Bottle

Flavor Notes - Pumpkin aroma with creamy rich cheesecake and a sweet ending
Zero Sugar, Zero Calories, and Zero Carbs make this a great guilt free addition to any beverage
All Jordan's Skinny Syrups are Gluten-Free, Kosher, Keto-Friendly, and GMO-Free
Just add 1 oz of syrup to your beverage, 25 servings per bottle
Perfect for Coffee, Lattes, Tea, Protein Shakes, Smoothies, Craft Cocktails, and so much more

Apple slices

Bestseller No. 1

Newness Apple Cutter Slicer, [Large Size] 16 Slices HEAVY DUTY Apple and Pear Corer Divider with Base, [Upgraded] Cut Apples All The Way Through, Stainless Steel Fruits & Vegetables Divider, Wedger

【LARGE SIZE】Apple slicer can make thinner uniform slices, you don't have to worry about cutting them smaller for your kids, and great for snacking and baking too.
【CUT APPLES ALL THE WAY THROUGH】Apple cutter with base unique design, the blade can embed in the base, the blade can cut all the way through the bottom skin of the apple.
【STURDY, WILL LAST LONG】The ultra-sharp blade of the apple wedger is made of high quality stainless steel, adopts upgraded welding technology, no worry about welding fell apart.
【QUICKER AND EASIER】Say goodbye to knife and corer, 5 seconds get 16 thin apple slices completely, easier and fast make apple pie or sauce, save your time.
【EASY TO CLEAN & STORE】Detableable design, makes it rinse off easily and dries quickly, and is also easy to store.

Apple Cider

Bestseller No. 1

Bragg Organic Apple Cider Vinegar With the Mother– USDA Certified Organic – Raw, Unfiltered All Natural Ingredients, 16 ounce, 2 Pack

BRAGG APPLE CIDER VINEGAR: The Bragg ACV Vinegar is made from organically grown apples, and offers various health benefits. To easily incorporate ACV into your diet, you can take a daily 2 oz shot, pour it over your salad, drink in a morning elixir with water and lemon, or add it to your hot tea.
ORGANIC INGREDIENTS: The Bragg ACV is raw, unfiltered, and crafted from organically grown apples. It is USDA certified organic, Non-GMO Verified, and Kosher certified.
MOTHER OF VINEGAR: The 'Mother' consists of strands of proteins, enzymes, and friendly bacteria that give the product its murky appearance. The 'Mother' is used for its natural cleansing qualities.
APPLE CIDER VINEGAR HEALTH BENEFITS: Drinking a daily dose of Bragg Organic ACV offers many health benefits. ACV can help support a healthy immune system, aids in maintaining a healthy weight, delivers prebiotics, and helps you maintain normal glucose levels.
The Bragg Difference: Our ingredients always come from the land, not a lab. It's our vital difference. With Bragg Live Food Products Seal of Authenticity

Chocolate dipped marshmallows

Bestseller No. 1

Homemade Meatball Mummies

Bestseller No. 1

Pumpkin patch Brownies

Bestseller No. 1

Orgain Organic Vegan Protein Powder, Vanilla Bean - 21g of Plant Based Protein, Low Net Carbs, Gluten Free, Lactose Free, No Sugar Added, Soy Free, Kosher, Non-GMO, 2.03 Lb

Includes 1 (2.03 pound) orgain organic plant based vanilla bean protein powder
21 grams of organic plant based protein (pea, brown rice, chia seeds), 2 grams of organic dietary fiber, low net carbs, 0 grams of added sugar, 150 calories per serving
USDA organic, vegan, gluten free, dairy free, lactose free, low net carbs, no added sugar, soy free, kosher, non GMO, carrageenan free, and no artificial ingredients
Mix with water, milk, or your favorite protein shake recipe for a quick breakfast or snack drink. Use when baking to give your cakes, muffins, brownies, or cookies a protein and energy boost
Ideal for healthy, on the go nutrition for men, women, and kids. These are great for meal replacement, smoothie boosters, muscle recovery, and pre or post workouts

Bag of Unicorn Fart Cotton Candy

Bestseller No. 1

Bag of Unicorn Farts (Cotton Candy) Humorous Present Idea For Friend, Coworker, Mom or Dad

Now With More Cotton Candy! Funny Unique Gift For All Ages.
Do You Love To Make People Laugh? Bag of Unicorn Farts are guaranteed to brighten a friend's day.
Scientific Fact: Farts Are Funny! The 3oz fruit punch cotton candy is delicious!
Be Original! The perfect birthday gift, retirement or 2nd Anniversary present. Epic Easter basket stuffer.
Perfect Present! Creative Father's Day And Birthday Gift Idea. Funny granddaughter or grandson present.

Candy Pumpkin

Bestseller No. 1

Halloween Mello-Creme Pumpkins, Delicious Gummy Candy, Party Favor (2 Pounds)

HALLOWEEN MELLO-CREME PUMPKINS: Enjoy this Soft and Sweet Unique Fun Mello-Creme Pumpkin Shaped Treat! Our mouthwatering long-lasting flavors make these Mellow-Creme a special treat for students, customers at the doctor's office or bank and even for adults!
PARTY FAVOR: Kids will Love Them! These Halloween Mello-Creme Pumpkin Gummy Candy are ideal to use as Party Bag fillers, Stocking Stuffers, Events, Birthday Parties, Pinata Fillers, Care Packages, Wedding Party Favors and any Other Event that needs some Sweetness to it! Tastes as good as they look and are guaranteed to satisfy your sugar cravings!
PACKAGING:Our Mellow-Creme Pumpkins are GMO-Free, come in 4 different Sizes Bags: 8oz, 1 LB, 2 LB and 5 LB. Resealable Bag - Comes in a resealable bag to ensure quality and freshness.
FOR THE GUMMI LOVERS: Take a bite and Enjoy its classic and nostalgic taste as you unroll the legacy of this timeless classic that takes you back to the good ol' days 😉.
BUY RISK-FREE: At the Fruidles Company, we fully stand behind our products with total satisfaction and 100% money-back guarantee.

Chocolate cookies with fillings

Bestseller No. 1

Biscolata Mood Cookies with Chocolate Filling - Crispy Biscuit Shell Filled with Milk Chocolate Creme, Fun Bite Sized Cookies with Mood Emojis, 6 Count

DELICIOUS & AUTHENTIC: Biscolata Mood Cookies is the perfect treat for any mood. A fun and delicious bite-sized cookie with a crisp biscuit shell and a milk chocolate cream filling. Every shell features drawings of emojis. Find the appropriate one for the mood you are in and enjoy the baked crispy cookie filled with smooth chocolate.
BEAUTIFULLY PACKAGED: Pack contains 6 cups of Mood Cookies, and each cup contains 60g (2.12oz) of cookies. Great to take on-the-go. All snacks are carefully hand-picked and shipped in elegant packaging.
PREMIUM & FRESH: We use only premium quality ingredients and we are constantly keeping our storage up-to-date to ensure freshness. Indulge in any snack of your choice knowing the cookie will always keep the crunch and the chocolate will always be smooth.
EVERY PERSON, EVERY OCCASION: A treat for any mood! Amaze your loved ones with a fun snack perfect for friends, kids, co-workers, family, loved ones, Halloween, Christmas, Valentine's, Easter, Hanukkah. Indulge anytime, anywhere and satisfy your tastebuds.
OUR GUARANTEE: Over 33 years, Solen, the manufacturer of Biscolata, has become recognized as a global player in over 120 countries through its famous brands. This dedication to quality and passion has resulted in Solen being ranked in the Candy Industry Global Top 100 List, which is one of the important confectionery lists in the world. If there are any issues with your order please contact us!

Cheesecake

Bestseller No. 1

Harry & David The Cheesecake Factory REESE'S Peanut Butter Chocolate Cake Cheesecake (10 Inches)

Crafted with chunks of actual peanut butter cups, this rich chocolate peanut butter cheesecake is complemented by layers of fudge cake and gooey salted caramel.
Peanut butter cream cheese rosettes and a layer of rough-chopped chocolate pieces along the outside edge make this a decadent treat for any occasion.
Measures 10 inches in diameter and weighs 9 pounds 2 ounces; 12 pre-cut slices
Note: This item is shipped with dry ice in an insulated container via 2-Day Express delivery to ensure it arrives in perfect condition. To avoid weekday transit, orders placed after 10 a.m. PT/1 p.m. ET on Wednesday will shop on Monday of the following week.
America's first choice for fruit and food gifts since 1934, Harry & David is committed to providing premium quality and excellence in every way.

Pumpkin bread

Bestseller No. 1

Pepper popcorn

Bestseller No. 1

SkinnyPop Sea Salt & Pepper Popcorn, 12ct, 4.4oz Grocery Size Bags, Skinny Pop, Healthy Popcorn Snacks, Gluten Free

SkinnyPop Sea Salt & Pepper contains 12 (4.4 oz) popcorn bags
Delicious Skinny Pop Popcorn has zero trans fat and is peanut free, tree nut free, preservative free and is a good source of fiber
A delicious, healthy snack perfect for kids lunches, break between video calls, or just a snack for yourself.
Only 39 calories per cup, Non GMO, Gluten Free , No Artificial Ingredients , Dairy Free, Peanut and Tree Nut Free
Our delicious pop corn is a great alternative to Annie's Popcorn, Boom Chicka Pop, Smartfood white cheddar popcorn, bulk popcorn, caramel popcorn, Popcornopolis, Popcorn Indiana, and other brands of individual popcorn snack bags.

Halloween pumpkin pinata

Bestseller No. 1

Small Pumpkin Pinata for Halloween Party, Pull String (16.5 x 13 x 3 Inches)

HALLOWEEN PARTY SUPPLIES: Impress your guests with a fun theme and party game, this pinata jack o lantern is ideal for an upcoming Halloween celebration or kids birthday party
EASY TO FILL : Easily fill with pinata stuffers such as candies, chocolates, mini toys, or confetti; surprise your guests with a fun activity and treats (fillers not included)
MATERIAL: Made of corrugated paper inside and tissue paper on the outside
DIMENSIONS: The pull string pinata measures approximately 16.5 x 13 x 3 inches
WHAT'S INSIDE: Includes 1 small pull string pumpkin pinata

Gummy worms

Sale

Bestseller No. 1

Trolli Sour Brite Crawlers Gummy Worms, 5 Pound Bulk Candy Bag Sour Gummy Worms

TROLLI SOUR BRITE CRAWLERS: Trolli sour gummy worms in neon colors & sugar coating pack a punch of tangy sweetness in weirdly-awesome fruity flavor combinations like orange-lime, cherry-lemon, & strawberry-grape.
SOUR GUMMY WORMS: We think of Sour Brite Crawlers, our classic combo of sugary sweet & lip smacking sour gummy worms in flavors for every taste, as glowing deities that wiggle their way into your snack habit.
TROLLI BULK CANDY: Can't get enough of the sweet & sour lip-smacking taste of Trolli candy. Buy your favorites in bulk & be ready when the craving hits, or be the hit of party if you can bear to share.
MIND-BLOWING FLAVORS: Are very berry gummies or a fruity tropical paradise more your style. How about our Slurpee gummy worms. For the bravest, we have Fruit & Fire Crawlers: sweet, sour, & spicy hot.
WEIRDLY AWESOME: We invented the gummi worm in 1986 and have been making the most weirdly awesome gummies ever since, from gummi sloths to Sour Brite Octopus, our sour candy will wow your taste buds.

Halloween-themed Oreo cookies

Bestseller No. 1
Clothing/Accessories for Halloween Care Package
Trying to decide on the best Halloween apparels that'll give that frightfully delightful look to someone who's short of costume ideas? Here's a list of ideas to get that transformation for Halloween:
Harry Potter tie

Bestseller No. 1

Cosplay Striped Tie with Novelty Glasses Frame for Cosplay Party Costume Necktie Accessories for Halloween Christmas Birthday Party for Harry - Red

Excellent costume accessories, perfect for cosplay dress up party, costume party, Halloween party, Christmas party, birthday party, and holidays etc.
The necktie is made of high quality smooth fabric-polyester, very well made, Not a one-time use props so you can wear it anytime, The glasses frame (NO lenses) is made of plastic, light, safety and easy to clean.
Necktie size is L57'' x W2.5'', it is suit for adults and kids. The wizard glass frames size is L4.9'' x H1.8'', fit for most kids (It can be a decoration for you without discomfort to your eyes).
This striped tie can be worn with regular dressy clothing like sweater accessory, and for parties, church, holidays, school wizard costume accessories.
An excellent gifts, Package included: 1 x striped tie, 1 x glasses frame (Without Lenses). for your friends families girls boys to make them feel happily.Totally fun activities for kid and adults!

Exorcist mask

Bestseller No. 1

NC Halloween Mask COS Exorcist Smile White Face White Eyes Demon Mask Creepy Horror Mask Halloween Cosplay Props

【Smiling Horror Mask】- Even if you have watched thousands of horror movies, you have seen some of the most creepy art works and creations. This must be the most creepy face you have ever seen. This is really realistic, scary, and disturbing.
【Unique Halloween decoration】- This exorcist smile evil mask has realistic devil skin texture to make your dress more horrible. A scary face will scare your friends and you will be the center of attention. Everyone will be shocked by your scary mask!
【Halloween smile devil face】- The scary evil mask is made of 100% natural latex material, environmentally friendly, non-toxic, comfortable and breathable, without smell. Creepy Halloween smiling demon face. Creepy scary smiley with shoulder straps. You can see through your eyes!
【Optional】-The evil horror mask has two styles, green and white, with luminous eyes or non-luminous eyes. The illuminated face shield should be charged with 2 button batteries. (The battery is not included in the product)
【Applicable occasions】- This scary demon mask is suitable for Halloween, cosplay costumes, masquerades, fancy dress parties, carnivals, Christmas, Easter, theme parties, etc. It is also an exquisite gift for friends.

60's black scarf

Bestseller No. 1

Sheer Chiffon Scarf Vintage Style Accessory for Women and Children, Black Polka Dot

CUTE '50S DESIGN: Share your retro flair by wearing this cute chiffon scarf. There are several colors to choose from, including black, navy blue, hot pink, light pink, orange, peach, purple, red, royal blue, shocking pink, teal, white, yellow, and polka dot variations! This scarf is just what you need to complete your 1950s look. Just pair it with a poodle skirt, and you're all set!
COMFORTABLE & LIGHTWEIGHT ACCESSORY: Your scarf shouldn't feel heavy on your neck or head, which is why we made this scarf from sheer chiffon. The chiffon is 100% polyester, making it machine washable. This scarf will feel soft and smooth against your skin. In fact, it'll feel so comfortable, you won't even notice you're wearing it.
VERSATILE: There are several ways to wear this versatile scarf! You can put it around your neck like an ascot for a retro vibe. You can also wear it on your wrist as a bracelet. Finally, you can tie it in your hair, adding spunk and sass to your ponytail. Check out our chart for all the different ways you could wear your scarf in your hair, including a bow, headwrap, and top knot.
PERFECT FOR SOCK HOPS & DECADE DANCES: Step back in time with this adorable vintage-inspired accessory. Whether you're going to a sock hop, decades dance, or 50s-themed party, you'll fit right in with your new retro attire. Get ready to twist and shout and rock 'n' roll by wearing your new chiffon scarf!
FOLDS TO A SQUARE: When you're not wearing it, just fold it into a square for easy storage. Additionally, it won't wrinkle or kink when folded properly, preserving the aesthetic of your scarf. You'll enjoy this scarf for years to come!

Pumpkin Enamel Pin

Bestseller No. 1

Goellnerd Pumpkin Pup Enamel Pin

This 1.25″ soft enamel pin of Pumpkin Pup is the perfect gift for any Steven Universe fan
Perfectly suited for fall, this pin comes on a custom backing card with a rubber clutch for safekeeping whether you're first in line for the Big Donut or fighting gems from Homeworld

Hulk hands

Bestseller No. 1

Superhero Gloves Boxing Gloves Smash Hands Big Soft Plush Hero Fists, Superhero Toys for Boys Girls, Role Play Costume Birthday Gift for Toddlers Kids Age 3+ ( 1 Pair Green)

👊 HIGH QUALITY and SUITALBE: Our boxing gloves are soft but durable for punching play. Stuffed superhero gloves with soft and thick PP fabric, very Comfortable to wear and will protect your kids from hurting by a strong impact. Good workmanship, easy to wash and dry.
👊 INSIDE HANDLES: There are handles inside the smash hands for support and control movement, also can prevent them falling off your fists while you are wearing the smash hands.
👊 FOR ALL AGES: Detailed with giant fingernails. Smash fists fit anyone's hands, from kids to adults.
👊VERSATILE HANDS: The Big Fists can be used as boxing gloves or cosplay props. Height:30 cm/11.8 inch. Bring endless fun for thes who get the gift.
👊GREAT GIFT for KIDS: The fists is a good choice as gift for Birthday, Christmas ,Halloween and so on. It will surprise them. Such a gift can help them to be more brave, a good company for kids.

Glow-In-The-Dark Zombie Teeth

Bestseller No. 1

Pretty Little Pumpkin kid's shirt

Bestseller No. 1

Girls Dresses Holloween Embroided Pumpkin and Cat Violet Casual Spring Fall Winter Cotton Long Sleeves Tshirt A Line Cute Pretty Kawaii Applique Toddler Clothes 7-8 Years,JP111

【Comfortable and Casual Girls T-shirt Dresses】Soft and comfortable Girls dresses for kids are made of breathable and comfortable cotton material, reinforced at the collar for a more secure wear. Thickened material, skin-friendly and warm, is the best clothing for girls in autumn and winter.
【Beautiful design】 Halloween style, printed with interesting pumpkins and cats, fashionable and generous, suitable for size 7T 8T children to wear, purple stripes warm dress costume, let them have a comfortable and happy autumn and winter.
【Best Gift for Girls】 Suitable for giving cute and fun thermal dresses as a birthday gift, Halloween, Christmas, New Year, back to school season to your daughter, neighbor, sister, granddaughter, student, little girls, toddlers.
【Use for Any Occasion】Children can wear this casual dress indoors and outdoors, the cotton fabric is both warm and comfortable for back to school season, church, school, camping, weddings, birthdays, shopping, hiking, and everyday scenes.
【Customer Satisfaction Service】Thank you for choosing our girls clothes- dresses, if you have any questions, you can contact us, we will contact you within 24 hours to provide you with 100% satisfaction.

Skull Pin

Sale

Bestseller No. 1

Black Hooded Cape

Bestseller No. 1

Rubie's mens Hooded Cape 3/4 Length Costume, Black, One Size Party Supplies, Black, One Size US

45 inch cape with hood
Ties at the neck
One size fits most perfect for dress-up, role play, stage costuming witches, vampires, royalty, and more
Look to rubies for all your character accessory needs
Rubies costume company is a family owned business based in new york with more than 60 years of experience bringing children and adults the costumes and accessories they want to halloween and year-round dress up

Assorted fake mustaches

Bestseller No. 1

96pcs Fake Mustaches Self Adhesive Novelty Fake Mustache, Black Costume Mustache Colorful Fake Beards Mustache for Mustache Party Halloween Festival Performance Supplies Photo Decorations,16 Style

HIGH QUALITY FAKE MUSTACHES:Fake mustaches are made of high quality artificial fiber, these mustache stickers are self adhesive and has a realistic look. Easy to use and removed. Novelty masquerade mustaches can be used for a few times, you just need to replace the adhesive tape after the first usage.
WHAT YOU WILL GET:Each package contain 96pcs assorted self adhesive moustache in total, 16 different styles and several different color like black, green, purple, blue, yellow, light brown, some of the color is mixed color. 96pc mustache stickers is enough for you and your family to use a long time.
EASY TO USE :Choose a style and right color of realistic fakes mustache according to your needs and than slowly peel off the backing white film on the back of black costume mustache , then stick it to the middle of your nose and mouse. Done!So easy and won't take your many time.
ASSORTED STYLE AND COLORFUL FAKE BEARDS MUSTACHE: Novelty masquerade mustaches for costume, booth, props or party set is not just a set of same style and color, instead there are 16 different styles and several different color. These black face mustache can meet almost all your needs for different dress up party, also easy for a removal.
WIDE APPLICATION:Assorted self adhesive fake mustache are suitable for Halloween, costume party, game play, dress up party, booth props, photo decorations, performance props and etc. As there are different shape and color, they can be applied by most people, adults.

Black cream makeup

Sale

Bestseller No. 1

Black Cream Make Up - 0.7oz, 1 Pc

PACKAGE INCLUDES: 1 cream makeup - 0.7 oz
EASY TO APPLY: Squeeze the theatrical grade makeup out of the tube and apply it with your fingers
PERFECT FOR HALLOWEEN: This cream makeup is perfect for Halloween, costume parties, dress-ups, and stage performances
PIGMENTED: Tube of non-toxic cream makeup that is easy to apply to create the foundation for your look
EASY TO WASH: After the event, this blue makeup can easily remove with soap and water

Halloween Bloody Tshirt

Bestseller No. 1

Bloody Shirt for Halloween

Bloody Halloween Shirt
Scary Blood Shirt for Halloween
Lightweight, Classic fit, Double-needle sleeve and bottom hem

Batman Mask

Bestseller No. 1

Black Halloween gloves

Sale

Bestseller No. 1

SAVITA Long Black Elbow Satin Gloves 21 inch Stretchy 1920s Opera Gloves Evening Party Dance Gloves for Women

Premium Quality:Black gloves are made of exquisite satin.Durable and Comfortable.Decent Stitching and Shiny outlook.
Perfect Size:Satin gloves are 21 inches in length from fingertip to the end.Finger length is 3.2 inch.Fit you hands perfectly and never fall down.Not too tight or too loose.One size fits all with stretchy.
Wide Usage:Long black gloves go well with the flapper dresses.Suit for all kinds of special occasion,such as wending party, costume party, prom, opera performance, stage performance.Wear the gloves instantly to show your charm.
Delicate Design:Elbow Length gloves come in black color.Stylish,classic, beautiful pattern.Match your cloth in various styles and colors.Make you stand out and catch people's eyes easily.
Easily Use:Evening gloves are easy to put on and take off.A must have to party lovers.Notes:length, tight or loose depends on your arm circumference.

Skeletal Hair clips

Sale

Bestseller No. 1

15 Pieces Halloween Skeleton Hands Bone Hair Clips Claws Skull Hand Hair Clip Hairpin Zombie Punk Rock Horror Hair Clip for Women Girls Hair Accessories

★[Package Included]: A total of 15 skull hand bone hair clips, white skull hand bone claws, black skull hand bone claws, white bloody skull hand bone claws, to match your various hairstyles
★[Material]: Skull hand hair clips are made of plastic and alloy alligator clips. The surface of these hair clips is smooth, and the durable material makes them beautiful and delicate, not easy to rust.
★[Chic Design]: Creative skull hand bone claw design with unique patterns, not only embellish your hair, but also suitable for Halloween party decoration, helping you become the focus of the crowd
★[Size]: Approximately for each skull hand hairpin. 7.5 cm/3 inches long, 15 pieces in total
★[Various uses]: These skeleton hand hair clips are very suitable for Halloween party decoration. You can give them as gifts to your favorite science teacher or medical students, laboratory staff, or scare children during Halloween, or as men Feminine and feminine birthday gifts for chic cool girls

Rubber snake

Sale

Bestseller No. 1

CICINUJOY 3 Pieces Large Realistic Rubber Snakes, Halloween Scary Toy Fake Black Mamba Snake for Garden Props to Scare Birds, Pranks, Halloween Party Decoration (2 Sizes, 47 Inch, 31.5 Inch)…

Package includes: 3 Rubber Black Mamba Snake of different sizes, 1 big snake, 2 small snakes, the big snake is about 120 cm / 47.2 inches, the small snake is about 75 cm / 29.5 inches long (unstretched)
Lifelike - they look like real snakes, if you don't look carefully. They can decorate your garden, Wrap it around a branch or put it on the grass,frighten birds and squirrels, and play pranks on your friends
Material: fake rubber snake material for soft rubber,soft, curled up like a real snake, using non-toxic environmental protection paint, safe, no matter it is modeling or feel very realistic
Widely used: creepy snake toys are not only gifts and prizes for children, suitable for garden, table, pool, decoration of horror theme party, but also for all kinds of festivals, such as Halloween and April fool's day
Warm prompt: slight rubbery smell when used for the first time. If you have any questions please feel free to contact us, will serve you wholeheartedly.

Zombie Necklace
Goddess Arm Cuff

Bestseller No. 1

RIOSO 6 Pieces Arm Cuff Upper Arm Band Cuff Bracelet Bangle for Women Silver Gold Adjustable Armband Set

ARM CUFFS FOR WOMEN: One order includes 6 pieces of minimalist upper arm bangles in 6 styles, leaf bracelet, feather arm cuff, wide band cuff and goth cuff bracelet, enough for meeting your various needs
HIGH POLISHED SMOOTH SURFACE: The upper arm bracelet is made of environmental alloy, gold plated, silver plated. Simple wire arm bracelet upper arm band fashion jewelry for women comfortable to wear. Hand polishing, one by one checking
ADJUSTABLE ARM CUFF BRACELET: The upper armband size is approx. 8 cm/ 3.2 inches in diameter, durable and safe, easy to adjust, suit for most women and girls
ARM BANGLE SET: Fashion design for wide occasions, good costume accessory for many place, such as party, show, photo, prom and everyday wearing, make you look more attractive and charming, catch people's eyes and be the center in the crowds
GOLD CUFF BRACELETS: Package includes 6 pieces arm cuff, the arm bracelet is the wonderful gift to friend lover and family. Applied for business occasion office wedding ceremony, ball and other important events. You will be the most attractive person in the crowd with these upper arm cuff on

Spider rings

Bestseller No. 1

Max Fun 300pcs Spider Rings Halloween Rings for Kids Party Favors 1.96'' Black Plastic Spider Rings Bulk for Kids Costume Accessories Halloween Party Decorations Supplier

Plastic Spiders Bulk: This Plastic Spiders Rings Bulk Includes 300 Black Realistic Plastic Spider Rings Each measures approx. 1.96" x 1.18" x 0.66''.
High Quality: Our plastic spiders bulk is made of non-toxic Plastic. One size fits kids. Long Lasting, reusable and perfect for decoration.
Halloween Party Favors: Our Halloween plastic spiders bulk will ensure to spark your Halloween party. Perfect for Halloween Trick or Treat Handouts, Halloween Party Gift Goody Bag Fillers.
Wide Application: These Spider Plastic Rings can be applied at Halloween party or on cookies and cupcakes toppers! These plastic spider rings bulk for kids can serve as a Great Costume Accessory for Creepy and Spooky Themed Party Supplies.
Horrible Atmosphere: Well-designed and realistic spider rings can foster a creepy and freaky atmosphere in the air in Halloween, providing joy of fun while children playing with.

Slit Wrist bracelet

Sale

Bestseller No. 1

Cliganic 10 Pack Mosquito Repellent Bracelets, DEET-Free Waterproof Bands

DEET FREE, MADE WITH ESSENTIAL OILS – Our repellent bracelets are made with essential oils: Geraniol Oil, Lemongrass Oil and Citronella Oil. Essential oils have been found to repel mosquitoes.
10 RESEALABLE BAGS – Each mosquito repellent bracelet is individually wrapped in a resealable bag, keeping it fresh and increase the life span.
ONE SIZE FITS ALL – Cliganic repellent bracelets are fully adjustable, stretchy and easily fits.
PERFECT FOR OUTDOOR, WATERPROOF – Best for indoor, outdoor and travel. Keep it together with your picnic backpack accessories. Enjoy the outdoors without worrying about pesky mosquito bites. This mosquitoes repellent band is waterproof.
CLIGANIC 90 DAYS WARRANTY, RISK FREE – no hassles, no questions, if you are not completely satisfied - simply return the item for a full refund.

Elf Ears

Sale

Bestseller No. 1

GREAT&LUCKY Cosplay Fairy Pixie Elf Ears - Soft Pointed Tips Anime Party Dress Up Costume Masquerade Accessories for Halloween Christmas Party ,2 Pair

WIDE APPLICATION: Great for Cosplay,Halloween,Christmas,Carnivals,Masquerade and Fancy Dress Parties. The most real Fairy Pixie Elf Ears, increase your charm, help you to be the focus in the party.
PEFECT DESIGN: 2 different pairs elf ears,fit for most ears , give you a special experience, You can dress up like fairy, pixies, zombie, vampire, monster,ghost, elf,alien, devil, demon, etc.
EASY TO USE:Hang directly on the ear,fit well with almost all ears,you can use eyelash glue or double-stick tape on the ear root to make it more firm If it feels a little loose, the packaging does not contain glue.
SOFT MATERIAL: Made of latex, that are soft and comfortable material, skin friendly can folded and knead, will not be deformed, it can be repeated to use.
SATISFACTION GUARANTEED: Please rest assured to buy it. We stand behind our product with pride, If you have any issues, worries or concerns , Please feel free to contact us in advance, you are backed by our 100% Customer Satisfaction.

Chucky Mask

Bestseller No. 1

Wonder woman lasso

Sale

Bestseller No. 1

DAYSTART Golden Cosplay Rope for Wonder Woman, Women Whip for Diana Lasso of Truth Whip, Cosplay Rope Weapon Accessory with Leather Strap

Rope Length approx. 3m/ 9.8ft and weight approx. 50g, thick, sturdy feeling, not heavy.
Good quality rope with beautiful color, and end is capped nicely with matching gold thread.
A perfect accessory to cosplay Wonder Woman which will be going to stay in a coiled on your hip, make you more attractive in the costume party.
The free cable tie in the package can be used to keep the lasso together and attach it to your thin belt.
Soft and durable strap, designed with three holes to be used to manage different lengths and sizes of cords, charging cable or earphone wire, ect.

Black Magnifying glass

Bestseller No. 1

Black Fishnet Pantyhose

Bestseller No. 1

SHEIN Women's Patterned Tights Fishnet Floral Stockings Pantyhose Stockings Leggings Flower Black One Size

Soft and comfy to wear, not easy to rip off
Floral design fishnet tights, provides you a unique and stylish look
Suitable to wear these stockings when hangout, at home, club, party, etc
Can be matched with skirts, shirt tops, coats, high heels, or boots
Please refer to our last image to choose which size will fit you best

Eye-patch

Bestseller No. 1

2PCS Eye Patch, Adjustable Eye Patches, Medical Eye Patch, Amblyopia Lazy Eye Patches for Left or Right Eyes, Black

❤【Skin-Friendly Material】This eye patch made of soft & smooth materials, comfortable and would not to put pressure on your eyes.
❤【Adjustable Elastic Headband】The elastic band's adjustment range is from 11.8 inches to 21.6 inches. It is adjustable, so you can adjust it to the desired length according to the size of your head. Suitable for adults and kids.
❤【Care Your Eyes】Our patch features 3D groove design, it doesn't irritate or touch the eyelid and eyelashes. Great for lazy eye training, surgery recovery period, daily use.
❤【Suitable for Either Eyes】 Each eye patch measures 2.95 inches x 2.76 inches / 7.5 cm x 7 cm. One size fits most. And it can be used on either eyes.
❤ 【What You Get】You will get 2 pack black eye patch, and our friendly customer service.

Inflatable Unicorn horn

Sale

Bestseller No. 1

Black Rhinestone Whip

Bestseller No. 1

Riding Crop Whip 18", Whip for Horse, Equestrian Horse Whip, Horse Whip, Leather

and #10084 The material of this short horse whip , is faux leather(Polyester).
and #10084 Length: 18 inches. Crop Whip
and #10084 Easy and comfort usage: we have combined the most solid and light materials for efficient usage of this whip for everyday horse trainigs. Our riding whips for horses are always perfect.
and #10084 Ergonomic design : Designed with utmost finesse and ergonomics to make this whip easy to hold on for increased maneuverability and minimal effort. and #10084 100 percent our horse whip. Customer satisfaction is our top priority.
and #10084 100 percent our horse whip. Customer satisfaction is our top priority.

Demon Horns With Teeth

Bestseller No. 1

Glow-In-The-Dark outfit

Bestseller No. 1

Temporary Tattoos – 1 Sheet Lotus Flower Design Body Paint Art Blacklight Reactive Light Festival Accessories Glow in the Dark Party Supplies | 7.2" x 5.2" Temp Great for EDM EDC Party Rave Parties

Durable: Available in 4 colors of the highest quality adhesive ink that last for 3-5 days, our luminous men's rave henna replacement glow in the dark body paint kit are the best blacklight tattoo temporary rave festival decorations do not peel off till you are tired of using them. These are your go-to body art rave accessories if you seek durability & vivid display of colors.
Safe Blacklight Temporary Tattoos: d'IRIS studio's glow in the dark temporary tattoos are the best neon body stickers / Rave jewelry with a backlight glow. Safe for your skin and environment, these glow in the dark flash tattoos are must-have glow accessories for adults.
Body Decor For Every Event: Looking for the best Blacklight party accessories? These colorful night glow sticker tattoos for adults and teens are the right temp tattoos for you. Our fiesta stickers / neon tattoos / glow in the dark tattoos temporary kit are great for glow rave, glow in the dark party, neon glow in the dark festival, musical festivals, black light party, rave night, & club night outings.
Easy To Use Light Up Acccessories: This premium rainbow art henna temporary tattoo is easy to apply and remove thanks to the die cut paper used in making the rave body stickers which adds a whimsical edge to the temp tattoos led alien party neon accessories for women.
Ingredients: Acrylates Copolymer, Propylene Glycol, Petrolatum, Linium Usitatissimum (Linseed) Seed Oil, Glycine Soja (Soybean) Oil, Mineral Oil (Paraffinum Liquidum), Iron Oxides (CI 77499), Blue 1 (CI 42090), Yellow 5 (CI 19140), Yellow 6 (CI 15985), Red 7 (CI 15850), Titanium Dioxide (CI 77891).

Black body glitter gel

Bestseller No. 1

Black Holographic Chunky Glitter Cosmetic Body Hair Face Eye Nail for Festival Carnival Concert Party Beauty Rave Accessories Different Sizes&Shapes 2 Pots (14g/0.5oz)+ Quick Dry Primer Glue Gel(5ml)

✮ MULTI SIZES&SHAPES OF BLACK HOLOGRAPHIC: A spectrum of crystallised rainbow hexagons of 4 different sizes, stars, heart, speckles, cinquefoil, crescent moon and dust. 8 sizes & shapes in total. Our glitters are made with high intensity pigment and holographic shine.
✮ AMAZING SHINE & SPARKLE: Perfect decoration like a diamond to shine at night for press appearances, red carpet, photoshoots and party, music festival, carnival.
✮ DIFFERENT STYLING APPLICATION: Our cosmetic glitters are extremely versatile and multi-use. Pop some under the eye as glam glitter tears, or on the cheekbones for a reflecting highlight. In the hair we love it mixed in with braids or painted into a middle parting. On the body, dust some on the collarbones and shoulders for a super shimmering effect. Mix colours and techniques together and the possibilities of beauty are endless.
✮ GREAT AMOUNT OF COSMETIC GLITTER: You will receive two pots of Chunky Glitter (7g/0.25oz each pot) and one bottle of Costmetic Glitter Glue(5ml),which are quite enough for mutiple times deco.
✮ 100% WORRY-FREE GUARANTEE -- We Always Stand on The Customer's Side to Ensure the Quality of the Products. If You Have Any Question about This Product, Please Send Us a Message for a Solution. We Will Deal with It As Quickly As Possible and Guarantee You a Satisfying Shopping Experience.

Dripping Blood Ghost Face Mask

Sale

Bestseller No. 1

Evil Clown mask

Sale

Bestseller No. 1

Lab coat

Sale

Bestseller No. 1

VOGRYE Professional Lab Coat for Women Men Long Sleeve, White, Unisex (Small, White)

Soft fabric, as well as durability. High quality lab coats are needed to protect you in work environments.
Professional Medical Lab Coat. Custom Styled for Men and Women.
2 Waist Pockets and 376 Chest Pocket with Pen Holder/ Modern Design with Concealed Snap Closing for Quick Release /Entry Slits at Sides for Access to User's Trouser Pockets.
Ignore size chart,please kindly refer to our suggested chest and the size chart image , rather than follow the "Size Chart"; If you prefer the "Compression-Fitting",just choose 376 size down on the size chart
Garment Care: Machine washable,low iron when necessary.

Black police Badge

Sale

Bestseller No. 1

Yinder 30 Pieces Police Mourning Band Stripe Funeral Honor Guard Elastic Straps Police Officer Badge Mourning Twill Band (Black)

Package contains: you will receive 30 black police mourning band stripes, sufficient quantity to meet your needs, suitable for use at funerals
Appropriate size: this double-sided funeral honor guard strap is 1.5 cm/ 0.59 inch in width, 10 cm/ 3.93 inch in total length, the proper size is suitable for most badges on the market
Quality material: funeral honor guard straps are made of reliable material, which are designed to be flexible, can fit most badges, and are durable to use; Wide mourning strap for the badge has subtle black stripes, fine workmanship
For expression: this elastic police mourning band can be applied for expressing support for fallen heroes; It cross the badge to symbolize the loss of those who have served and show your thoughts and respect
Applicable occasions: when you need a mourning belt for the department in a short time, these black badge guard straps are very useful and necessary

Googly eyes

Bestseller No. 1

450Pcs Black Wiggle Googly Eyes with Self-Adhesive, 6mm 8mm 10 mm 12mm 15mm Mixed Packaging,3 Years and up

【Variety Choices】suitable size for using include:6mm, 8mm, 10mm, 12mm,15mm, multiple size for your choice.
【Premium Material】Craft sticker eyes are made of high quality plastic, safe, environmentally friendly. Each piece is carefully selected after strict quality control. Packed in high quality transparent plastic boxes for easy storage and portability.
【Simple Used】Googly eyes are self-adhesive, just peel off stickers the sticker and paste, no glue is needed. They are really sticky and durable and won't come off easily even if used for a long time.
【Infinite Imagination】These googly wiggle eyes for craft are great to DIY. Open your imagination such as Christmas, Halloween, monster party, birthday party, school teaching, parent-child interaction, home decorations, office. Just peel off sticker and stick on anything you like.
3 Years and up

Marilyn Monroe Wig

Bestseller No. 1

Black classical beret

Sale

Bestseller No. 1

Halloween Themed bracelets

Bestseller No. 1

24 Pieces Halloween Slap Bracelets Halloween Themed Wristbands Pumpkin Ghost Patterns Bracelets for Halloween Party Supplies

Good Halloween accessory: the slap bracelets are designed as bright black and yellow theme color with many Halloween festival elements, nicely caters to your Halloween party costume, easily make you stand out from crowd
Various styles: these slap bands come with 12 different patterns, each pattern has 2 pieces, including spider, pumpkin, ghost, skull and so on, various styles to match your different outfit
Safe material: the slap bracelets are made of steel by inner layer and fluff by outer layer, soft and secure for your tender skin, just one slap and the bracelet can instantly wrap around your wrist without too much pain
Proper size: the slap bracelet measure approx. 21.2 x 2.8 cm/ 8.35 x 1.1 inches, suitable size for most people to wear, go knock on the door of the neighbor's house and play trick-or-treat game with it on
What you will get: 24 pieces Halloween slap bracelets in 12 different styles provide for you, sufficient quantity for you to wear, replace and share with your friends and family, good accessory for your quality party time

Vampire Fangs

Sale

Bestseller No. 1

Scarecrow Small Deluxe Custom Fangs

Equipped with a quick and easy molding kit
Designed for people with smaller teeth, or aiming for a subtle look
Clip-on fit, reusable
Comfortable and realistic
Non-toxic and safe on teeth

Bleeding Heart Necklace

Bestseller No. 1

Controse Silver-Toned Stainless Steel Bleeding Heart Necklace with Pendant (17" - 19" Adjustable Chain)

The stainless steel Bleeding Heart Necklace with adjustable chain is decorated with beautiful red epoxy for style / The Bleeding Heart necklace and pendant are made with high grade 316L stainless steel / Also included is a beautiful gift pouch / The pendant is well designed and nicely polished / The piece has a raw, edgy yet artful look
Size: W: 1.1" H: 1.96" / Necklace: adjustable 17" - 19" chain / Material: High-Grade 316L stainless steel necklace and pendant / All our stainless steel jewelry is made of the highest quality materials that won't tarnish or rust and that are easy to maintain
Makes a Perfect Gift for many Occasions: Our bleeding heart necklace makes a great gift idea for women on Valentine's Day, Mother's Day, Christmas (xmas), birthdays, graduations, weddings and anniversaries
Controse a Name You Can Trust: We have been in business for many years and promise to deliver only solid and durable jewelry pieces that are perfect to keep as daily jewelry for years to come
Product Guarantee: 30-Day Money Back Guarantee or Exchange. For any product inquiries or issues please contact us. We generally reply within 24 hours.

Harry Potter charm bracelet

Bestseller No. 1

Community of Fandoms Wizard world Chibis Charm Bracelet Gifts for Girl Woman

We know how much you love your TV Shows, Movies, Games, Anime and Cosplay because we do too! We love being able to present you with our HIGH QUALITY charm bracelets to assist you in showing off your fandoms. Accessorize your wrists with your fandom pride with our elegant charm bracelets.
Our bracelets with fit any size wrist as they are created with a lobster clasp to accommodate the smallest to the largest wrist. So perfect for adult and child alike.
All our products are made while keeping you as our highest priority. That is why we create all our products out of the Highest Quality Alloy Metal and put a wonderful finish on each piece. All our charm bracelets are Hypoallergenic and Nickel Free! They will last a long time without tarnishing or any need for polishing.
Designed and Packaged by our company in a lovely free gift box. Free Shipping!

Black lipstick

Sale

Bestseller No. 1

NYX PROFESSIONAL MAKEUP Liquid Suede Cream Lipstick - Alien (Black)

Matte Liquid Lipstick: Doll your lips in high impact color with NYX Professional Makeup Liquid Suede Cream Lipstick; A striking long wearing matte finish is just a swipe away with this plush liquid lipstick
Long Lasting Creamy Color: Available in bold shades, this super pigmented liquid matte lipstick is velvety soft and infused with nourishing avocado oil and Vitamin E for long wearing, creamy matte lipstick color
Lip Products For The Perfect Pout: Doll your lips in plush, creamy, perfection; Try our complete line of lip products including lipstick, lip gloss, lip cream, lip liner and butter gloss
Cruelty Free Cosmetics: We believe animals belong in our arms, not in a lab; All of our makeup is certified and acknowledged by PETA as a cruelty free brand; We don't test any of our products on animals
Discover NYX Professional Makeup: Try all of our professional makeup and beauty products today, from eyeshadow, eyeliner, mascara and false lashes to lipstick, foundation, primer, blush, bronzer, brushes and more

Grumpy old man mask

Bestseller No. 1

Zagone DOA Mask, Old Dead Bald Wrinkly Man Super Soft Latex

The Sculpt has great definition for a dead old man. The production method uses a super soft latex that sets the super soft mask apart from all other mask manufacturers, The soft light weight latex forms to the face and allows the actor to deliver a performance through the mask as if they are wearing makeup. Great visibility, light weight and comfortable.
Dead on Arrival, Old Man
Family owned US Manufacturer of artisan handcrafted masks and costumes.
Handmade in the USA
Great for Cosplay, Festivals, Haunted Houses and Theatre

Graveyard scene earrings

Sale

Bestseller No. 1

Betsey Johnson Stone Heart Drop Earrings

Dangle earrings featuring pink faceted stone heart detailed with small critter and flower accent. Earrings are set in gold-tone metal with shepherds hook closure.
Gold-tone metal with glass
Length: 1.25"
Width: 0.75"
Shepherds hook closure

Black fake teeth

Bestseller No. 1

Kiddies Mickey Mouse Ears

Bestseller No. 1

NiuZaiz Set of 12 Mouse Ears Headband (Black)

❤ 12pcs Black ears for boys.
❤ Soft brushy ears with comfortable plastic headband.
❤ Suitable for both children and adults.
❤ Great option for different kinds of parties and holiday trips.
❤ Package: 12 pieces into one opp bag.

Black Phantom mask

Bestseller No. 1

Beistle 60820-BK Phantom Masks (24 Pack), Black

Includes 24 Novelty Phantom Masks in the package
One size fits most - will fit most adults
Elastics are attached for wearing
Made of black plastic
Perfect mask to wear as a Halloween Party Costume Accessory

Black skull Bandana

Sale

Bestseller No. 1

Harry Potter glasses

Sale

Bestseller No. 1

shark-biting hat

Bestseller No. 1

Metal handcuffs

Sale

Bestseller No. 1

Western Deluxe Toy Cuffs with Key Western Handcuffs Role Play Toys | Cowboy Sheriff Police Costume for Kids | Two Keys with Safety Release – Maxx Action

REAL METAL: These sturdy hand cuffs are made of real metal. They are durable and lightweight to use and wear. Perfect for any cowboy, sheriff or wild west.
SAFETY RELEASE: Lose a key? Not to worry - these cuffs feature a safety latch for quick release. Just push the button on the side of the lock to easily take them off.
WORKING LOCK WITH 2 KEYS: Cuffs are equipped with a working lock for realistic role play adventures.
ADJUSTABLE CUFFS: Handcuffs are fun for boys and girls of all ages. The cuffs are adjustable to fit almost any wrist size.
COSTUME PROP: The perfect accessory for kids who love cowboys and the wild west. Provide hours of imaginative, role play fun.

Adult Food Funny Outfits

Bestseller No. 1

Drumstick Halloween Costume - Funny One-Size Chicken Leg Food Outfit for Adults

HOMESTYLE COOKIN': Hungry for a quirky costume this year? Put some meat on your bones this Halloween as the Chicken Leg, fresh n crispy from Hauntlook
SECRET RECIPE: One-size-fits-most and unisex tunic design that will fit great on men and women. Keeps warm on cold nights & keeps cool on hot summer days
PROTEIN PACK: Great addition to any food themed group costume, dress up contests, and fun theme parties. Goes great with Hauntlook's Chicken Bucket, Funky Chicken, Waffle, Syrup, Egg, Bacon, Ranch, Burger, Fries, and Pizza costumes
NO FOWL PLAY: Made with 100% polyester for a comfortable fit. Hand wash with cold water and hang to dry. Do not iron or bleach
WHAT'S YOUR #HAUNTLOOK?: If you love your costume, be sure to check out Hauntlook decorations, bags, and other spooky accessories!
Entertainment/Miscellaneous For Halloween Care Package
Looking to include fun and eerie looking items in your care box to give someone a good scare, a helpful Halloween supply or just an exciting holiday? Here are some of the most loved Halloween-themed items to shop for:
Mini Jack-O-Lantern Bear

Bestseller No. 1

TeeTurtle | The Original Reversible Octopus Plushie | Patented Design | Light Pink and Light Blue | Show your mood without saying a word!

This award-winning, #1 best-selling plushie is super soft, portable, and satisfying to flip!
Finally, an easy (and cuddly) tool for effective emotional communication. Relieve stress by letting the Reversible Plushie tell friends, family, or coworkers how you are feeling.
The perfect work-from-home tool to let friends and family know when not to bother you! Happy= come on in, and Angry= come back later!
Collect all the Reversible Plushie stuffed animals, including unicorns, narwhals, cats, dogs, pandas, turtles, and more, in tons of different colors!
TeeTurtle Reversible Plushies are a viral TikTok sensation! Your favorite creators have them, and now you can too!

Werewolf cookie jar

Bestseller No. 1

Halloween bubbles

Bestseller No. 1

12 Pcs Halloween Themed Bubbles in 4 Spooky Designs Mini Bubble Maker Toys Treat or Trick Gift Set for Kids Halloween Party Favors

SUPER VALUE PACK. Our Halloween bubbles come in 12 pieces with 4 different designs: Monster, Zombie, Witch, and Vampire. Measuring 0.6 oz each bubble wand.
UNIQUE AND FESTIVE. All your little ghouls and ghosts will love these Halloween character bubble bottles. A fun addition to your Halloween party supplies, each plastic bottle of bubbles is topped with either monster, zombie, witch, and vampire. Give them out as party favors at your classroom Halloween party, pass them out to co-workers on the big day, or drop them in treat bags when trick-or-treaters ring your doorbell.
ENDLESS FUN. Perfect for Halloween party favor, Halloween party games, Halloween gifts, Halloween goodies, Halloween party supply, haunted Halloween parties, trick-or-treating, goodies bags, Halloween party favors, classroom prizes, and all other uses.
CHILD SAFETY: Meet US Safety Standard. Safety Test Approved. Non-Toxic.
CUSTOMER SATISFACTION. Providing a 100% satisfaction experience is our main priority to our customers. Feel free to message us through "contact sellers" if products don't meet your expectations. The celebrations start at JOYIN!

Halloween finger puppets

Sale

Bestseller No. 1

Ginsey Idea Factory Halloween Bath Finger Puppets, Other, Pack of 5

BATH TIME ESSENTIAL: Idea Factory Halloween waterproof finger puppets are a must have for an exciting bath time, playtime, and Halloween season!
EXCELLENT EDUCATIONAL TOOL: Use these little finger puppets to teach children colors, counting, characters, and more in a fun way
HALLOWEEN MUST-HAVE: Kick off the Halloween season by gifting these finger puppets to kids, use them for party favors, gift giving, or even for Trick-or-Treating!
SOFT & DURABLE: Made of 100% latex-free plastic that is thick and durable, playtime after playtime
HALLOWEEN CHARACTER FAVORITES: 5-Pack includes a Witch, Frankenstein, Ghost, Skeleton, and Dracula

Halloween stickers

Bestseller No. 1

100 pcs Cute Happy Halloween Vinyl Decals Stickers Bulk Waterproof for Water Bottles Scrapbooking Car Resin Windows Wall Laptop Ceramics Tumblers Kids Teachers (Trick or Treat Stickers)

You will get About 3-4 inches 100 pieces of Cool stickers No duplicates. and vibrant stickers will add color in life.
 Excellent material Our stickers are made of high quality vinyl, safe and non-toxic, strong and durable adhesion, wrinkle resistance, waterproof and sun protection, smooth surface with bright colors.
Perfect to embellish Laptops,Backpacks, Skateboards, Luggage, Cars, Bumpers, Bikes, Bicycles, Bedroom, Travel Case, Bicycle, Motorcycle, Snowboard.
Applications:These Halloween scrapbook stickers are suitable for Halloween parties DIY decoration, Halloween goody candy bags, DIY cake toppers, Halloween gift box, and all other Halloween relative uses.
"100% Satisfaction: If you have any questions about our cute Stickers, please feel free to contact us, we'll make you happy. "

Halloween-themed Yoyo's
Halloween PlayDough

Bestseller No. 1

Play-Doh Treat-Without-the-Sweet Halloween Bag, 15 1-Ounce Cans

Treat without the sweet Halloween Bag comes with 15 one-ounce cans of PLAY-DOH modeling compound
Hand out cans of PLAY-DOH modeling compound on Halloween instead of sugary treats
Bag comes with one-ounce cans of PLAY-DOH modeling compound
Give something fun and functional this Halloween instead of candy

Halloween maze puzzle

Bestseller No. 1

Fall Placemats

Sale

Bestseller No. 1

Happy Fall Placemats Pumpkin Harvest Check Plaid Place Mats for Dining Table 12 x 16 Inch Every Day Use Autumn Dinner Mats Home Decor Set of 4

HIGH QUALITY: Made of 100% spun polyester which is soft, durable and wrinkle-proof. Perfect to protect your dining table from food stains and scratches.
APPROPRIATE SIZE - Each fall placemat measures about 31.5 x 40cm/12 x 16 inch, proper size for your tableware, decorating your dining table and increasing the warm and festive atmosphere for your dining time.
BRIGHT DINNING TABLE DECOR - Perfect for fall harvest, Thanksgiving and everyday use, can be applied to home and party. Suitable for home, kitchen, restaurant and other places to decorate your dining table,buffet table, tea table, coffee table, and keep your table clean all the time.
EASY TO CLEAN: Machine wash and lay the placemat flat to dry. Stays the same and as new after every wash, no shrink, no color ran.
SATISFACTION GUARANTEE: We have 24/7 support team, if you aren't 100% satisfied, we will provide you with a refund or a free replacement - so you can place order now with confidence and enjoy really great product.

Halloween-themed book

Bestseller No. 1

Skeleton shaped pillow

Sale

Bestseller No. 1

Plush Toy Black Cat, Creative Cat Shape Pillow, Dolls Plush Toy Black Cat Black Cat Plush Toy Creative Cat Shaped Lumbar Back Support Pillow for Girlfriend Valentines Children Birthday Gift (M-8.3")

【QUALITY MATERIALS】 - Our products are made from very soft plush material and filled with PP cotton for fullness and elasticity.Imported plush.
【HIGH QUALITY】 - It is very soft and comfortable for hugging for kids. Perfect size for taking everywhere for playing and hugging. And it is also a good choice to use in the office chair for a nap
【LAUNDRY GUIDE】 - It is recommended to wash your hands, wash them in the sun, or put them in the vents to make your cats fuller.
【SYMBOL OF CLEVERNESS AND COURAGE】 - The black cat represents cleverness and courage, so it is a good morality and will bring you good luck.
【SUITABLE PLACE】 - Professional tailoring equipment makes this cat look very Realistic.Gifts for any occasion, Halloween, Christmas, Thanksgiving, birthday parties, etc.

Masquerade ornaments

Bestseller No. 1

12pcs Set Mini Masqurade Masks,Small Mardi Gras Mask Halloween Novelty Gifts Party Decoration.

Material: made of plastic and feather.No messy excess glue residue, and no discoloration.
Size:wide :2.5inch/6.5cm,high:3.9inch/9cm(including the feather),not for wear, supper mini masks for party decoration, novelty gifts.
Package including:12pcs mini masks.Color:mix 6 color(blue,purple,black,rose red,white,pink)
These party masks are used for party decoration, adorable centerpieces, dining-table decoration, cupcake decoration, perfect for masquerade prom, carnival ,halloween, mardi gras,Christmas party.
Perfect gifts for any occasions like wedding, anniversary, birthday.

Giant googly eyes

Bestseller No. 1

Giant Wiggle Googly Eyes with Self Adhesive Large Black Plastic Eyes for Crafts 2 Inch 3 Inch 4 Inch Set of 8

Giant Wiggle Eyes:One set contains 8 pieces of white and black wiggle eyes, 2 inch 4pcs, 3 inch 2pcs, 4 inch 2pcs in diameter. Wiggly eyes can add personality, fun, and creativity.
Googly Black Plastic Eyes:Made of quality plastic with nice workmanship. Enjoy your ideas and make life funnier, children happier
Self-Adhesive:The wiggle googly eyes with self-adhesive just peel off the film on the back and stick to someplace where you like. Simple and convenient for use. Not easy to drop off even after a long time.
Wide Application:The set contains 8pcs round googly eyes, great for Halloween costume,refrigerator,front door,car, great supply for crafts making, DIY project works, and so on, will make your life full of smile!
Notice: Please make the target surface clean and dry before you stick these googly eyes on to make it stick tightly; keep them away from water or heat source! If any question, please contact with us, we will response you within 24-hours, and give you the best service.

Zombie Ballerina Figurines

Bestseller No. 1

Plastic Tarantula Spider

Bestseller No. 1

FLORMOON Realistic Animal Figures - Spider Action Model Lifelike Insect Toy Figures - Educational Learning Toys Birthday Set for Boys Girls Kids Toddlers (Giant Whiteknee)

Safety Material - Made of high quality durable ABS plastic, Non-Toxic Paint and Odorless.
Perfect Gift - It's an awesome birthday gift or prize for kids and great action figures to play with and also look great as kid's room decoration. They would love that so much.
Educational Toys - These were great for education purposes, creative play, party favors and crafts. It will help to improve children's concentration and outsight, develop and train their imagination and creativity.
Insect animal figurines - will make any animal, used for school education project, or ocean themed party come alive! Animal figures are fun for any goody bag or as prizes for a school or church carnival.
Realistic Appearance - Our insect animal figurines set was made by hand painted with high realistically detailed appearance, cute face and childish eyes. Their uniquely molded textures and richly painted details make the animals vivid.

Mini Lunar Color Changing Lamp

Bestseller No. 1

Moon Lamp, LOGROTATE 16 Colors LED Night Light 3D Printing Moon Light with Stand & Remote/Touch Control and USB Rechargeable, Moon Light Lamps for kids friends Lover Birthday Gifts (Diameter 4.8 INCH)

Moon lamp with the diameter is 4.8 INCH, made with 3D printing technology, realistic full moon shape, the surface of the moon lamp is very close to the lunar moon, novelty and charming
Night Light with 16 color RGB, and the 16 colors can flash or fade or strobe, dreamlike and creative decorative lights, perfect decorative lights or gift for Christmas, thanksgiving, birthdays, party, wedding, anniversary, lover, kids, children bedroom, living room, dinning room and outdoor decoration, a favorite gift for your friends or lover
Moon light with remote & touch control model. And the REMOTE CONTROL DISTANCE CAN REACH TO 30 FEET. Use the remote control to change the color or also the brightness of the color, very convenient for you to choose your perfect color
Moon lamp with the build-in rechargeable battery, can charge on your computer / power bank or charge adaptor etc. No line hanging around, you can hold the moon light on your hand.
What You Get : 24-hour professional service center and 24/7/365 technical support. Just try it!

Skeleton bookmark

Sale

Bestseller No. 1

Raven Skull Bookmark,Bird Skull Charm Bookmark,Skeleton Bookmark,Goth Bookmark,Handmade Bookmark,N126

Material: Alloy & Glass Cabochon ,Color:as shown
Bookmarks Size :81mm*23mm,Glass Cabochon Diameter: 20mm (Approx.)
100% Brand new and high quality. Package Includes: 1 x Bookmarks,Charm Bookmarks ,Best Gift To Your Friends,Family
A perfect gift women and men.handmade bookmark,Chirstmas gift,Student gift,Teacher gift
Beautiful handmade gift for yourself or loved one.Chirstmas Gift,photo jewelry,wedding jewelry,valentines day gifts,best friend gifts,birthday gifts,anniversary gifts,friendship gifts.Great customer service, any question or thought, just feel free to contact us, we will respond normally within 24 hours and offer you great service experience.

Halloween rubber ducks

Sale

Bestseller No. 1

K1tpde 20PCS Halloween Rubber Ducks, Halloween Role Pack of Rubber Ducks, Pumpkin Rubber Duck, Funny Rubber Ducks Bath Toys for Kids, Baby Showers Accessories, for Kids, Party Favors

Value Package - There are 20pcs Halloween rubber ducks in the package, contain 5 color of Halloween ducks and each color of them has 4pcs. It is a good toy and gift for kids on Halloween.
Safe material - All the Halloween rubber ducks are made of safe, non-toxic material that you can rest assured that your kids will play happily.
Unique design - This Rubber Ducks set is based on the theme of Halloween, design with 5 characters of the Halloween theme, such as the pumpkin, witch, bat, ghost and black cat, which is full of Halloween vibe that kids will love.
Wide application - Our Halloween rubber duckies not only can be used as a toy at the bathtub for your baby when shower, it also can let your kids play at everywhere, such as the crib, pool, living room, the beach and so on.
Why choose it - It is a fun toy that kids will love. In addition to as a toy for your child to enjoy endless fun in the bathing process, it also can be a Halloween gifts for kids, family, friends, etc.

Mini skull stress balls

Sale

Bestseller No. 1

30 Pieces Mini Stress Balls 2.5 Inch Foam Sports Balls for Boys Girls, Includes Basketball, Football, Baseball, Soccer, Tennis, Volleyball Foam Balls for Stress Relief, Party Favor Toys, Ball Games

Abundant quantity: this set includes 30 pieces in total, 6 different kinds of sports balls styles, which come with 5 basketballs, 5 footballs, 5 baseballs, 5 soccers, 5 tennis and 5 volleyballs, large quantity to meet your various needs; The diameter of ball is 2.5 inch; Due to the packaging, the shape of the doll may be deformed, so you can try to loosen the ball manually, or wash and dry by hand to restore the ball to its original state
Cute foam balls: these mini stress balls can be applied to relieve anxiety and stress; They are also nice birthday party supplies; With vivid sports themed designs, these stress balls will appeal to boys, girls and adult alike while improving grip strength, dexterity, mobility as well as fine and gross motor skills
Fun toys: the foam balls are soft enough for boys and girls to play battles; Pair these fun sports balls with other novelty toys or pool toys, readily making the nice pastime activity at home or school recess playtime; A fun collection of soft sports balls set is nice for boys and girls, letting these little hands to enjoy their favorite sports games and daily activities
Wide applications: these foam ball toys are suitable as beach party decorations, bathtub toys, and beach toys for boys and girls; They are great for teenagers party, fitting for adults to relieve stress, and they can be applied to party favors, a great school carnival prize for teachers and students
Thoughtful gift: these foam sports balls are nice to be as birthday goodie bag stuffers, pool party decorations, pinatas fillers, and classroom gift exchange; Its also a nicet set for sport enthusiast needs; Therefore, you can give them as gifts to your friends and family on the birthday or other festivals

Mini Bloody brain

Sale

Bestseller No. 1

Onnit Alpha Brain Premium Nootropic Brain Supplement, 30 Count, for Men & Women - Caffeine-Free Focus Capsules for Concentration, Brain & Memory Support - Brain Booster Cat's Claw, Bacopa, Oat Straw

Alpha Brain Daily Mind Support: Boost your brain with Onnit Alpha Brain Booster. These mind supplements for focus can help enhance memory and cognitive speed.
Enhance Your Focus: Whether you're focusing on your career, academics, social life, or athletics, Alpha Brain helps support memory, mental speed and focus
Carefully Selected Ingredients: These brain vitamins are formulated with high-quality nutrients. They include Cat's Claw Extract, Bacopa, Oat Straw, Huperzia Serrata, and our Focus and Flow Blends.
Quality Formulas: Alpha Brain is stimulant-free to avoid afternoon lull. It is free of caffeine, dairy, nuts, or gluten.
Leading Nootropics Since 2011: Alpha Brain supplements have been a market leader in the nootropics space since 2011.

Godzilla Monsters figurine

Bestseller No. 1

Stuffed scaredy-cat

Sale

Bestseller No. 1

Soft Stuffed Animal Puppy with Superpowers – Glow in Dark Patches for Bedtime Comfort (no Batteries Needed) – Stuffed Animal for Boys & Girls - Cute Plush Dog Teddy Bear Toy – 14" by Secura Cutie

🐶 GLOWS IN THE DARK WITHOUT BATTERIES - Simply place plush puppy under a bright light or lamp 20 minutes before bed, and his special patches will glow gently for hours through the night. No more anxiety for lost teddies in the dark, a safe and cuddly comforter for sweet dreams.
🐶 QUALITY PLUSH FABRIC - Made with premium plush fabric that is super soft and safe to the skin, the stuffed puppy will feel like the perfect snuggling companion for your little one when resting, traveling or sleeping. (Easily wiped clean to refresh and keep fluffy.)
🐶 HAND EMBROIDERED WITH CARE - Each of our floppy stuffed dogs are handmade and embroidered and stuffed with love. Passing safety and durability for long lasting play, this cuddly animal will be your childs favorite soft friend for years to come.
🐶 PUPPY'S SUPERPOWER - Encouraging interaction and imagination, shining a torch on Puppy's patches just before bed brings out its 'SuperPower Glow'. Unique and fun, watch your child get a kick out of helping their best friend come to life in the dark.
🐶 MAKING LITTLE HEARTS GLOW – Our cute 14 inch puppy is one of a kind and 100% loveable. An anxiety calming stuffed animal for boys and girls 3+ igniting imagination, interaction and play. Bring a smile to that small someone in your life, he is the perfect gift.

Mini Mummy Piñata

Bestseller No. 1

Halloween Bloody shower curtain

Bestseller No. 1

Funnytree Blood Shower Curtain Horror Halloween Bloody Splatter Splashes Home Bathtubs Bathroom Curtain Decoration Set with 12 Hooks Easy Care Washable Durable Polyester Fabric 72"x72"

【Size & Material】: 72x72in size to fit standard tubs and showers. It is made of polyester fabric which is waterproof, quick-drying, durable and lightweight. Featuring vivid colors, crisp lines and delicate hemming, perfect for creating a comfortable bathing environment.
【Install and Disassemble Quickly】: There are metal grommets on the top, and the shower curtain can be hung on the pole quickly by using curtain rings. When you want to clean or replace the shower curtain, it can be removed easily.
【Easy to Care】: Don't worry about how to take care of it. Just remove the curtain rings and put it in the washing machine. Please do not use bleach. If there are wrinkles, please iron it gently at lower temperature.
【Multipurpose Curtain】: Bathroom, hotel, door curtain, bathroom window curtain, room partition curtain, dorm room curtain, wardrobe curtain, car curtain for travel, party backdrop, etc.
【Simple and Stylish】: This shower curtain is suitable for modern bathroom decoration. Put on your favorite shower curtain and enjoy your bathing time!

Voodoo Doll Toothpick holder

Bestseller No. 1

Voodoo Doll Toothpick Holder

Hand designed voodoo doll
Made of unpainted resin
Made to loosely hold toothpicks
3.25 inches long, 2.25 inches wide and 1 inch thick

Jar of Pumpkin slime

Bestseller No. 1

Shark socks

Bestseller No. 1

Funny Socks for Women Men, Shark Crocodile Chameleon Dragon Weird Socks Holiday Socks, Knit Animal Socks Winter Warm Socks

🌺Quality fabric: Socks are made of high-quality cotton fabric, breathable, soft, skin-friendly, comfortable to wear.
🌺Unique design: Each shark bite slipper features a dorsal fin, side fins, and tail. These crochet shark bite slippers look like they're taking a bite out of the wearer's foot, but instead of pain.
🌺For the crowd: Suitable for children from 0 to 6 years old. Please carefully refer to the size detail that we have provided before you purchase.
🌺Nice gift: These crochet shark socks will be great gifts for your children on birthdays and other festivals.
🌺Machine washable: These shark bite slippers can be machine washed or hand washed.

Monster Pen

Bestseller No. 1

Maydahui 32PCS Big Eye Monster Design Rollerball Pen Cute Devil Animal Style Black Gel Ink Pens for Hallowmas School Home

Pack of 32,32Piece Novelty Black Ink Gel Writting Monster Pens,4 Colors - 8PCS Each Color
Size: Length - 7 Inches (18 CM) , Colors: Blue ,Green, Yellow, Red
Ink Color - Black, 0.5mm Fine Point ; Material - Plastic with Silicone
Novelty Monster shaped Pen, Smooth writting for Students, Classmates, School, Home or Office Supplies, Business, Birthday, Christmas, Hallowmas, Decoration, Stage Props etc.
Roller Ball Ink Flows Evenly with Clear Bold Fine Lines. No Fading or Skipping. Enjoyable Writing Experience with Ergonomic and Technical Design. Desk Decorative Pens with Multifunction Fashion Style. With a Comfort Grip and Suitable Size Cap Clip, It's good for Memo Writing, Drawing, Drafting, Signature, Calligraphy, Sketching, Doodle and Painting Tools, Ddvertising, DIY Craft Home Decoration

Spooky Skeleton Bones

Bestseller No. 1

28 Pieces Skeleton Bones and Skull for Halloween Decor or Spooky Graveyard Ground Decoration

Skeleton bones decor: Includes 28 bone pieces that includes a skeleton skull, hands, backbone and more.
Perfect for a haunted house, spookiest graveyard scene, Halloween party decor, April Fool day and more.
Realistic design, affordable pricing and great quality; re-use for all your spooky special events and parties.
Transform any outdoor location into an unforgettable experience with the half-buried skeletal remains Halloween decoration not just for Halloween but also for other special occasions
Bag includes: 28 pieces plastic bones & skull

Colorful worms

Sale

Bestseller No. 1

ONESING 19 Pcs Magic Worms Toys Wiggly Worms On String Twisty Fuzzy Worm Toys for Carnival Kid Party Favors Xmas Gifts

👻PACKAGE INCLUDE - 19 pieces in total. 18 pcs magic worms in 6 distinctive colors, 3 pieces for each color, 1 piece storage bag. Size is about 8.7 inch in length, 0.7 inch in width.
😇MATERIAL - Worms toys are made of soft polyester and transparent string. They are soft and comfortable to touch. These twisty fuzzy worm toys have 2 realistic eyes. You can share these toys with your family and friends. They are also perfect play toys for your pets.
🎀COLORFUL MAGIC WORMS - The magic worm toys have 6 colors, including green, blue, yellow, orange, pink, purple. These bright and lovely colors are fulled of energy, can meet people's different color needs, suitable for kids and adult.
🤡FUNNY USE METHOD - Tie the tail with a transparent string, twine the magic worm on your finger, then pull the string to make it moves and crawls around your finger. Using funny magic worms to do magic will be wonderful and will amaze the audience.
🧡VARIOUS APPLICATIONS - Colorful magic worms toy is a useful magic prop, can attract audience's attention and interest. Twisty fuzzy worm also can be a toy to kids and pet. Cat will be happy to chase magic worm. Perfect for different parties, festival decorations, birthday party, etc.

Howling Wolf Wax Seal Stamp

Sale

Bestseller No. 1

Plastic spider confetti

Bestseller No. 1

Fireboomoon 220pcs Mini Plastic Spider, Spiders Party Favor Mini Plastic,Mini Party Favors,Plastic Spiders Halloween,Party Favors,Halloween Spider,Plastic Spiders,Halloween Plastic,Mini Spiders

Packaged included: 220 Pieces Plastic Spider
Size:0.83"*0.55".Mini
Perfect For Any Party Favors,Theme party,Cosplay party.Home decoration;Shop decoration
Made With Durable Plastic.
Customer guarantee!We values you! If you are unhappy with the quality of your product, please contact us within 30 days for your money back.

Boo Dough PlayDough Wrappers

Bestseller No. 1

Play-Doh Modeling Compound 10-Pack Case of Colors, Non-Toxic, Assorted, 2 oz. Cans, Ages 2 and up, Multicolor (Amazon Exclusive)

10 cans of creative fun – kids can get creative with just the right colors They need in this Play-Doh 10-pack of 2-ounce cans!
Just the right colors to start - shape, squish, mix, and make it all. Great for lots of uses like Play-Doh refills, as a Play-Doh Starter set, or as an add-on to any Play-Doh toy (sold separately).
Shape your imagination – squishy, bright, non-toxic Play-Doh compound sparks imaginations For kids 2 and up who love arts and crafts like Modeling clay.
Easy-open, recyclable package - SHIPS in simple recyclable packaging that's easy to open and frustration free, and the Play-Doh cans and lids are also recyclable to help build a more sustainable world!

Halloween-themed Nail Polish

Bestseller No. 1

Beetles Halloween Gel Nail Polish Set, Hocus Pocus Collection Orange Black Glitter Gel Polish Nail Art Design Kit, Soak Off Nail Lamp LED Cured

beetles Gel Nail Polish: This halloween set is a must have for you! Hocus Pocus set is including black glitter, witch purple, slime green, bright orange, blood red and orange glitter!
Healthy: 9 Toxin Free Ingredient makes it safe and has low odor.
Easy Application and Good Tenacity.With proper application, last at least 3 weeks.
Reminder: Cure under LED light for 90-120 secs. Base and Top coat required.If gel feels thick or tacky, place in hot water for 1-2 minutes, remove from water and shake well.
What you get: Color Number is: 345-346-347-348-349-350. 6 Gorgeous shades of Gel Polish, hassle-free and friendly customer service.

Skeleton candle

Bestseller No. 1

Temporary Talking Hands Tattoo

Bestseller No. 1

BodyMark by BIC, Temporary Tattoo Marker, Skin Safe, Flexible Brush Tip, Long-Lasting, Assorted Colors, 8-Pack (Colors/Stencils Will Vary)

Create your own skin-safe designs with cosmetic-quality temporary tattoo markers. Complies with cosmetic regulations. Follow all warnings and instructions. Not tested on sensitive skin
Flexible felt tip for thin or broad lines
Pack of 8 assorted markers with bright, long-lasting colors perfect for creating a wide variety of designs
Comes with a variety of stencils, designs vary in each pack
Great for special occasions, sporting events, parties, festivals, and more

Halloween-themed Lego set

Bestseller No. 1

LEGO Ideas 21319 Central Perk Building Kit (1,070 Pieces)

Here's a LEGO brick-built version of the famous CENTRAL PERK café packed with authentic details to inspire hilarious memories of the classic Friends TV show and to show off to your own friends
In the box: a buildable Central Perk café studio set, plus Ross Geller, Rachel Green, Chandler Bing, Monica Geller, Joey Tribbiani, Phoebe Buffay and Gunther minifigures with cool accessories to role-play memorable scenes
This collectible 1,070-piece LEGO toy makes a great Friends memorabilia gift for fans and offers a rewarding building experience for adults aged 16+ who love to build solo or share the fun with friends and family
This LEGO Ideas Central Perk 21319 Friends TV show merchandise is compatible with the LEGO construction toys, bricks and characters that you already own so you can create your own mash-up models and unique stories
This colorful Friends TV show gift item measures over 4" (11cm) high, 11" (29cm) wide and 8" (22cm) deep, and will make a big impression when displayed in any room or office

Halloween Playing cards

Bestseller No. 1

Bicycle Tragic Royalty Playing Cards

Country Of Origin : United States
The Package Height Of The Product Is 1.8 Centimeters
The Package Length Of The Product Is 9 Centimeters
The Package Width Of The Product Is 6.6 Centimeters
Polish (Publication Language)

Halloween Activity Book

Bestseller No. 1

Pick Your Poison candy jar

Bestseller No. 1

Taco Cat Goat Cheese Pizza

PLAY IT ANY TIME ANY PLACE- Convenient take anywhere size game.
SIMPLE AND HILARIOUS- Fast paced laugh out loud fun for any get together.
WILDLY POPULAR- Perfect for all-ages.
GET ROLLING IN SECONDS- Takes only a minute to learn and gameplay lasts for about 10 to 15 minutes.
English (Publication Language)

Trick-r-Treat Halloween Phone case

Bestseller No. 1

Phone Case Or Horror R Trick Scary Movies Halloween Cute Treat Sam Compatible with iPhone 13 Pro Max 12 11 X Xs Xr 8 7 6 6s Mini Plus SE 2022 Samsung S21 S22 Ultra A12 A51 A71 5G

CUSTOMIZE NOW: Click "Customize Now" to Select the options (type and phone size) which you would like before Adding to Your Cart. Our phone case compatible for all models of iPhone/Samsung Galaxy.
Professionally custom printed and shipped from USA. Material: The case is made from Glossy Flexible Thermoplastic Polyurethane (TPU) and PC. Lightweight, easy grip design perfect for everyday use.
Unique Design With Shock Absorbent TPU Totally Protects Your Device From Impact, Drops And Shocks Without Adding Large Bulk To Your Phone.
Access to all the controls and features; Perfect cutouts for speakers, camera and other ports.
APPLICABLE MODELS: iPhone 6/6s,iPhone 6/6s Plus,iPhone 7/8/SE 2022,iPhone 7 Plus/8 Plus,iPhone X/XS,iPhone XR,iPhone XS Max,iPhone 11,iPhone 11 Pro,iPhone 11 Pro Max,iPhone 13 12,13 Pro,13 Pro Max,12 Mini, Samsung S22,Samsung 22+,Samsung S210,Samsung S21 Plus,Samsung A12 A51 A71 5G

Bloody syringe with red ink pen

Bestseller No. 1
And that's it – 200+ Halloween Care Package Ideas perfect to spice up the holiday for family and friends. What's your favorite item on the list to receive in a care package? What items are essential for a Halloween Care Package to you?
Let's hear them through the comments section!