Halloween is undoubtedly one of the most exciting holidays in the year, and it is the only time you can send a Halloween Care Package to a loved one without coming across as a weirdo.
A Halloween care package is a box with all the necessities to make it a memorable Halloween.
As mentioned earlier, Halloween is fun alright, but you know what isn't fun? Putting together a Halloween care package. You have to decide on the items to include, the things to leave out, and of course, you have to ship the box as well.
In this article, you are going to learn how to put together an excellent Halloween package. Also, to help you fill your box quicker, we are going to share a ton of wonderful Halloween care package ideas with you.
How to Make a Halloween Care Package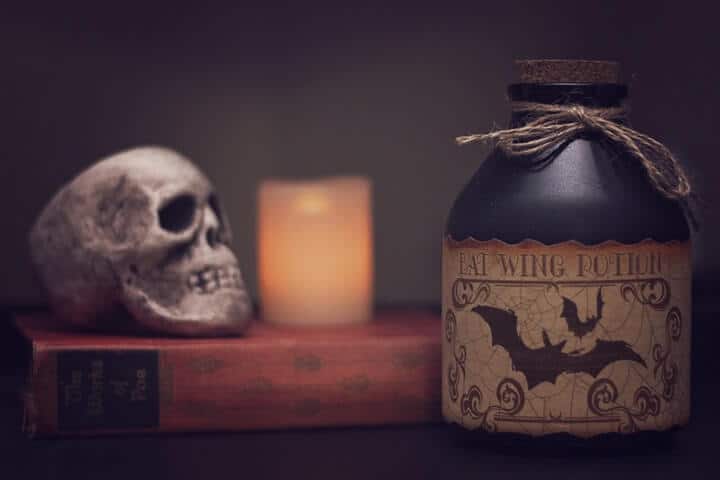 Just like when you're putting together a care box for certain holidays with specific dates, (like Christmas, Valentine's Day etc), it is best to have them sent out before the holiday so that it gets to its destination on time, most especially if decorations and costumes are included in the package, and to avoid any unforeseen delay.
Next, decide on how much you'd be spending on purchasing each item you plan on including in your box, packaging (including buying a care box if you'd rather not use an old box at home) and shipping your package (if it's going overseas).
There are a good number of Halloween themed sites on the internet to get supplies, and you can choose to obtain a Care Package box from your post office or a shipping company.
Ensure all fragile items are carefully wrapped with newspapers and your box is stuffed to keep items from shifting around.
Edibles should also be kept as far away as possible for other items that could give them an unpleasant scent or taste.
Also, you can decorate your box with orange and black markers, ribbons and even colorful tissue papers to give it an attractive look. Also, remember to tape your box securely before dropping it off for delivery.
If you're sending your care package to someone who resides close to you, you can have it sent out through a local delivery service or drop it off yourself.
When shipping overseas, you would be expected to fill a customs form and also submit information such as the receiver's address, your personal address as well as a list of all the content in your box.
Shipping regulations are expected to be abided to at all times.
Essentials for Halloween Care Package
Trying to decide on the most important items to include in this year's Halloween Care Package? Want to shop for only the best and most essential that'll kick-start the Halloween spirit? Here are some exciting Ideas to start with:
Witch Candy bowl
Mini Halloween "Boo!" Arrow sign
Pumpkin Patch Garden flag
Trick-or-Treat mini beverage tub
I've Got My Eyes On You mug
Halloween themed Chocolate Bar Covers
Yarn for fake spiderweb
Mini light-up Ghost
Pumpkin carving kit
Halloween Is A Season Tshirt
Happy Halloween card
Eyeball ice-cubes
Chatter Teeth
Red-eye Teddy bear
Spooky movies
Monster Tattoo stickers
Glow-In-The-Dark mini Pumpkin
Monster Party Cups
Peek-A-Boo Top
Giant plastic fist
Neighbourhood Zombie Watch Poster
CD of spooky soundtracks
Magnetic spiders
Black bath bombs
Zombie Cookie Cutter
Pumpkin candle holders
Natural face paint kit
Black candles
Halloween Voice Changer
Halloween Coloring Book
Pumpkin place cards
Pumpkin outline path lights
Trick or Treat Halloween stickers
"Spell Book" Covers
Halloween party invitation cards
Halloween Party Crackers
Halloween Pumpkin keychain
It's All About The Candy poster
Inflatable black balloons
Creepy doll
Skeleton Figurine
Halloween-themed glow sticks
Halloween-themed paper plates
Fake blood bottle
Mini Glass Skull bottle
Treats for Halloween Care Package
Ready to spice up this Halloween with unique and great tasting treats perfect for the holiday? If you're looking for some of the yummiest Ideas to gift out, here are a couple of our favorite:
Fall-themed Gourmet Berries
Chocolate covered Strawberries
Pumpkin muffins
Halloween-themed Candy stash
Black lollipop
Cheese Crackers
Candy Corn
Halloween cheese balls
Halloween Edition Oreos
M&M's chocolate
Oatmeal-Butterscotch cookies
Flavored worm snacks
Eyeball Bubble Gum
Pepper beef jerky
Peanut Butter Eyeballs
Pumpkin Cake
Sweet and Sour candy
Cheetos
Black jelly beans
Slim Jim snack sticks
Spider Web cotton candy
Gummy Eyes Halloween Candy
Peppermint candies
Gummy sharks candies
Skull chocolate
Halloween sugar cookies
Jelly-filled Chocolate bars
Pumpkin seeds
Halloween S'mores
Chocolate dipped Caramel Apples
Velvet cupcakes
Sugared black marshmallows
Chocolate-covered Pretzel
Black sugar doughnuts
Pumpkin soda
Canned Pumpkin soup
Halloween-themed powdered hot chocolate
DIY Gingerbread mummy cookies
Dark chocolate Truffles
Spooky Tortilla
Black sprinkles
Hot Cinnamon candies
Red punch
Butterscotch biscuits
Nachos
Black licorice
Pumpkin cheesecake
Apple slices
Apple Cider
Chocolate dipped Hotdog
Homemade Meatball Mummies
Pumpkin patch Brownies
Bag of Unicorn Fart Cotton Candy
Candy Pumpkin
Chocolate cookies with fillings
Cheesecake
Pumpkin bread
Pepper popcorn
Candy filled balloon pumpkins
Gummy worms
Halloween-themed Oreo cookies
Clothing/Accessories for Halloween Care Package
Trying to decide on the best Halloween apparels that'll give that frightfully delightful look to someone who's short of costume ideas? Here's a list of ideas to get that transformation for Halloween:
Harry Potter tie
Exorcist mask
60's black scarf
Pumpkin Enamel Pin
Hulk hands
Glow-In-The-Dark Zombie Teeth
Pretty Little Pumpkin kid's shirt
Skull Pin
Black Hooded Cape
Assorted fake mustaches
Black cream makeup
Halloween Bloody Tshirt
Batman Mask
Black Halloween gloves
Skeletal Hair clips
Rubber snake
Zombie Necklace
Goddess Arm Cuff
Spider rings
Slit Wrist bracelet
Elf Ears
Chucky Mask
Wonder woman lasso
Skull and teeth necklace
Black Magnifying glass
Black Fishnet Pantyhose
Bloody Eye-patch
Inflatable Unicorn horn
Black Rhinestone Whip
Demon Horns With Teeth
Glow-In-The-Dark outfit
Black body glitter gel
Dripping Blood Ghost Face Mask
Evil Clown mask
Lab coat
Black police Badge
Bulging Eyes socks
Marilyn Monroe Wig
Black classical beret
Halloween Themed bracelets
Vampire Fangs
Bleeding Heart Necklace
Harry Potter charm bracelet
Black lipstick
Grumpy old man mask
Graveyard scene earrings
Black fake teeth
Kiddies Mickey Mouse Ears
Black Phantom mask
Black skull Bandana
Harry Potter glasses
Mini shark-biting hat
Metal handcuffs
Entertainment/Miscellaneous For Halloween Care Package
Looking to include fun and eerie looking items in your care box to give someone a good scare, a helpful Halloween supply or just an exciting holiday? Here are some of the most loved Halloween-themed items to shop for:
Mini Jack-O-Lantern Bear
Werewolf cookie jar
Halloween bubbles
Halloween finger puppets
Halloween stickers
Halloween-themed Yoyo's
Halloween PlayDough
Halloween maze puzzle
Fall Placemats
Halloween-themed book
Skeleton shaped pillow
Masquerade ornaments
Giant googly eyes
Zombie Ballerina Figurines
Plastic Tarantula Spider
Mini Lunar Color Changing Lamp
Skeleton bookmark
Halloween rubber ducks
Mini skull stress balls
Mini Bloody brain
Godzilla Monsters figurine
Stuffed scaredy-cat
Mini Mummy Piñata
Halloween Bloody shower curtain
Voodoo Doll Toothpick holder
Jar of Pumpkin slime
Shark socks
Monster Pen
Spooky Skeleton Bones
Colorful worms
Howling Wolf Wax Seal Stamp
Plastic spider confetti
Boo Dough PlayDough Wrappers
Halloween-themed Nail Polish
Skeleton candle
Temporary Talking Hands Tattoo
Halloween-themed Lego set
Halloween Playing cards
Halloween Activity Book
Pick Your Poison candy jar
Trick-r-Treat Halloween Phone case
Bloody syringe with red ink pen
And that's it – 200+ Halloween Care Package Ideas perfect to spice up the holiday for family and friends. What's your favorite item on the list to receive in a care package? What items are essential for a Halloween Care Package to you?
Let's hear them through the comments section!