Halloween is undoubtedly one of the most exciting holidays in the year, and it is the only time you can send a Halloween Care Package to a loved one without coming across as a weirdo.
A Halloween care package is a box with all the necessities to make it a memorable Halloween.
As mentioned earlier, Halloween is fun alright, but you know what isn't fun? Putting together a Halloween care package. You have to decide on the items to include, the things to leave out, and of course, you have to ship the box as well.
In this article, you are going to learn how to put together an excellent Halloween package. Also, to help you fill your box quicker, we are going to share a ton of wonderful Halloween care package ideas with you.
How to Make a Halloween Care Package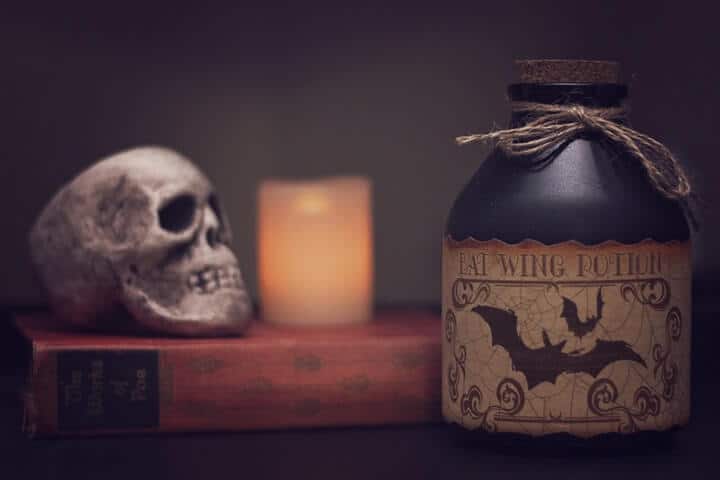 Just like when you're putting together a care box for certain holidays with specific dates, (like Christmas, Valentine's Day etc), it is best to have them sent out before the holiday so that it gets to its destination on time, most especially if decorations and costumes are included in the package, and to avoid any unforeseen delay.
Next, decide on how much you'd be spending on purchasing each item you plan on including in your box, packaging (including buying a care box if you'd rather not use an old box at home) and shipping your package (if it's going overseas).
There are a good number of Halloween themed sites on the internet to get supplies, and you can choose to obtain a Care Package box from your post office or a shipping company.
Ensure all fragile items are carefully wrapped with newspapers and your box is stuffed to keep items from shifting around.
Edibles should also be kept as far away as possible for other items that could give them an unpleasant scent or taste.
Also, you can decorate your box with orange and black markers, ribbons and even colorful tissue papers to give it an attractive look. Also, remember to tape your box securely before dropping it off for delivery.
If you're sending your care package to someone who resides close to you, you can have it sent out through a local delivery service or drop it off yourself.
When shipping overseas, you would be expected to fill a customs form and also submit information such as the receiver's address, your personal address as well as a list of all the content in your box.
Shipping regulations are expected to be abided to at all times.
Essentials for Halloween Care Package
Trying to decide on the most important items to include in this year's Halloween Care Package? Want to shop for only the best and most essential that'll kick-start the Halloween spirit? Here are some exciting Ideas to start with:
Treats for Halloween Care Package
Ready to spice up this Halloween with unique and great tasting treats perfect for the holiday? If you're looking for some of the yummiest Ideas to gift out, here are a couple of our favorite:
Fall-themed Gourmet Berries

Bestseller No. 1

Chocolate Gift Basket, Food Gifts Arrangement Platter, Gourmet Snack Box, Birthday Present Idea, Corporate Him & Her, Men Women Sympathy Family Parties & Get Well - Bonnie & Pop

🍫 AN INDULGENT SELECTION OF OUR 15 BEST SELLING CHOCOLATES: Gift baskets arrive with more than a pound of assorted milk, dark and white truffles. Flavors include: Milk Butter Pecan Patties, Cashew Clusters, Pretzel Clouds, Pecan Snappers, Sea Salt Caramels, English Toffee, Peppermint Patties, Bavarian Pretzels, Double Silk Truffles, Coconut Haystacks, and Peanut Clusters.
✨ CELEBRATE HOLIDAY JOY with this elegant yet affordable gift. This little treasure has delighted recipients ranging from employees and employers to parents and children. Who doesn't love a delicious box of chocolate? It's versatile packaging works for multiple occasions like Christmas, Hanukkah, Valentine's Day, Easter, Birthdays, Sympathy or to simply say Thank you.
🎁 WRAPPED AND LABELED Each chocolate is individually wrapped to promote comfortable sharing and a fresh experience, even if you (try to) save some for later. Kosher Dairy
⭐️ ELEGANT GIFTING Our Bonine and Pop embellished tin makes this an elegant gift that will be a keepsake long after the occasion and snacks are gone.
⚠️ ATTENTION: Please remember to Check the box labeled 'This is a gift' in your cart or at checkout and write a personalized message.

Chocolate covered Strawberries

Bestseller No. 1

Mother's Day Chocolate Covered Strawberries, Original Love Berries, 12 Count

A sweet way to send your love. 12 Fresh strawberries are lavishly hand-dipped in premium dark, milk and pink-tinted white chocolate, and decorated with chocolate drizzle and heart sprinkles
We dip our berries in premium chocolatey confection for an exceptional chocolate-lover's experience
Each berry is hand dipped and decorated in our own kitchena for both culinary artistry and exquisitely decadent taste
Freshness and premium quality
Gift messaging available in checkout

Pumpkin muffins

Bestseller No. 1

Simple Mills Almond Flour Baking Pumpkin Bread Mix, Gluten Free, Muffin Pan Ready (Packaging May Vary), 9 Oz

Receive 1 box of Simple Mills Almond Flour Pumpkin Bread Mix. Perfectly spiced pumpkin mix that uses actual pumpkin and actual spices. Great for fun and nutritious baking.
Take a look at our nutritious baking mix ingredients. Nutrient dense, purposeful ingredient list for these delicious baking products from Simple Mills.
See our reviews on your iPhone, iPad, Android, or laptop by scrolling down to see how other consumers rate our delicous taste!
Nothing artificial, ever. Shelf stable snack that is perfect for stocking up the pantry and great way to gain energy and boost productivity
Made With Simple Ingredients, Certified Gluten free, Non-GMO, Grain Free, Corn Free, Paleo Friendly, Plant Based

Halloween-themed Candy stash

Bestseller No. 1

Candy Variety Pack - Bulk Candy - Pinata Stuffers - Bulk Candy - Assorted Candy - Individually Wrapped Candy - Party Mix - Candy Assortment - 4 Pounds

Satisfy your sweet tooth with Lalees' sweets!.100% Certified Delicious.
May include Skittles, Starburst, Tootsie Roll pops, Pez, Starlights, Soft Fruit Chews, Jungle Jollies, Top Pop, Hard Candy, Sixlet, Fun Dip, Now and Later, Dubble Bubble, Tootsie Fruit Rolls, Changemaker Chewy LemonHeads, Smarties, Sour Fruit Chews, Warheads, Zotz Swedish Fish, Sour Patch. Please Note: This is an assortment and may not include all listed candy.
These Candies are a favorite of all ages – purchase your preferred candy in bulk to save money.
Our classic candy confections are perfect for a quick and easy treat, for birthday parties, Halloween, office stash, and more! The options are endless with Lalees.
Give the gift of giving or fill up your home pantry. Our quality ingredients make special treats for all to enjoy! We provide nothing but fresh candies and promise our customers will enjoy every bite.

Black lollipop

Sale

Bestseller No. 1

Cheese Crackers

Bestseller No. 1

RITZ Cheese Sandwich Crackers, 48 Snack Packs (6 Boxes), 1.38 Ounce (Pack of 48)

Each layers a mouthwatering cheese spread, made with real cheese, between two crisp Ritz Crackers.
Ritz Cracker Sandwiches are a great anytime snack and perfect for lunchboxes or quick meals.
Each individually wrapped pack is sealed for freshness and includes six Ritz Cracker Sandwiches.
This includes 48 - 1.35oz packs of Ritz Cracker Sandwiches with cheese.
Delicious Ritz Cracker Sandwiches are the classic go-anywhere snack that kids and adults love.

Candy Corn

Bestseller No. 1

Sarah's Candy Factory Candy Corn in Jar, 3 Lbs

ASSORTED CANDY CORN : Old fashioned classic bite-size fruit slice wedges, chewy textured candy, mouthwatering sweet taste, and comes in many flavors. Old fashioned assorted candy for everyone, all ages!
OLD FASHIONED CANDY: Dragon Teeth, Old Fashioned Candy Corn by the Pound, Vibrant Colored Candy Corn Bulk,Halloween Candy Favorite the fall favorite mix! Just add salted nuts for a delicious salty Sweet treat.
GREAT FOR OCCASIONS: Sweet old-fashioned treats for holidays. Perfect for a Birthday Party, Christmas Party, also great for trick-or-treaters on Halloween and Perfect as a Halloween Handout or for Thanksgiving Candy Decorations make your day special with those candies.
LOCK FOR SWEETNESS: Comes in a 3-Pound resealable Jar, convenient and keeps your candies fresh.Good choice for your home, dinners, lunches, meals, work, break rooms, reception desks; convenient for any place
SARAH'S CANDY FACTORY: Repacked from bulk by Sarah's Candy Factory.

Halloween cheese balls

Bestseller No. 1

Halloween Edition Oreos

Bestseller No. 1

OREO Chocolate Sandwich Cookies, Green Colored Creme with Glitter & Popping Candy, Trolls World Tour Limited Edition, 1 Pack (10.7 oz.)

This package contains 1 individually wrapped 10.7 oz. pack of limited edition OREO Chocolate Sandwich Cookies with Green Colored Creme, Glitter & Popping Candy.
The classic combo of creme sandwiched between two wafer cookies is iconic—just like "Trolls World Tour"! Unlock a playful trolls experience at home by scanning the QR code on your pack of cookies.
Celebrate Tiny Diamond, a Glitter Troll, with chocolate OREO cookies filled with glittery green colored creme and popping candy. Be sure to look for all 3 special cookie designs inspired by the movie!
From the movies to the office to school to bus trips, gift bags, goodie jars, party favors, care packages, and dessert baskets, everything is sweeter with OREO cookies.
These cookies are Kosher. Each serving is 140 calories and has no trans fat.

M&M's chocolate

Bestseller No. 1

M&M'S MINIS Candy Milk Chocolate Bar Bulk Pack, 4 oz Bar (Pack of 12)

Contains twelve (12) 4-ounce extra-large M&M'S Milk Chocolate Bars with Minis
Made with M&M'S MINIS Candies and delicious milk chocolate
These extra-large chocolate bars make deliciously fun, colorful gifts
Individually wrapped candy bars can be broken into pieces to share
Great for Christmas stockings, birthday gifts, Easter baskets, Valentine's Day treats, and more!

Oatmeal-Butterscotch cookies

Bestseller No. 1

Pair (2) - Roasted Oatmeal Stout & Butterscotch Cookie Dough - Premium Fragrance Oil Pair - 10ML

USES - Our Premium Grade Fragrance Oils are formulated to be suitable for creating your own candles, soaps, air freshener spray, skin and hair care formulations, cleaning products, for use in home aroma diffusers, scented dryer sheets, freshen a drawer, potpourri, freshen carpets, massage/body oil, sugar scrubs, and many more. Personalize any of your unscented products. Use your imagination to create a scent that is simply yours.
Amber glass 10ml bottle with a black polypropylene ribbed cap and tamper evident ring with a dropper insert. The dropper inserts a small amount of product to be dispensed. This cap and orifice reducer combination is great for dispensing oil.
Fragrance oils are for external use only. This product should not be used undiluted. For any questions regarding proper usage in products please contact us.
Roasted Oatmeal Stout - A roasted cookie type with top notes of almond extract, orange peel, milk cream, and maple, middle notes of roasted oatmeal, cinnamon, and white lily, with musky, tonka bean, woody, sugary vanilla base note.
Butterscotch Cookie Dough - A buttery, rich scent that appeals to the sense of taste as well as smell. Nuances of pineapple and banana form the top notes. Mid notes of buttery caramel and sweet butterscotch. Creamy vanilla and powder base notes round out the fragrance.

Eyeball Bubble Gum

Bestseller No. 1

Pepper beef jerky

Bestseller No. 1

Jack Link's Beef Jerky, Peppered, ½ Pounder Bag - Flavorful Meat Snack, 9g of Protein and 80 Calories, Made with Premium Beef - 96% Fat Free, No Added MSG or Nitrates/Nitrites (Packaging May Vary)

GOOD SOURCE OF PROTEIN – Protein is an essential part of your diet and Jack Link's Beef Jerky is a delicious way to get more every day. With 9g of protein and 80 calories per serving, it's a must-have snack to help keep you satisfied and energized all day
MADE WITH 100% BEEF: Jack Link's Beef Jerky is made from cuts of 100% beef. Our delicious beef jerky is 96% fat free with no added MSG** or Nitrates/Nitrites. **Except for that naturally occurring in soy sauce, hydrolyzed corn protein, and yeast extract
FULL ON FLAVOR: Love a little spice. Our Peppered Beef jerky delivers. Expertly seasoned with a special blend of herbs and spices and finished off with cracked black pepper. Then, it's slow roasted over hardwood smoke.
PERFECT EVERYDAY SNACK: How did ancient civilizations fuel themselves to build pyramids or win sword battles. Meat. If it worked for them, Jack Link's beef jerky can definitely help you power through a late day at work or fuel a workout.
RESEALABLE SHARING SIZE: The jumbo 1/2 pound sharing size bag is resealable so your beef jerky will always be fresh and as delicious as the first time you opened it! It's perfect for sharing with family and friends.

Peanut Butter Eyeballs

Bestseller No. 1

Halloween Milk Chocolate Peanut Butter Spooky Eye Balls, Trick-Or-Treat Party Bag Fillers, Individually Wrapped in Multi-color Eye Design Foils, Kosher Certified (2 Pounds)

HALLOWEEN PEANUT BUTTER CREEPY EYE BALLS: These Halloween Milk Chocolate Peanut Butter Creepy Peepers are perfect for Halloween Parties, Pirate Parties and all Spooky entertainment. They come wrapped in Eyeball Foil Design and add Fun, Decoration and Atmosphere to your Halloween party that will leave good memories to all your guests!
PARTY FAVOR: The Halloween Milk Chocolate Peanut Butter Creepy Eye Balls are the perfect addition to any Spooky Fun Halloween or Pirate Party. All your guests will enjoy seeing them as decoration and eating them! It will enhance and add a little bit of fright to your party! They are wonderful for Trick-Or-Treating, Office Celebrations, Birthday Parties, Carnival Prizes, Classroom Rewards, Goodie bag Fillers, Gatherings and much more!
PACKAGING: The Halloween Chocolate Peanut Butter Creepy Eye Balls come in a 25-Pack, Half-Pound Pack, 1 Pound Pack, 2 Pounds Pack and 5 Pounds Pack Individually Wrapped in Green, Blue, Orange, Purple Multi-color Eyeball Design Foils! Great for hiding in Goody Bags and Hand Them Out to All Your Party-Goers as a Tasty Party Favor!
BUY RISK-FREE: At Fruidles we fully stand behind our products with total satisfaction and 100% money-back guarantee.
Kosher Certified

Pumpkin Cake

Bestseller No. 1

Halloween Pumpkin Cake

Amazon Prime Video (Video on Demand)
--- (Director) - YoBoHo New Media Pvt Ltd (Producer)
English (Playback Language)
English (Subtitle)

Sweet and Sour candy

Bestseller No. 1

SOUR PATCH KIDS Original Soft & Chewy Candy, Easter Candy, 12 - 3.5 oz Boxes

Twelve 3.5 oz boxes of SOUR PATCH KIDS Original Soft and Chewy Candy
Chewy snacks in assorted fruit flavors that are SOUR. SWEET. GONE.
Soft and chewy candy has the traditional SOUR PATCH KIDS shape for a hint of mischief
Bring this SOUR THEN SWEET candy to parties, holidays, movies and more
Sealed box keeps these snacks flavorful and soft

Cheetos

Bestseller No. 1

Black jelly beans

Bestseller No. 1

Brachs Black Jelly Bird Eggs Easter Candy - Pack of 4 Bags - 14.5 oz Per Bag - 58 oz Total of Bulk Brachs Black Jelly Beans

BULK BRACHS BLACK JELLYBEANS: Why get 1 bag when you can get 4. Each bag is 14.5 oz making a grand total of 58 oz.
LIMITED EDITION EASTER CANDY: These will only be available during Easter season, so stock up while you can.
BLACK BRACHS JELLY BIRD EGGS: These aren't your ordinary jelly beans, they are black licorice jelly beans.
GREAT GIFT: These are a great candy to give as a gift, or put int an Easter basket.
EASTER EGG HUNT: Just pop a few of these into an Easter egg, and voila! You got the perfect Easter egg hunt.

Spider Web cotton candy

Bestseller No. 1

Gummy Eyes Halloween Candy

Bestseller No. 1

Peppermint candies

Bestseller No. 1

Brach's Peppermint Star Brites Mints Hard Candy (2 Pounds)

BRACHS HARD CANDY: Star Brite Peppermint candy, sweet and spicy cinnamon, old fashioned butterscotch, root beer barrels, lemon drops whatever your favorite hard candy, Brachs candy makes everyday moments special
BRACHS BULK CANDY: Whether you are looking for individually wrapped bulk candy for party favors, bulk gummy candy for a crowd, or bulk chocolate to keep cravings at bay, Brachs Candy has you covered
MAKE ANY DAY SWEETER: From kids birthday parties or gift bags, to Halloween candy for tricker treaters or candy canes at Christmas, to a sweet treat in a busy day, Brachs makes every day sweeter
BRACHS MADE TO SHARE: Brachs Candy has something sure to please everyones sweet tooth, from classic hard candy to sugar free to chocolate to gummy candy; Share a little or a lot and make your memories sweeter

Gummy sharks candies
Skull chocolate

Bestseller No. 1

GROBRO7 9Pcs Halloween Cake Silicone Fondant Molds Pumpkins Ghost Skulls Witch Spider Owl Bat Branches Shaped Desserts Mold Set for Baking Chocolate Candy Sugar Halloween Theme Party Cupcake Decor

Great Value Set: The Set has 9 silicone molds, which contains the shapes of witch theme elements, skulls, pumpkins, skeleton hands, bats, branches, spiders, owls, ghost, which can meet your various needs.
Halloween Cake Molds: They can be used as food decorations for Halloween themed parties, parent-child activities, birthday parties, kids DIY activities or other daily activities. Decorating food with this exquisite and unique shape can add a joyous atmosphere to your Halloween!
Material: These molds are made of food-grade silicone material, which is non-toxic, tasteless, safe and harmless to your health.
Occasions: It can be used to make chocolate, soft candies, hard candies, ice cubes, etc., and can also be used in microwave ovens, ovens, refrigerators, freezers, dishwashers, etc.
Easy to use and clean: Our silicone molds are non-sticky. The finished product can be easily taken out by gently pushing the bottom of the mold. It is also easy to clean and can be cleaned with simple kitchen tools.

Halloween sugar cookies

Bestseller No. 1

Sweese 721.101 Pumpkin Candy Dish with Lid, 40oz Porcelain Sugar Bowl & Cookie Jar for Halloween Thanksgiving Day Autumn Home Decor

Large Enough Capacity - The diameter of this pumpkin is 7" and the height is 5.5"(Lid is included); this candy dish can hold 40oz of liquid (without filling it to the very top).
Material - Made of food-grade porcelain, our pumpkin candy dish is strong, durable, lustrous and scratch-resistant. Perfect to reuse for parties and other events while ensuring the safety of children and adults.
Adorable Pumpkin Shape - With the cure and realistic pumpkin appearance, this candy dish will be a beautiful accent to your holiday table, kitchen, dining room, coffee table, and a good addition to your party. The separate pumpkin lid features a golden pumpkin stem holder for easy opening and closing. A nice present for housewarming parties, birthdays, or weddings
Wide Application - Add a splash of fall by using our pumpkin bowl! Perfect for storing candies, baked goods and Halloween treats. Our pumpkin bowl is sure to be a cherished addition to your Thanksgiving autumn decor. Use it to hold all your favorite side dishes, like mashed potatoes, mac and cheese, soup, rice, and more, for a more festive display during meals.
Machine Safety - Easy care, and safe for microwave, oven, refrigerator and dishwasher, resist breaking and staining. Alternatively, you can wash them easily with soap and warm water.

Jelly-filled Chocolate bars

Bestseller No. 1

Fruidles Chocolate Covered Raspberry Jelly Sticks, Gluten Free Chocolate Jellies, Kosher Certified (1 Pound)

TASTY AND DELICIOUS: These delicous Chocolate Raspberry Jells are beyond tasty and delicious. These soft, chewy, and chocolaty jells have just the right amount of sweetness and flavor. Indulge in the sweet combo of chocolate and raspberry that these jellies have to offer.
HIGHLY VERSATILE: Fruidles Chocolate covered Raspberry Jells are highly versatile and can be enjoyed in many different kinds of ways. Enjoy these sweets at every party, event, dinner, gathering, holiday, and much more. These crowd pleasers have a mouth-watering taste, leaving every sweet tooth lover out there asking for more!
GLUTEN-FREE: These Chocolate covered Raspberry Jellies are Gluten Free for everyone's enjoyment.
SOLD IN BULK: These chocolate treats are sold in 4 different bulk sizes. 8 Oz, 1 Pound, 2 pound, and a 5 Pound.
KOSHER CERTIFIED: These chocolates are kosher certified for everyone's enjoyment. Enjoy the sweet taste of this Raspberry Flavor and Chocolate combo.

Pumpkin seeds

Bestseller No. 1

Terrasoul Superfoods Organic Pumpkin Seeds, 2 Lbs - Premium Quality | Fresh | Raw | Unsalted

Terrasoul Superfoods Organic Pumpkin Seeds (Pepitas), 2 Pounds
USDA Certified Organic, Non-GMO, Raw, Gluten-Free, Vegan
Unsalted and 100% organic pumpkin seeds are good for your health and for any diet.
Terrasoul Superfoods is a family-run business that sources the freshest and highest quality superfoods from all over the planet. Our mission is to make these amazing, healthy foods available to you at the lowest prices possible while paying our growers and employees fair wages.
100% Money-Back Satisfaction Guarantee - We stand behind our products and offer a 30-day money back guarantee, backed by an outstanding customer service team.

Halloween S'mores

Bestseller No. 1

Party City S'Mores Snack Couple Halloween Costume, Adults Standard Size, Chocolate and Marshmallow Graham Cracker Tunics

You and your partner or friend will look like a snack in this S'mores Snack Halloween Costume for adults that includes two tunics
Includes two comfortable graham cracker tunics, one with toasted marshmallow and the other with chocolate that will turn your duo into a delicious s'more
This duo costume is an adult standard size; Just pull these two campfire snack tunics over your clothes for an effortless, easy-to-wear costume that sits comfortably on your shoulders with the attached straps
Perfect for Halloween trick or treating, themed birthday parties, and dress up events
Care for these funny 100% polyester (exclusive of decoration) costume by spot cleaning only; Shoes, pants, shirt, and hat not included

Chocolate dipped Caramel Apples

Bestseller No. 1

Milk & Dark Decadence Chocolate Dipped Caramel Apples Pair

Two Pure milk and dark chocolate covered caramel apples presented in our signature gift boxes
One Pure milk chocolate dipped caramel apple drizzled with white and dark chocolate.
One Pure Dark Chocolate dipped caramel apple drizzled with white chocolate and decorated in dark chocolate jimmies
Apples are individually packaged and tied with gift bows, each in their own gift box.

Velvet cupcakes

Bestseller No. 1

Sugared black marshmallows

Bestseller No. 1

SOL DE JANEIRO Brazilian Bum Bum Cream 240ml

SMOOTHS & TIGHTENS: Fast absorbing body cream for your bum bum, legs, tummy - and all over - contains Guaraná to tighten and smooth the appearance of skin.
HYDRATES & SOFTENS: Brazilian Beauty Blend of Cupuaçu Butter, Açaí Oil, and Coconut Oil softens while a light mica shimmer creates an all-over highlighting gorgeous glow.
DELICIOUS FRAGRANCE: Pistachio and Salted Caramel fragranced body lotion cream. Non sticky and non greasy.
FORMULATED WITHOUT: Cruelty free, vegan, gluten free, soy free, paraben free, free of artificial colorant, 5 free, 3 free, phthalate free, paraben free, no PEGs, talc free, sulfate free, mineral oil free, nut free.

Chocolate-covered Pretzel

Bestseller No. 1

Milk Chocolate Covered Pretzels- Fancy Gourmet Assorted Box of Chocolates Gift for Happy Chocolate Lovers- Premium Candy for Giving Women &, Men, For Christmas Mothers Day, Holiday, Birthday

BECOME THE GIFT HERO and show your love with this special chocolate gift box- Milk Chocolate Themed With Our Top 4 Milk Flavors- Dark & White- Drizzled, Cookie and Nuts- You Will Be Adored For This!
EXPRESS YOUR APPRECIATION TO LOVED ONES AND COLLEAGUES with this perfect gift that overflows with good taste!- Excellent Gift For Holidays and Birthdays-
TASTE AND CRUNCH THAT MAKES YOU WANT MORE- Our All New Milk Chocolate Covered Sour Dough Pretzels Are The Ultimate Gourmet Snack And Perfect For Every Table and Every Occasion
DOUBLE SEALED FOR ULTIMATE FRESHNESS AND SHIPPING SAFETY-Locked in taste- Kosher Dairy Chalav Yisroel (CRC+KCL)
NO RISK PURCHASE. Your 100% Satisfaction is our #1 Priority! We Want You To Love Our Products As Much As We Do! If You Have Any Issues WE WILL PROVIDE A NO QUESTIONS COMPLIMENTARY REPLACEMENT OR FULL REFUND

Black sugar doughnuts

Bestseller No. 1

Pumpkin soda

Bestseller No. 1

Canned Pumpkin soup

Bestseller No. 1

Weruva Classic Dog Food, Funky Chunky Chicken Soup with Chicken Breast & Pumpkin in Gravy, 14oz Can (Pack of 12)

Funky Chunky Chicken Soup (14oz can, Pack of 12) Featuring boneless, skinless, white-meat chicken with pumpkin, carrots, and peas.
Weruva Classic Dog Food - Our premium lineup of artfully-crafted recipes with high-quality ingredients you can actually see and your dog will love
Your pup can stay funky, and not get chunky with this all-natural, low fat and low carb chicken soup.
Grain-free, Gluten-free, & Carrageenan-free. No corn, wheat or soy. Free from any artificial colors & preservatives.
Produced in Human Food Facilities under the Strictest B. R. C. Global Standards for Foods with responsibly sourced ingredients

Halloween-themed powdered hot chocolate

Bestseller No. 1

Navitas Organics Cacao Powder, 24 oz. Bag, 45 Servings — Organic, Non-GMO, Fair Trade, Gluten-Free

Navitas Organics Cacao Powder is made from single origin, Fairtrade certified, USDA organic cacao beans—grown and processed to benefit its farmers, our planet, and help your body thrive!
Deliciously rich, bold chocolate taste with no added sugar. Simply swap 1:1 for regular, unsweetened cocoa powder in smoothies, shakes, hot chocolate, brownies, keto and paleo treats and more!
Powerfully nutritious alternative to regular cocoa powder: provides 25% DV magnesium, 10% DV iron, 19% DV fiber and 195mg antioxidants (flavanols) per serving.
Navitas Organics Cacao Powder is grown in Sierra Leone, where we are proud to invest in cacao co-ops, farmer field schools, reforestation planning, and just labor practices.
USDA Organic, Fairtrade, Non-GMO, Kosher, vegan, gluten-free. Committed to accuracy and transparency, we third party test all products to verify quality and nutritional values, 45 Servings.

Mummy cookie cutter

Bestseller No. 1

Oscar Award Statue Cookie Cutter 4.5 Inch - Hand Made in the USA

High-Quality Oscar Award Statue Cookie Cutter- Manufactured from high quality durable plastic. This cookie cutter features rolled edges that make it easy to grip without hurting your hands and sharp bottom for precise cutting and remarkable results. Cookie cutting depth is 0.75 inch
Professional Results at Home- Our cookie cutters are used for cutting cookies, dough, bread, soft fruits, craft clays, and more. Have fun while exploring your creativity! Check out our wide selection and reach cookie perfection at the comfort of your home!
Versatile, Modern & Unique Cookie Cutters – Let your creative juices flow! This Oscar Award Statue cookie cutter is great for baking girl themed cookies and preparing soft foods, bread, sandwiches, cookie dough, cheese, fruits, and craft clays. Ideal for special occasions and festivities, holidays and as a hobby
Sturdy and Precise Cookie Cutter Built to Last- This Oscar Award Statue cookie cutter is made of durable plastic and measures 4.5L x 1.75W x 0.65H inches. Hand wash and pat dry. This cookie cutter is extremely easy to clean and maintain for years, enjoy!
Family Owned & American Made – We have been making cookie cutters right here in Pleasant Valley, Missouri since 2016! Family-owned and operated with good old fashion business values. We offer quality products, fast shipping, and great customer service! Reach out to us anytime

Dark chocolate Truffles

Sale

Bestseller No. 1

Godiva Chocolatier Dark Chocolate Truffles Assorted Chocolate Gift Box, 24 pc.

GOURMET CHOCOLATE: This 24-piece Godiva chocolate gift box features an exciting assortment of gourmet dark chocolate truffles crafted with classic Belgian fillings
DELICIOUS FILLINGS: Sweet fruit, savory salted caramel, spiced ganache, and other delectable fillings sit beneath dark chocolate shells
TIMELESS TASTE: Add sweetness to any special occasion from birthday parties to anniversaries to corporate gift swaps; This chocolate assortment is always a perfect choice
ELEGANT GIFT BOX: Surprise someone special with this exquisite chocolate box, wrapped with a gold ribbon or satiate your sweet tooth as you sample each assorted candy
BELGIAN HERITAGE: Founded nearly 100 years ago, Godiva continues to adhere to a long-standing tradition of quality, Belgian craftsmanship using only the world's finest ingredients

Black sprinkles

Sale

Bestseller No. 1

Hot Cinnamon candies

Bestseller No. 1

Red Hots Cinnamon Candy, 10 Ounce Bag, Pack of 6

CAN YOU HANDLE THE HEAT? Experience the powerful, fiery taste of cinnamon with Red Hots Cinnamon Candy. Their round shape nestles on your tongue, delivering wave after wave of spicy flavor
MANY WAYS TO ENJOY: Whether you eat them by the handful, put them on a birthday cake or use them as a decorative touch to your gingerbread house, there are a million fiery ways to enjoy Red Hots
RESEALABLE SNACK BAG: These Red Hots come in a resealable bag, making them a perfect treat to share with friends, family & coworkers. They're great for parties, your candy dish & anytime snacking
GREAT FOR ALL OCCASIONS: Whether you're filling Easter candy baskets, birthday swag bags, handing out candy to trick-or-treaters, or just craving a spicy-sweet treat, these Red Hots are sure to please
A CLASSIC FAVORITE: Red Hots have a signature, fiery taste that can't be imitated. They're made the way they always have been: with a careful cold-panned candy process perfected over generations

Red punch drink
Nachos

Bestseller No. 1

Black licorice

Bestseller No. 1

Wiley Wallaby Classic Black Licorice, 32 Ounce Resealable Bag

BLACK LICORICE: Our classic Gourmet Black Licorice is soft & tasty & features real licorice root extract and star anise oil, giving authentic licorice lovers everywhere the tastes they crave.
VEGAN CANDY: Our Australian-style licorice is certified vegan & kosher. Using only sustainable palm oils creates a delicious, fat-free & eco-friendly product. No high-fructose corn syrup.
GOURMET SNACK: Our licorice sticks are perfect for munching on any time. With a delicious & natural taste, it's a treat for everyone. Ideal for gift boxes, movie night, parties & picnics..
UNIQUE TRADITIONS: Family-owned Wiley Wallaby licorice is soft, chewy & bursting with flavor. Our brand is focused on creating a tasty snack that you can feel good about eating. Try our organic flavors, too!
CANDY MIX: With a focus on quality, Kenny's Candy manufactures delicious sweets. It offers red & black licorice, chocolates, gummy bears, fruit snacks & licorice, popcorn & snack mixes. Addictively delicious.

Pumpkin cheesecake

Sale

Bestseller No. 1

Jordan's Skinny Syrups Pumpkin Cheesecake, Sugar Free Flavoring Syrup, 25.4 Ounce Bottle

Flavor Notes - Pumpkin aroma with creamy rich cheesecake and a sweet ending
Zero Sugar, Zero Calories, and Zero Carbs make this a great guilt free addition to any beverage
All Jordan's Skinny Syrups are Gluten-Free, Kosher, Keto-Friendly, and GMO-Free
Just add 1 oz of syrup to your beverage, 25 servings per bottle
Perfect for Coffee, Lattes, Tea, Protein Shakes, Smoothies, Craft Cocktails, and so much more

Apple Cider

Bestseller No. 1

Alpine Spiced Cider Apple Flavor Original Drink Mix, 120 Pouches

A DELIGHTFUL BLEND: Our cider is made with a unique and savory blend that is sure to please with every sip
FULL OF FLAVOR: A refreshing combination of cinnamon and apple flavors
EASY TO INDULGE IN: Not only delicious, but also rich in Vitamin C and naturally fat-free and caffeine-free
COUNTLESS WAYS TO SERVE: Prepare on its own, or even as a tasty addition to easy-to-make smoothies, cocktails, dessert dishes, and more!
WHAT'S INCLUDED: Every order includes a pack of twelve boxes, each containing ten, 0.74-ounce pouches

Chocolate dipped marshmallows

Bestseller No. 1

Homemade Meatball Mummies

Sale

Bestseller No. 1

Meat Baller, 2 PCS None-Stick Meatball Maker with Detachable Anti-Slip Handles, Stainless Steel Meat Baller Tongs, Cake Pop, Ice Tongs, Cookie Dough Scoop for Kitchen (1.38"&1.78" )

★Food Grade Materials - QMOEH Meat Ballers is made from 304 food grade stainless steel, which is non-toxic and durable. Our meat baller tongs with the detachable rubber grips, are so easy to clean after using to prevent from bacterial.
★Widely Used - Our meatball maker perfect for meat baller tongs for pasta, salad, BBQ, appetizers, pastries, brownies, cookies, cake bites, melon baller etc. Also used as cake pop, ice tongs, cookie dough scoop for kitchen.
★Non-Stick Meatball Maker - QMOEH stainless steel meat baller tongs are smooth that food won't stick to it, making it easy to clean.
★Easy to Use - Our meat baller is easy to put chopped meat on the scoop, then clip it, the redundant meat will squeeze out from the hole on it, easily complete the meatball production.
★Ergonomic Design - There are two size (diameter of 1.38in&1.89in ) of QMOEH Meat Baller, with comfortable, non-slip ergonomic handles, effortless and convenient to use.

Pumpkin patch Brownies

Bestseller No. 1

Bag of Unicorn Fart Cotton Candy

Bestseller No. 1

Bag of Unicorn Farts (Cotton Candy) Humorous Present Idea For Friend, Coworker, Mom or Dad

Now With More Cotton Candy! Funny Unique Gift For All Ages.
Do You Love To Make People Laugh? Bag of Unicorn Farts are guaranteed to brighten a friend's day.
Scientific Fact: Farts Are Funny! The 3oz fruit punch cotton candy is delicious!
Be Original! The perfect birthday gift, retirement or 2nd Anniversary present. Epic Easter basket stuffer.
Perfect Present! Creative Father's Day And Birthday Gift Idea. Funny granddaughter or grandson present.

Candy Pumpkin

Bestseller No. 1

Candy Retailer Halloween Mello Creme Pumpkins 1 lb

Perfect fall treat to share with friends and family.
Halloween candy is a must and these taste great!
Perfect fall treat to fill your candy bowl to enjoy throughout the autumn season.
Delivered in a Candy Retailer Sealed and Resealable Stand Up Pouch With Ingredients, Nutrition, and Expiration Dated Label.
Packaged in the USA by Candy Retailer.

Chocolate cookies with fillings

Bestseller No. 1

Triple Chocolate Cookie Filled with Fudge and Hershey's Chocolate Chips, 12 Pack

DELICIOUS HOMEMADE FLAVOR A delicious chocolate cookie packed with Hershey's chocolate chips and stuffed with a gooey chocolate fudge filling.
INDIVIDUALLY WRAPPED COOKIES (12 cookies included) These decadent snacks are individually wrapped for convenient resale. They are ready for individual consumption or retail without having to repack.
TIME SAVING CONVENIENCE These tasty cookies are fully baked so there is no prep time needed!
GRAB AND GO GOODNESS Ideal for a on-the-go sweet fix.
100% SATISFACTION GUARANTEED - Due to the perishable nature of our products, the expiration date will be tagged on your items. They can be frozen to preserve freshness, but will still taste great after being thawed! We know you'll love our products, but contact us directly if you're unsatisfied in any way.

Cheesecake

Bestseller No. 1

David's Cookies Original Ny Style Cheesecake 10"

Fast Shipping – We understand the importance of a freshly delivered Cheesecake. We work quickly to get your Cheesecake to you so that you'll be coming back for more!
No artificial preservatives – We pride ourselves in using only all-natural ingredients in our cakes.
Kosher Dairy – Our cakes are OU-D Certified, The most respected Kosher certification in the U.S.A.
Great gift Idea – For special occasions, give your friends and family This sweet treat.

Pepper popcorn

Bestseller No. 1

SkinnyPop Sea Salt & Pepper Popcorn, 12ct, 4.4oz Grocery Size Bags, Skinny Pop, Healthy Popcorn Snacks, Gluten Free

SkinnyPop Sea Salt & Pepper contains 12 (4.4 oz) popcorn bags
Delicious Skinny Pop Popcorn has zero trans fat and is peanut free, tree nut free, preservative free and is a good source of fiber
A delicious, healthy snack perfect for kids lunches, break between video calls, or just a snack for yourself.
Only 39 calories per cup, Non GMO, Gluten Free , No Artificial Ingredients , Dairy Free, Peanut and Tree Nut Free
Our delicious pop corn is a great alternative to Annie's Popcorn, Boom Chicka Pop, Smartfood white cheddar popcorn, bulk popcorn, caramel popcorn, Popcornopolis, Popcorn Indiana, and other brands of individual popcorn snack bags.

Halloween pumpkin pinata

Bestseller No. 1

Gummy worms

Bestseller No. 1

Halloween-themed Oreo cookies

Bestseller No. 1

OREO Orange Creme Chocolate Sandwich Halloween Cookies, 5 Halloween Cookie Designs, 12 - 1.25 lb Packs

This bulk pack contains 12 packs of Halloween trick or treat OREO cookie packs.
5 unique cookie designs, same delicious spooky orange cookie cream filling sandwiched between two chocolate cookies that has been winning hearts (and stomachs) for over 100 years.
Enjoy the sandwich cookie you love, in a Halloween inspired package! With the same great chocolate cookie and OREO creme taste, this sweet treat is a delight.
This snack pack is perfect for sharing with Halloween trick or treaters, cookies for party mix, trick or treat bags or at the office.
Each serving is only 140 calories per spooky cookie serving.
Clothing/Accessories for Halloween Care Package
Trying to decide on the best Halloween apparels that'll give that frightfully delightful look to someone who's short of costume ideas? Here's a list of ideas to get that transformation for Halloween:
Harry Potter tie

Bestseller No. 1

Cosplay Striped Tie with Novelty Glasses Frame for Cosplay Party Costume Necktie Accessories for Halloween Christmas Birthday Party for Harry - Red

Excellent costume accessories, perfect for cosplay dress up party, costume party, Halloween party, Christmas party, birthday party, and holidays etc.
The necktie is made of high quality smooth fabric-polyester, very well made, Not a one-time use props so you can wear it anytime, The glasses frame (NO lenses) is made of plastic, light, safety and easy to clean.
Necktie size is L57'' x W2.5'', it is suit for adults and kids. The wizard glass frames size is L4.9'' x H1.8'', fit for most kids (It can be a decoration for you without discomfort to your eyes).
This striped tie can be worn with regular dressy clothing like sweater accessory, and for parties, church, holidays, school wizard costume accessories.
An excellent gifts, Package included: 1 x striped tie, 1 x glasses frame (Without Lenses). for your friends families girls boys to make them feel happily.Totally fun activities for kid and adults!

Exorcist mask

Bestseller No. 1

60's black scarf

Bestseller No. 1

60 Gram, 2 yards Long Chandelle Feather Boa Great for Party, Wedding, Halloween Costume, Christmas Tree, Decoration(Black_

Weight: 60 grams
Dimensions: 72 inches Long x 7-8 inches Wide
Material: high quality turkey feather
100% quality guarantee, best choice for gift, parties, dress up, stage performance or photo shoot dress.over 17 colors choose from.
Before using, please shake off the extra feather outdoors. since our feathers are all natural and handcrafted, there may be feather drops, but it will not affect your use. All dark feather boa colors are NOT colorfast. Keep away from lighter colors.

Pumpkin Enamel Pin

Bestseller No. 1

PinMart Pumpkin w/Vines Halloween Fall Autumn Enamel Lapel Pin

Pumpkin w/Vines Halloween Fall Autumn Enamel Lapel Pin - 1 Piece
Pumpkin w/Vines Halloween Fall Autumn Enamel Lapel Pin - 1 Piece
Available as a single item or bulk packed. Select your quantity above.
Our Pumpkin Vine Pin is a gorgeous replica of the traditional holiday vegetable. A whimsical design with beautiful curly vines and bright green leaves. It is made with a jeweler's fine metal, cloisonne process, gold plated and orange enamel color fill and is polished with a smooth to the touch finish.
SIZE: 1"

Hulk hands

Bestseller No. 1

Superhero Gloves Boxing Gloves Smash Hands Big Soft Plush Hero Fists, Superhero Toys for Boys Girls, Role Play Costume Birthday Gift for Toddlers Kids Age 3+ ( 1 Pair Green)

👊 HIGH QUALITY and SUITALBE: Our boxing gloves are soft but durable for punching play. Stuffed superhero gloves with soft and thick PP fabric, very Comfortable to wear and will protect your kids from hurting by a strong impact. Good workmanship, easy to wash and dry.
👊 INSIDE HANDLES: There are handles inside the smash hands for support and control movement, also can prevent them falling off your fists while you are wearing the smash hands.
👊 FOR ALL AGES: Detailed with giant fingernails. Smash fists fit anyone's hands, from kids to adults.
👊VERSATILE HANDS: The Big Fists can be used as boxing gloves or cosplay props. Height:30 cm/11.8 inch. Bring endless fun for thes who get the gift.
👊GREAT GIFT for KIDS: The fists is a good choice as gift for Birthday, Christmas ,Halloween and so on. It will surprise them. Such a gift can help them to be more brave, a good company for kids.

Glow-In-The-Dark Zombie Teeth

Bestseller No. 1

Pretty Little Pumpkin kid's shirt

Sale

Bestseller No. 1

Twinkle Star 200 LED 66 FT Copper String Lights Fairy String Lights 8 Modes LED String Lights USB Powered with Remote Control for Christmas Tree Wedding Party Home Decoration, Warm White

Bright LEDs: 66ft 200 LED lights glow a WARM WHITE light, which make every night starry nights, adding some whimsical ambiance. High quality bendable copper wire, you can build the shapes you want easily.(our string lights have 3 strands while others seller only have 2)
8 Modes settings: combination, in waves, sequential, slogs, chasing/flash, slow fade, twinkle/flash, and steady on.
USB-powered and remote control: Directly plug in/unplug it for power on/off and you can press the button on the USB to adjust 8 modes setting. And you can easily turn on/off the lights through the remote, set them in timer to auto on and off each day, adjust the brightness, adjust 8 modes setting.
Waterproof: The wire parts of the string lights are fully sealed, thus making it submersible, with low voltage no overheat after many hours of usage, safe to touch after any hours of usage.
Widely Use: Perfect for Indoor / Outdoor, decorate wedding, ceremony, Birthday, party, shows, restaurant, home etc.

Skull Pin

Bestseller No. 1

Black Hooded Cape

Bestseller No. 1

Cosplaysky Men's Cloak for Jedi Robe Costume Halloween Tunic Hooded Uniform (Black, X-Large)

CosplaySky Men's Cloak for Jedi Robe Costume Halloween Tunic Hooded Uniform
Including: One Robe
Please check the size chart in the product description carefully before you make order!
Please check the address information before you place the order, make sure you will leave the correct information, such as street name, city, status, zip code, phone number, the name of recipient, etc.
Our costume is high quality, it can use for party, festival, daily use, etc.

Assorted fake mustaches

Bestseller No. 1

Yaveron 48 Pieces Fake Mustaches Novelty Self Adhesive Fake Mustache Set for Performance Masquerade Halloween Party Supplies

FUNNY FAKE MUSTACHE : 16 different styles, each style has 3 pieces, total of 48 beards, Enough to meet your needs
MATERIAL : made of Short plush,mustache stickers are self adhesive and has a realistic look,Can be used multiple times
EASY TO USE : just peel off the backing paper and stick them under the nose, disguised as true beard
WIDELY USE : suitable for costume party, performances, game play, roll play, Halloween and Photo Props
APPLICABLE PEOPLE : the fake mustaches has a variety of styles,suitable for adults or children , men or women

Black cream makeup

Bestseller No. 1

Manic Panic Black Raven Body & Face Paint Make-up

Black Face Paint and Black Body Makeup In Cream Form; Has A Velvety Texture That Blends Well; Smooth Application
High Pigment Color With Maximum Full Coverage For Dramatic Results; Set With Powder To Last All Day
Use As A Makeup Base or Eyeliner; A Black Primer Under Colored Eye Shadows To Deepen Shade; Perfect For Smokey Eyes; Use To Contour And Create Shadows
Halloween Black Makeup Or Everyday Use; This Product Is A Favorite Among Goths Vampires Clowns Mimes Zombies Cosplay Theatrical Stage SFX And Professional Makeup Artists
Vegan And Cruelty Free; Paraben Free; Non Comedogenic; Gluten Free; Phthalate Free; Tested On Celebrities Not Animals

Halloween Bloody Tshirt

Bestseller No. 1

Fake Blood Splatter T-Shirt

This fake blood splatter t-shirt is a great shirt for Halloween. Too lazy or don't have enough time to make a real costume? Don't want to spend a lot of money or mess with masks or makeup? This is the perfect shirt for you.
This shirt works well for playing the part of homicide victim, accident victim, homicidal maniac, murderer, crazed surgeon, and more. A must-have for murderinos and true crime fans. Great for the victim in a murder mystery game.
Lightweight, Classic fit, Double-needle sleeve and bottom hem

Batman Mask

Bestseller No. 1

Rubie's Batman Adult Mask (One Size)

REALISTIC DESIGN – Turn yourself into a superhero that saves the night. The Batman Tm Injection Molded Mask is designed from your favorite DC Comics Superhero; Batman. The mask is colored in black and turns you into a superhero once you wear it.
PERFECT FIT – It fits mostly on all adults and teens. It has a rubber strap on the back that can be stretchable for perfect fit.
MADE DURABLE – The mask is made from high quality materials such as hard plastic that makes it sturdy, durable and long-lasting. It can be easily be store for future used.
IDEAL USED – It is best to use Cosplay parties, Halloweens, Birthday parties or any other parties. It will turn you and your child into a cool superhero like The Dark Knight.
OFFICIALLY LICENSED - Batman Tm Injection Molded Mask is officially licensed by DC Comics, making it genuine and authentic.

Black Halloween gloves

Bestseller No. 1

SAVITA Long Black Elbow Satin Gloves 21" Stretchy 1920s Opera Gloves Evening Party Dance Gloves for Women

Premium Quality:Black gloves are made of exquisite satin.Durable and Comfortable.Decent Stitching and Shiny outlook.
Perfect Size:Satin gloves are 21 inches in length from fingertip to the end.Finger length is 3.2 inch.Fit you hands perfectly and never fall down.Not too tight or too loose.One size fits all with stretchy.
Wide Usage:Long black gloves go well with the flapper dresses.Suit for all kinds of special occasion,such as wending party, costume party, prom, opera performance, stage performance.Wear the gloves instantly to show your charm.
Delicate Design:Elbow Length gloves come in black color.Stylish,classic, beautiful pattern.Match your cloth in various styles and colors.Make you stand out and catch people's eyes easily.
Easily Use:Evening gloves are easy to put on and take off.A must have to party lovers.Notes:length, tight or loose depends on your arm circumference.

Skeletal Hair clips

Sale

Bestseller No. 1

LUKACY 6 Pack Large Metal Hair Claw Clips - 4 Inch Nonslip Big Nonslip gold hair clamps ,Perfect Jaw hair clamps for Women and Thinner, Thick hair styling,Strong Hold Hair,Fashion Hair Accessories,christmas gifts for women

【6 styles】 Our hair clips are made of high-quality alloys, and each one is durable and will not harm your hair. It can hold your hair firmly, is not easy to damage, and will not fade.
【Practical and sturdy】This Large Hair claw clips is lightweight, simple which easy to match any outfit. These big strong claw clips are great for long hair, thick hair, straight hair, curly or wavy hair, medium-thick hair, and extra thick long hair.You will love it.
【Situation】During exercise, such as yoga, office, party, home life, bathing, makeup, etc. This product will help you comb your hair. Make you look elegant and unique.
【Suitable for all kinds of people】This hair clamps ​Suitable for all kinds of people Suitable for all hairstyles of different ages. As shown in the picture, young girls, little girls, mature women, mothers, etc. can fit perfectly with this headband.Perfectly integrate into your life.
【Expecting gift】:The elegant hair claw clips are perfect gifts in Birthday Party,Valentine's Day,Mother's Day,Christmas or else. give dreamy feeling to women and girls.

Rubber snake

Bestseller No. 1

Realistic Rubber Black Snake 52 Inch Long Scare Toy by Brandon super

Extreme simulation Black Mamba, belly is yellow. green coating on the side
The new process is made. The paint it will not fall off.
Used to decorate the garden, disperse the squirrels and disperse the birds.
It looks like the realistic snake if you are not carefully observed .This is a Trick toy, you can also go to dupe your friends.
Length: about 52 inches long/130cm

Zombie Necklace
Goddess Arm Cuff

Bestseller No. 1

RIOSO 6 Pieces Arm Cuff Upper Arm Band Cuff Bracelet Bangle for Women Silver Gold Adjustable Armband Set

ARM CUFFS FOR WOMEN: One order includes 6 pieces of minimalist upper arm bangles in 6 styles, leaf bracelet, feather arm cuff, wide band cuff and goth cuff bracelet, enough for meeting your various needs
HIGH POLISHED SMOOTH SURFACE: The upper arm bracelet is made of environmental alloy, gold plated, silver plated. Simple wire arm bracelet upper arm band fashion jewelry for women comfortable to wear. Hand polishing, one by one checking
ADJUSTABLE ARM CUFF BRACELET: The upper armband size is approx. 8 cm/ 3.2 inches in diameter, durable and safe, easy to adjust, suit for most women and girls
ARM BANGLE SET: Fashion design for wide occasions, good costume accessory for many place, such as party, show, photo, prom and everyday wearing, make you look more attractive and charming, catch people's eyes and be the center in the crowds
GOLD CUFF BRACELETS: Package includes 6 pieces arm cuff, the arm bracelet is the wonderful gift to friend lover and family. Applied for business occasion office wedding ceremony, ball and other important events. You will be the most attractive person in the crowd with these upper arm cuff on

Spider rings

Bestseller No. 1

Spider Rings & Halloween Party Favors (spider rings 72)

These Creepy Crawlies Are Sure to Elicit Squeals of Fright at your Halloween Bash
What a Tangled Web We Weave! These Spider Rings Are a Great Addition to Any Creepy Theme Party
These Plastic Spider Rings Set the Right Tone for Halloween and Theme Events
These Black Widow Spiders are Great Halloween Party Favors and Decorations. Perfect for Slipping Into Trick or Treat Bags
These Creepy Spider Rings Come in a Party Pack of approximately 72. They are Approximately 2" Wide from Leg to Leg

Slit Wrist bracelet

Bestseller No. 1

Minimalist Leather wrist jewelry. 1 Bracelet 3 SIZES. Stainless Steel Clasp. For Men For Women

♚ SIZING: Please watch the video in place of image 7 BLACKBLACK. Please choose the correct size before purchasing. 5.5-7.5 Inch fits most people. If you have an especially large wrist, over 7.5 inches choose the larger size. Slick, stylish and most importantly an adjustable snug fit Bracelet. Our main focus with this bracelet is to design a minimalist, affordable cuff Link quality bracelet that fits your wrist. Simply adjust the size by moving the metal clasp to each whole.
♛ OUR QUALITY: From the genuine Italian leather to the stainless steel metal clasp, this is sheer quality on you wrist. The woven braided leather is attached to the leather in such a way that it cannot brake easily. We designed it so it lasts you for a very long time.
♜ TRUELY STYLISH & PERFECT GIFT: This minimalist design will be turning heads. You can wear it on it's own or with watches. An amazing gift for those you care about.
♝ AFFORDABLE: The raw materials needed to produce this product are stainless steel and woven Italian leather. We are committed to providing you with high quality, well designed bracelets at a very affordable price. That is our promise.
♞ LIFE TIME WARRANTY: Love this Bracelet, or we'll refund you & you can keep it! No hassle or questions asked!

Elf Ears

Sale

Bestseller No. 1

2 Pairs Elf Ears - Medium and Long Style Cosplay Fairy Pixie Elf Ears Soft Pointed Ears Tips Anime Party Dress Up Costume Masquerade Accessories Halloween Elven Vampire Fairy Ears (2 Pairs)

2 PAIR PACKAGE: 2 different pairs elf ears. One pair of short and one pair of a bit longer. Fit for most ears , Clip on the ear directly! Soft latex elf ears, can dress up elves, fairies, pixies, goblin and more.
WIDE USAGE: Great for COSPLAY, Halloween party, bar parties, various films, micro-film shooting and taking pictures. The most real Fairy Pixie Elf Ears, increase your charm, make you more different in the crowd!
SUPERB MATERIAL: Imported odorless non-toxic and tasteless, food-grade material; High temperature resistance, can folded and knead, will not be deformed. Can be heated to change the bump shape.
EASY TO WEAR: Hang directly on the ear. Fit well with almost all ears. If it feels a little loose, apply eyelash glue or double-stick tape on the ear root to make it more firm. Packaging does not contain glue.
Reusable & DIY: Reusable after washed, wash with clean water or facial cleaner. Light skin color, You can change the color with make up, like Liquid foundation, or other cosmetic. After use, clean it with mild wash.

Chucky Mask

Bestseller No. 1

Wonder woman lasso

Bestseller No. 1

Rubie's DC Comics WW84 Wonder Woman Light Up Lasso, One Size

OFFICIALLY LICENSED Warner Bros. and DC Comics WW84 costume accessory, look for trademark on label and packaging to help assure you've received authentic safety-tested item
Lighted Lasso costume accessory
Finish your Wonder Woman look
For a photo worthy costume look, combine Wonder Woman's classic hero and winged golden outfits with Cheetah's distinctive look - available in sizes for children and adults
Rubie's brings fun and fantasy to dress-up with the broadest selection of costumes and accessories, offering everything from full mascot suits to masks and wigs, from deluxe licensed costumes to simple starter pieces, from costume shoes to character make-up, and so much more

Black Magnifying glass

Bestseller No. 1

Black Fishnet Pantyhose

Bestseller No. 1

SHEIN Women's Patterned Tights Fishnet Floral Stockings Pantyhose Stockings Leggings Flower Black One Size

Soft and comfy to wear, not easy to rip off
Floral design fishnet tights, provides you a unique and stylish look
Suitable to wear these stockings when hangout, at home, club, party, etc
Can be matched with skirts, shirt tops, coats, high heels, or boots
Please refer to our last image to choose which size will fit you best

Eye-patch

Bestseller No. 1

Acu-Life Eye Patch | For Kids or Adults | Great Pirate Costume Women or Men

CARE OR COSTUME: Perfect for eye care and protection or for use in a pirate costume
COMFORTABLE FIT: Eye patch is constructed with a foam padding that fits comfortably over the entire eye
BLOCKS LIGHT: Thick material completely covers the eye and blocks out all light
ONE SIZE FITS MOST
HEALTHY LIVING: Acu-Life has designed and developed innovative health products for over 35 years

Inflatable Unicorn horn

Sale

Bestseller No. 1

Black Rhinestone Whip

Bestseller No. 1

Demon Horns With Teeth

Bestseller No. 1

Glow-In-The-Dark outfit

Bestseller No. 1

Neon Eyeshadow Palette Glow in the Dark, DE'LANCI Aurora Glow Eyeshadow Palette Stage, Halloween Makeup Kit UV Glow Blacklight Matte and Glitter Fluorescent Eye Shadows Pigment Luminous

DE'LANCI Aurora Glow Eyeshadow For Eye,Face, Body, Hair and most surfaces. 24 COLOR bright eyeshadow including 5 pentagram flaky glitters - Glow anywhere with UV light/ black light. 5 Matte shadows and 6 glitter Neon eyeshadow Glows In the dark brightly under UV (ultraviolet) lighting. Colors are beautiful and bright in normal lighting but only glow when there is UV / Blacklight. 8 colors eyeshadow in normal.
DELANCI HIGHLY PIGMENTED EYE SHADOW PALETTE that will help you create the most mesmerizing looks. 24 Color Neon Eyeshadow Makeup Kit including Light Green, Pink, Rose Pink, Lake Blue, Dark Blue, Lemon Yellow, Orange, Purple, Red. Let the combination of pressed glitter, matters and shimmers, versatile shades and pretty and bold colors take your look to another level.
VERSATILE USE. DELANCI aurora eyeshadow glow palette for kids birthday party, disco dance floor, Midnight rave run, night events, stage performance, fancy dress costume themed parties, plays, cosplay, Halloween zombie, vampire, animal, witch or Christmas, Christmas/halloween makeup. For Professionals or beginners, Adults or children.
EASY TO USE. Unlike tube form, this face painting set in a palette with big mirror that will offer you unparalleled versatility and convenienc. To douse yourself in glam, apply Face & Body Glitter over Eyeshadow Primer to keep glitter in place and waterproof. No more glitter and shimmer flying!
DELANCI Eyeshadow Palette Health and safe ingredients and great quality, Hypoallergic, skin friendly, Cruelty free. Colors easy to apply & wash off. As with all cosmetics, a small skin patch test is recommended before using. The eyeshadow palette have some glitter that can glow in the dark stars, a lot of fun for children makeup in festival

Black body glitter gel

Bestseller No. 1

Moon Glitter Holographic Face & Body Glitter Gel 12ml - Black - Glitter Face Paint

GREAT FOR MANY OCCATIONS – make a statement! Be it a festival, nightclub or for everyday use, our glitters are ideal for all occasions and events.
FIND YOUR COLOUR – Moon Glitter Holographic Glitter Gels are available in 8 stunning colours.
VERSATILE – make a statement on Halloween, be festival ready or rave the night away, our Glitter Gels are ideal for many occasions and events.
EASY REMOVAL – there are no nasty ingredients in our Glitter Gels which makes them super easy to remove, simply wipe off skin using a regular makeup removal wipe.
ABOUT US – all Moon Glitter cosmetic and special effect products are proudly made in the UK. Dermatologically tested, cosmetically certified and conforms to EU1223/2009. None of our products are tested on animals.

Dripping Blood Ghost Face Mask

Bestseller No. 1

Scream Mask Dripping Blood

Includes: One Hooded Ghost Face Bleeding Mask with Hand-Held Blood Pump
Size: One Size Fits Most
2-Layer Mask Allows Blood To Flow Without A Mess!
Scream 4
Ages 15+

Evil Clown mask

Bestseller No. 1

Lab coat

Sale

Bestseller No. 1

NY Threads Professional Lab Coat for Men, Full Sleeve Cotton Blend Long Medical Coat (White/Black) (XS-4XL)

HIGH QUALITY – Made using a high blend of Cotton and Polyester; providing you with softness, as well as durability. High quality lab coats are needed to protect you in work environments with a presence of non-hazardous and hazardous chemicals.
MACHINE WASHABLE – This lab coat is easy to care for. The Durable fabric allows you to wash this lab coat again and again; for easy care after use! Professionally hemmed edges are carefully graded for quality control and product durability.
MULTI-FUNCTION – This professional lab coat provides protection against spills and splashes! Suitable for Medical Professionals, Scientists, Biology, Chemistry classes, & Medical School.
MULTIPLE SIZES OFFERED – To fit your size; please read out Size Description below. Each coat features a 41 inch kick pleat, three-button closure front, and notched for best fit and mobility.
QUALITY IS OUR CULTURE – Customer Satisfaction is key to our business. We are confident in the quality of our products designed through expert craftsmanship. If you are unsatisfied, feel free to contact us at any time.

Black police Badge

Sale

Bestseller No. 1

Yinder 30 Pieces Police Mourning Band Stripe Funeral Honor Guard Elastic Straps Police Officer Badge Mourning Twill Band (Black)

Package contains: you will receive 30 black police mourning band stripes, sufficient quantity to meet your needs, suitable for use at funerals
Appropriate size: this double-sided funeral honor guard strap is 1.5 cm/ 0.59 inch in width, 10 cm/ 3.93 inch in total length, the proper size is suitable for most badges on the market
Quality material: funeral honor guard straps are made of reliable material, which are designed to be flexible, can fit most badges, and are durable to use; Wide mourning strap for the badge has subtle black stripes, fine workmanship
For expression: this elastic police mourning band can be applied for expressing support for fallen heroes; It cross the badge to symbolize the loss of those who have served and show your thoughts and respect
Applicable occasions: when you need a mourning belt for the department in a short time, these black badge guard straps are very useful and necessary

Googly eyes

Bestseller No. 1

450Pcs Black Wiggle Googly Eyes with Self-Adhesive, 6mm 8mm 10 mm 12mm 15mm Mixed Packaging,3 Years and up

【Variety Choices】suitable size for using include:6mm, 8mm, 10mm, 12mm,15mm, multiple size for your choice.
【Premium Material】Craft sticker eyes are made of high quality plastic, safe, environmentally friendly. Each piece is carefully selected after strict quality control. Packed in high quality transparent plastic boxes for easy storage and portability.
【Simple Used】Googly eyes are self-adhesive, just peel off stickers the sticker and paste, no glue is needed. They are really sticky and durable and won't come off easily even if used for a long time.
【Infinite Imagination】These googly wiggle eyes for craft are great to DIY. Open your imagination such as Christmas, Halloween, monster party, birthday party, school teaching, parent-child interaction, home decorations, office. Just peel off sticker and stick on anything you like.
3 Years and up

Marilyn Monroe Wig

Bestseller No. 1

Black classical beret

Bestseller No. 1

Skeleteen Black French Style Beret - Women's Classic Beret Hat For Casual Use - 1 Piece

Skeleteen Black Berets are made to fit men, women and children and are made of wool look felt.
Ideal for use as a dress up costume for Halloween if you are dressing up as a French Mime Artist, Beatnik, Beret Girl, etc.
If you're costume is a Parisian, add to the beret a chiffon scarf, clout goggles, and a pair of white gloves and you're good to go!
These berets are lightweight making it easy to wear as costumes and otherwise for kids and adults.
Skeleteen items are made of tested materials that are non-toxic and safe.

Halloween Themed bracelets

Sale

Bestseller No. 1

24Pcs Horror Classic Movie Theme Halloween Party Bracelets Soft Rubber Wristband Sport Stretch Dress Up Accessories Birthday Gift Goodie Bag Stuffers for Halloween Horror Themed Adults

What You Will Get: A bracelet in four colors, black, gray, red, and white. There are six for each color and you will get 24 bracelets. There are slogans on the bracelet:Horror
Perfect Event Admission and Screening-Weed bracelet is very suitable for water parks, arcades, trampoline parks. They are also used in exhibitions, festivals, sporting events, carnivals, and concerts.
The Safety You Can Trust:Every bracelet is waterproof, you don't need to take it off when washing your hands, it's very convenient. Suitable for every size of wrist, it is a very good decoration that adults and children can wear on their hands.
Good for Party Favors Gifts:The horror bracelets are ideal for party favors,gift,school event ,birthday party gifts, especially for Halloween party gift and party decoration
After-Sales Service: When you have any questions about the product, please contact us. We will answer your questions online and ensure your shopping is happy.

Vampire Fangs

Sale

Bestseller No. 1

Scarecrow Small Deluxe Custom Fangs

Equipped with a quick and easy molding kit
Designed for people with smaller teeth, or aiming for a subtle look
Clip-on fit, reusable
Comfortable and realistic
Non-toxic and safe on teeth

Bleeding Heart Necklace

Bestseller No. 1

Controse Silver-Toned Stainless Steel Bleeding Heart Necklace with Pendant (17" - 19" Adjustable Chain)

The stainless steel Bleeding Heart Necklace with adjustable chain is decorated with beautiful red epoxy for style / The Bleeding Heart necklace and pendant are made with high grade 316L stainless steel / Also included is a beautiful gift pouch / The pendant is well designed and nicely polished / The piece has a raw, edgy yet artful look
Size: W: 1.1" H: 1.96" / Necklace: adjustable 17" - 19" chain / Material: High-Grade 316L stainless steel necklace and pendant / All our stainless steel jewelry is made of the highest quality materials that won't tarnish or rust and that are easy to maintain
Makes a Perfect Gift for many Occasions: Our bleeding heart necklace makes a great gift idea for women on Valentine's Day, Mother's Day, Christmas (xmas), birthdays, graduations, weddings and anniversaries
Controse a Name You Can Trust: We have been in business for many years and promise to deliver only solid and durable jewelry pieces that are perfect to keep as daily jewelry for years to come
Product Guarantee: 30-Day Money Back Guarantee or Exchange. For any product inquiries or issues please contact us. We generally reply within 24 hours.

Harry Potter charm bracelet

Bestseller No. 1

Harry Potter Yellow Gold Plated Charm Bracelet, 7 + 1" Extender, Oficially Licensed

This Harry Potter yellow gold plated bracelet is officially licensed.
Made in 18K yellow gold plating.
This bracelet is the best thing you will adorn with any outfit.
From The Manufacturer: for more than 20 years, fans have been fallIng In love with Harry Potter and The characters that surround his Magical tales! Sally Rose has transFormed The WizardIng World Into wearable fashions with designs that showcase The fantasy of each Harry Potter story and spell. From golden studs Inspired by Harry's lightnIng bolt scar to golden snitch Necklaces and GryffIndor charm bracelets, Sally Rose designs are sure to enchant your favorite wizard or muggle.

Black lipstick

Bestseller No. 1

Lipstick by Revlon, Super Lustrous The Luscious Mattes Lip Stick, High Impact with Moisturizing Velvety Formula, Matte Finish, 020 Onyx, 0.74 Oz

NEW RULES OF MATTE: Our matte lipstick is comfortable, light and creamy- no annoying draggy, drying, or heavy feelings
ULTRA HYDRATING LIP MAKEUP: Our moisturizing matte lip color is infused with a botanical complex including agave, moringa oil, and capuacu butter to help your lips feel supple and look smooth
VELVETY FEEL: Smooth matte lipstick in one swipe. Velvety lip color that always feels good on your lips
LUXURIOUS PACKAGING: We embossed the lipstick bullet and housed it in a soft-matte black tube with gold accents
24 VIBRANT MATTE SHADES: Ranging from nudes, pinks, reds, browns and plums – each one delivers a true matte finish and feels addictively good on your lips

Grumpy old man mask

Bestseller No. 1

Graveyard scene earrings

Sale

Bestseller No. 1

Betsey Johnson Celestial Moon & Star Drop Earrings

Mismatched earrings featuring celestial stars and crescent moon embellished with crystal and blue tonal colored stone accents and textured details. Earrings are set in gold-tone metal with a post back closure.
Gold-tone metal with glass
Length: 2.4"-2.5"
Width: 0.9"-1.1"
Post back closure

Black fake teeth

Bestseller No. 1

JINAO Face 18K Gold Silver Plated Hip Hop Vampire Fangs Top Bottom Teeth Grillz Set for Men and Women (Black grillz)

FINEST MATERIAL--The 18kJF Gold Plated fang tooth grills set for top and bottom teeth is electroplated 3 times gold/silver based on the environmental brass so it will never tarnish or change color easily ,Lead And Nickel Free, Eco-friendly and is safe to health.
PACKAGE--The Black Vampire Fangs Teeth Grillz Set grillz come with 2 resizable silicone bars, A Hard Case For Storage for custom fitting which looks so fashion and elegant for women and men.The Instructions for use are included in every package Too Easily Fit Your Tooth In Just Five Minutes Using Hot Water.
DAZZLING FRONTS FOR YOUR TEETH --The fake cap teeth grill for teen give your teeth the upgraded look they deserve! Jewelry for your teeth! The top and bottom grill set has everything you need.To shine and have fun with your gold teeth without breaking the bank! Shine & look elegant like a rockstar.
OCCASION--Teeth grillz can be used on any Occasional such as Party, Rave Parties, Discos, Clubs, Halloween, Birthdays, Festivals, and Events and can be used for Halloween costume, Rapper costume party, music concert and birthday party etc. Wear it for a photo shoot, video shoot, to the club, or just for everyday use.
ONE SIZE FITS MOST (PERFECTLY IN THE TEENAGERS MOUTH)--It fits 99% of the people with our adjustable silicon molding bars. EVEN if you have chipped or crooked teeth!If it doesn't fit and if you have any question,please don't hesitate to contact us!!!Our customer service assistant have 24/7 service, devote yourself to solve your problem in 24h. If you are not satisfied ,we offer full refunds NO QUESTIONS ASKED GUARANTEED!!

Kiddies Mickey Mouse Ears

Bestseller No. 1

Black Phantom mask

Bestseller No. 1

Awlsyj Mens Masquerade Mask Vintage Greek Roman Mask Venetian Party Mask Halloween Mardi Gras Mask (Phantom Black)

Perfect for Halloween, Christmas party, carnivals, masked ball, masquerade party, mardi gras, wedding, prom, costumes cosplay party, fashion shows, mask events ,night club,hen or stage party, theatrical or fancy dress, school performance, etc.
Comfortable and lightweight,universal-fitting design is perfect warrior/satan costume for halloween.
Ancient greek roman style retro mask is perfect for most gentlemens or boys fancy masquerade ball or venetian party costumes cosplay .
Special edition venetian half mask,secured with the straps for easy adjustment
NOTE: There might be a little color difference due to the monitor, camera or other factors, please refer to the physical item. Sincerely hope can understand.

Black skull Bandana

Bestseller No. 1

Harry Potter glasses

Bestseller No. 1

YoHold Wizard Glasses with Round Frame No Lenses and Lightning Bolt Tattoos for Kids Halloween, St Patrick's Day Costume Party, 16 Pack of Each, Black

Perfect Size: Wizard glasses 4.9'' long and 1.96'' wide, lightning scar tattoos 1.5'' long and 0.5'' wide; flexible glasses frame perfect for different face sizes of kids and teenagers, even adult.(The Copyright of lightning bolt tattoos Pattern Reserved by Yohold)
Friendly Materials: Wizard glasses made of food-grade plastic, black color; temporary lightning bolt tattoos with non-toxic material, easy to remove
Solid & Lightweight: Compared to purely plastic wizard glasses, our glasses come with screw-in connection joint between light frame and arm, more solid and durable; smooth & glossy glasses frame for face-friendly
Multi-functional Usages: Ideal decorations for Halloween and St. Patrick's Day themed birthday party event, a wonderful addition to your kinds of costume party supplies
What You Get: 16 pack wizard glasses+ 16 pack lightning bolt tattoos+ friendly customer services

shark-biting hat

Bestseller No. 1

Metal handcuffs

Sale

Bestseller No. 1

Western Deluxe Toy Cuffs with Key Western Handcuffs Role Play Toys | Cowboy Sheriff Police Costume for Kids | Two Keys with Safety Release – Maxx Action

REAL METAL: These sturdy hand cuffs are made of real metal. They are durable and lightweight to use and wear. Perfect for any cowboy, sheriff or wild west.
SAFETY RELEASE: Lose a key? Not to worry - these cuffs feature a safety latch for quick release. Just push the button on the side of the lock to easily take them off.
WORKING LOCK WITH 2 KEYS: Cuffs are equipped with a working lock for realistic role play adventures.
ADJUSTABLE CUFFS: Handcuffs are fun for boys and girls of all ages. The cuffs are adjustable to fit almost any wrist size.
COSTUME PROP: The perfect accessory for kids who love cowboys and the wild west. Provide hours of imaginative, role play fun.

Adult Food Funny Outfits

Bestseller No. 1

Drumstick Halloween Costume - Funny One-Size Chicken Leg Food Outfit for Adults

HOMESTYLE COOKIN': Hungry for a quirky costume this year? Put some meat on your bones this Halloween as the Chicken Leg, fresh n crispy from Hauntlook
SECRET RECIPE: One-size-fits-most and unisex tunic design that will fit great on men and women. Keeps warm on cold nights & keeps cool on hot summer days
PROTEIN PACK: Great addition to any food themed group costume, dress up contests, and fun theme parties. Goes great with Hauntlook's Chicken Bucket, Funky Chicken, Waffle, Syrup, Egg, Bacon, Ranch, Burger, Fries, and Pizza costumes
NO FOWL PLAY: Made with 100% polyester for a comfortable fit. Hand wash with cold water and hang to dry. Do not iron or bleach
WHAT'S YOUR #HAUNTLOOK?: If you love your costume, be sure to check out Hauntlook decorations, bags, and other spooky accessories!
Entertainment/Miscellaneous For Halloween Care Package
Looking to include fun and eerie looking items in your care box to give someone a good scare, a helpful Halloween supply or just an exciting holiday? Here are some of the most loved Halloween-themed items to shop for:
Mini Jack-O-Lantern Bear

Bestseller No. 1

Pumpkin Seeds to Plant - 5 Variety Baby Book, Giant Big Max, Jack Be Little, Jack O Lantern, Sugar Pie, Great for Pumpkin Seed for Summer, Fall, Pumpkin Seeds for Planting by Gardeners Basics

VARIETIES - Baby Boo, Sugar Pie, Jack O Lantern, Jack Be Little, Giant Big Max Pumpkin Seeds for Planting.
OUTDOOR GARDEN - Fun vegetable perfect for your outdoor garden. Seeds can be sown directly into the garden.
TASTY AND PRETTY - There's nothing more satisfying than growing your own giant pumpkin, or small baby boo pumpkins.
SUMMER / FALL - Pumpkins are grown in the summer and enjoyed throughout the fall and winter months.
USA - All of our non-GMO, heirloom pumpkin seeds for planting were grown, harvested and packaged in the USA.

Werewolf cookie jar

Sale

Bestseller No. 1

Stackable Kitchen Canisters Set, Pack of 5 Clear Glass Food Storage Jars Containers with Airtight Bamboo Lid for Candy, Cookie, Rice, Sugar, Flour, Pasta, Nuts

[Healthy choice] The airtight canisters set is made of food-grade high borosilicate glass, which is healthier than plastic jars. Withstands temperature -4℉~302℉ , suitable for all kinds of environments. Dishwasher and microwave safe.
[Truly Airtight] We upgrade glass food storage jar's lids for air-tight seal, keep food fresh longer and protect against air moisture or bugs. Great for wet or dry foods, baking goods , cookies, cereals, tea leaves and spices or other ingredients.
[Set of 5] 2x Small: 3.9 x 4.1 inches (10 x 10.5 cm), for powders, flour, coffee, tea, spice, salt, honey or sugar container. 2x Medium: 3.9 x 8.1 inches (10 x 20.5 cm), for nuts, jams, seeds,cut fruits and candy jars. 1x Large: 3.9 x 11 inches (10 x 28 cm), great for pasta, rice and etc.
[Convenient & Attractive ] 5 piece canister set in clear glass to find your kitchen goods quick and easy. The wooden lid and translucent glass offer minimalist and modern design that blends in perfectly with your appliances and kitchen decor.
[WIDELY USE] The functional jars are great for rice, cookies, teas, seeds, flour, sugar, baking powder, baking soda and etc. And you also can use them for homemade holiday gifts' package.

Halloween bubbles

Bestseller No. 1

180 Piece Bubble Wands, 18 Colors Mini Neon Bubble Toy Bulk with Box for Halloween, Easter Basket Stuffers, Assortment Bubble Party Favors for Outdoor Indoor Activity Use, Child Kid Classroom Reward

Super Value 180 Pack : 18 variety colors Bubble set neatly stored in a strong gift box. Enough colors so that everyone can choose their favorite color! 4 inch per one, it fit easily in pocket and do not leak.
Perfect Goodie Bags Stuffers: each small bubble toy made of non-toxic smelless soap Liquid, very safe to kids' skin and face. Recommend for Boys Girls children 3 years old and age up!
Magic Party Favor: add a string, lanyard, ribbon for the bubble tubes, will enhance the activitys' atmosphere. Very suitable for bridal baby shower parties, Valentine's Day, graduation ceremony, engagement party.
180 pcs super large serving can satisfy children blowing bubbles for hours of uninterrupted play with their friends, Also as Popular Choice for travel, picnics, Rainbow Party Supplies and Halloween passout.
Best use in family reunion, wedding, friendly Gathering, contest prizes, carnival Prize, yard BBQ. Fun toy for summer pool party and bath time activitie, kids can enjoying various birthday Celebration.

Halloween finger puppets

Sale

Bestseller No. 1

Ginsey Idea Factory Halloween Bath Finger Puppets, Other, Pack of 5

BATH TIME ESSENTIAL: Idea Factory Halloween waterproof finger puppets are a must have for an exciting bath time, playtime, and Halloween season!
EXCELLENT EDUCATIONAL TOOL: Use these little finger puppets to teach children colors, counting, characters, and more in a fun way
HALLOWEEN MUST-HAVE: Kick off the Halloween season by gifting these finger puppets to kids, use them for party favors, gift giving, or even for Trick-or-Treating!
SOFT & DURABLE: Made of 100% latex-free plastic that is thick and durable, playtime after playtime
HALLOWEEN CHARACTER FAVORITES: 5-Pack includes a Witch, Frankenstein, Ghost, Skeleton, and Dracula

Halloween stickers

Bestseller No. 1

ESEN 100PCS Halloween Stickers Bat Theme Stickers Halloween Ghost Stickers Cool Vinyl Waterproof Holiday Party Stickers Holiday Gifts for Kids Teens Adults

🎃Cool Stickers for Kids: The package includes 1-3 inches 100 pieces vinyl stickers with completely non-repetitive patterns, specially designed for Halloween theme, a must-have gift for holiday atmosphere decoration.
🎃 High-Quality Material: All Halloween stickers for kids are made of high-quality vinyl PVC with a smooth surface, safe and non-toxic, strong and durable adhesion, wrinkle resistance. In addition, the cool stickers are 100% waterproof and anti-sun, without worry about losing viscosity due to moisture.
🎃Easy to Use: These stickers for water bottles are suitable for sticking on any smooth surface. They are very durable, easy to stick repeatedly or peel it off, and do not leave any residue. The color hardly fades out, you just need to use your imagination and create works with our waterproof stickers!
🎃Fantastic Gift: Halloween bat stickers are the best Halloween gift for kids, teenagers, and adults. You can use it directly without cutting, high-precision printing technology, with exquisite and clear patterns, creative cool party game and carnival rewards, cookies and candies bags stuffers.
🎃Halloween Decoration Stickers: The Halloween ghost stickers ​can be attached to the surface of luggage, goodie bags, scrapbook, crafts, hydroflask, laptops, helmets, notebooks, prize boxes, mobile phones, skateboards, bicycles, refrigerators, and any other items you want to decorate.

Halloween-themed Yoyo's

Bestseller No. 1

Duncan Toys Reflex Auto Return Yo-Yo, Beginner String Trick Yo-Yo, 1 Yo-Yo, Colors May Vary

AUTO RETURN YO-YO: The Reflex is the easiest yo-yo for new players. It returns without having to tug the string!
TAKE-APART DESIGN: With the Reflex yo-yo's take-apart design, removing knots is now as easy as twisting the halves in opposite directions, removing the knot, and just re-assembling.
CENTRIFUGAL CLUTCH: In the center of the yo-yo is a centrifugal clutch. As the yo-yo loses spin, this clutch engages around the axle and the Reflex automatically snaps back to the hand.
GREAT FOR BEGINNERS: The Reflex Auto Return Yo-Yo is one of Duncan's beginner yo-yo models, specially designed for learning the basics.
PRODUCT DETAILS: Starburst response system. Weighs 47.2g. 1 yo-yo included. Colors may vary.

Halloween PlayDough

Bestseller No. 1

Halloween maze puzzle

Bestseller No. 1

Fall Placemats

Sale

Bestseller No. 1

Orange Gray Thanksgiving Placemats Set of 6, Cotton Linen Heat Resistant Table Mats Non-Slip Washable Burnt Orange Brown Gray Graffiti Fall Placemat for Holiday Banquet Dining Table Kitchen Decor

Material - The Orange Gray custom design print thanksgiving day placemats are mainly made of cotton linen, size in 12x18inch, pack of 6.
Features - Heat insulation, non-skid, easy to clean, non-fading, no deformation. Protecting your table with these durable place mats.
Elegant Design - Perfect addition to your dinner table, beautiful stylish table mats to add more fun to your kitchen table, coffee time, meal time, offer you a comfortable, relaxing, natural enviroment.
Occasions - Good choices for Kitchen Table decoration, hotel or business office. Great for House party, Christmas
Easy to Clean- The tablemats is easy to clean, non-fading, non-stain. Wipe clean, and dries very quickly.

Halloween-themed book

Bestseller No. 1

Skeleton shaped pillow

Bestseller No. 1

Masquerade ornaments

Bestseller No. 1

12pcs Set Mini Masqurade Masks,Small Mardi Gras Mask Halloween Novelty Gifts Party Decoration.

Material: made of plastic and feather.No messy excess glue residue, and no discoloration.
Size:wide :2.5inch/6.5cm,high:3.9inch/9cm(including the feather),not for wear, supper mini masks for party decoration, novelty gifts.
Package including:12pcs mini masks.Color:mix 6 color(blue,purple,black,rose red,white,pink)
These party masks are used for party decoration, adorable centerpieces, dining-table decoration, cupcake decoration, perfect for masquerade prom, carnival ,halloween, mardi gras,Christmas party.
Perfect gifts for any occasions like wedding, anniversary, birthday.

Giant googly eyes

Bestseller No. 1

Giant Wiggle Googly Eyes with Self Adhesive Large Black Plastic Eyes for Crafts 2 Inch 3 Inch 4 Inch Set of 8

Giant Wiggle Eyes:One set contains 8 pieces of white and black wiggle eyes, 2 inch 4pcs, 3 inch 2pcs, 4 inch 2pcs in diameter. Wiggly eyes can add personality, fun, and creativity.
Googly Black Plastic Eyes:Made of quality plastic with nice workmanship. Enjoy your ideas and make life funnier, children happier
Self-Adhesive:The wiggle googly eyes with self-adhesive just peel off the film on the back and stick to someplace where you like. Simple and convenient for use. Not easy to drop off even after a long time.
Wide Application:The set contains 8pcs round googly eyes, great for Halloween costume,refrigerator,front door,car, great supply for crafts making, DIY project works, and so on, will make your life full of smile!
Notice: Please make the target surface clean and dry before you stick these googly eyes on to make it stick tightly; keep them away from water or heat source! If any question, please contact with us, we will response you within 24-hours, and give you the best service.

Zombie Ballerina Figurines

Bestseller No. 1

Barbie Doll Mermaid with Light-up Tail! [Amazon Exclusive] , Blonde

Make a real splash with this magical light-up Barbie mermaid doll
Dip Barbie Rainbow Lights Mermaid doll into water to see her mermaid tail glimmer with colorful lights inspired by a sparkling rainbow
Press the button in Barbie doll's necklace to switch her to "on" mode, and dip her into the tub or pool to activate the light show.
Bring the magic ashore - you can push the button in the doll's necklace to enjoy the light show without water.
Rainbow fins, a "pearl"-decorated belt, pink-streaked hair and a princess tiara complete the head-to-toe magical mermaid look.

Plastic Tarantula Spider

Bestseller No. 1

FLORMOON Realistic Animal Figures - Spider Action Model Lifelike Insect Toy Figures - Educational Learning Toys Birthday Set for Boys Girls Kids Toddlers (Giant Whiteknee)

Safety Material - Made of high quality durable ABS plastic, Non-Toxic Paint and Odorless.
Perfect Gift - It's an awesome birthday gift or prize for kids and great action figures to play with and also look great as kid's room decoration. They would love that so much.
Educational Toys - These were great for education purposes, creative play, party favors and crafts. It will help to improve children's concentration and outsight, develop and train their imagination and creativity.
Insect animal figurines - will make any animal, used for school education project, or ocean themed party come alive! Animal figures are fun for any goody bag or as prizes for a school or church carnival.
Realistic Appearance - Our insect animal figurines set was made by hand painted with high realistically detailed appearance, cute face and childish eyes. Their uniquely molded textures and richly painted details make the animals vivid.

Mini Lunar Color Changing Lamp

Bestseller No. 1

Moon Lamp, LOGROTATE 16 Colors LED Night Light 3D Printing Moon Light with Stand & Remote/Touch Control and USB Rechargeable, Moon Light Lamps for kids friends Lover Birthday Gifts (Diameter 4.8 INCH)

Moon lamp with the diameter is 4.8 INCH, made with 3D printing technology, realistic full moon shape, the surface of the moon lamp is very close to the lunar moon, novelty and charming
Night Light with 16 color RGB, and the 16 colors can flash or fade or strobe, dreamlike and creative decorative lights, perfect decorative lights or gift for Christmas, thanksgiving, birthdays, party, wedding, anniversary, lover, kids, children bedroom, living room, dinning room and outdoor decoration, a favorite gift for your friends or lover
Moon light with remote & touch control model. And the REMOTE CONTROL DISTANCE CAN REACH TO 30 FEET. Use the remote control to change the color or also the brightness of the color, very convenient for you to choose your perfect color
Moon lamp with the build-in rechargeable battery, can charge on your computer / power bank or charge adaptor etc. No line hanging around, you can hold the moon light on your hand.
What You Get : 24-hour professional service center and 24/7/365 technical support. Just try it!

Skeleton bookmark

Bestseller No. 1

Raven Skull Bookmark,Bird Skull Charm Bookmark,Skeleton Bookmark,Goth Bookmark,Handmade Bookmark,N126

Material: Alloy & Glass Cabochon ,Color:as shown
Bookmarks Size :81mm*23mm,Glass Cabochon Diameter: 20mm (Approx.)
100% Brand new and high quality. Package Includes: 1 x Bookmarks,Charm Bookmarks ,Best Gift To Your Friends,Family
A perfect gift women and men.handmade bookmark,Chirstmas gift,Student gift,Teacher gift
Beautiful handmade gift for yourself or loved one.Chirstmas Gift,photo jewelry,wedding jewelry,valentines day gifts,best friend gifts,birthday gifts,anniversary gifts,friendship gifts.Great customer service, any question or thought, just feel free to contact us, we will respond normally within 24 hours and offer you great service experience.

Halloween rubber ducks

Bestseller No. 1

Mini skull stress balls

Bestseller No. 1

OYEFLY Squishy Toy Soft Exquisite Horror Doll Scented Stress Relief Toy Soft Toy Kawaii Collection Slow Rising Toy Decompression SimulationToys Cure Toy for Kid Gift Toys

Material:Elastic Environmentally PU ◆ Halloween Thanksgiving Easter Christmas Gift Squishy Simulation Apple Scented Charm Slow Rising Reliever Squeeze Stress Reliever Decompression Toys Kids' Soft Toddler Crafts Father'S Day Birthday Children'S Day Gift Scented Charm Squeeze Toy Stress Ball Rainbow Soft Toys Cats Stress Balls For Adults Rainbow Pig Penguin Keyring Peach Dog Soft Toy Galaxy Jumbo Peach Dog Stress Toy Giant
Size:11X7X6cm ◆ Newest Super Slow Rising Squishies Toy Lovely 15 Kawaii Rocket Scented Charm Toy Exquisite Kid Key Cell Phone Pendant Strap Gift Home Décor Squishy Toy Scented Charm Toys
Style: toy/collections ◆ Exquisite Simulation Apple Super Soft Toy Charms Pendant Kid Gift 15cm Squishys For Girls Squishy Toys Boys Pack Unicorn Mesh Balls Cake Animal Apple Alpaca Amazon Prime Animals Cute A Toy Scented Slow Rising Ball Banana Burger Bread Cat Hamburger Cheap Donut Dog Deer Doughnut
Odor: mysterious scented ◆ Kawaii Cute Cream Scented For Kids Adults Gift Lovely Toy Cell Phone Straps Key Chains Decor Pack Animal For Boys Squishys For Dinosaur Egg Elephant Emoji Biggest Ever Eyeball Football Food Fruit Galaxy Panda Human Body Kit Hedgehog Hot Ice Cream Icecream Cone Iphone Phone Cases Pat Zoo Sheep
Package: 1 pcs Toy ◆ Newest Lounger Float Pool Toy Super Lovely Strawberry Pendant Strap Gift Home Décor Lemon Llama Large Lamb Mushy Marshmallow Mcfluff Books Milk Carton Narwhal Ninja Net Fox Owl Octopus Stress Orange Packages Queen Quick Delivery Rainbow Rabbit Strawberry Roll

Mini Bloody brain

Bestseller No. 1

Onnit Alpha Brain Premium Nootropic Brain Supplement, 90 Count, for Men & Women - Caffeine-Free Focus Capsules for Concentration, Brain & Memory Support - Brain Booster Cat's Claw, Bacopa, Oat Straw

Alpha Brain Daily Cognitive Support: Combat occasional brain fog and boost focus with the Onnit Alpha Brain Booster Supplement! These brain supplements for memory and focus are the ideal way for men and women to enhance their focus and cognitive speed.
Enhance Your Focus: Whether you're focusing on your career, academics, social life, or athletics, this memory supplement for the brain is a nootropic supplement that helps support memory, mental speed and focus to promote lasting mental clarity.
Carefully Selected Ingredients: These brain vitamins are formulated with high-quality nutrients to help support focus. They include Cat's Claw Extract, Bacopa, Oat Straw, Huperzia Serrata, and our Focus and Flow Blends to help you realize limitless potential.
Quality Formulas: Designed to help reduce memory fog, these brain supplements are stimulant-free, so you don't have to worry about afternoon crashes. Our memory capsules contain no caffeine, dairy, nuts, or gluten, and they are paleo and keto-friendly.
Leading Nootropics Since 2011: The ultimate way to support memory, brain focus, and cognitive processing speed, Alpha Brain memory supplements have been a market leader in nootropic brain boost since 2011 with over 1 million bottles sold.

Godzilla Monsters figurine

Bestseller No. 1

Stuffed scaredy-cat

Bestseller No. 1

Lambs & Ivy Jungle Safari Gray Plush Elephant Stuffed Animal Toy - Jett

Say hello to Jett, our soft furry gray elephant with velour ears and feet. This little guy is gender neutral making him a perfect gift for any baby boy or girl.
His adorable black eyes are embroidered and there is gray embroidery detail around his flappy ears.
He sits 9.5" tall and is 100% baby safe (no hard pieces such as eyes or noses) making him super huggable and cozy.
He is so cute he is sure to be your kids' BFF.
Machine Washable makes for easy clean-up after messy make-believe play times.

Mini Mummy Piñata

Bestseller No. 1

24 Pack LED Light Up Bumpy Rings Party Favors For Kids Prizes Box Toys For Birthday Classroom Rewards Treasure Box Prizes Toys Glow Party Supplies

party favors rings 24 pack - 9 Color 12 shape: 9 colors: yellow, Orange, pink, blue, green, red, white, ginger and purple. 9 shapes: different shapes come with bear, Tiger, rabbit, Panda, pig, frog, chick,unicorn, butterfly & heart. Please see the picture for details.
One size fits all: these kids party favors jelly rings are made out of a nice adjustable, rubber material. These light up toys can fit quite a few different size fingers as it has enough stretch and does not feel constricting even on your thumb. 🎉 waterproof light up bumpy rings: If it pleases you, you may take these party favor rings underwater to have fun. Don't worry about them because these neon party supplies are waterproof.
glow in the dark party supplies for both kids and adults: These glow rings are really fun gifts for graduation party supplies 2019, kids birthday party, weddings, Christmas, Halloween, celebrations, new year party or any other cheerful events. 🎉 creative use: these light up rings can be used as a ponytail clip, ponytail holders and toe rings. Loop them in your laces and light up kids running shoes for fun and visibility.
how to play These glow in the dark party favors: the glow rings flashing has a switch At the back of these batteries, inside the light up ring. Just press on the button, the LED ring for kids will be flashing. The party favors for kids blink three colors flashes, blue, green & red, very shiny. Press the button again, The flashy ring will be turned off. It is very easy for kids to turn them on or off. When you do not want to play the rubber rings, just turn off.
Notice: 🎉 Please air The glow in the dark party favor rings about two days before wearing cause long sealed State, or the Bulk toys maybe emit the chemical smell; 🎉 batteries are non replaceable or rechargeable but last a long time; 🎉 these kid prizes are all individually wrapped so perfect for giving them individually.

Halloween Bloody shower curtain

Bestseller No. 1

Allenjoy 72x72 inch Halloween Bloody Shower Curtain Set with 12 Hooks Horror Scary Hallowmas Help Me with Hands Bathroom Curtain Durable Waterproof Fabric Bathtub Sets Home Decor

[Material and Size] :Polyester,72X72inch,Machine washable
[Package] :One fabric shower curtain Set with 12 Hooks
[Original Design] High quality resolution digital print with eye-catching details and lifelike colors.
[High-Quality] :Environmental friendly material, no odor, healthy to your family.Waterproof Texture,Does not let water ooze through and helps you keep your bathroom tidy, dry, and slip-proof,elegant.
[Occasion]:Not only used in the bath room, but also as a TAPESTRY, TABLECLOTH, SHEER CURTAIN used in the living room, bedroom, outdoor courtyard, farmhouse.

Voodoo Doll Toothpick holder

Bestseller No. 1

Voodoo Doll Toothpick Holder

Hand designed voodoo doll
Made of unpainted resin
Made to loosely hold toothpicks
3.25 inches long, 2.25 inches wide and 1 inch thick

Jar of Pumpkin slime

Bestseller No. 1

Slime Kit for Girls Boys Kids, Slime Kits, DIY Slime Making Kit, Best Birthday Tween Gifts Ideas for 7 8 9 10 11 12 Year Old Girls, Toys Girls Ages 7-12, Glow in Dark Glitter Slime Maker Craft Supply

Everything Slime All the Time - The ultimate tween girls gift, Slime Party Favor, Slime Making Kit with add ins galore and enough slimy stuff to keep girls, boys and kids glued to the activity for hours! Slime Kit for Girls, Slime Kits for Boys, Slime for kids comes with over 50 different slime supplies all in one box! 18 beautifully wacky colors of crystal slime ranging from clear slime, to purple slime, 12 types of glitter, various foam beads, fishbowl beads and more!
Best Slime Kit - Best selling slime kit on Amazon since 2019 | Birthday Party Favors for kids 4-8, 8-12 year old girls boys | Best gift ideas for 7, 8, 9, 10, 11, 12 year old girls, toys for 7 and 8 year old girls | toys for 6 + year old girls | girls gifts age 8-10 | craft kits for girls ages 10-12 | diy kits for girls | teenager gifts for girls | 9 year old girl gifts | 10 year old girl gift ideas
Glow in the Dark Slime Kit - Our jumbo slime supplies pack glows in the dark, has glitter, and all the mix in accessories needed to make your own green slime | Mix in a little, mix in a lot, or say "mix I will not!" This slime will glow in an instant!
Great Birthday Gifts for Girls - Slime party favors for kids 8-12, diy slime making kits for girls and slime supplies stuff that will help unleash your little one's creativity and develops their motor skills and hand-eye coordination! Teenagers will love getting messy too! Arts and crafts for girls boys are proven to be the best stress relief activity
Safe and Non Toxic - Made with eco-friendly material, our slime and slime containers are washable, reusable, safe and DO NOT contain borax powder. Quality-tested non-toxic formulas are 100% safe for kids and adults. ASTM certified. Recommended for children 5 and up. Do not eat.

Shark socks

Bestseller No. 1

Foot Traffic, 3D Socks (Great White Shark)

FUN SOCKS WITH A 3D TWIST: Our newest 3D great white whale socks are so fun to wear and scare! The markings are clearly recognizable as the fearsome creature of the sea. 3D fins adorn each side of the sock.
MAKES A GREAT GIFT: Makes a great gift idea for the sock lover or collector in your life! Perfect for birthdays, get-wells, stocking stuffers and more.
BLENDED FOR COMFORT: The custom blend of cotton, nylon, polyester, and spandex makes these socks breathable, soft, and incredibly comfortable. The high-quality construction means these socks provide a great fit for all-day comfort.
THE PREMIER SOCK BRAND: For over 30 years, Foot Traffic has been committed to offer our customers on-trend creative designs, consistent quality, and great value. We are excited to bring colorful, functional and fun products to hundreds of boutiques and sock enthusiasts around the world.
UNBEATABLE SERVICE: At Foot Traffic, we want you to be happy. We will promptly exchange or refund any merchandise that does not completely satisfy you. Returns are accepted up to 60 days from the shipping date, and you will be reimbursed for the product according to your method of payment.

Monster Pen

Bestseller No. 1

20 Pieces Rainbow Pens Cute Fluffy Pen for School Office Christmas Birthday Carnival Party Favor Supply

Novel pattern: our rainbow pen consists of funny facial expressions and fluffy plush in gradient colors, its different styles of eyes look adorable and novel, can easily attract children's love and preference
Practical effect: our lovely rainbow pens has a very soft and silky fur which possesses comfortable tactility, can enhance kid's sensory ability of tactility and vision, can keep children in active and good mood
Abundant quantity: you will receive 20 pieces of rainbow pens in bright and gradient colors, abundant enough for daily using and sharing with friends and classmates
Diverse applications: these delicate pens can nicely embellish home, office, classroom, hotel, restaurant, bridal shower party, garden party and Easter, they can also be sweet rewards or presents for students, classmates, friends and families
Easy to use: just twist the pen cap to open, with smooth writing blue ink, can bring you a comfortable writing experience, portable and convenient for carrying in your bag or pocket

Spooky Skeleton Bones

Bestseller No. 1

Halloween Skeleton Bones Decoration, Spookiest Graveyard Humans Skull Spooky Scene (28)

☆ Skeleton Bones Decor: Includes 28 bone pieces that includes a skeleton skull, hands, backbone, tail-bone and backbone vertebrates. Bone sizes range from 6" to 16" with a 9" skull.
☆ Scope of Application: Use to decorate a haunted house, graveyard scene, Halloween party decor, and more. Interactive Skeleton brings a spooky look to any Halloween corner of your porch or yard!
☆ High Quality: Featuring a realistic design that will compliment any spooky scene. Great for both indoor and outdoor use. Every detail is perfect.A spooky decoration for your favorite Halloween holiday!
☆ Perfect Prop of DIY: You can either separate them or leave them all tied together in the bag. For your haunted house or outdoor yard use for your Halloween display...or just to carry as a prop to your creative costume.
☆ Transform any outdoor location into an unforgettable experience with the half-buried skeletal remains Halloween decoration not just for Halloween but also for other special occasions.

Colorful worms

Bestseller No. 1

ONESING 19 Pcs Magic Worms Toys Wiggly Worms On String Twisty Fuzzy Worm Toys for Carnival Kid Party Favors Xmas Gifts

👻PACKAGE INCLUDE - 19 pieces in total. 18 pcs magic worms in 6 distinctive colors, 3 pieces for each color, 1 piece storage bag. Size is about 8.7 inch in length, 0.7 inch in width.
😇MATERIAL - Worms toys are made of soft polyester and transparent string. They are soft and comfortable to touch. These twisty fuzzy worm toys have 2 realistic eyes. You can share these toys with your family and friends. They are also perfect play toys for your pets.
🎀COLORFUL MAGIC WORMS - The magic worm toys have 6 colors, including green, blue, yellow, orange, pink, purple. These bright and lovely colors are fulled of energy, can meet people's different color needs, suitable for kids and adult.
🤡FUNNY USE METHOD - Tie the tail with a transparent string, twine the magic worm on your finger, then pull the string to make it moves and crawls around your finger. Using funny magic worms to do magic will be wonderful and will amaze the audience.
🧡VARIOUS APPLICATIONS - Colorful magic worms toy is a useful magic prop, can attract audience's attention and interest. Twisty fuzzy worm also can be a toy to kids and pet. Cat will be happy to chase magic worm. Perfect for different parties, festival decorations, birthday party, etc.

Howling Wolf Wax Seal Stamp

Sale

Bestseller No. 1

Plastic spider confetti

Bestseller No. 1

Wusteg Halloween Confetti Halloween Party Plastic Confetti Glitter Colorful Pumpkin Spider Confetti Party Decorations Halloween Table Scatter Decors DIY Crafts Uses

👻【PACKAGE CONTENT】Comes with 30g variety plastic Halloween confetti in different patterns, Wicth, Ghost, Bat, Spider, Pumpkin, Spider web, Skeleton and Stars.They are enough for your needs.
👻【DURABLE MATERIAL】These Halloween confetti are made of plastic material.You can spread out on a table to bring some sparkle to the Halloween dinner table.
👻【COMBINATION WITH OTHERS】You can coordinate with other Halloween decorations like balloon, banner, and other Halloween party accessories, suitable for decorating any Halloween party.
👻【LIGHTWEIGHT TO USE】These are very light. You can use them in anywhere you like, such as wall, window, door, notebook. You can also exercise children's handmade.It's so fun to make decorations with these homemade project.
👻【WIDE RANGE OF USE】Great for making scrapbook, arts and crafts, gift wrap, classroom or home decoration and many other projects in Halloween.

Boo Dough PlayDough Wrappers

Bestseller No. 1

Play-Doh Modeling Compound 10-Pack Case of Colors, Non-Toxic, Assorted, 2 oz. Cans, Ages 2 and up, Multicolor (Amazon Exclusive)

10 cans of creative fun – kids can get creative with just the right colors They need in this Play-Doh 10-pack of 2-ounce cans!
Just the right colors to start - shape, squish, mix, and make it all. Great for lots of uses like Play-Doh refills, as a Play-Doh Starter set, or as an add-on to any Play-Doh toy (sold separately).
Shape your imagination – squishy, bright, non-toxic Play-Doh compound sparks imaginations For kids 2 and up who love arts and crafts like Modeling clay.
Easy-open, recyclable package - SHIPS in simple recyclable packaging that's easy to open and frustration free, and the Play-Doh cans and lids are also recyclable to help build a more sustainable world!

Halloween-themed Nail Polish

Bestseller No. 1

Beetles Halloween Gel Nail Polish Set, Hocus Pocus Collection Orange Black Glitter Gel Polish Nail Art Design Kit, Soak Off Nail Lamp LED Cured

beetles Gel Nail Polish: This halloween set is a must have for you! Hocus Pocus set is including black glitter, witch purple, slime green, bright orange, blood red and orange glitter!
Healthy: 9 Toxin Free Ingredient makes it safe and has low odor.
Easy Application and Good Tenacity.With proper application, last at least 3 weeks.
Reminder: Cure under LED light for 90-120 secs. Base and Top coat required.If gel feels thick or tacky, place in hot water for 1-2 minutes, remove from water and shake well.
What you get: Color Number is: 345-346-347-348-349-350. 6 Gorgeous shades of Gel Polish, hassle-free and friendly customer service.

Skeleton candle

Bestseller No. 1

Gothic Coffin Skeleton Candle R.I.P. 7x5 Inches Burns 8.5 Hours! by Gute - Halloween Candles - Spooky Candles - Halloween Decor Spooky Horror Decorations, Skull Candle - Goth Gift Vegetable Wax

Light up the night with our Coffin Skeleton Candle. Made for tabletop display, this candle features a coffin design and reveals a skeleton underneath when fully burned! A perfect addition for a Halloween themed party!
A fun and unique candle to make your spooky themed party preparations mroe scary and atmospheric. Bones, skulls, and coffins. You see? They Breathe. They live! And what will you look like when you die? This candle is designed to look like a skull with its skeletal and bony figure and fingers reaching out of the bottom of the candle, as if trying to grab you right before it chases you across your living room!
Our new skeleton coffin candle is scarily realistic! Watch as the wax melts, leaving the spooky metal skeleton hidden inside. The detail on this candle is impeccable. This would be an excellent decoration for any Halloween themed party. A scary effect for Halloween but one that is vastly underrated for year-round haunting or "dressing up" your home and adding some eerie flair during any occasion! This candle measure 7x5 Inches and burns for up to 8.5 Hours!
This detailed metal skeleton candle looks like it came straight out of an old horror film! When the wax is melted away, the skeleton stands up, giving your guests an eerie surprise. Whether you choose to burn it for its spooky appearance or light it to give off a warm glow, what a great way to enhance your decor year-round!
Do you love the spooky and scary? When it's melted down, the skeleton stands up, giving your guests an eerie shock. So grab an extra one for your guests to take home. It's a great way to enhance your decor year-round! For any gothic or horror-themed event, our Skeleton Coffin Candle will look great on display. It's the perfect accessory for Halloween, Dia de los muertos and other scary holidays! Burn it for its spooky appearance or light it to give off a warm glow!

Temporary Talking Hands Tattoo

Sale

Bestseller No. 1

BodyMark by BIC, Temporary Tattoo Marker, Skin Safe, Flexible Brush Tip, Long-Lasting, Assorted Colors, 8-Pack

Express yourself with BodyMark by BIC Temporary Tattoo Markers
Create your own skin-safe designs with cosmetic-quality temporary tattoo markers. Complies with cosmetic regulations. Follow all warnings and instructions. Not tested on sensitive skin
Flexible felt tip for thin or broad lines
Pack of 8 assorted markers with bright, long-lasting colors perfect for creating a wide variety of designs
Great for special occasions, sporting events, parties, festivals, and more

Halloween-themed Lego set

Sale

Bestseller No. 1

LEGO Ideas 21319 Central Perk Building Kit (1,070 Pieces)

Here's a LEGO brick-built version of the famous CENTRAL PERK café packed with authentic details to inspire hilarious memories of the classic Friends TV show and to show off to your own friends
In the box: a buildable Central Perk café studio set, plus Ross Geller, Rachel Green, Chandler Bing, Monica Geller, Joey Tribbiani, Phoebe Buffay and Gunther minifigures with cool accessories to role-play memorable scenes
This collectible 1,070-piece LEGO toy makes a great Friends memorabilia gift for fans and offers a rewarding building experience for adults aged 16+ who love to build solo or share the fun with friends and family
This LEGO Ideas Central Perk 21319 Friends TV show merchandise is compatible with the LEGO construction toys, bricks and characters that you already own so you can create your own mash-up models and unique stories
This colorful Friends TV show gift item measures over 4" (11cm) high, 11" (29cm) wide and 8" (22cm) deep, and will make a big impression when displayed in any room or office

Halloween Playing cards
Halloween Activity Book

Bestseller No. 1

Pick Your Poison candy jar

Bestseller No. 1

Taco Cat Goat Cheese Pizza

PLAY IT ANY TIME ANY PLACE- Convenient take anywhere size game.
SIMPLE AND HILARIOUS- Fast paced laugh out loud fun for any get together.
WILDLY POPULAR- Perfect for all-ages.
GET ROLLING IN SECONDS- Takes only a minute to learn and gameplay lasts for about 10 to 15 minutes.
English (Publication Language)

Trick-r-Treat Halloween Phone case

Bestseller No. 1

John Samhain Sam Carpenter Or Michael Myers Fan Halloween Trick Treat R - | Phone Case for iPhone 11, iPhone 11 Pro, iPhone XR, iPhone 7/8 / SE 2020| Phone Case for All iPhone 12, iPhone 11, iPhone

FSG PHONE CASE IS UNIQUE AND AWSOME LOOKING 100% CUSTOM DESIGNED CASE FOR ALL IPHONE!
APPLICABLE MODELS: iPhone 13 , iPhone 13 Pro , iPhone 13 Pro Max, iPhone 12 , iPhone 12 Pro , iPhone 12 Pro Max, iPhone 11 , iPhone 11 Pro , iPhone 11 Pro Max, iPhone X / XS, iPhone XR, iPhone XS MAX, iPhone 7/8, iPhone 7 Plus / 8 Plus.
Flexi Cases: Flexible, Elastic, and Durable TPU material allows a soft, comfortable grip.
Snap Cases: Combination of multi material, the back is made of glass, with better grip.
Tough Cases: Made of impact resistant TPU material with good shock absorption, protecting against drop and tear.

Bloody syringe with red ink pen

Bestseller No. 1
And that's it – 200+ Halloween Care Package Ideas perfect to spice up the holiday for family and friends. What's your favorite item on the list to receive in a care package? What items are essential for a Halloween Care Package to you?
Let's hear them through the comments section!