Halloween is undoubtedly one of the most exciting holidays in the year, and it is the only time you can send a Halloween Care Package to a loved one without coming across as a weirdo.
A Halloween care package is a box with all the necessities to make it a memorable Halloween.
As mentioned earlier, Halloween is fun alright, but you know what isn't fun? Putting together a Halloween care package. You have to decide on the items to include, the things to leave out, and of course, you have to ship the box as well.
In this article, you are going to learn how to put together an excellent Halloween package. Also, to help you fill your box quicker, we are going to share a ton of wonderful Halloween care package ideas with you.
How to Make a Halloween Care Package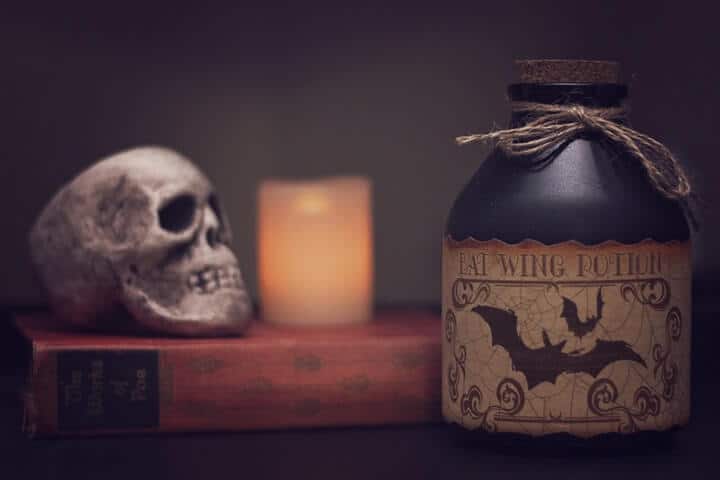 Just like when you're putting together a care box for certain holidays with specific dates, (like Christmas, Valentine's Day etc), it is best to have them sent out before the holiday so that it gets to its destination on time, most especially if decorations and costumes are included in the package, and to avoid any unforeseen delay.
Next, decide on how much you'd be spending on purchasing each item you plan on including in your box, packaging (including buying a care box if you'd rather not use an old box at home) and shipping your package (if it's going overseas).
There are a good number of Halloween themed sites on the internet to get supplies, and you can choose to obtain a Care Package box from your post office or a shipping company.
Ensure all fragile items are carefully wrapped with newspapers and your box is stuffed to keep items from shifting around.
Edibles should also be kept as far away as possible for other items that could give them an unpleasant scent or taste.
Also, you can decorate your box with orange and black markers, ribbons and even colorful tissue papers to give it an attractive look. Also, remember to tape your box securely before dropping it off for delivery.
If you're sending your care package to someone who resides close to you, you can have it sent out through a local delivery service or drop it off yourself.
When shipping overseas, you would be expected to fill a customs form and also submit information such as the receiver's address, your personal address as well as a list of all the content in your box.
Shipping regulations are expected to be abided to at all times.
Essentials for Halloween Care Package
Trying to decide on the most important items to include in this year's Halloween Care Package? Want to shop for only the best and most essential that'll kick-start the Halloween spirit? Here are some exciting Ideas to start with:
Treats for Halloween Care Package
Ready to spice up this Halloween with unique and great tasting treats perfect for the holiday? If you're looking for some of the yummiest Ideas to gift out, here are a couple of our favorite:
Fall-themed Gourmet Berries

Bestseller No. 1

Chocolate covered Strawberries

Bestseller No. 1

Chocolate Covered Strawberries, 12 Dark/Milk/White Delight

Each berry is delicately hand dipped and decorated in our own kitchen for both culinary artistry and exquisitely decadent taste
Freshness and premium quality are 100 percent guaranteed
Made to order and shipped overnight with ice in our signature gift box to ensure perfect arrival
Freshness and premium quality are 100 percent guaranteed
Delivery is not available on Saturday, Sunday or Mondays

Pumpkin muffins

Bestseller No. 1

belVita Pumpkin Spice Breakfast Biscuits, 6 Boxes of 5 Packs (4 Biscuits Per Pack)

This package contains 30 individually wrapped 1.76 oz packs of Limited Edition belVita Pumpkin Spice Breakfast Biscuits (4 biscuits per pack, 5 packs per box, 6 boxes total).
Each pack contains 230 calories, 19 grams of whole grain, and 3 grams of fiber, and is Kosher with no artificial flavors or sweeteners.
Jumpstart your day with the easy, long-lasting nourishment of belVita Breakfast Biscuits. Kids love the sweet taste and crunchy texture, while adults take comfort in their wholesome ingredients.
Made with a blend of whole grains and rolled oats, fall-inspired belVita Pumpkin Spice Breakfast Biscuit bars are gently baked for a slow release of steady energy that fuels you for up to 4 hours.
Tasty, handy, and fortified with minerals and B vitamins, belVita Breakfast Biscuits make it simple to eat a nutritious breakfast at home, school, the office, or on the go.

Halloween-themed Candy stash

Bestseller No. 1

Pop Rocks Candy Ultimate 9 Flavor Assortment Bulk - Strawberry, Cherry, Tropical Punch, Watermelon, Blue Raspberry, Bubble Gum, Cotton Candy, Grape, Green Apple 18 Packs Total With Licensed Sticker

Pop Rocks Ultimate Assortment Candy For Kids Includes Eighteen 0.33 oz Packets Of Pop Rocks Popping Candy Assorted Flavors.
Pop Rocks Candy Flavors include: Strawberry, Cherry, Tropical Punch, Watermelon, Blue Raspberry, Bubble Gum, Cotton Candy, Grape, Green Apple
Pop Rocks For Kids Are Gluten Free, Peanut Free, Tree Nut Free, Fat Free
The Popular 1980s Candy With The Same Great Taste! Experience the explosion in your mouth and have fun with this nostalgic candy!
Includes Fidelium Candies Specialty Licensed Sticker

Black lollipop

Bestseller No. 1

Black and White Swirl Lollipops - 12 Suckers

PERFECT FOR PARTIES – Great for birthday parties, goody bags, cake decorations, candy buffets and so much more!
IRRESISTIBLE CHERRY FLAVOR – Delicious cherry flavor – Gluten, dairy and lactose free!
IDEAL SIZE FOR EVERYONE - Each 1.5" sucker sits on a 4" plastic stick, which is great for not only children's occasions but any party or goody bag you can imagine.
SWIRL POPS - Also Perfect for Weddings and Corporate Events
100% satisfied with our product, we'll refund your order in full. No questions asked.

Cheese Crackers

Bestseller No. 1

RITZ Cheese Sandwich Crackers, 48 - 1.38 oz Packs (6 Boxes)

Includes forty-eight total snack packs of 6 Nabisco Ritz Cheese Sandwich Crackers
Delicious Ritz Cracker Sandwiches are the classic go-anywhere snack that kids and adults love
Each layers a mouthwatering cheese spread, made with real cheese, between two crisp Ritz crackers
Ritz Cracker Sandwiches are a great anytime snack and perfect for lunchboxes or quick meals
Each individually wrapped pack is sealed for freshness and includes six Ritz Cracker Sandwiches

Candy Corn

Bestseller No. 1

Halloween cheese balls

Sale

Bestseller No. 1

Halloween Edition Oreos
M&M's chocolate

Bestseller No. 1

Oatmeal-Butterscotch cookies

Bestseller No. 1

Flavored worm snacks

Bestseller No. 1

Worm Bites Gift 3-Pack of Assorted Flavors (North American Roasted Mealworms - Made in Portland, Oregon) by Cricket Flours - Gift Set Includes Cayenne, Roasted Original & Buffalo Wing Sauce Flavor

Try our new 3-Pack of Assorted Flavors of roasted mealworms in our new gift set. This set includes our Roasted Original, Spicy Cayenne Peppers, and Buffalo Wing Sauce flavored packs.
Each order comes with 3 PACKS of our Worm Bites with 10g per bag.
Each pack has 6g of protein per pack.
Why Mealworms? Insects such as crickets and mealworms are a sustainable and environmentally friendly source of protein and nutrition because they use less water, less feed, and less land than comparable animal protein such as cattle, poultry, and fish.
Mealworms are a natural source of protein with all of the essential amino acids, Omega-3s and 6s, and a great way to get a boost of protein on the go with our resealable packs!

Eyeball Bubble Gum

Bestseller No. 1

Pepper beef jerky

Bestseller No. 1

Jack Link's Beef Jerky, Peppered, (2) 9 oz. Bags – Flavorful Everyday Snack with a Pepper Kick, 10g of Protein and 80 Calories, Made with 100% Premium Beef - 96% Fat Free, No Added MSG

GOOD SOURCE OF PROTEIN – Protein is an essential part of your diet and Jack Link's Peppered Beef Jerky is a delicious way to get more protein every day. With 10g of protein and 80 calories per serving, it's a flavorful, must-have snack to help keep you satisfied and energized all day.
MADE WITH 100% PREMIUM BEEF – At Jack Link's, our quality starts with the beef. Our jerky is made with lean cuts of 100% premium beef. Then, we carefully season it with simple ingredients like salt, spices and water. The result is delicious beef jerky that is 96% fat free with no added MSG.
FULL ON FLAVOR – Love a little spice? Our Peppered Beef jerky delivers. Expertly seasoned with a special blend of herbs and spices and finished off with cracked black pepper. Then, it's slow roasted over hardwood smoke. Each savory bite is filled with a pepper-y punch of perfection.
PERFECT EVERYDAY SNACK – How did ancient civilizations fuel themselves to build pyramids or win sword battles? Meat. If it worked for them, Jack Link's beef jerky can definitely help you power through a late day at work, tackle your honey-do list or fuel a workout.
RESEALABLE – The 9 oz. bags are resealable, so your beef jerky will always be fresh and as delicious as the first time you opened it! Bring one to work for powering through your 2pm meeting, keep one in the pantry for tackling weekend to-dos or as a quick post-work out protein snack.

Peanut Butter Eyeballs

Bestseller No. 1

Pumpkin Cake
Sweet and Sour candy

Bestseller No. 1

SOUR PATCH KIDS Soft & Chewy Candy, Bulk Halloween Candy, 24 - 2 oz Bags

Twenty-four 2 oz bags of SOUR PATCH KIDS Soft & Chewy Candy
Assorted fruit flavors offer a variety of options that are SOUR. SWEET. GONE.
Soft and chewy candies have the traditional SOUR PATCH KIDS shape for a hint of mischief
Bring this SOUR THEN SWEET candy to parties, holidays, movies and more
Sealed bag keeps this assorted candy flavorful and soft

Cheetos

Bestseller No. 1

Black jelly beans

Bestseller No. 1

Slim Jim snack sticks

Sale

Bestseller No. 1

Spider Web cotton candy

Bestseller No. 1

Gummy Eyes Halloween Candy

Bestseller No. 1

Peppermint candies

Bestseller No. 1

Brach's Star Brites Peppermint Starlight Mints Hard Candy, 5 Pound Bulk Candy Bag Individually Wrapped Bulk Holiday Candy

Brach's peppermints: Sweeten the moment with the classic minty fresh taste of Brach's Star Brite Peppermint hard candy, individually wrapped and perfect for holiday candy dishes or sharing with family and friends
Brach's hard candy: Star Brite Peppermint candy, sweet and spicy cinnamon, old fashioned butterscotch, root beer barrels, lemon drops whatever your favorite hard candy, Brach's candy makes everyday moments special
Brach's bulk candy: Whether you are looking for individually wrapped bulk candy for party favors, bulk gummy candy for a crowd, or bulk chocolate to keep cravings at bay, Brach's Candy has you covered
Make any day sweeter: From kid's birthday parties or gift bags, to Halloween candy for tricker treaters or candy canes at Christmas, to a sweet treat in a busy day, Brach's makes every day sweeter
Brach's made to share: Brach's Candy has something sure to please everyone's sweet tooth, from classic hard candy to sugar free to chocolate to gummy candy; Share a little or a lot and make your memories sweeter

Gummy sharks candies

Sale

Bestseller No. 1

Skull chocolate

Bestseller No. 1

Chocolate Candy Molds, Halloween Skulls Silicone, Fondant Mold for Cake Decoration Wedding Party Supplies Set of 3

DIY FOOD: Kiss collection silicone perfect for Fondant, Chocolate, Cooked Sugar, Fudge, Butter, Ice, Jello, Marzipan, Bread Dough, Candy Clay, Hard Candy, Gummy Candy, Gelatin, Royal Icing, etc.
RANGE OF APPLICATION: Suitable for kids and adult parties, wedding, Valentine's Day, baby shower, birthday and any other occassions. Safe for use in freezer, oven, dishwasher and microwave
QUALITY MATERIAL: Food grade silicone, Non-toxic, Non-odor, Non-Stick and easy tostripping. Food grade sillicone are heat resistant and have wide range temperature tolerance from
HIGH QUALITY SERVICE: If you're unsatisfied with the Candy Chocolate, You can return it in accordance with Amazon's return policy; we will do our best to provide you with 100% satisfaction solutions.
SIZE: The size of each single Sexy Lip tray: 5" x 2". And every cavity holds approx 0.30 oz of melt, which just a right size for a bite

Halloween sugar cookies

Bestseller No. 1

Crafty Cooking Kits Dia de los Muertos (Day of the Dead) Cookie Kit, 13.68 oz

Celebrate Mexico's Dia de Los Muertos by beautifully decorating these delicious sugar cookies from Crafty Cooking Kits. Complete with food brushes, the kit contains sugar cookie and royal icing mix, skull cookie cutters, black icing pens, and edible watercolor palettes.
Colorful sugar skulls are a major part of this Mexican tradition. Your artfully decorated skulls will be a big hit a bake sale, Halloween party, costume party, office party, anniversary party, school party, horror movie night, or family gathering.
Imagination your only limit for decorating these delicious cookies. Grab a kit for anyone who loves painting, cake decorating, arts and crafts, Latin culture, Halloween, baking, cooking, and especially watercolor.
The Dia de los Muertos kit is a unique item to give as a birthday gift, Christmas gift, stocking stuffer, Secret Santa gift, thank you gift, anniversary gift, housewarming gift, or a surprise for your favorite artist.
Share a bit of the festive tradition with your friends and family with delicious sugar skulls at your next fiesta or family gathering.

Pumpkin seeds

Bestseller No. 1

Terrasoul Superfoods Organic Pumpkin Seeds, 2 Lbs - Premium Quality | Fresh | Raw | Unsalted

Terrasoul Superfoods Organic Pumpkin Seeds (Pepitas), 2 Pounds
USDA Certified Organic, Non-GMO, Raw, Gluten-Free, Vegan
Unsalted and 100% organic pumpkin seeds are good for your health and for any diet.
Terrasoul Superfoods is a family-run business that sources the freshest and highest quality superfoods from all over the planet. Our mission is to make these amazing, healthy foods available to you at the lowest prices possible while paying our growers and employees fair wages.
100% Money-Back Satisfaction Guarantee - We stand behind our products and offer a 30-day money back guarantee, backed by an outstanding customer service team.

Halloween S'mores

Bestseller No. 1

Chocolate dipped Caramel Apples

Bestseller No. 1

Milk and Dark Decadence Chocolate Dipped Caramel Apples in Wooden Gift Crate

Two pure milk and dark chocolate covered caramel apples presented in our signature "Orchard Fresh" apple crate
One pure milk chocolate dipped caramel apple drizzled with white and dark chocolate
One pure dark chocolate dipped caramel apple drizzled with white chocolate and decorated in dark chocolate jimmies
Apples are packed in our signature "Orchard Fresh" crate and tied with a bow
Each apple serves 3-4. Gift messaging available at checkout

Velvet cupcakes

Bestseller No. 1

Bath and Body Works Pink Velvet Cupcake Fragrance Mist 8 Fluid Ounce Spray Fall 2019 Collection

FRAGRANCE: A sweet & fruity treat of sparkling red berries, whipped pink marshmallow & sugared praline
Sweetness scents the air. Memories of lovingly made desserts swirl about. Pink Velvet Cupcake, it's the season's most comforting confection!
Whether you lavishly splash or lightly spritz, you'll fall in love at first mist.
Our carefully crafted bottle & sophisticated pump delivers great coverage while conditioning aloe mist nourishes skin for the lightest, most refreshing way to fragrance!

Black sugar doughnuts

Bestseller No. 1

Pumpkin soda

Bestseller No. 1

Canned Pumpkin soup

Bestseller No. 1

Farmer's Market Foods Canned Organic Butternut Squash Puree, 15-Ounce (Pack of 12)

Enjoy the Farmer's Market recipe for rich and smooth organic butternut squash puree.
Make homemade organic butternut squash soup or bisque any time of the year.
Organic Butternut Squash is also great for pies, baking and sauces.
Simply made with only one ingredient, Certified organic butternut squash.
Organic Butternut Squash ships in Amazon Certified Frustration-Free Packaging.

Halloween-themed powdered hot chocolate

Bestseller No. 1

Nestle Hot Chocolate Packets, Hot Cocoa Mix, Rich Chocolate Flavor, Made with Real Cocoa, 50 Count (0.71 Oz each), 35.5 Oz

Nestlé hot cocoa, rich chocolate flavor is a rich tasting hot cocoa mix with vanilla notes that creates a rich and indulgent chocolate flavor. Made with real Nestlé cocoa using sustainably sourced cocoa beans
Dispenser box of 50 count of cocoa sachets keeps the counter clean and organized
Part of the Nestlé Cocoa Plan to promote better farming, better lives and better cocoa
Just add hot water or milk for a richer cocoa of 6 to 8 ounces
99.9 percentage caffeine free. Kosher dairy. 27 month shelf life

Mummy cookie cutter

Bestseller No. 1

Dark chocolate Truffles

Bestseller No. 1

Godiva Chocolatier Assorted Dark Chocolate Truffles, Truffle Gift Box, Great as a Gift, Gifts for Her, Gifts for Mom, 24 Piece

24-pieces (16.1 oz) of dark chocolate truffles in assorted flavors; dark chocolate gift box with luxe embossing included.
These fine chocolates include savory, sweet and spicy flavors like Aztec Spice Truffle, Salted Caramel Truffle, and Cappuccino Truffle.
Godiva Dark Chocolate Truffles are carefully crafted with the latest techniques to create intense flavor combinations and detailed truffle designs.
Beware of unauthorized dealers selling GODIVA products. Buy with confidence in our superior quality, and impeccable customer service when products are marked as "Ships and sold by Amazon."
dark chocolate truffles, dark chocolate gift box fine chocolates, truffle dark chocolate truffles, truffle

Black sprinkles

Bestseller No. 1

Wilton Black Sugar Sparkles, One Size

Produced with the highest grade materials
Premium quality - made from premium quality Extra heavy duty
Manufactured in United States
3.25oz bottle
Certified Kosher.

Hot Cinnamon candies

Sale

Bestseller No. 1

Red Hots Cinnamon Candy, 5.5 Ounce Box, Pack of 12

CAN YOU HANDLE THE HEAT? Experience the powerful, fiery taste of cinnamon with Red Hots Cinnamon Candy. Their round shape nestles on your tongue, delivering wave after wave of spicy flavor.
MANY WAYS TO ENJOY: Whether you eat them by the handful, put them on a birthday cake or use them as a decorative touch to your gingerbread house, there are a million fiery ways to enjoy Red Hots!
THEATRE BOX: These delicious, fiery red candies come packaged in a theatre box that's the perfect size to enjoy by yourself or to share with friends. Whatever mood you're in it's a satisfying treat!
GREAT FOR ALL OCCASIONS: Whether you're filling Easter candy baskets, birthday swag bags, handing out candy to trick-or-treaters, or just craving a spicy-sweet treat, these Red Hots are sure to please.
A CLASSIC FAVORITE: Red Hots have a signature, fiery taste that can't be imitated. They're made the way they always have been: with a careful cold-panned candy process perfected over generations.

Red punch drink

Bestseller No. 1

Hawaiian Punch, Fruit Juicy Red– Powder Drink Mix - (12 boxes, 96 sticks) – Sugar Free & Delicious, Excellent source of Vitamin C, Makes 96 flavored water beverages

WANT TO TAKE YOUR FAVORITE HAWAIIAN PUNCH DRINK WITH YOU BUT LEAVE ALL OF THE SUGAR BEHIND?
0 SUGAR & 10 OR FEWER CALORIES – These drink mixes are sugar free, offering a tasty way to stay hydrated while cutting the sugary drinks out of your family's diet. Instead of sugary juice, drink flavored water. Instead of sugary soda, mix Hawaiian Punch into your SodaStream.
MAKES 96 DRINKS - Easy to make, just empty 1 packet into your bottle of water (16.9fl oz), shake until dissolved, enjoy!
DRINK MORE WATER – Doctors recommend drinking 8 glasses of water per day. Staying hydrated helps with cardiovascular health, energy levels, brain function, weight loss, clear skin and so much more!
SATISFACTION GUARANTEE-- If you are not totally satisfied with your order, just message us directly and we will refund your order. Hawaiian Punch drink mixes were created by our family business to make staying hydrated fun!

Nachos

Bestseller No. 1

Black licorice

Bestseller No. 1

Wiley Wallaby Classic Black Licorice, 32 Ounce Resealable Bag

BLACK LICORICE: Our classic Gourmet Black Licorice is soft & tasty & features real licorice root extract and star anise oil, giving authentic licorice lovers everywhere the tastes they crave.
VEGAN CANDY: Our Australian-style licorice is certified vegan & kosher. Using only sustainable palm oils creates a delicious, fat-free & eco-friendly product. No high-fructose corn syrup.
GOURMET SNACK: Our licorice sticks are perfect for munching on any time. With a delicious & natural taste, it's a treat for everyone. Ideal for gift boxes, movie night, parties & picnics..
UNIQUE TRADITIONS: Family-owned Wiley Wallaby licorice is soft, chewy & bursting with flavor. Our brand is focused on creating a tasty snack that you can feel good about eating. Try our organic flavors, too!
CANDY MIX: With a focus on quality, Kenny's Candy manufactures delicious sweets. It offers red & black licorice, chocolates, gummy bears, fruit snacks & licorice, popcorn & snack mixes. Addictively delicious.

Pumpkin cheesecake

Bestseller No. 1

Apple slices

Bestseller No. 1

Brothers-ALL-Natural Fuji Apple Crisps, 0.35-Ounce Bags (Pack of 24)

LUNCHBOX READY - don't forget to pack our freeze-dried fuji apples, each bag is the equivalent to one cup of fresh fruit
QUALITY FOOD - Our Fuji Apples are freeze-dried, a gentle dehydration process used for preservation of high quality foods
NUTRIOUSLY DELICIOUS - an excellent source of antioxidants essential for energy levels and overall health.
100% ALL NATURAL - made with real fruits and contains zero artificial colors or preservatives
ALLERGY SENSITIVE - peanut-free, tree-nut free, soy-free, dairy free and gluten-free

Apple Cider

Bestseller No. 1

World's First Apple Cider Vinegar Gummy Vitamins by Goli Nutrition - Immunity & Detox - (1 Pack, 60 Count, with The Mother, Gluten-Free, Vegan, Vitamin B9, B12, Beetroot, Pomegranate)

VEGAN, NON-GMO, GLUTEN-FREE & GELATINE-FREE: Each bottle of Goli contains 60 delicious vegan, non-gmo, gluten-free & gelatine free Apple Cider gummies that are certified organic by Oregon Tilth. Our formula will make Apple Cider Vinegar gummies accessible to anyone and everyone.
SUPPORTS IMMUNE FUNCTION, IMPROVES ENERGY: Supports gut health for healthy digestion, immune system, improves energy and so much more. Enjoy all the benefits of Apple Cider Vinegar without the downside of drinking it. Goli is an excellent and easy way to incorporate Apple Cider Vinegar into your daily routine.
MADE IN USA: with select ingredients thoughtfully curated from around the world. All Goli products are made in allergen-free state of the art facilities in the United States to ensure that the quality of our product is the highest it can be.
REAL APPLES, VITAMIN PACKED, GREAT TASTE: Made with real apples, beetroot and pomegranate, Goli Gummies are as delicious as they are good for you. Our vegan friendly formula is packed with Vitamin B12 and B9 that will help improve energy, support healthy skin and so much more.
VITAMIN ANGELS: Goli wants to give back to the community and does so by partnering with Vitamin Angels. For every bottle you purchase Goli donates a 6 month supply of vitamins to a child in need in order to fight malnutrition around the world.

Chocolate dipped marshmallows

Bestseller No. 1

SmashMallow Dark Chocolate Dipped Raspberry Marshmallows by | Non-GMO | Organic Cane Sugar | 6-Pack

Perfect for snacking right out of the bag, for s'mores, or elevate your morning ritual by topping off coffee or hot cocoa.
At only 25 calories per deliciously Non-GMO puff, SmashMallow is a sweet tooth satisfying snack you don't have to feel guilty about.
SmashMallow believes in simple ingredients: Made without dairy, soy or gluten.
At only 25 calories per deliciously Non-GMO puff, SmashMallow is a sweet tooth satisfying snack you don't have to feel guilty about.

Homemade Meatball Mummies

Sale

Bestseller No. 1

Cloudy With a Chance of Meatballs

9780689707490
Barrett, Judi (Author)
English (Publication Language)
32 Pages - 04/01/1982 (Publication Date) - Atheneum Books for Young Readers (Publisher)

Pumpkin patch Brownies

Bestseller No. 1

Bag of Unicorn Fart Cotton Candy

Bestseller No. 1

Candy Pumpkin

Bestseller No. 1

Brach's Mellowcreme Pumpkins, 11oz Bag

Brach's Mellowcreme Pumpkins
11oz Bag
Made with Real Honey
Great for Halloween Parties and party favors
The perfect coffe table candy to take you right into the fall

Chocolate cookies with fillings

Sale

Bestseller No. 1

Biscolata Mood Cookies with Chocolate Filling Snacks - 6 Cups, Crispy Cookie Shell Filled with Milk Chocolate

🍪 FRESHLY BAKED CRISP - Indulge yourself with our crispy chocolate snacks. Feel the satisfying crunch bite after bite as the biscuit's thin and tasty cookie shell crumbles inside your mouth.
🍪 RICH, CHOCOLATY GOODNESS - Relish the thick and oozing sweetness of our crust-covered chocolate filling. Let your taste buds light up with the rich and sweet flavor of our bite-sized dessert.
🍪 FEEL-GOOD DESSERTS - Reward yourself during study time and work breaks. Our chocolate-filled cookies come in portable, sealed cups, ready to munch when you crave for something sweet and creamy.
🍪 TREATS FOR SHARING (OR NOT!) - Each pack of Biscolata cookies has 6 cups. Let your family and friends delight in how the baked crispy cookie shell compliments the sweet, chocolate cream.
🍪 KIDS LOVE IT - People with a sweet tooth will love our cookies's delectable taste--especially the youngsters! The snacks also come in fun shapes and cute emoji designs. A treat for the stomach and eyes!

Cheesecake

Bestseller No. 1

Pepper popcorn

Bestseller No. 1

SkinnyPop Sea Salt & Pepper Popcorn, Individual Bags, Gluten Free Popcorn, Non-GMO, 4.4oz (Pack of 12)

SEA SALT AND BLACK PEPPER POPCORN: Guilt-free snacking with an intentionally subtle amount of black pepper
POPCORN BAGS: Pack of 12, 1 ounce bags of SKINNYPOP Sea Salt & Pepper Popped Popcorn. A delicious and smart food for snacking with only 39 calories per cup
GLUTEN FREE SNACK: SKINNYPOP POPCORN is a great-tasting, gluten free and non-GMO snack with no artificial ingredients
SKINNYPOP POPCORN: Delicious SKINNYPOP popcorn has zero trans fat and is dairy free, peanut free, tree nut free, preservative free and is a good source of fiber
SKINNYPOP: Our delicious popcorn is a great alternative to Boom Chicka Pop, Smartfood white cheddar popcorn, bulk popcorn, caramel popcorn, Pirate's Booty, and other brands of individual popcorn snack bags

Halloween pumpkin pinata

Bestseller No. 1

Small Pumpkin Pinata for Halloween Party, Pull String (16.5 x 13 x 3 Inches)

HALLOWEEN PARTY SUPPLIES: Impress your guests with a fun theme and party game, this pinata jack o lantern is ideal for an upcoming Halloween celebration or kids birthday party
EASY TO FILL : Easily fill with pinata stuffers such as candies, chocolates, mini toys, or confetti; surprise your guests with a fun activity and treats (fillers not included)
MATERIAL: Made of corrugated paper inside and tissue paper on the outside
DIMENSIONS: The pull string pinata measures approximately 16.5 x 13 x 3 inches
WHAT'S INSIDE: Includes 1 small pull string pumpkin pinata

Gummy worms

Sale

Bestseller No. 1

Black Forest Gummy Worms Candy, 5 Pound, Pack of 1

SO JUICY. SO GOOD: No need to get squirmy, Black Forest Gummy Worms are made with real fruit juice. Dirt not included. Fat-free & gluten-free, each wiggly gummy worm is as delicious as the last.
BLACK FOREST GUMMY WORMS: Our gummy worms will squirm their way to the top of your snack list faster then you can eat them. Made with real fruit juice, these juicy earth worms are even sweeter shared.
GET YOUR GUMMY ON: From gummy bears to gummy worms, fruit snacks to sour heads, Black Forest candy is the perfect sweet snack to add flavor to your day. Real fruit flavors, naturally juicy.
TASTE THE DIFFERENCE: What makes Black Forest gummies, fruit chews, & fruit snacks so good? Our classic & organic snacks have real fruit juice, so each gummy bear, chew, or fruit snack is soft, chewy, & fruity.
SO JUICY, JA. You'll love the juicy goodness of Black Forest gummies and fruit snacks. Add a moment of fun to your day with Black Forest candy, whether you treat yourself or share with others.

Halloween-themed Oreo cookies
Clothing/Accessories for Halloween Care Package
Trying to decide on the best Halloween apparels that'll give that frightfully delightful look to someone who's short of costume ideas? Here's a list of ideas to get that transformation for Halloween:
Harry Potter tie

Sale

Bestseller No. 1

MISS FANTASY Cosplay Tie for Birthday Party Costume Accessory Necktie for Halloween Party Red Tie for Harry (Red)

Wide Application-This cosplay red tie is perfect for cosplay dress up party, costume party, Halloween party, Christmas party, birthday party and on.
Not One Time Use Props-The necktie for harry is made of high quality smooth fabric-polyester, very well made, and you can wear it anytime.
Gift Packing-Our cosplay tie is packed with an exquisite kraft paper box with MISS FANTASY brand,it is perfect for giving gifts to your kids, friends and families.
Suit for Adults&Kids-The cosplay necktie size is L57''xW2.5'',it is suit for adults and kids.
Free Risk Purchase-If your order don't completely excite or delight you, we'll make it right with a hassle-free exchange or refund as soon as possible.

Exorcist mask

Bestseller No. 1

60's black scarf

Sale

Bestseller No. 1

Pumpkin Enamel Pin

Bestseller No. 1

PinMart Pumpkin w/Vines Halloween Fall Autumn Enamel Lapel Pin

Available as a single item or bulk packed. Select your quantity above.
Qty: 1 Pin
Our Pumpkin Vine Pin is a gorgeous replica of the traditional holiday vegetable. A whimsical design with beautiful curly vines and bright green leaves. It is made with a jeweler's fine metal, cloisonne process, gold plated and orange enamel color fill and is polished with a smooth to the touch finish.
SIZE: 1"
Each pin comes with a clutch back and is individually poly bagged.

Hulk hands

Bestseller No. 1

The Hulk Boxing Gloves Smash Hands Fists Incredible Hulk Soft Plush Toys Cosplay Superhero Costume Gloves, Birthday Gifts for Kids, Teens, Girls Boys. (1 Pair, Green)

❤️ SUPER QUALITY, SOFT & LESS IMPACT: The hulk boxing gloves made with high quality Lycra cotton (Fabric) + 3d PP polyester cotton (Filler) materials, exquisite workmanship, filled with high quality 3D PP polyester cotton materials fully, it makes your kids hands won't be hurted by a strong impact, protect your kids hands very well!
❤️ HULK DESIGN SUPER HERO & SIZE: The boxing gloves smash hands with creative hulk green design, make your kids look like a superhero in the movie, very cool! Hulk boxing gloves height: 30 cm/11.8 inch, palm width: 20 cm/7.8 inch.
❤️ GREAT FOR BOXING TRAINING, COSPLAY & HOME DECORATION: The hulk smash hands boxing gloves perfect for your kids boxing training, and it work as cosplay super hero fists gloves, perfect match with cosplay costumes! And besides, you can put it in kids bedroom or place it on kids reading desk for a decoration so that adding a sense of heroism, you can imagine it's so great!
❤️ AWESOME KIDS TOYS & GIFTS: The hulk boxing gloves smash hands not only suitable for kids boxing training but also take it as a special entertainment gift to teenagers perfectly. This pair of hulk smash hands fists gloves also can be good plush soft toy for christmas or birthday gifts to kids, they will like it very much and very grateful to their parents for giving them a wonderful gift!
❤️ Good Shopping Experience: We're 100% dedicated to each buyer complete satisfaction, good quality promised. Wish you have a good buy experience from Honmach!

Glow-In-The-Dark Zombie Teeth

Bestseller No. 1

24 Pieces Glow Vampire Fangs Luminous Vampire Teeth Glow In The Dark Vampire Fangs Fake Denture for Cosplay Party Props Halloween Party Favors Costumes Accessory

Package includes: 24 pieces of glow vampire fangs, enough quantity to satisfy your needs for character playing, such as zombie, vampire, werewolf and so on, and you can also share these glowing fangs with your family and friends
Safe material: our vampire fangs are made of safe and reliable luminous materials, which are non-toxic and odorless, lightweight and will not let you feel uncomfortable when wearing, giving you a nice using experience
Glow in the dark: these vampire fangs can glow in the dark and are great for wearing at a party on Halloween night, cool and special design will make you to stand out from the party, gain the praise of others, and enjoy the joy of the party
Eye-catching Halloween accessories: these vampire dentures are great props for Halloween or cosplay themed events to dress up as vampires, werewolves, zombies and other monsters, making people look creepy and increasing the festive atmosphere
Wide applications: these glow vampire fangs are nice choice for Halloween party, scary houses, cemetery scenes, masquerades and other fun activities, they can also be given as a gift to friends and family

Pretty Little Pumpkin kid's shirt

Bestseller No. 1

Disney Nightmare Before Christmas Jack Skellington Little Boys Kids 3 Pack Tee Black 7

Disney little boys cute and stylish short sleeve graphic tee shirt
Featuring Nightmare Before Christmas Cosplay Jack Skellington suit look, all-over print spooky Halloween icons with Jack skull head print, and character group featuring Sally, Oogie Boogie and more
Rib knit crew neck collar; Monochrome color assortmant: Black, Grey, and White
Perfect for birthday gift, every day wear, Christmas holiday gift, outdoor play
Machine wash cold, officially licensed

Skull Pin

Bestseller No. 1

Black Hooded Cape

Bestseller No. 1

Kangaroo's Long Black Hooded Cape, Unisex; Magician Cape, Black, Size Large

Black Cape with Hood; One Size Mens Hooded Cloak / Womens Hooded Cloak / Vampire Cloak Fits Men, Women, Teens & Big Kids; Best in Black Capes; Black Cloak for Women or Men; Magic Cloak; Hooded Cape for Women; Hooded Cape Adult; Hooded Cape Costume; Hooded Cape Men; Mens Vampire Costume Men
Mens Black Cape; Womens Black Cape; Black Cape Costume; Mens or Womens Hooded Cape; Black Cloak Cape; Adult Hooded Cape; Cloak with Hood
Vampire Cape Adult, Count Dracula Cape Adult, Black Magic Cape Adult, Magicians Cape, Mens Black Cloak; Dracula Costume Adult; Hooded Cape Dress; Long Hooded Cape for Men; Hooded Cloak Adult
Plain Black Cape; Black Cloak Men; Black Hooded Cloak; Mens or Womens Black Cloak; Black Cloak Costume; Black Cloak Women or Men; Dracula Costume for Men; Cape with Hood; Hooded Capes; Large Hooded Cape; Hooded Cloak for Men
Black Hooded Cloak; Vampire Cape for Women or Men; Magician Capes; Vampire Capes; Vampire Cape Women Men; Vampire Cape for Men or Women; Sexy Vampire Cape; Makes Vampire Costume for Women or Men; Dracula Costume Women; Mens Hooded Cape; Hooded Cape Women; Hooded Cloak Cape; Mens or Womans Hooded Cape; Hooded Cloak Men; Hooded Cloak for Women; Long Hooded Cloak; Hooded Cloak Costume; Hooded Black Cloak; Womans Hooded Cloak; Vampire Costume for Men; Vampire Costumes for Men

Assorted fake mustaches

Bestseller No. 1

ANPHSIN 60 Pcs Novelty Fake Mustache Set,Christmas Cosplay Costomes, Multi-Colored Self Adhesive Mustaches Suitable for Kids and Adults Party Supplies for Masquerade Costume Party Performance

Various Color and Style: Including 60 Pcs fake mustaches with various color (black, brown, blonde, white, yellow, blue, pink, green), suitable all styles and great for all parties
Easy to Stick and Remove: Our self-adhesive mustaches can stick very well and stay on for hours. Don't worry about falling off and convenient to take off
Interesting Photo Props: It's a fantastic decoration on the party, silly style bring much fun to your friends and families, and it also can make your photo unique
Wide Uses: Perfect for costume party, performances, game play, roll play, and hilarious festival face adornment for Halloween, Christmas
Warm Tips: the actual color of the product may be different from the picture shown on website due to the personal screen of display or reflecting light when shooting pictures.

Black cream makeup

Bestseller No. 1

NYX PROFESSIONAL MAKEUP SFX Creme Colour, Black

SPECIAL EFFECTS CREAM MAKEUP: Designed for body art and special effects, NYX Professional Makeup SFX Creme Colours have pumped up pigments that impart extreme, full coverage, blendable color to create costume special effects, and Halloween makeup looks
BREATHTAKING CREAM SHADES: Push the boundaries of makeup artistry using these breathtakingly opaque shades. This ultra-creamy, blendable formula makes crafting your most avant-garde, special effects makeup ideas easy
FACE FROM FOUNDATION TO FINISH: Complete your makeup look with our full line of NYX Professional Makeup face products to aid in color-correction & coverage from blush, bronzer, foundations & contouring concealer to palettes powders & setting sprays
CRUELTY FREE COSMETICS: We believe animals belong in our arms—not in a lab. All of our makeup is certified & acknowledged by PETA as a cruelty-free brand. We don't test any of our products on animals
DISCOVER NYX PROFESSIONAL MAKEUP: Try all of our professional makeup & beauty products today, from eyeshadow, eyeliner, mascara & false lashes to lipstick, foundation, primer, blush, bronzer, brushes & more

Halloween Bloody Tshirt

Bestseller No. 1

I'm Fine Graphic Novelty Sarcastic Funny T Shirt XL Ash

AWESOME FIT: Fits True to size, great fit and feel - Wash with cold water, inside out. Want to make dad look like a super star? This shirt has a great look and cool fit. This men's funny t shirt fits great and is great for men, teenagers and kids. Nothing beats a t shirts for a gift. I'm Fine. Makes A Great present for someone special.
TOP QUALITY: Our Graphic Tees Professionally screen printed designed in USA by Feelin Good Tees. Nothing beats our selection of funny sarcastic tshirts! It will make great father's day gifts, birthday present, friend gift, dad gifts, Christmas gift. This is a great mens t shirt. Everyone needs a little humor and sarcasm.
GREAT FEEL: Our Shirts are 100% preshrunk cotton exceptions; AshGrey is 99/1cotton/poly; SportGrey is 90/10cotton/poly if available. Available in 2XL 3XL 4XL 5XL Tee will bring adult humor out. The sarcasm laughs will flow. Graphic tee makes gift for dad. Great gift idea for teenagers, boys and girls, dads, uncles and best friends. Most designs have options for big and tall.
HAVE FUN: Get your humor on with this fun tee. The best funny tshirts. Sarcastic and novelty in one tee shirt. Birthday tshirt best cotton tee. Great ice breaker. Love the soft feel probably wear it day and night nothing beats tshirts you can sleep in. This cool and stylist t shirt is professional printed.
MAKES GREAT GIFT: See all our funny tees! Graphic tee makes best gift idea. Christmas, Fathers Day, Mothers Day, gift friends, brother/sister. Welcome home gift. Long lasting tees wear to party movie and all year. Perfect for back to school or a Christmas gift. Great for a graduation gift. See 2020 and give the best gift ever. Face it, they will love this with a matching Give them something they will wear all year long. Make sure its a Feeling Good Tees.

Batman Mask

Sale

Bestseller No. 1

Rubie's Men's Batman the dark knight rises adult mask, Black

Officially licensed Batman: Dark Knight Trilogy costume mask; look for trademark on label and packaging to help assure you've received an authentic safety-tested item
Adult black plastic Batman costume mask; elastic strap closure to secure during wear
One size; designed to fit most adults and older teens
Pair together with one of Rubie's Batman: Dark Knight Trilogy costumes for a complete head to toe look
Family-owned, family-focused, and based in the U.S.A. since 1951, Rubie's has classic and licensed costumes and accessories in sizes and styles for your entire family

Black Halloween gloves

Bestseller No. 1

Skeletal Hair clips

Bestseller No. 1

Rubber snake

Sale

Bestseller No. 1

STOBOK Realistic Snake Toy Rubber Snake Figure for Halloween Prank Props

👍【Premium Quality】Made from a high quality PVC material with lifelike snake lines printed, our realistic snake has a great durability.Soft touch, smelless and eco-friendly.Just put it on the floor or hide it in the grass to make a trick! Also you can put it on the table, hide in the drawer or put in a gift box to fool guys!
🎃【Halloween Prank Toys】Our rubber snake are ideal for Halloween party decoration and April fool's day,perfect gifts for kids and adults who loves to make a trick on their friends or colleagues.Make the best practical jokes, pranks, and gags.
🤔【Multifunctional】This realistic snake toy can be used to protect your garden, decorate pool parties or just for your kid's playtime. Also can be use in your backyard to scare birds, rats, squirrels, etc away!
😨【Lifelike Design】Very realistic design.Unique molded textures and richly painted details bring them to life. Eye-catching and creepy tricky prop for Halloween and pranks.
🔥【100% Satisfaction Guaranty】Though we are sure you will satisfied with our Realistic Snake,we will offer a 100% money back guarantee if you are not 100% satisfied with our products or service.Remember your satisfaction is always our top priority.

Zombie Necklace

Bestseller No. 1

Goddess Arm Cuff

Bestseller No. 1

Finrezio 3Pcs Upper Arm Bracelet Cuff Victorian Filigree Swirl Gypsy Boho Gold Plated Bangle Bracelet Open Armlet Leaf Armband Jewelry Set

ARM BRACELET SET:The package includes 3PCS gold tone open upper arm bracelets in 3 styles, laurel leaf &filigree swirl arm bracelet, simple and fashion design,combine freely to sufficient to your daily dressing needs.
MATERIAL:The arm cuff bracelets are made with environmental alloy, lead-free & nickle-free & cadmium-free,durable and comfortable,lightweight so you can wear it all day.
SIZE: Bracelet inner diameter about 7.5 cm(3 inch),slightly adjustable,suitable for most women and girls to wear.
OCCASION:This minimalist arm cuff bracelets are perfect for party,prom,cosplay,fashion shows,photo,fancy dress,Halloween,wedding or daily wearing.And it can be the ideal gift for you wife,girlfriend,daughter, sister on Valentine's Day, anniversary, graduation,birthday and Christmas.
RELIABLE SERVICE: When you receive the product within 365 days, if you are not satisfied with our products, contact us any time, we will get you back within 24 hours try our best to make things right. We just hope you have a pleasant shopping!

Spider rings

Bestseller No. 1

Boao 120 Pieces Spider Rings Plastic Cupcake Topper Halloween Party Favors (Multicolor)

Quantity: 120 pieces multi color plastic spider rings
4 Different colors: black, purple, orange, green each color has 30 packs, 120 pieces in total
Application: good for Halloween party favor, Halloween costume accessory, cake topper and also can be gifts during Halloween
Size: the ring inner diameter is 16 mm, adjustable, can fit for most people's hands
Material: they are made of plastic, smooth and soft, you can adjust size as your needed, and it will not hurt your hand

Slit Wrist bracelet

Bestseller No. 1

PAVOI 14K Gold Plated Cubic Zirconia Classic Tennis Bracelet | Rose Gold Bracelets for Women | 7.5 Inches

Tennis bracelet featuring round 3mm AAA+ cubic zirconia stones in four-prong basket settings. Measures 7.5 inches in Length
Cubic Zirconia (Swarovski Element crystal) set in Lead-free, Eco-friend and hypoallergenic setting. This stunning bracelet is then Gold Plated to ensure a long-lasting and brilliant finish.
✦ MADE WITH LOVE ✦ This unique and heartfelt product is beautifully packaged and ready for giving. Makes a sentimental surprise for any awesome lady. Great gifts for Mom or Grandma on Mother's Day, anniversary, birthday, or wedding celebration.
✦ 90 DAY GUARANTEE ✦ To Ensure Your Complete Satisfaction, We Offer a 90 Day No-Questions-Asked Money Back Guarantee. All the metals we use are lead free, nickel free and hypoallergenic. Excellent customer service. PAVOI 100% guarantees your satisfaction.
✦ PROUDLY AMERICAN OWNED ✦ We are an American owned and operated company! Please search PAVOI on Amazon for more of our designs!

Elf Ears

Bestseller No. 1

FRESHME Pairs Medium and Long Style Cosplay Pixie Elf Soft Pointed Tips Anime Party Dress Up Costume Masquerade Accessories Halloween Elven Vampire Fairy Ears (2, Beige

2 PAIR PACKAGE: 2 different pairs elf ears. One pair of short and one pair of a bit longer. Fit for most ears , Clip on the ear directly! Soft latex elf ears, can dress up elves, fairies, pixies, goblin and more.
WIDE USAGE: Great for COSPLAY, Halloween party, bar parties, various films, micro-film shooting and taking pictures. The most real Fairy Pixie Elf Ears, increase your charm, make you more different in the crowd!
SUPERB MATERIAL: Imported odorless non-toxic and tasteless, food-grade material; High temperature resistance, can folded and knead, will not be deformed. Can be heated to change the bump shape.
EASY TO WEAR: Hang directly on the ear. Fit well with almost all ears. If it feels a little loose, apply eyelash glue or double-stick tape on the ear root to make it more firm. Packaging does not contain glue.
Reusable & DIY: Reusable after washed, wash with clean water or facial cleaner. Light skin color, You can change the color with make up, like Liquid foundation, or other cosmetic. After use, clean it with mild wash.

Chucky Mask

Sale

Bestseller No. 1

Wonder woman lasso

Bestseller No. 1

Lasso of Truth Diana Whip Cosplay Rope Weapon Gold

Rope Length: about 3 M
We added metal cover on both ends in the new version. (2018/11/1)
100% satisfaction guarantee, return and full refund are acceptable for any reason in 7 days after delivery.
Please contact with us for any problem and you will be satisfied with our service.

Skull and teeth necklace

Sale

Bestseller No. 1

Jstyle Stainless Steel Pendant Necklace for Mens Boys Cool Spearpoint Arrowhead Pendant Chain Necklace Set Black & Silver Tone

TOP MATERIAL-- These Pendant Necklace Set are Made Of Quality Stainless Steel, Well Made And Extremely Sturdy, Do Not Rust or Tarnish, High Polished Making It Long-time Color Retention Ability, Smooth Surface Give You Comfortable Wearing Experience, You Can Wear These Arrowheads Necklace Matching Set Every Day And Not Worry About Them Breaking.
VALUE NECKLACE SET-- There Are 2Pcs Pendant Necklace In One Order, Silver Tone Arrow Pendant with Shiny Steel Natura Color & Black Tone Arrow with Finest Black Color Plating Curb Chain, Classic Colors Matching Design, Cool Necklace Jewelry for Mens And Boys; Quality Lobster-claw Clasp That Easy To Wear.
NECKLACE DIMENSION-- 2Pcs Necklace Are In Same Size, Arrowhead Pendant: 0.66*2.2"(17mm*56mm), Come With 2Pcs 24Inches Sturdy Curb Chains, Best Length As Necklace; Color: Silver Tone/Black Tone; Good Weight To Hang On Your Neck, Definitely Would Be Nice For Anyone!
UNIQUE DESIGN-- Our Necklace Set Are In Cool Style, The Arrowhead Design Is Nice And Unique, Goes Well With Any Other Accessories,Show Your Personality Every Moment; Packed In An Beautiful Velvet Bags, Great Gifts To You Husband, Boyfriends or Male Friends On Birthday, Anniversary, Christmas, Thanksgiving Day, Valentines Day, Party, Prom, or Other Gift Giving Occasions
AFTER-SALE SERVICE--90-day money back guarantee or exchange;we are engaged in providing best shopping experience.

Black Magnifying glass

Sale

Bestseller No. 1

Black Fishnet Pantyhose

Sale

Bestseller No. 1

sofsy Fishnet Tights Pantyhose - High Waist Net Nylon Stockings - Lingerie [Made In Italy] Black 5 - X-Large

Fish Net Pantyhose - These Fishnet nylons feature an all over hollowed out effect & invisibly reinforced toe. Comfortable Fit, Yet Won't Sag: Soft, supple fabric is specially manufactured to hold its elasticity wear after wear.
Netted Durable Nylon: Silky matte texture that resists runs. Compared to similar products, they're strong and durable! You can feel the quality.
Italian-Made Quality: These elegant, fishnet fashion tights are manufactured in Italy, renowned for its premium hosiery.
Soft, Non-Irritating Wide Waistband: Our waistband won't cut into your skin like cheap pantyhose! Yet it retains its elasticity through washes and wears so you always get the perfect fit.
The sofsy Promise - 100% Money-Back Guarantee: If these aren't the best ladies' tights you've ever worn, simply let us know. We'll issue a prompt replacement or refund, no questions asked.

Eye-patch

Bestseller No. 1

AKOAK 1 Pcs Adult Kid's Black Adjustable Soft and Comfortable Pirate Eye Patch Single Eye Mask for Amblyopia Lazy Eye

Made of high quality cotton, breathable and comfortable to wear, will not hurt your skin. Overall size: 2.75"x2.56" ;Groove size:1.97"x1.57",You can find the size you need with adjustable strap.
The adjustable strap makes pirate eye patches really comfortable and adjustable to fit just right.Soft and adjustable stretchy rope for more free wearing.
The eye patch is soft, durable, stylish and comfortable. It is not flat which helps not to put pressure on the eye. Helpful for daily patching for eye condition. This eye patch is ideal for any child that has to patch regularly.
Idea for dress up party,Also a good eye mask for Halloween dress up party, masquerade etc. The patch adds fun for life. One size fits most children.
Training the lazy eye to work properly, so that vision can develop correctly, These eye patches are suitable for training the amblyopia, short sighted, And it can be applicable for cosplay, such as pirates dress up.

Inflatable Unicorn horn

Sale

Bestseller No. 1

Black Rhinestone Whip

Bestseller No. 1

Demon Horns With Teeth

Bestseller No. 1

Glow-In-The-Dark outfit

Bestseller No. 1

SCREENSHOTBRAND-S41700 Mens Hip Hop Premium Slim Fit Track Pants - Athletic Jogger Bottom with Side Taping-BK/NE-Large

DESIGNED AND PRODUCED EXCLUSIVELY BY SCREENSHOT BRAND: Our designs are a direct result of overflowing creativity, and a sense of individuality from 21st century young adults. We are inspired by elements of hip hop, skate, surf, and inner city streets that blend in any culture. For SCREENSHOT BRAND entire collection, please visit our Amazon Store at www.Amazon.com/shops/screenshot
LATEST NEW YORK FASHION TREND: Specially designed for a stand out appearance, SCREENSHOT BRAND Fashion Track Suits are manufactured using the most advanced clothing technology available today. SCREENSHOT BRAND amplifies your urban style while promoting a sense of individuality.
ATHLETIC SLIM DESIGN SIDE TAPPED TRACKSUIT: Urban inspired long sleeves track set instantly takes your style from bland to bold. With several styles and colors to match your closet for a modern and effortless fashion, these tops will feel great, look great, and turn a few heads.
HIGH QUALITY MATERIAL: 95% Poly, 5% Spandex for softeness and flexibility. Contoured and side seamed for classic fit, this fashionable track set includes ribbed waste, collar, and cuffs for lasting quality. Its soft fabric provides excellent comfort and can be worn in any occasion.
100% MONEY BACK GUARANTEE: If you are not happy with SCREENSHOT BRAND clothing, just return it within 30 days for a full refund (or replacement if there is a problem). We strive to offer the best value and service possible.

Black body glitter gel

Sale

Bestseller No. 1

Unicorn Snot Holographic Body Glitter Gel - Vegan & Cruelty Free, Perfect for Festival, Rave, Costume, Silver, 1.6oz

EASY APPLICATION: Our glitter gel provides you with a hassle-free application! No primers or adhesives necessary. Simply apply our glitter gel to your face, hair, and body seamlessly
FEEL LIKE YOUR TRUE SELF: Sparkle inside and out with Unicorn Snot
LONG-LASTING: Whether you're spending your day at a festival or just wearing our glitter gel to dinner, our gel won't budge. We guarantee you'll shimmer all day and night
COSMETIC GRADE: Unicorn Snot Glitter Gel is made with cosmetic-grade glitter, so it's safe for your skin
ETHICAL: This is a vegan and cruelty-free product. We respect all animals, magical and otherwise

Dripping Blood Ghost Face Mask

Bestseller No. 1

Scream Mask Dripping Blood

Includes: One Hooded Ghost Face Bleeding Mask with Hand-Held Blood Pump
Size: One Size Fits Most
2-Layer Mask Allows Blood To Flow Without A Mess!
Scream 4
Ages 15+

Evil Clown mask

Bestseller No. 1

Lab coat

Bestseller No. 1

Utopia Wear Professional Lab Coat for Men - Laboratory CoatKick Pleat, White

HIGH QUALITY – Made using a high blend of Cotton and Polyester; providing you with softness, as well as durability. High quality lab coats are needed to protect you in work environments
MACHINE WASHABLE – This lab coat is easy to care for. The Durable fabric allows you to wash this lab coat again and again; for easy care after use! Professionally hemmed edges are carefully graded for quality control and product durability
MULTI-FUNCTION – This professional lab coat provides protection against spills, grime, dirt, and splashes! Suitable for Medical Professionals, Scientists, Biology, Chemistry classes, & Medical School!
MULTIPLE SIZES OFFERED – To fit your size; please read out Size Description below. Each coat features a 41 inch kick pleat, five-button closure front, and notched for best fit and mobility!

Black police Badge

Bestseller No. 1

Googly eyes

Sale

Bestseller No. 1

DECORA 500 Pieces 6mm -12mm Black Wiggle Googly Eyes with Self-Adhesive

Material: Plastic Color: Black Quantity: 500 Pieces
A bag contains 500 pcs wiggle eyes in 5 different sizes--6mm, 7mm, 8mm,10mm and 12mm.
Perfect for slime making and craft projects with kids and the wiggly part is the best part for the kids
Wiggle eyes animate puppets, pet rocks, photos, drawings, just about anything
These cute eyes are perfect for creating fun designs on puppets, dolls, birthday cards, and much much more

Marilyn Monroe Wig

Bestseller No. 1

Black classical beret

Sale

Bestseller No. 1

Vampire Fangs

Sale

Bestseller No. 1

COOLJOY 3 Sizes Vampire Fangs Teeth with Adhesive Halloween Party Cosplay Props White Horror False Teeth Props Party Favors Dress Up Accessories

PACKAGE INCLUDE: 3 different sizes - 13mm, 15mm, and 17mm vampire teeth, with 1 tube teeth pellets adhesive. (no need to buy adhesive seperately)
MATERIAL: Made of medicine resin, non toxic and safe on teeth, tasteless and environmentally friendly, rinse thoroughly with soap and warm water before use.
USE FOR: Ideal for any cosplay. Perfect for Halloween Costume Party. For using as vampire, werewolf, zombie & cosplay costume accessories.
EASY TO USE with ADHESIVE SET: Put the teeth adhesive beads into hot water let them from white to clear, then scoop them out and press onto fake fang to make a mold, then press the fake fang on your own teeth for a while (the adhesive beads cool very quickly, so you need to handle them quickly). Specific methods of use and schematics can also be found on the back of the package.
Good & NEW PACKAGING: Each pair of packed in a small transparent box, then all in the beautifully printed PVC box with instructions for use, easy to carry and store the Halloween party fake fangs and make vampire dentures reusable for many times.

Bleeding Heart Necklace

Bestseller No. 1

Controse Silver-Toned Stainless Steel Bleeding Heart Necklace with Pendant (17" - 19" Adjustable Chain)

The stainless steel Bleeding Heart Necklace with adjustable chain is decorated with beautiful red epoxy for style / The Bleeding Heart necklace and pendant are made with high grade 316L stainless steel / Also included is a beautiful gift pouch / The pendant is well designed and nicely polished / The piece has a raw, edgy yet artful look
Size: W: 1.1" H: 1.96" / Necklace: adjustable 17" - 19" chain / Material: High-Grade 316L stainless steel necklace and pendant / All our stainless steel jewelry is made of the highest quality materials that won't tarnish or rust and that are easy to maintain
Makes a Perfect Gift for many Occasions: Our bleeding heart necklace makes a great gift idea for women on Valentine's Day, Mother's Day, Christmas (xmas), birthdays, graduations, weddings and anniversaries
Controse a Name You Can Trust: We have been in business for many years and promise to deliver only solid and durable jewelry pieces that are perfect to keep as daily jewelry for years to come
Product Guarantee: 30-Day Money Back Guarantee or Exchange. For any product inquiries or issues please contact us. We generally reply within 24 hours.

Harry Potter charm bracelet
Black lipstick

Sale

Bestseller No. 1

Revlon Super Lustrous Lipstick, High Impact Lipcolor with Moisturizing Creamy Formula, Infused with Vitamin E and Avocado Oil in Blue / Black, Midnight Mystery (043)

Super vibrant. Super lush. Super creamy. This cult-classic lipstick is the perfect combination of high-impact color in a super-moisturizing formula
This lipstick uses microfine pigments so the shades are vibrant, but the feeling is lightweight
The formula is infused with vitamin E and avocado oil. Buttery-only better!
Non caking, lightweight formula for superior comfort
Over 82 amazing ways to play with cool, classic, and trendy lipstick shades ranging from nudes, pinks, reds, corals, browns and purples, in 4 finishes: cream, pearl, sheer, and matte

Grumpy old man mask

Bestseller No. 1

I Am A Grumpy Old Man Unisex Adjustable Earloop Face Anti Dust Mouth Mask with Pm2.5 Filter Chip Black

High Quality Polyester. Pm2.5 Filter Chip. Two Size Can Be Choosen For Child And Adult.
It Is Soft And Comfortable To Your Face, Very Effortless Breathable To Wear,And It Won'T Induce Discomfort.
It Is Adjustable That Can Be Change Its Length According To Your Face Contour, Preventing Leaving Trace On Your Face After Taking Off.
Ideal For Both Women And Men, Suitable For Cycling, Camping, Running,Travel,Climbing And Daily Use.Protect You From Fog,Haze,Vehicle Exhaust,Passive Smoking,Etc.
Include 2 Pcs Replaceable Filter To Make It Double Pretection. It Could Be Protected From Dust, Small Particles On Air, Pollen And Much More.Anti-Dust,Anti-Odor;Washable And Reusable.

Black fake teeth

Bestseller No. 1

Kiddies Mickey Mouse Ears

Bestseller No. 1

Black Phantom mask

Bestseller No. 1

KEFAN Mens Mask Halloween Mask Masquerade Mask Phantom of The Opera Half Face Mask

Vintage design men's phantom of the opera half face masquerade mask. Cool and mysterious.
100% high quality eco-friendly hard plastic. Created with very light-weight quality materials for long hours of comfortable wear.
Secured with silk ribbons attached to both sides of the mask. One size fits most. Well-fit your face with comfortable feelings.
Exceptional craftsmanship, very nice mask that carefully hand-made with the finest quality.
Perfect for Halloween, Christmas, carnivals, masquerade, Mardi Gras, party, dance ball, prom , costume cosplay party, fashion shows, wedding, mask events , night club and so on.

Black skull Bandana

Bestseller No. 1

Levi's Men's 100% Cotton Multi-Purpose Bandana Gift Sets – Headband, Wrap, Protective Coverage

PACKS OF ASSORTED SIZES & COLORS: Our Levi's bandanas are available in packs of 2, 3 or 6 pieces in multiple colors. From the timeless American Red, White and Blue, to additional designs in Green, Black, Turquoise, Camo and even Pink! Our packs give you various style options that make it easier for you to mix it up or even share with your friends.
VERSATILE & MULTIFUNCTIONAL: The only limit in styling these unisex bandanas is your creativity. From using as a protective face mask, to wrapping it around your wrist, to using it as a headband to style your hair, or even as an alternative to a neck tie, our Levi's bandanas are as versatile as they are functional. You can also use our bandana as a cotton square, handkerchief, neck scarf or pocket square to complete your look with a casual touch.
AUTHENTIC LEVI'S STYLE: Since 1873, Levis has been a pioneer in crafting pure American heritage products. From its iconic jeans, to jackets, and now accessories, the Levi's brand is an iconic flagship of the American fashion industry.
PRODUCT CARE AND FEATURES: Hand wash only for best care. Made of high quality 100 percent cotton. Product dimensions for each bandana is 21.5 inches x 21.5 inches
THIN MATERIAL FOR EASY WEAR: Our bandanas are made with breezy thin material for multi-use purposes. Durable yet lightweight and breathable, this cotton fabrication will be sure to stay comfortable all day long.

Harry Potter glasses

Bestseller No. 1

Big Mo's Toys Wizard Glasses - Round Wire Costume Glasses Accessories for Dress Up - 1 Pair Black

Big Mo's Toys Round Wizard Costume Glasses are perfect for Halloween and every day pretend play dress up.
These lenses have a diameter of 2.5", the glasses is a total of 5" wide, and the arm length is 5".
These Circular Fashion Eyeglasses fit kids and most adults and can be used for dressing up as a grandma or grandpa.
These Circle Glasses also work well for a Mr. Smee, Edna Mode, or Harry Potter Costume.
Big Mo's Toys items are made of High Quality materials that are Non-Toxic and Tested to ensure your Child's safety.

shark-biting hat

Bestseller No. 1

Metal handcuffs

Bestseller No. 1

Adult Food Funny Outfits

Bestseller No. 1

Silver Lilly Avocado One Piece Costume - Unisex Adult Plush Novelty Food Pajamas (Medium) Green

FULL OF FUN DETAILS - These fun avocado onesies feature a hood with leaf details and a pit in the center, just like the real thing. Match with a pair of slippers (not included) for your next pajama party!
COMFY & COZY - A special blend of comfort and fun, these plush materials are soft to the touch and will keep you warm during those cold winter months. The zip up closure allows you to quickly get dressed while the loose fit gives you the flexibility to easily wear over your existing clothes or jacket.
PERFECT FOR ANY OCCASION - Loose fitting style allows for full freedom of movement while maintaining style and comfort. The fun and whimsical designs will make sure you get noticed at your next bar crawl or festival.
CARE INSTRUCTIONS - Take good care of your new avocado onesie to prevent fading! We recommend our one pieces be hand washed and laid flat to dry. If ironing is required, it is recommended to do so on low heat only.
SIZING - Available in sizes Small through X-Large fitting men and women heights from 4'9" to 6'2" - Sizes are approximate as follows: Small fits 4'9" - 5'4"; Medium fits 5'1" - 5'9"; Large fits 5'5" - 6'; X-Large fits 5'9" - 6'4".
Entertainment/Miscellaneous For Halloween Care Package
Looking to include fun and eerie looking items in your care box to give someone a good scare, a helpful Halloween supply or just an exciting holiday? Here are some of the most loved Halloween-themed items to shop for:
Mini Jack-O-Lantern Bear

Bestseller No. 1

Plushland Halloween Pawpals 12 inches Puppy Dog Plush Stuffed Toy Comes with Hat and Halloween Jack O Lantern - Pumpkin for Kids on This Holiday (Labrador)

Super soft and cuteness overloaded. If you're looking to spice things up this Halloween, then the Plushland Halloween puppy dog is the ideal choice.
These little doggies will always choose a Treat over Tricks, even at Halloween time. Each breed is festive with a fun hat and a Jack O Lantern.
We have compiled a list of the 12 inches Halloween puppy dog comes with hat and Halloween Jack O Lantern appeal for your furry friend to sport this fall.
These festive and funny dog toys are a great way for you and your pup to enjoy the season together. Get your hell hound in the mood of to ward off mischievous spirits with any of our multi-textured Halloween dog toy
Look for other coordinating baby gifts from Plushland; great for baby to play with. This toy is sure to add charm to any Party OR Birthday decor this holiday!

Werewolf cookie jar

Bestseller No. 1

OXO 1128580 Good Grips Airtight POP Medium Cookie Jar (3.0 Qt)

3 qt size is great for holding a batch of cookies
Airtight seal keeps snacks fresh
Press button once to seal canister and again to open
Pop-up button serves as handle to easily remove lid
Large circular opening makes it easy to access snacks of various sizes.Silicone components are heat resistant

Halloween bubbles

Bestseller No. 1

ArtCreativity Light Up Halloween Bubble Blower Wand - 13.5 Inch Illuminating Bubble Blower Wand with Thrilling LED Effect for Kids, Bubble Fluid - Batteries Included - Gift Idea, Halloween Party Favor

DOUBLE THE FUN: Liven up your little one's playtime with beautiful bubbles and a lovely light show! This 13.5" wand for kids ensures double the fun with its serving of bubbles and light effects, and comes with a bottle of bubble fluid included and batteries installed to get the fun started right away.
EYE-CATCHING LOOK: Boy or girl, they'll be captivated by the striking aesthetics. The bubble blower wands light up from tip to tip, and feature a mix of pretty patterns and lovely color to inject some vibrancy into your kid's imaginative pretend play.
SIMPLE TO USE: Your kiddo will get the hang of this light up bubble wand in no time. Sliding up the switch activates the light show and bubbles while sliding the switch down activates the light only. And we've conveniently bundled every LED wand for children with batteries.
COOL PARTY FAVORS: Throwing a Halloween-themed bash for the kiddies? This bubble blowing wand makes an awesome Halloween party favor to enthrall the kids. They also make great prizes for that contest or carnival that falls within this time of year. Ideal for ages 3+
100% SATISFACTION GUARANTEED: We fully stand behind our products. Not satisfied with it? Our products come with a 100% money-back guarantee; we'll refund every single penny. Click 'Add to Cart' now to surprise the kiddos with a toy wand they won't want to put down!

Halloween finger puppets

Bestseller No. 1

CCINEE 5 Pieces Halloween Finger Puppets Witch, Ghost, Grim Reaper, Green Monster, and Pumpkin Character Finger Toys for Children and Adults, Halloween Party Favors Goodie Bag Fillers

Material: These Halloween finger puppets are made of silicone, nontoxic, soft and lightweight, safe for children to use.
Package includes: One set includes 5 pieces Character finger toys.
Designs: These silicone finger puppets are designed with classic Halloween characters: Witch, ghost, grim reaper, green monster,and pumpkin. Children must love them very much!
Applications: The finger puppets are great Halloween party favors as goodie bag fillers, Halloween gift, school classroom rewards. It's a good set for storytelling, role-playing, and teaching. Encourage imagination and learning.
Warning: The small sizes may lead to choking hazard, not for children under 3 years.

Halloween stickers

Bestseller No. 1

Juvale Halloween Stickers - 36-Sheet Halloween Party Stickers for Kids, Festive Stickers for Student Rewards, Party Supplies, Trick-or-Treat, Goodie Bags, 720 Total Pieces

HALLOWEEN STICKERS: This pack comes with 36 stickers sheets featuring 20 different cute stickers one each including spooky ghost, witch's hat, skull head, lollipop, candy corn, jack-o-lantern pumpkin, spider web, and more.
BULK SUPPLY: You get 720 stickers for a low price. Ensure you always have enough stickers on hand when occasions arise throughout the year.
HIGH-QUALITY: This set of stickers are made of high quality paper. These stickers are ideal for schools, kindergarten, Halloween celebration, costume parties, and other occasions.
PERFECT DECORATION: Ideal for crafts, scrapbooking, gift wrapping, lockers, notebooks, cards, laptops, or any other smooth surface.
DIMENSIONS: The smallest sticker measures 0.59 x 0.7 inches and the largest sticker measures 1.5 x 2 inches.

Halloween-themed Yoyo's

Bestseller No. 1

Halloween PlayDough

Bestseller No. 1

Halloween maze puzzle

Sale

Bestseller No. 1

Fall Placemats

Bestseller No. 1

Halloween-themed book

Bestseller No. 1

Pete the Cat: Trick or Pete

Dean, James (Author)
English (Publication Language)
16 Pages - 07/25/2017 (Publication Date) - HarperFestival (Publisher)

Skeleton shaped pillow

Bestseller No. 1

URSUN Stuffed Pumpkin Fluffy Pumpkin Plush Durable Halloween Pumpkins Decorative Couch Throw Pillow Soft Pumpkin Gift Party Christmas Orange 11.8"

🌈 Stuffed Pumpkin Full Stuffed With Pp Cotton Prevent Lack Of Stuffing Or Lumpy In Some Areas Issue Feature Adorable Soft Silky Plush Pumpkin Shape Brings A Smile To Your Children Lightweight Size Easy To Carry Around Ideal Gift At Any Occasion Birthdays Christmas And Halloween
🌈 Pumpkins Toy Not Only For Kids Gift But Also As Great Component For Halloween Themed Room Decoration Comfortable And Soft Enough To Rest Your Head Cuddling With Pumpkin Plush Toy On The Couch Watch Tv And Huggable As Couch Throw Pillow Enjoy This Sweet Time Adds Color To Your Living Room
🌈 Pumpkin Plush Careful Stitching Each Edge Of Fabric Makes Sure It Won't Easily Rip Off Or Holes Issue Properly Stuffed Enough Pp Cotton Make It Adorable And Cozy Smooth Feeling And Huggable Comfortable To Sit On Nicely As Office Sofa Or Car Seat Cushion
🌈 Orange Pumpkin Plush Toy Feature Bright Orange Color And Green Melon Vine Vacuum Sealed Packaged Able To Fluff Up When You Open It Up Makes It Looks Like A Real Pumpkin Surface Washable Material For Easy Cleaning Simply Tossing It In The Washing Machine Won't Cause Faded Issue
🌈 Pumpkin Pillow Handcrafted Is Your Best Choice Don't Worry About Any After-sales Problems. We Will Give You 100% Products Replacement Or Refund If You're Not Satisfied With It For Whatever Reason

Masquerade ornaments

Bestseller No. 1

Christopher Radko Hand-Crafted European Glass Christmas Ornament, Mardi Gras Masquerade

Who's the dazzling woman behind the mask strolling out onto Bourbon Street? She really put on quite a show. I guess that's the point of a disguise—her true identity we'll probably never know.
Size in inches: 7x3x4
For over 30 years, Christopher Radko has captured hearts of millions with extraordinary hand-crafted ornaments. Radiance & originality of each piece brings joy during holiday season. We use centuries-old techniques to blow,silver,hand-lacquer& embellish every ornament. It begins from creating a 3D mold from clay, inspecting each curve & indent of the mold to make sure it is absolutely impeccable. A sand-cast model is then made from molten metal & production process officially begins.
This Ornament is carefully packaged in an official Christopher Radko Gift/Presentation Box for easy gifting and storage
Made in Poland

Giant googly eyes

Sale

Bestseller No. 1

Zombie Ballerina Figurines

Sale

Bestseller No. 1

The Very Hungry Zombie: A Parody

Used Book in Good Condition
Hardcover Book
Teitelbaum, Michael (Author)
English (Publication Language)
26 Pages - 10/16/2012 (Publication Date) - Skyhorse (Publisher)

Plastic Tarantula Spider

Bestseller No. 1

SCHLEICH Wild Life Tarantula Educational Figurine for Kids Ages 3-8

DETAILED & REALISTIC. Crafted with precision and authentic detail to create a lifelike toy that teaches and inspires toddlers and kids. From the first sketch to the intricate finishing touches, we see value in every detail.
HEALTHY IMAGINATIVE PLAY. The Tarantula from Schleich is carefully designed to inspire safe and creative pretend play for children as both a single toy or part of a larger collection.
PART OF A GROWING PLAY WORLD. The Tarantula is part of the Wild Life collection of figurines and playsets from Schleich. Great for gifting, this figurine can stand alone or fit into a larger, modular play world. The Wild Life Croco Jungle Research Station is an excellent accompaniment.
BUILT TO LAST. As an 85-year-old German toy company, we are committed to manufacturing realistic toys with the highest standard of quality and safety for years of durable play and collectability. All products and the materials used meet or exceed the strictest applicable national and international toy safety requirements.
EXPERT APPROVED. "Schleich playsets and figurines inspire kids to play imaginatively: an essential part of healthy childhood development so often overlooked in today's fast-paced world." - Dr. Sandra Stone, open-ended play expert

Mini Lunar Color Changing Lamp

Bestseller No. 1

Moon Lamp, 3 Colors 3D Led Moon Night Light Lamps, USB Rechargeable & Touch Control Dimmable Moon Lamp with Stand, Creative Moon Light Room Decor for Kids Women Lover Birthday Gifts (3.9 inch)

Moon lamps using 3D printing technology, realistic magical full moon shape, the surface of the moon lamp is very close to the luna moon, novelty & charming and cute.
Lunar lights as magical gift, a magic & enchanting moon ball mood lighting with 3 colors for Valentine's, birthday, housewarming parties, baby showers, Valentine's Day, Thanksgiving, Christmas, Parties, Wedding. A unique holiday gift for women and children.
Enchanted moon lamp works as a cool & hypnotically night lights for your newborn / kids / baby. With soft lighting, help your child feel safer and fall asleep faster while sleeping. Sweet sleep, amazing dream.
Moon globe lamp works as a novelty dreamlike and romantic decorative lights for your kids' nursery room, living room, dining room and bedroom. Soft moonlight can also be used as a source of reading and relaxing before going to bed.
Moonlights come on with USB charging port, you can charge this moon ball light on your computer / power bank / charger adaptor etc, no line hang around,charge for 2 hours, use 8-10 hours. If anything goes wrong with the moon ball, we GUARANTEE its replacement.

Skeleton bookmark

Bestseller No. 1

Small Keepsake Box, Bookmark or Presentation Skeleton Key | KY-1

The best replacement hollow barrel skeleton key for vintage and modern furniture.
This key fits for locks used on jewelry boxes and other small furniture.
Overall Length: 1 5/16" Shaft Length: 9/16" Bit: 3/16" x 3/16" Inner Barrel Diameter: 3/32" Sizes are Approximate Solid Brass
The package contains one skeleton key.
The key is made of solid brass.

Halloween rubber ducks

Bestseller No. 1

JOYIN 18 Pieces Halloween Fancy Novelty Assorted Rubber Ducks Variety for Fun Bath Squirt Squeaker Duckies , Toy, School Classroom Prizes Ducky, Trick or Treat Fillers and Party Favors.

🎃COMPREHENSIVE SET. Bathroom Novelty Yellow Rubber Ducky 18 Pieces Pack.
🦇Halloween Theme Style Duckies (Zombie Duck, Vampire Duck, Monster Duck, Ghost Duck, Witch Duck, Pumpkin Duck and more!
💀MULTI-FUNCTIONAL. Variety Yellow Ducks can be used for playtime, display or collection! Good for toddlers, kids, teens, adults to pretend play, stress relief and more!
🕷️ENDLESS FUN. Our small yellow ducks are perfect for bathroom toys, learning, and educational toys, birthday parties, Halloween parties, classroom gifts, treats and more!
🐈‍⬛PREMIUM QUALITY. Child safe: non-toxic. Meet US toy standard. Safety test approved.

Mini skull stress balls

Bestseller No. 1

Totem World 24 Colorful Sewn Mesh Stress Balls - 2.4" Squishy Fidget Toy Perfect for Kids and Adults Materials for Lasting Use - Squeeze Balls for Anxiety and Concentration - Great Party Favors

EXCLUSIVE SEWN MESH BALL - We at Totem World have developed an alternative and superior version of the popular mesh squeeze ball. No more plastic clips holding the netting down thereby avoiding the mesh falling off after a few squeezes. Additionally since we eliminated the plastic tie there is no more rough and dangerous ends poking out.
100% SATISFACTION GUARANTEE - If for any reason you are not fully satisfied please let us know so we can make it right! ★★PLEASE NOTE. We do guarantee much better quality overall. HOWEVER please understand that in order for these balls to emerge through the mesh they need to be a certain material. After extended play THEY WILL eventually leak goo. If this is a problem for you than PLEASE DO NOT BUY:)★★
FOR KIDS AND ADULTS - Whether your kid wants to just have a really fun toy or is in need of a way to handle his sensory issues, these mesh balls can really help for a kid with AUTISM, ADHD, ADD & ANXIETY. Comes with 4 colors. green, orange, pink, and yellow.
PREMIUM SUPERIOR QUALITY - When we write top notch quality we really mean it. Our exclusive sewn version has been continuously tested until the best sewing technique has been discovered and utilized. The mesh netting will stay in place and last for many many squeezes!
THE ULTIMATE AND PROVEN STRESS RELIEF - Mesh squeeze balls have been around for quite a while. There is a reason for that. Using our mesh balls in any stressful environment can greatly release harmful stress whether it is for a kid who needs a healthy outlet or an adult who is having a stressful day at work.

Mini Bloody brain

Bestseller No. 1

Godzilla Monsters figurine

Bestseller No. 1

Bandai Godzilla Movie Monster EX: Godzilla 1968 7" Vinyl Figure

7 inches tall
TM & (C) TOHO CO. LTD.
Age: 3 years old or more
The perfect collectible but child-resistant and ideally suited to endless hours of creative play.
A high-quality best-selling Japanese toy made by Bandai, the worldfs largest toy company and a popular culture icon character in Japan and now the world!

Stuffed scaredy-cat
Halloween Bloody shower curtain

Bestseller No. 1

Voodoo Doll Toothpick holder

Bestseller No. 1

Fred OUCH! Silicone Toothpick Holder, Gray -

Cast a spell over your next party with this bewitching toothpick holder
Cast a spell over your buffet Table with voodoo-inspired holder
Made of soft, food safe, 100% BPA-free silicone
Toothpicks not included; hand wash recommended

Jar of Pumpkin slime

Sale

Bestseller No. 1

Hulluter 70PCS Slime Add Ins Slime Kit Floam Beads Fish Bowl Beads Mreaind Unicorn Slime Charms Glitter Jars Slime Supplies Kit

Slime supplies kit: Total 70 pack. including 4 pack foam beads for slime, 4 pack fishbowl beads.24 pcs glitter sheet Jars, 12 pcs heart slices, 14 pcs unicorn, 12 pcs mermaid. you can DIY slime according to your preferences. Color: as the picture shows
Slime charms: slime charms to put in slime. Mermaid charm and unicorn slime charms. The resin material fun stuff. have the characteristics of good gloss, abrasion resistance, reused and durability.unicorn charm party supplies
Slime making kit supplies: slime beads. pastel foam beads. fome beads for slime. micro foam beads. jumbo foam beads. rainbow foam beads. crunchy fishbowl beads. slime tools for slime making art DIY craft
DIY slime kit, premium and environmental, comfortable touch, can enjoy the slime suppliers kit all time. Slime kits, so slime diy. Enhance their creativity and imagination
Slime accessories charms. The slime bead made of plastic. slime supplies kit.Note: This kit does not include slime.

Shark socks

Bestseller No. 1

Foot Traffic, 3D Socks (Great White Shark)

FUN SOCKS WITH A 3D TWIST: Our newest 3D great white whale socks are so fun to wear and scare! The markings are clearly recognizable as the fearsome creature of the sea. 3D fins adorn each side of the sock.
MAKES A GREAT GIFT: Makes a great gift idea for the sock lover or collector in your life! Perfect for birthdays, get-wells, stocking stuffers and more.
BLENDED FOR COMFORT: The custom blend of cotton, nylon, polyester, and spandex makes these socks breathable, soft, and incredibly comfortable. The high-quality construction means these socks provide a great fit for all-day comfort.
THE PREMIER SOCK BRAND: For over 30 years, Foot Traffic has been committed to offer our customers on-trend creative designs, consistent quality, and great value. We are excited to bring colorful, functional and fun products to hundreds of boutiques and sock enthusiasts around the world.
UNBEATABLE SERVICE: At Foot Traffic, we want you to be happy. We will promptly exchange or refund any merchandise that does not completely satisfy you. Returns are accepted up to 60 days from the shipping date, and you will be reimbursed for the product according to your method of payment.

Monster Pen

Bestseller No. 1

Ooly Monster Gel Pens - 0.7mm Black Ink Pen - Set of 4

FUNCTIONAL - Featuring a medium-sized 0.7mm point with smooth black colored gel ink, these gel pens are your go-to pens for some school or office writing.
FUN AND CLEVER DESIGNS - Not only do they write well but these cute little monsters also like to keep connected, snapping together hand in hand.
VERSATILE - These Monster Gel Pens can be used for drawing or note-taking. Each set comes in 4 gel pens, so you can choose the adorable monster pal you'd want to use for your writing or drawing projects.
PREMIUM QUALITY - Whatever you write or draw, it'll come out nice and clean with the pen's amazing gel ink color. These gel pens offer ergonomic use for a smooth writing experience. Each pen lays down a steady sheen of a wonderfully smooth black gel ink.
IDEAL GIFT - These clever gel pens makes an ideal gift for kids, students, professionals, or kids at heart. Surely, they'll love having these funny monster gel pens for all their note-taking needs.

Spooky Skeleton Bones

Bestseller No. 1

28 Pieces Skeleton Bones and Skull for Halloween Decor or Spooky Graveyard Ground Decoration

Skeleton bones decor: Includes 28 bone pieces that includes a skeleton skull, hands, backbone and more.
Perfect for a haunted house, spookiest graveyard scene, Halloween party decor, April Fool day and more.
Realistic design, affordable pricing and great quality; re-use for all your spooky special events and parties.
Transform any outdoor location into an unforgettable experience with the half-buried skeletal remains Halloween decoration not just for Halloween but also for other special occasions
Bag includes: 28 pieces plastic bones & skull

Colorful worms

Bestseller No. 1

Hicdaw 61PCS Magic Worms Wiggly Worm on A String Twisty Fuzzy Worm Toys for Carnival Kid Party Favors

QUANTITY - 61pcs in total, 60pcs magic worm toys with 6 different colour, 1pc organza bag for storage the worm toys
SIZE - Approx. 8.7 inch*0.7 inch
COLOR - 6 colour Included blue, purple, orange, pink, yellow, green, multi-colour can meet different people's preferences
USAGE - Using the transparent string to tie the tail, twine the worm toy on your fingers, then pull the string to make it move
WIDE APPLICATION -These magic worm toys can play an important magic prop to pay audience's attention, And used as children's toy and cat's toys

Howling Wolf Wax Seal Stamp

Bestseller No. 1

Plastic spider confetti

Bestseller No. 1

Wusteg Halloween Confetti Halloween Party Plastic Confetti Glitter Colorful Pumpkin Spider Confetti Party Decorations Halloween Table Scatter Decors DIY Crafts Uses

Quantity: It comes with about variety plastic Halloween confetti in different patterns, Wicth, Ghost, Bat, Spider, Pumpkin, Spider web, Skeleton and Stars.They are enough for your needs.
Material: These Halloween confetti are made of plastic material.You can spread out on a table to bring some sparkle to the Halloween dinner table.
Combination with others: You can coordinate with other Halloween decorations like balloon, banner, and other Halloween party accessories, suitable for decorating any halloween party.
Lightweight to use: These are very light. You can use them in anywhere you like, such as wall, window, door, notebook. You can also exercise children's handmade.It's so fun to make decorations with these homemade project.
Widely usage: Great for making scrapbook, arts and crafts, gift wrap, classroom or home decoration and many other projects in Halloween.

Boo Dough PlayDough Wrappers

Sale

Bestseller No. 1

KIDDY DOUGH Tool Kit for Kids - Party Pack w/Animal Shapes - Includes 24 Colorful Cutters, Molds, Rollers & Play Accessories for Air Dry Clay & Dough

ULTIMATE KIDDY DOUGH TOOL KIT – Bulk 24-Piece Factory Play Set Inspires Hours of Creative, Imaginative Play; Recommended for Ages 3 and Up
TONS OF COLORFUL CUTTERS – Each Pack Includes Mini Rolling Pin, Cookie Cutters, Stamps, Molds & Other Utensils in a Variety of Bright, Fun Colors
ADORABLE ANIMAL THEME – Let Kids Learn & Explore With Tools Featuring Cute, Cuddly Animals; Make Endless Zoo Creations at Home or at School
SAFE, EASY & NON TOXIC – Lightweight Pieces are Perfectly Sized for Tiny Hands; Slim Handles & Special Shallow Molds Allow for Easier Pressing & Cutting
EFFORTLESS TO CLEAN – Low Maintenance Toys Wash & Stow Without Worry; Special Bonus Pack Includes 2 FREE Surprise Kiddy Dough Extruders

Skeleton candle

Sale

Bestseller No. 1

PyroPet Candles Kisa Candle, Gray

A cute cat shaped candle reveals the wild Beast inside her, a grinning metallic Skeleton with fire blazing in her eyes
Dimensions: 6.7 x 3 x 4.5 Inch
Burns for approximately 20 hours
Made from paraffin wax, Cotton wick and aluminum
Beautiful gift box- Grey color

Temporary Talking Hands Tattoo

Bestseller No. 1

42 Sheets Temporary Tattoos Stickers (Include 10 Sheets Large Stickers), Fake Body Arm Chest Shoulder Tattoos for Men and Women

SIZE - 42 sheets temporary tattoos, over 140 beautiful designs, size is 8.27*5.83 inch (21*14.8cm) 10 sheets, 4.1*2.4 inch (10.5*6cm) 32 sheets. Metallic temporary tattoos shimmering long lasting temptats, great as accessories, party favors
PREMIUM QUALITY :Gold tattoos metallic will last several days and keep its flash & glitter look. They're come in chic designs including feathers, diamond, swan, elephants, flowers, mandalas, geometric prints, hand bracelets, butterflies, boho wrist bands, angel, arrows, stars, animal prints, and more.
QUICK & EASY TO APPLY :Remove clear film, Apply tattoo on clean dry skin, dab tattoo with damp paper towel, Remove paper, let tattoo dry. It's that simple!
SUMMER NECESSARY, summer, you do not burden the weight of the adornments, also can wear it to beach or pool parties, dating and so on. With long lasting and waterproof like real adornments. Our gold temporary tattoos perfect for girls, teenagers, women, adults & kids.
WATERPROOF & NON-TOXIC :These stylish fake jewelry tattoos are safe and fun for all ages including kids & adults.

Halloween-themed Lego set

Bestseller No. 1

LEGO Halloween Headless Horseman + Skeleton Horse Toy - Custom Spooky Monster Minifigure (Legend of Sleepy Hollow)

ALL LEGO BRAND NEW PARTS - Headless Horseman Minifigure parts are 100% Lego Parts. All items shown in the picture which include (but are not limited to): Headless Horseman (with Cape and Pumpkin Head), Skeleton Horse, Torch, Scythe, Whip, Bat, and More!
CUSTOM LEGO HALLOWEEN TOY - Custom made figure from ThemToys that represents the evil Headless Horseman from the Legend of Sleepy Hollow. He's coming for you Ichabod Crane!
EASY LEGO BUILD - The Headless Horseman arrives unassembled, but is easy to put together! With all these different parts, you can assemble and display in a number of ways!
PERFECT HALLOWEEN LEGO FIGURE GIFT - Complete with the Headless Horseman is his spooky Skeletal Horse and all his weapons. Measures roughly 3" x 3" x 1", a good sized LEGO mini figure!
HALLOWEEN MINIFIGURE PROP - Use as a prop while reading or watching The Legend of Sleepy Hollow. Provides everything needed to allow creativity to run wild!

Halloween Playing cards

Bestseller No. 1

Bicycle Tragic Royalty Playing Cards

Country Of Origin : United States
The Package Height Of The Product Is 1.8 Centimeters
The Package Length Of The Product Is 9 Centimeters
The Package Width Of The Product Is 6.6 Centimeters
Polish (Publication Language)

Halloween Activity Book

Sale

Bestseller No. 1

Pick Your Poison candy jar

Sale

Bestseller No. 1

Trick-r-Treat Halloween Phone case

Sale

Bestseller No. 1

Trick 'r Treat Halloween Poster Case Cover Compatible for iPhone iPhone (11)

Easy access to all the controls and features; Perfect cutouts for speakers, camera and other ports.
Ultra-thin original iPhone case Probably the thinnest case you've ever seen. Protect your iPhone from scratches and small bumps without the usual iPhone covers.
Made with PC and TPU. Slim design. Ultra transparent and scratch-resistant back.
Designed to emphasize the thinness without affecting phone security. Scratch-resistant and anti-fingerprint, durable and easy to clean.
We are offering up to 12 months warranty. If you are not satisfied with our products, please contact us, we will guide how to use, we will provide full refund or replacement. So you can buy our products without any risks.

Bloody syringe with red ink pen

Bestseller No. 1
And that's it – 200+ Halloween Care Package Ideas perfect to spice up the holiday for family and friends. What's your favorite item on the list to receive in a care package? What items are essential for a Halloween Care Package to you?
Let's hear them through the comments section!