Halloween is undoubtedly one of the most exciting holidays in the year, and it is the only time you can send a Halloween Care Package to a loved one without coming across as a weirdo.
A Halloween care package is a box with all the necessities to make it a memorable Halloween.
As mentioned earlier, Halloween is fun alright, but you know what isn't fun? Putting together a Halloween care package. You have to decide on the items to include, the things to leave out, and of course, you have to ship the box as well.
In this article, you are going to learn how to put together an excellent Halloween package. Also, to help you fill your box quicker, we are going to share a ton of wonderful Halloween care package ideas with you.
How to Make a Halloween Care Package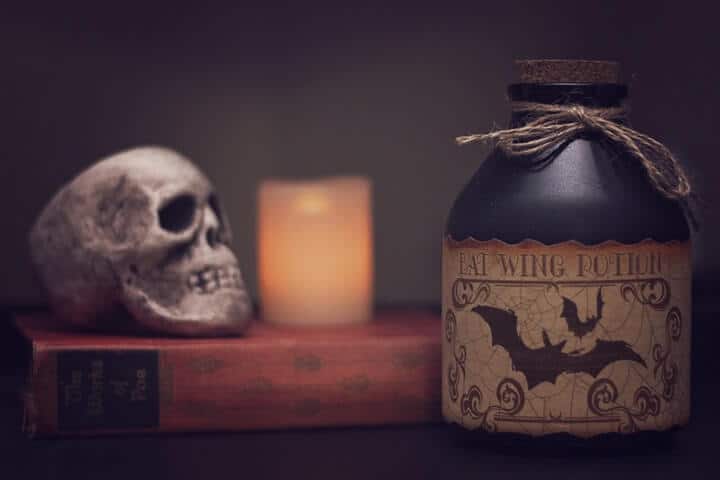 Just like when you're putting together a care box for certain holidays with specific dates, (like Christmas, Valentine's Day etc), it is best to have them sent out before the holiday so that it gets to its destination on time, most especially if decorations and costumes are included in the package, and to avoid any unforeseen delay.
Next, decide on how much you'd be spending on purchasing each item you plan on including in your box, packaging (including buying a care box if you'd rather not use an old box at home) and shipping your package (if it's going overseas).
There are a good number of Halloween themed sites on the internet to get supplies, and you can choose to obtain a Care Package box from your post office or a shipping company.
Ensure all fragile items are carefully wrapped with newspapers and your box is stuffed to keep items from shifting around.
Edibles should also be kept as far away as possible for other items that could give them an unpleasant scent or taste.
Also, you can decorate your box with orange and black markers, ribbons and even colorful tissue papers to give it an attractive look. Also, remember to tape your box securely before dropping it off for delivery.
If you're sending your care package to someone who resides close to you, you can have it sent out through a local delivery service or drop it off yourself.
When shipping overseas, you would be expected to fill a customs form and also submit information such as the receiver's address, your personal address as well as a list of all the content in your box.
Shipping regulations are expected to be abided to at all times.
Essentials for Halloween Care Package
Trying to decide on the most important items to include in this year's Halloween Care Package? Want to shop for only the best and most essential that'll kick-start the Halloween spirit? Here are some exciting Ideas to start with:
Treats for Halloween Care Package
Ready to spice up this Halloween with unique and great tasting treats perfect for the holiday? If you're looking for some of the yummiest Ideas to gift out, here are a couple of our favorite:
Fall-themed Gourmet Berries

Bestseller No. 1

Apple Cider Vinegar Gummy Vitamins by Goli Nutrition - Immunity & Detox - (1 Pack, 60 Count, with The Mother, Gluten-Free, Vegan, Vitamin B9, B12, Beetroot, Pomegranate)

Vegan, Non-GMO, Gluten-free & Gelatine-free: Each bottle of Goli contains 60 delicious vegan, non-gmo, gluten-free & gelatine free Apple Cider gummies. Our formula will make Apple Cider Vinegar gummies accessible to anyone and everyone.
Better digestion, more energy, clearer skin, detox, immunity: Relieve digestion issues, experience more energy, watch your skin clear up and feel as your body detoxes with Goli Gummies. Enjoy all of the benefits of Apple Cider Vinegar without the downside of drinking it. Goli is an excellent and easy way to incorporate Apple Cider Vinegar into your daily routine.
Made in USA: with select ingredients thoughtfully curated from around the world. All Goli products are made in allergen-free state of the art facilities in the United States to ensure that the quality of our product is the highest it can be.
Real apples, vitamin packed, great taste: Made with real apples, beetroot and pomegranate, Goli Gummies are as delicious as they are good for you. Our vegan friendly formula is packed with Vitamin B12 and B9 that will help improve energy, support healthy skin and so much more.
Goli is a proud supporter of Vitamin Angels.

Chocolate covered Strawberries

Bestseller No. 1

Golden State Fruit 18 Piece Chocolate Covered Strawberries, Berry Bites

18 BITE SIZED berries perfect for sharing! These petite berries come in the same footprint of our regular 12 count box
Orders received Mondays-Thursdays before 8:00 am PST/11:00 am EST will arrive next day. Orders placed after the Thursday cutoff time will ship the following Monday for delivery Tuesday.
Each berry is dipped in real milk, dark or white chocolate and drizzled with even more rich real chocolate
Freshness and premium quality are 100% guaranteed. Made to order and shipped overnight with ice in our signature gift box to ensure perfect arrival.
Delivery is not available on Saturday, Sunday or Mondays. Gift messaging availavle at checkout

Pumpkin muffins

Bestseller No. 1

Simple Mills Almond Flour Baking Pumpkin Bread Mix, Gluten Free, Muffin Pan Ready, Made with Whole Foods (Packaging May Vary), 9 Oz

Receive 1 box of Simple Mills Almond Flour Pumpkin Bread Mix. Perfectly spiced pumpkin mix that uses actual pumpkin and actual spices. Great for fun and nutritious baking.
Take a look at our nutritious baking mix ingredients. Nutrient dense, purposeful ingredient list for these delicious baking products from Simple Mills.
See our reviews on your iPhone, iPad, Android, or laptop by scrolling down to see how other consumers rate our delicous taste!
Nothing artificial, ever. Shelf stable snack that is perfect for stocking up the pantry and great way to gain energy and boost productivity
Made With Simple Ingredients, Certified Gluten free, Non-GMO, Grain Free, Corn Free, Paleo Friendly, Plant Based

Halloween-themed Candy stash

Bestseller No. 1

Black lollipop

Bestseller No. 1

Black and White Swirl Pop Suckers (24 individually wrapped lollipops) Party Candy

These black and white swirl suckers are a great candy to have around during birthday parties, carnivals, fundraisers or wherever you need to brighten up your treat table or candy buffet. Sweet, tasty fun for both kids and adults,
Each 2" sucker comes on a 4 1/2" plastic stick.
Cherry flavor.
Individually wrapped
Bulk set of 24 swirl pops. Total weight, 14 oz.

Cheese Crackers

Bestseller No. 1

RITZ Cheese Sandwich Crackers, 48 Snack Packs (6 Boxes)

Each layers a mouthwatering cheese spread, made with real cheese, between two crisp Ritz Crackers.
Ritz Cracker Sandwiches are a great anytime snack and perfect for lunchboxes or quick meals.
Each individually wrapped pack is sealed for freshness and includes six Ritz Cracker Sandwiches.
This includes 48 - 1.35oz packs of Ritz Cracker Sandwiches with cheese.
Delicious Ritz Cracker Sandwiches are the classic go-anywhere snack that kids and adults love.

Candy Corn

Bestseller No. 1

Brach's Classic Candy Corn, 11 oz bag

A HALLOWEEN CANDY CLASSIC: The original, sweet, tricolored treat! Celebrate the flavor of fall with this classic candy corn staple that adds a special touch to any autumn moment. Brach's Candy Corn is the perfect sweet treat to fill your Halloween candy bowl, trick or treat candy bags, and decorate delicious halloween snacks. The Halloween season isn't complete without candy corn, and there's no better than the original—Brach's Classic Candy Corn!
MADE WITH REAL HONEY: Brach's Classic Halloween Candy Corn is full of flavor you can count on every fall season. Rich in both texture and taste, this candy corn is the perfect Halloween snack and decoration for all your Fall recipes and treats.
BAKE AND MAKE HALLOWEEN MOMENTS: Add a true touch of fall to all of this season's treats. Candy corn is perfect for candy bowls, trick-or-treat bags, movie nights, fall parties and pumpkin carving contests. Create memorable seasonal treats, cookies, cakes, pies, and snacks with a touch of candy corn that brings Autumn home.
AMERICA'S #1 CANDY CORN: Brach's classic candy corn delivers on the iconic, unique, rich, and velvety texture and real-honey flavor that makes us America's favorite candy corn. Nothing signifies Halloween and the fall season more than candy corn, and Brach's has been delivering this widely recognized treat to you to enjoy at your family celebrations, children's parties, work gatherings, and other fall-themed events.
AMERICA'S CANDY MAKER: Brach's has been making America's favorite candies since 1904. Our delicious variety of classically crafted confections are sweet treats that celebrate the season and all the moments in between. Share a little, or a lot, and make your memories sweeter.

Halloween cheese balls

Bestseller No. 1

Utz Baked Cheddar Cheese Balls 8.5 oz. Bag (3 Bags)

UTZ CHEDDAR CHEESE BALLS - Try our classic baked cheddar balls today! Available in orders of 3, 4 or 6 bags!
GUARANTEED FRESH - Our snacks are guaranteed fresh until the printed day. Shipped factory fresh each day!
NO PRESERVATIVES, NO TRANS FAT - Utz has removed all preservatives and trans fats from our cheese balls.
GLUTEN FREE - Our Utz Cheddar Cheese Balls are certified gluten free!

Halloween Edition Oreos

Bestseller No. 1

Oreo Chocolate Sandwich Halloween Cookies, (2 Cookies Per Pack) Special Halloween Edition

This bulk pack contains 34 individually wrapped 2-packs of Halloween trick or treat OREO cookie packs.
Nothing compares to the iconic OREO Halloween cookie. The original combo of cream filling sandwiched between two chocolate cookies has been winning hearts (and stomachs) for over 100 years.
Enjoy the sandwich cookie you love, in a Halloween inspired package! With the same great chocolate cookie and OREO creme taste, this sweet treat is a delight.
This box is perfect for trick or treaters, on-the-go, party favors, goodie bags, lunch boxes, goodie jars, Halloween parties, dessert, lunch, and office snacks.
Each serving of trick or treat cookies is only 100 calories per pack.

M&M's chocolate

Sale

Bestseller No. 1

M&M'S MINIS Milk Chocolate Candy Bar, 4-Ounce Bar (Pack of 12)

Contains twelve (12) 4-ounce extra-large M&M'S Milk Chocolate Bars with Minis
Made with M&M'S MINIS Candies and delicious milk chocolate
These extra-large chocolate bars make deliciously fun, colorful gifts
Individually wrapped candy bars can be broken into pieces to share
Great for Christmas stockings, birthday gifts, Easter baskets, Valentine's Day treats, and more!

Oatmeal-Butterscotch cookies

Bestseller No. 1

Pair (2) - Oatmeal Cookie Dough & Butterscotch Cookie Dough - Premium Fragrance Oil Pair - 10ML

USES - Our Premium Grade Fragrance Oils are formulated to be suitable for creating your own candles, soaps, air freshener spray, skin and hair care formulations, cleaning products, for use in home aroma diffusers, scented dryer sheets, freshen a drawer, potpourri, freshen carpets, massage/body oil, sugar scrubs, and many more. Personalize any of your unscented products. Use your imagination to create a scent that is simply yours.
Amber glass 10ml bottle with a black polypropylene ribbed cap and tamper evident ring with a dropper insert. The dropper inserts a small amount of product to be dispensed. This cap and orifice reducer combination is great for dispensing oil.
Fragrance oils are for external use only. This product should not be used undiluted. For any questions regarding proper usage in products please contact us.
OATMEAL COOKIE DOUGH - This Oatmeal Cookie Dough Fragrance Oil is the real deal! An authentic mixture of aromas that smell like cookie dough, sweet cream, hints of cinnamon, and sugary vanilla.
BUTTERSCOTCH COOKIE DOUGH - Buttery, rich scent that appeals to the sense of taste as well as smell. Nuances of pineapple and banana form the top notes. Mild notes of buttery caramel and sweet butter scotch. Creamy vanilla and powder base notes round out the fragrance.

Flavored worm snacks
Eyeball Bubble Gum

Bestseller No. 1

Pepper beef jerky

Bestseller No. 1

Jack Link's Beef Jerky, Peppered, ½ Pounder Bag - Flavorful Meat Snack, 9g of Protein and 80 Calories, Made with Premium Beef - 96% Fat Free, No Added MSG or Nitrates/Nitrites (Packaging May Vary)

GOOD SOURCE OF PROTEIN – Protein is an essential part of your diet and Jack Link's Beef Jerky is a delicious way to get more every day. With 9g of protein and 80 calories per serving, it's a must-have snack to help keep you satisfied and energized all day
MADE WITH 100% PREMIUM BEEF - Jack Link's Beef Jerky is made from lean cuts of 100% premium beef, then seasoned with simple ingredients like water and salt. Our delicious beef jerky is 96% fat free with no added MSG or Nitrates/Nitrites
FULL ON FLAVOR: Love a little spice. Our Peppered Beef jerky delivers. Expertly seasoned with a special blend of herbs and spices and finished off with cracked black pepper. Then, it's slow roasted over hardwood smoke. Each savory bite is filled with a pepper-y punch of perfection.
PERFECT EVERYDAY SNACK – How did ancient civilizations fuel themselves to build pyramids or win sword battles? Meat. If it worked for them, Jack Link's beef jerky can definitely help you power through a late day at work, tackle your honey-do list or fuel a workout
RESEALABLE SHARING SIZE –The jumbo 1/2 pound sharing size bag is resealable so your beef jerky will always be fresh and as delicious as the first time you opened it! It's perfect for sharing with family and friends or to stash in your secret spot and keep all to yourself

Peanut Butter Eyeballs

Bestseller No. 1

Halloween Milk Chocolate Peanut Butter Spooky Eye Balls, Trick-Or-Treat Party Bag Fillers, Individually Wrapped in Multi-color Eye Design Foils, Kosher Certified (1 Pound)

HALLOWEEN PEANUT BUTTER CREEPY EYE BALLS: These Halloween Milk Chocolate Peanut Butter Creepy Peepers are perfect for Halloween Parties, Pirate Parties and all Spooky entertainment. They come wrapped in Eyeball Foil Design and add Fun, Decoration and Atmosphere to your Halloween party that will leave good memories to all your guests!
PARTY FAVOR: The Halloween Milk Chocolate Peanut Butter Creepy Eye Balls are the perfect addition to any Spooky Fun Halloween or Pirate Party. All your guests will enjoy seeing them as decoration and eating them! It will enhance and add a little bit of fright to your party! They are wonderful for Trick-Or-Treating, Office Celebrations, Birthday Parties, Carnival Prizes, Classroom Rewards, Goodie bag Fillers, Gatherings and much more!
PACKAGING: The Halloween Chocolate Peanut Butter Creepy Eye Balls come in a 25-Pack, Half-Pound Pack, 1 Pound Pack, 2 Pounds Pack and 5 Pounds Pack Individually Wrapped in Green, Blue, Orange, Purple Multi-color Eyeball Design Foils! Great for hiding in Goody Bags and Hand Them Out to All Your Party-Goers as a Tasty Party Favor!
BUY RISK-FREE: At Fruidles we fully stand behind our products with total satisfaction and 100% money-back guarantee.
Kosher Certified

Pumpkin Cake

Bestseller No. 1

Halloween Pumpkin Cake

Amazon Prime Video (Video on Demand)
--- (Director) - YoBoHo New Media Pvt Ltd (Producer)
English (Playback Language)
English (Subtitle)

Sweet and Sour candy
Cheetos

Bestseller No. 1

Frito-Lay Doritos & Cheetos Mix (40 Count) Variety Pack

Variety pack of Doritos and Cheetos favorites with classic flavors in one convenient package
With 4 different varieties, there's sure to be something everyone will love
40 count pack featuring 10 each of these classic favorites - Cheetos Puffs, Cheetos Crunchy Cheese Flavored Snacks, Doritos Nacho Cheese, and Doritos Cool Ranch Flavored Tortilla Chips
These much loved treats are fun to enjoy at lunch, as an after-school snack, or party refreshment
Easy to carry, easy to store, and easy to pack

Black jelly beans

Bestseller No. 1

Spider Web cotton candy

Sale

Bestseller No. 1

Gummy Eyes Halloween Candy

Sale

Bestseller No. 1

Peppermint candies

Bestseller No. 1

Brach's Star Brites Peppermint Starlight Mints Hard Candy, 5.6 lbs Bulk Candy Bag Individually Wrapped Bulk Holiday Candy

Brach's peppermints: Sweeten the moment with the classic minty fresh taste of Brach's Star Brite Peppermint hard candy, individually wrapped and perfect for holiday candy dishes or sharing with family and friends
Brach's hard candy: Star Brite Peppermint candy, sweet and spicy cinnamon, old fashioned butterscotch, root beer barrels, lemon drops whatever your favorite hard candy, Brach's candy makes everyday moments special
Brach's bulk candy: Whether you are looking for individually wrapped bulk candy for party favors, bulk gummy candy for a crowd, or bulk chocolate to keep cravings at bay, Brach's Candy has you covered
Make any day sweeter: From kid's birthday parties or gift bags, to Halloween candy for tricker treaters or candy canes at Christmas, to a sweet treat in a busy day, Brach's makes every day sweeter
Brach's made to share: Brach's Candy has something sure to please everyone's sweet tooth, from classic hard candy to sugar free to chocolate to gummy candy; Share a little or a lot and make your memories sweeter

Gummy sharks candies

Bestseller No. 1

Skull chocolate

Sale

Bestseller No. 1

Halloween sugar cookies

Sale

Bestseller No. 1

Tovolo Sugar Skull Templates Reverse, Dishwasher Safe, Set of 6 Cookie Stamps with Cutter

CREATE PROFESSIONAL BAKED COOKIES: Ensure every cookie comes out looking professional, festive, and celebratory with these reliable cookie cutters.
REVERSIBLE TEMPLATES: These sugar skull cookie cutters feature reversible templates, offering two designs for each cookie cutter and six designs in total. Diversify your sugar cookies or baked goods with a variety of skulls that honor the dead and celebrate life!
COMPACT DESIGN: These thematic cookie cutter designs snap together for compact storage, taking up minimal space in the kitchen!
GREAT FOR KIDS: Have the kids help by having them press the dough with the decorative and familiar shapes, allowing you to teach them the basics of baking with ease!
DIMENSIONS & CARE: Measures 4" L x 3" W x 1.25" H. To clean, wash thoroughly with soap and water. For ease of use, these Día de Los Muertos cookie cutters are dishwasher safe, making for easy cleaning.

Jelly-filled Chocolate bars

Bestseller No. 1

Bubulubu Chocolates Marshmallow Coated | 24 Bars of Bubu Lubu Chocolate Filled with Strawberry Jelly for Kids Plus 1 Cocoa Bar

✅ Bubulubu Strawberry Chocolate: The bubulubu chocolates are most popular brand in chocolaty people due to great taste and nice presentation. The bubulubu chocolates are filled with strawberries jelly and coated with marshmallow to provide dual taste in one bar.
✅ 100% Fresh Chocolates: All chocolates in the box are creamy filled with strawberry jelly and fully fresh with original taste. The every bar of chocolates are like pieces of joy for every young and kid.
✅ Delicious Gift: The bubu lubu chocolate bars are coming with nice packing like presenting the gift to loved ones. The pack of chocolates can be given as gift to your friends, parents on many occasions to celebrate the days.
✅ Individually Wrapped: All our chocolates are individually wrapped in decorative and printed foil. Make dessert tables more special with these colorful and tasty bars.
✅ Pack of 24 bars: There is 35g net weight of each bar of chocolate inside the pack consisting on 24 counts to make more special your days. The total weight of chocolates is 13.52 Oz or 840g with 24 counts. Plus 1 Cocoa bar as a gift.

Pumpkin seeds

Bestseller No. 1

Terrasoul Superfoods Organic Pumpkin Seeds, 2 Lbs - Premium Quality | Fresh | Raw | Unsalted

Terrasoul Superfoods Organic Pumpkin Seeds (Pepitas), 2 Pounds
USDA Certified Organic, Non-GMO, Raw, Gluten-Free, Vegan
Unsalted and 100% organic pumpkin seeds are good for your health and for any diet.
Terrasoul Superfoods is a family-run business that sources the freshest and highest quality superfoods from all over the planet. Our mission is to make these amazing, healthy foods available to you at the lowest prices possible while paying our growers and employees fair wages.
100% Money-Back Satisfaction Guarantee - We stand behind our products and offer a 30-day money back guarantee, backed by an outstanding customer service team.

Halloween S'mores
Chocolate dipped Caramel Apples

Bestseller No. 1

Golden State Fruit Happy Birthday Chocolate Dipped Caramel Apples in Wooden Gift Crate

A decadent birthday gift! Two pure milk and white chocolate covered caramel apples presented in our signature "Orchard Fresh" apple crate
One pure milk chocolate dipped caramel apple drizzled with white chocolate decorated with confetti sprinkles
One pure white chocolate dipped caramel apple drizzled with milk chocolate and decorated with confetti sprinkles
Apples are packed in our signature "Orchard Fresh" crate and tied with a bow
Each apple serves 3-4. Gift messaging available at checkout

Velvet cupcakes

Bestseller No. 1

Sugared black marshmallows

Bestseller No. 1

Premium Rose & Sandalwood Candle | Highly Scented Candles for Home | Rose Candle | 8 oz 45 Hour Burn, All Natural Soy Candles, Aromatherapy Candle with Matte Black Glass Gift Box

🔥 HIGHLY SCENTED: Indulge your senses with a luxurious treat! This Rose & Sandalwood scented candle combines powerful garden floral notes of rose, peony blossom, geranium and mandarin with bountiful woody notes of sandalwood, amber, and musk. The soft floral notes of fresh-cut roses along with woody sandalwood make this a very classy, sophisticated fragrance. Sandalwood relaxes and soothes the mind, and the Rose brings balance and harmony.
🔥 THERAPEUTIC AROMA: These hand-poured candles have been made using a unique blend of essential oils, the finest combination of purest ingredients, and natural soy wax to formulate a beautifully enhanced aroma throw. Release the best fragrances that are entirely free from toxins, paraffin, and harmful residues. Soy candles calm the nerves and relieve anxiety, making them the best stress-relieving candles. It can be used for insomnia, meditation, aromatherapy, removing odors, etc.
🔥 NON-TOXIC CLEAN BURNING: Each non-toxic candles contains a significant amount of pure essential oils and fragrances that work to fill the air with natural goodness and natural scents. These organic soy candles burn clean to purify the air in your home for at least 45 hours. Most scented candles are smaller, this candle burns 2 to 3 times longer than most scented candles sold here.
🔥 THE PERFECT GIFT: Elegantly packaged, these candles arrived beautifully in a matte black and gold-stamped gift boxes with a message about our mission to spread generosity. This will make a wonderful gift for a friend, loved one, birthday gifts, house decor gifts, apartment essentials gifts, best friend gifts, and an even better treat for yourself for all occasions. It comes in an 8 oz black matte glass for an aesthetically pleasing look.
🔥 CANDLES WITH A PURPOSE: This candle was made to bring light to the darkness of human trafficking and slavery. There are still over 20 million people being trafficked or in slavery. Each candle purchased donates to our charity partner, Zoe International, who works to stop the spread of human trafficking and provide healing to victims of such crime. This is not just your ordinary candle. This is a unique candle that brings light to the darkest places in our world.

Chocolate-covered Pretzel

Sale

Bestseller No. 1

Snyder's of Hanover Pretzels, Milk Chocolate Covered Pretzels, 6 Oz

CHOCOLATE COVERED PRETZELS: Snyder's of Hanover Mini Pretzels covered in milk chocolate for a deliciously sweet combination
SWEET and SALTY SNACK: Satisfy both cravings in one bite sized treat
MINI PRETZELS: Deliciously crunchy and chocolately
SHARE WITH FRIENDS: Great for parties, after dinner, or a salty sweet snack anytime
6 OUNCE BAG: Multiple servings so there's enough to go around

Black sugar doughnuts
Pumpkin soda

Bestseller No. 1

Canned Pumpkin soup

Bestseller No. 1

Farmer's Market Foods Canned Organic Pumpkin Puree, 15 Ounce (Pack of 12)

Enjoy the Farmer's Market recipe for Organic Pumpkin Puree
Make organic pumpkin a wonderful vegetable side dish to your favorite meal.
Great for a wide variety of delicious pastry recipes, plus additions to your oatmeal, hot drink or smoothie.
Simply made with only Certified organic sweet potato (recommended to store the product in an airtight container and consume it within 3 days)
15-ounce (Pack of 12) cans of Organic Pumpkin puree ships in Amazon Certified Frustration-Free Packaging.

Halloween-themed powdered hot chocolate

Bestseller No. 1

Laird Superfood Functional Mushrooms Hot Chocolate, Organic Cacao Powder Blended with Nourishing Mushrooms, 8 oz. Bag, Pack of 1

PLANT-BASED HOT CACAO - Performance Mushroom Hot Chocolate is Dairy Free, Gluten Free, Vegan, Soy Free, and Non-GMO
FLAVOR PROFILE - The rich and smooth flavors of Peruvian organic cacao, coconut milk, with a touch of cinnamon. Don't worry, you will not taste any mushrooms
NO FILLERS OR ADDITIVES - Contains NO sugar additives, artificial ingredients, artificial colors, artificial flavors, sweeteners, or chemicals
ENERGY-SUSTAINING AND NUTRIENT DENSE - With Aquamin and a blend of Reishi, Chaga and Maitake mushrooms to support a healthy mind and body
DIRECTIONS - Add 3 1/2 Tablespoons to 8 ounces of Hot water then froth in your favorite mug

Mummy cookie cutter

Bestseller No. 1

LILIAO Halloween Mummy Cookie Cutter - 3.6 x 4 inches - Stainless Steel - By Janka

Use this Mummy cookie cutter for a Halloween party.
Made from Food Safe Stainless Steel.
Not only perfect for cutting cookie dough, but also for cutting fondant, bread, sandwiches, jelly, cheese, soft fruits, pancake, soap, craft clay.
Smooth cutting edge makes them easy to use for adults and kids, the other side for press is binding processed, makes them safety to use.
Stainless steel material, not easy to get rust, very durable and dishwasher safe.

Dark chocolate Truffles

Bestseller No. 1

Godiva Chocolatier Wrapped Dark Chocolate Truffles, Great as a Gift

19-piece (7 oz.) bag of individually wrapped dark chocolate truffles. A rich truffle made for dark chocolate lovers. OU-D HALAL
Rich and creamy dark chocolate ganache makes for a decadent dark chocolate truffle gift.
Exceptional truffle chocolate quality and taste comes from superior ingredients and the Godiva Chocolate heritage.
dark chocolate truffles, dark chocolate, truffle dark chocolate, dark chocolate truffle truffle chocolate, Godiva chocolate

Black sprinkles

Bestseller No. 1

India Tree Decoratifs, Black Magic, 2.9 Ounce

The package length of the product is 6.0 inches
The package width of the product is 5.0 inches
The package height of the product is 4.0 inches
The package weight of the product is 0.96 pounds

Hot Cinnamon candies

Bestseller No. 1

Red Hots Cinnamon Candy, 10 Ounce Bag, Pack of 6

CAN YOU HANDLE THE HEAT? Experience the powerful, fiery taste of cinnamon with Red Hots Cinnamon Candy. Their round shape nestles on your tongue, delivering wave after wave of spicy flavor
MANY WAYS TO ENJOY: Whether you eat them by the handful, put them on a birthday cake or use them as a decorative touch to your gingerbread house, there are a million fiery ways to enjoy Red Hots
RESEALABLE SNACK BAG: These Red Hots come in a resealable bag, making them a perfect treat to share with friends, family & coworkers. They're great for parties, your candy dish & anytime snacking
GREAT FOR ALL OCCASIONS: Whether you're filling Easter candy baskets, birthday swag bags, handing out candy to trick-or-treaters, or just craving a spicy-sweet treat, these Red Hots are sure to please
A CLASSIC FAVORITE: Red Hots have a signature, fiery taste that can't be imitated. They're made the way they always have been: with a careful cold-panned candy process perfected over generations

Red punch drink

Bestseller No. 1

Hawaiian Punch Fruit Juicy Red, 10 fl oz bottles (Pack of 24)

NATURAL FRUIT FLAVORS: Hawaiian Punch is inspired by Hawaiian ingredients and bursting with bold fruit juice flavors
FRUITY GOODNESS: Hawaiian Punch is low in calories, caffeine-free, gluten-free and carbonation-free
FLAVOR VARIETY: Available in everything from Original Fruit Juicy Red to Polar Blast, Lemon Berry Squeeze, Orange Ocean and so many more, there's a flavor and color for everyone
VITAMIN C: Hawaiian Punch provides 100 percent of the daily value of vitamin C
TRUSTED BRAND: Created in a converted garage in Fullerton, California, Hawaiian Punch has been an American favorite since 1934

Butterscotch biscuits

Bestseller No. 1

Grandma Wild's - Butterscotch Biscuits - 150g

Grandma Wild's Butterscotch Cookies 150g (1 Item Per Order)
All our biscuits are made to the highest standards in our modern bakery, using the methods handed down through four generations of the Grandma Wild's family. Baked with the finest quality ingredients.
Contains Gluten, Contains Milk, Contains SoyaSoybeans, Contains Wheat
Imported from the United Kingdom

Nachos

Bestseller No. 1

Black licorice

Bestseller No. 1

Pumpkin cheesecake

Bestseller No. 1

Jordan's Skinny Syrups Pumpkin Cheesecake, Sugar Free Flavoring Syrup, 25.4 Ounce Bottle

Flavor Notes - Pumpkin aroma with creamy rich cheesecake and a sweet ending
Zero Sugar, Zero Calories, and Zero Carbs make this a great guilt free addition to any beverage
All Jordan's Skinny Syrups are Gluten-Free, Kosher, Keto-Friendly, and GMO-Free
Just add 1 oz of syrup to your beverage, 25 servings per bottle
Perfect for Coffee, Lattes, Tea, Protein Shakes, Smoothies, Craft Cocktails, and so much more

Apple slices

Bestseller No. 1

Prepworks by Progressive 16-Slice Thin Apple Slicer & Corer, Grey

EASY TO USE APPLE SLICER & CORER: Quickly & easily slice & core apples into 16 even slices! This dishwasher safe Thin Apple Slicer & Corer will core & slice an entire apple with a simple push.
INNOVATIVE DESIGN: The attached safety cover, when used as a base, will push apple slices & the core clear of the blades. It's designed to protect fingers while in use & cover blades when stored.
FOOD PREP MADE EASY: We offer kitchen accessories that make food preparation faster, easier & more enjoyable, from fruit & veggie choppers to measuring spoons & cups & collapsible storage bowls.
STYLISH DESIGN & SOLID FUNCTIONALITY: Our philosophy is simple—offer stylish designs with no-nonsense functionality. We understand the kitchen is the heart of the home, where family & friends connect.
INNOVATING KITCHEN ESSENTIALS: We boast over 40 years of innovating kitchen products & housewares with unique gadgets & tools for food preparation plus thoughtfully designed food storage containers.

Apple Cider

Bestseller No. 1

Apple Cider Vinegar Gummy Vitamins by Goli Nutrition - Immunity & Detox - (1 Pack, 60 Count, with The Mother, Gluten-Free, Vegan, Vitamin B9, B12, Beetroot, Pomegranate)

Vegan, Non-GMO, Gluten-free & Gelatine-free: Each bottle of Goli contains 60 delicious vegan, non-gmo, gluten-free & gelatine free Apple Cider gummies. Our formula will make Apple Cider Vinegar gummies accessible to anyone and everyone.
Better digestion, more energy, clearer skin, detox, immunity: Relieve digestion issues, experience more energy, watch your skin clear up and feel as your body detoxes with Goli Gummies. Enjoy all of the benefits of Apple Cider Vinegar without the downside of drinking it. Goli is an excellent and easy way to incorporate Apple Cider Vinegar into your daily routine.
Made in USA: with select ingredients thoughtfully curated from around the world. All Goli products are made in allergen-free state of the art facilities in the United States to ensure that the quality of our product is the highest it can be.
Real apples, vitamin packed, great taste: Made with real apples, beetroot and pomegranate, Goli Gummies are as delicious as they are good for you. Our vegan friendly formula is packed with Vitamin B12 and B9 that will help improve energy, support healthy skin and so much more.
Goli is a proud supporter of Vitamin Angels.

Homemade Meatball Mummies

Sale

Bestseller No. 1

Majestic Pure Himalayan Salt Body Scrub with Lychee Oil, Exfoliating Salt Scrub to Exfoliate & Moisturize Skin, Deep Cleansing - 10 oz

A Massage Body Scrub _ Majestic Pure Himalayan Salt Scrub is formulated with powerful Natural Ingredients including Lychee berry, Sweet Almond Oil, and various Nutrients for their benefits on skin. Lychee Berry Oil has a soft, delicate scent and is rich in antioxidants and Vitamin C. Majestic Pure Salt Scrub Detoxifies & Hydrates skin while containing No Harmful Chemicals. It can be used by Men & Women.
Himalayan Pink Salt _ Himalayan salt is known for its impressive nutrient profile, which includes high trace amounts of calcium, magnesium, potassium, copper & iron. These nutrients help detoxify skin by balancing pH levels in the body. The pink salt crystals act as a pore-minimizer to restore smooth, soft skin; Himalayan Salt color can vary from light to dark pink color hence the scrub color may vary.
Detoxification + Hydration - Body Scrubs Exfoliate skin to remove dead cells, toxins, dirt, pollution, and from pores. Scrubbing also increases blood flow to assist in rejuvenation of skin cells; leaving not only your skin revived but also refreshing your whole Mind, Body, and Spirit
Skin Blemish Solution - Our unique blend of ingredients can help to reduce the appearance of Acne, Blackheads, Cellulite, Stretch Marks, Scars, and Excess Oil. A pore-minimizer and hydrating solution to leave your skin feeling smoother, softer, and firmer
Cruelty-Free, Made in USA - At Majestic Pure Cosmeceuticals, we are proud to provide you with all-natural cruelty-free products made right here in the United States of America

Pumpkin patch Brownies

Bestseller No. 1

The Sugar Lab Hemp Leaf Sprinkles - Edible Marijuana Party Decorations - CBD & THC Free - Cake Decor & Ice Cream Topping - For 420 Party Cupcakes - Pot Leaf Sugar Sprinkles - 2oz - Sold in a Bud Tin

SUGAR LEAVES FOR CAKE DECORATING: Planning a college reunion? Searching for party decorations? Celebrate baking - with or without baking - with a bag of our delicious sugar leaf shaped confetti. These green sprinkles are the perfect topper for a Grateful Dead cookie and a rich chocolate brownie.
SWEET EDIBLE PARTY DECORATIONS: The perfect, palatable leaves for cake decorating, these delicious sprinkles make an excellent topper for ice cream, cupcakes & brownies. More importantly, they provide a visual that will keep guests chuckling.
PREMIUM CONFETTI INGREDIENTS: This themed baking confetti contains sugar powder, water, potato starch, sunflower oil, rice flour and green food coloring (E100 & E133).
LEAF DECORATION QUALITY: These edible leaves for cakes were packed in an SQF-certified facility in the USA.
THE SUGAR LAB VALUES: We source the highest quality sugars & spices, hire a diverse workforce and cultivate a friendly, supportive and safe work environment that reflects our brand.

Bag of Unicorn Fart Cotton Candy

Bestseller No. 1

Candy Pumpkin

Sale

Bestseller No. 1

Brach's Mellowcreme Pumpkins, 11oz Bag

Brach's Mellowcreme Pumpkins
11oz Bag
Made with Real Honey
Great for Halloween Parties and party favors
The perfect coffe table candy to take you right into the fall

Chocolate cookies with fillings

Bestseller No. 1

Triple Chocolate Cookie Filled with Fudge and Hershey's Chocolate Chips, 12 Pack

DELICIOUS HOMEMADE FLAVOR A delicious chocolate cookie packed with Hershey's chocolate chips and stuffed with a gooey chocolate fudge filling.
INDIVIDUALLY WRAPPED COOKIES (12 cookies included) These decadent snacks are individually wrapped for convenient resale. They are ready for individual consumption or retail without having to repack.
TIME SAVING CONVENIENCE These tasty cookies are fully baked so there is no prep time needed!
GRAB AND GO GOODNESS Ideal for a on-the-go sweet fix.
100% SATISFACTION GUARANTEED - Due to the perishable nature of our products, the expiration date will be tagged on your items. They can be frozen to preserve freshness, but will still taste great after being thawed! We know you'll love our products, but contact us directly if you're unsatisfied in any way.

Cheesecake

Bestseller No. 1

Pepper popcorn

Bestseller No. 1

SkinnyPop Sea Salt & Pepper Popcorn, 4.4oz Grocery Size Bags, Skinny Pop, Healthy Popcorn Snacks, Gluten Free

SkinnyPop Sea Salt & Pepper popcorn contains 1 (4.4 oz) popcorn bag
Delicious Skinny Pop Popcorn has zero trans fat and is peanut free, tree nut free, preservative free and is a good source of fiber
A delicious, healthy snack perfect for kids lunches, family movie night, or just for yourself.
Only 39 calories per cup, Non GMO, Gluten Free , No Artificial Ingredients , Dairy Free, Peanut and Tree Nut Free
Our delicious pop corn is a great alternative to Annie's Popcorn, Boom Chicka Pop, Smartfood white cheddar popcorn, bulk popcorn, caramel popcorn, Popcornopolis, Popcorn Indiana, and other brands of individual popcorn snack bags.

Halloween pumpkin pinata

Sale

Bestseller No. 1

Gummy worms

Bestseller No. 1

Trolli Sour Brite Crawlers Gummy Worms, 28.8 Ounce, Cherry, Lemon, Strawberry, Grape, Orange and Lime

Trolli Sour Brite Crawlers: Trolli sour gummy worms in neon colors & sugar coating pack a punch of tangy sweetness in weirdly-awesome fruity flavor combinations like orange-lime, cherry-lemon, & strawberry-grape.
Sour gummy worms: We think of Sour Brite Crawlers, our classic combo of sugary sweet & lip smacking sour gummy worms in flavors for every taste, as glowing deities that wiggle their way into your snack habit.
Trolli resealable candy bag: Can't get enough of the sweet & sour lip-smacking taste of Trolli candy. Be the hit of party if you can bear to share, and close the bag up for next time when you're done
Mind-blowing flavors: Are very berry gummies or a fruity tropical paradise more your style. How about our Slurpee gummy worms. For the bravest, we have fruit & fire crawlers: Sweet, sour, & spicy hot.
Weirdly awesome: We invented the gummi worm in 1986 and have been making the most weirdly awesome gummies ever since, from gummi sloths to Sour Brite Octopus, our sour candy will wow your taste buds.

Halloween-themed Oreo cookies

Sale

Bestseller No. 1
Clothing/Accessories for Halloween Care Package
Trying to decide on the best Halloween apparels that'll give that frightfully delightful look to someone who's short of costume ideas? Here's a list of ideas to get that transformation for Halloween:
Harry Potter tie

Bestseller No. 1

MISS FANTASY Cosplay Tie for Halloween Party, Unisex Adult & Kids Necktie Costume Accessory (Red)

Wide Application-This cosplay red tie is perfect for cosplay dress up party, costume party, Halloween party, Christmas party, birthday party and on.
Not One Time Use Props-The necktie for harry is made of high quality smooth fabric-polyester, very well made, and you can wear it anytime.
Gift Packing-Our cosplay tie is packed with an exquisite kraft paper box with MISS FANTASY brand,it is perfect for giving gifts to your kids, friends and families.
Suit for Adults&Kids-The cosplay necktie size is L57''xW2.5'',it is suit for adults and kids.
Free Risk Purchase-If your order don't completely excite or delight you, we'll make it right with a hassle-free exchange or refund as soon as possible.

Exorcist mask

Bestseller No. 1

60's black scarf

Bestseller No. 1

Sheer Chiffon Scarf Vintage Style Accessory for Women and Children, Black Polka Dot

CUTE '50S DESIGN: Share your retro flair by wearing this cute chiffon scarf. There are several colors to choose from, including black, navy blue, hot pink, light pink, orange, peach, purple, red, royal blue, shocking pink, teal, white, yellow, and polka dot variations! This scarf is just what you need to complete your 1950s look. Just pair it with a poodle skirt, and you're all set!
COMFORTABLE & LIGHTWEIGHT ACCESSORY: Your scarf shouldn't feel heavy on your neck or head, which is why we made this scarf from sheer chiffon. The chiffon is 100% polyester, making it machine washable. This scarf will feel soft and smooth against your skin. In fact, it'll feel so comfortable, you won't even notice you're wearing it.
VERSATILE: There are several ways to wear this versatile scarf! You can put it around your neck like an ascot for a retro vibe. You can also wear it on your wrist as a bracelet. Finally, you can tie it in your hair, adding spunk and sass to your ponytail. Check out our chart for all the different ways you could wear your scarf in your hair, including a bow, headwrap, and top knot.
PERFECT FOR SOCK HOPS & DECADE DANCES: Step back in time with this adorable vintage-inspired accessory. Whether you're going to a sock hop, decades dance, or 50s-themed party, you'll fit right in with your new retro attire. Get ready to twist and shout and rock 'n' roll by wearing your new chiffon scarf!
FOLDS TO A SQUARE: When you're not wearing it, just fold it into a square for easy storage. Additionally, it won't wrinkle or kink when folded properly, preserving the aesthetic of your scarf. You'll enjoy this scarf for years to come!

Pumpkin Enamel Pin

Bestseller No. 1

PinMart Pumpkin w/Vines Halloween Fall Autumn Enamel Lapel Pin

Available as a single item or bulk packed. Select your quantity above.
Qty: 1 Pin
Our Pumpkin Vine Pin is a gorgeous replica of the traditional holiday vegetable. A whimsical design with beautiful curly vines and bright green leaves. It is made with a jeweler's fine metal, cloisonne process, gold plated and orange enamel color fill and is polished with a smooth to the touch finish.
SIZE: 1"
Each pin comes with a clutch back and is individually poly bagged.

Hulk hands

Sale

Bestseller No. 1

Superhero Gloves Boxing Gloves Smash Hands Big Soft Plush Hero Fists, Superhero Toys for Boys Girls, Role Play Costume Birthday Gift for Toddlers Kids Age 3+ ( 1 Pair Green)

👊 HIGH QUALITY and SUITALBE: Our boxing gloves are soft but durable for punching play. Stuffed superhero gloves with soft and thick PP fabric, very Comfortable to wear and will protect your kids from hurting by a strong impact. Good workmanship, easy to wash and dry.
👊 INSIDE HANDLES: There are handles inside the smash hands for support and control movement, also can prevent them falling off your fists while you are wearing the smash hands.
👊 FOR ALL AGES: Detailed with giant fingernails. Smash fists fit anyone's hands, from kids to adults.
👊VERSATILE HANDS: The Big Fists can be used as boxing gloves or cosplay props. Height:30 cm/11.8 inch. Bring endless fun for thes who get the gift.
👊GREAT GIFT for KIDS: The fists is a good choice as gift for Birthday, Christmas ,Halloween and so on. It will surprise them. Such a gift can help them to be more brave, a good company for kids.

Glow-In-The-Dark Zombie Teeth

Sale

Bestseller No. 1

PartySticks Glow Sticks Party Supplies 100pk - 8 Inch Glow in the Dark Light Up Sticks Party Favors, Glow Party Decorations, Neon Party Glow Necklaces and Glow Bracelets with Connectors

100 Glow Sticks Party Pack: Light up with 100 pieces of easy-to-activate and vibrant multi-colored light sticks plus 100 pieces of dependable connectors that stay put for hours
Waterproof Floating Glow Sticks: Use these glow in the dark party favors as glow party decorations or use in the pool or during bathtime; these waterproof glow party supplies float, are non leaking, and nontoxic
Longer Lasting Glow Party Supplies: To activate these glow in the dark light sticks, simply snap and shake until completely lit; these 8-inch long glow in the dark sticks glow bright for 10-14 hours
Kid-Safe and Quality Assured: These nontoxic and non leaking glow in the dark party favors are safe and fun for kids; We'll provide a full refund if you're not glowing bright with your glow sticks bulk party supplies
Infinite Glow in the Dark Fun: Spice up your glow parties with these glow in the dark party decorations, pinata fillers, goodie bag stuffers, or use for pool parties, birthdays, carnivals, raves, concerts, weddings, camping, night fishing lights, and more

Pretty Little Pumpkin kid's shirt

Bestseller No. 1

Skull Pin

Bestseller No. 1

Skull Mini Pin ~ Antiqued Pewter ~ Miniature Lapel Pin ~ Sarah's Treats & Treasures

The Skull miniature lapel pin is Hand Crafted, Hand Sculpted, Hand Finished, True American Art by G.G. Harris
Lead-Free Fine Antique Pewter Used In all designs, this design is the Antiqued Pewter version of the Skull
Packaged by Hand and Proudly Made in the USA! These Miniature Pins are perfect for any occasion and are loved by everyone!
Beautiful Designs, Beautiful Metals, and Beautiful Animals create these one of a kind works of art!
Wear on your Hat, Jacket, Lapel, Tie, Backpack or anywhere! Single Tacked to ensure proper placement of this wonderful hand created art.

Black Hooded Cape

Sale

Bestseller No. 1

Rubie's mens Hooded Cape 3/4 Length Costume, Black, One Size Party Supplies, Black, One Size US

45 inch cape with hood
Ties at the neck
One size fits most perfect for dress-up, role play, stage costuming witches, vampires, royalty, and more
Look to rubies for all your character accessory needs
Rubies costume company is a family owned business based in new york with more than 60 years of experience bringing children and adults the costumes and accessories they want to halloween and year-round dress up

Assorted fake mustaches

Bestseller No. 1

68 Pieces Fake Mustaches Eyebrow Beard Self Adhesive Fake Mustache Fiesta Party Supplies, Novelty Mustaches Stickers Set for Costume and Halloween Masquerade Party (Multicolor)

Comprehensive combination: 68 pieces in total, including 36 pieces fake mustaches in 18 different styles, 16 x fake eyebrow, 16 x fake beard, suitable and helpful to arrange a costume dressing play
u65b0uff1aTA1030Bright colors: a lot of bright colors, black, red, purple, blue, white, brown mustaches eyebrow beard, a combination mixed with different colors and many styles, provide guests with a variety of options u65b0uff1aTA1919Green colors: all of green mustaches eyebrow beard, a combination mixed with different styles, provide guests with a variety of options
Realistic product: the materials of these products are made of good quality artificial fiber, stand out with realistic effects, easy to help act the role, also get everybody enjoy the entertainment atmosphere
Easy to make up: there is an adhesive paper on the back side, peel off the film and stick on the ace in place, won't easily fall off and complete a whole day dressing, make no pain while removing or ripping off
Wide applications: as a good gift, share it with family and friends to create a dreamy atmosphere in carnivals, St. Patrick's Day, birthday parties, Christmas, New Year, Halloween, beer parties, playgrounds, role-playing parties

Black cream makeup

Sale

Bestseller No. 1

Amscan 840952 Black Cream Makeup Costume Accessory | 1 Piece

Package Includes: 1 Black makeup cream
This features a tube of non-toxic black makeup that is easy to apply to create the foundation for your look
Squeeze the theatrical grade makeup out of the tube and apply it with your fingers, then wash off it all off with soap and water after
Perfect for halloween, zombie costume, vampire costume, gothic costume or stage performances
It has a size of 0.7 oz and it is perfect for teens and adults

Halloween Bloody Tshirt

Bestseller No. 1

Batman Mask

Sale

Bestseller No. 1

Batman Mask for Kids, 2-12 Children Superhero Costume for Halloween Birthday Toy

Made of hard plastic, sturdy & durable, kids can play it long time
6 x 8.5 inch, designed to fit 2-12 years old children; May be a little small for adults
Wide rubber strap to grip head; sponges surround nose to hold the mask on position, and make it comfortable.
The batman mask is easy to see out of with large eye holes
Kids are always obsessed with superheroes, with this batman mask, your boy becomes The Dark Knight, fight for justice!

Black Halloween gloves

Bestseller No. 1

SAVITA Long Black Elbow Satin Gloves 21" Stretchy 1920s Opera Gloves Evening Party Dance Gloves for Women

Premium Quality:Black gloves are made of exquisite satin.Durable and Comfortable.Decent Stitching and Shiny outlook.
Perfect Size:Satin gloves are 21 inches in length from fingertip to the end.Finger length is 3.2 inch.Fit you hands perfectly and never fall down.Not too tight or too loose.One size fits all with stretchy.
Wide Usage:Long black gloves go well with the flapper dresses.Suit for all kinds of special occasion,such as wending party, costume party, prom, opera performance, stage performance.Wear the gloves instantly to show your charm.
Delicate Design:Elbow Length gloves come in black color.Stylish,classic, beautiful pattern.Match your cloth in various styles and colors.Make you stand out and catch people's eyes easily.
Easily Use:Evening gloves are easy to put on and take off.A must have to party lovers.Notes:length, tight or loose depends on your arm circumference.

Skeletal Hair clips
Rubber snake

Bestseller No. 1

Realistic Rubber Black Snake 52 Inch Long Scare Toy by Brandon super

Extreme simulation Black Mamba, belly is yellow. green coating on the side
The new process is made. The paint it will not fall off.
Used to decorate the garden, disperse the squirrels and disperse the birds.
It looks like the realistic snake if you are not carefully observed .This is a Trick toy, you can also go to dupe your friends.
Length: about 52 inches long/130cm

Zombie Necklace
Goddess Arm Cuff

Sale

Bestseller No. 1

RIOSO 6 Pieces Arm Cuff Upper Arm Band Cuff Bracelet Bangle for Women Silver Gold Adjustable Armband Set

ARM CUFFS FOR WOMEN: One order includes 6 pieces of minimalist upper arm bangles in 6 styles, leaf bracelet, feather arm cuff, wide band cuff and goth cuff bracelet, enough for meeting your various needs
HIGH POLISHED SMOOTH SURFACE: The upper arm bracelet is made of environmental alloy, gold plated, silver plated. Simple wire arm bracelet upper arm band fashion jewelry for women comfortable to wear. Hand polishing, one by one checking
ADJUSTABLE ARM CUFF BRACELET: The upper armband size is approx. 8 cm/ 3.2 inches in diameter, durable and safe, easy to adjust, suit for most women and girls
ARM BANGLE SET: Fashion design for wide occasions, good costume accessory for many place, such as party, show, photo, prom and everyday wearing, make you look more attractive and charming, catch people's eyes and be the center in the crowds
GOLD CUFF BRACELETS: Package includes 6 pieces arm cuff, the arm bracelet is the wonderful gift to friend lover and family. Applied for business occasion office wedding ceremony, ball and other important events. You will be the most attractive person in the crowd with these upper arm cuff on

Spider rings

Bestseller No. 1

Max Fun 300pcs Spider Rings Halloween Rings for Kids Party Favors 1.96'' Black Plastic Spider Rings Bulk for Kids Costume Accessories Halloween Party Decorations Supplier

Plastic Spiders Bulk: This Plastic Spiders Rings Bulk Includes 300 Black Realistic Plastic Spider Rings Each measures approx. 1.96" x 1.18" x 0.66''.
High Quality: Our plastic spiders bulk is made of non-toxic Plastic. One size fits kids. Long Lasting, reusable and perfect for decoration.
Halloween Party Favors: Our Halloween plastic spiders bulk will ensure to spark your Halloween party. Perfect for Halloween Trick or Treat Handouts, Halloween Party Gift Goody Bag Fillers.
Wide Application: These Spider Plastic Rings can be applied at Halloween party or on cookies and cupcakes toppers! These plastic spider rings bulk for kids can serve as a Great Costume Accessory for Creepy and Spooky Themed Party Supplies.
Horrible Atmosphere: Well-designed and realistic spider rings can foster a creepy and freaky atmosphere in the air in Halloween, providing joy of fun while children playing with.

Slit Wrist bracelet

Bestseller No. 1

PAVOI 14K Gold Plated Cubic Zirconia Solitaire Diamond Bracelet | Bridesmaid Bracelets | White Gold Bracelets for Women

Beautiful Solitaire Simulated Diamond Dainty Bracelets for Women are set with handpicked AAAAA Grade Cubic Zirconia (D color, VVS Clarity)
This Womens bracelet is crafted from Rhodium Plated 925 Sterling Silver (Hypoallergenic). It measures 6" Long with a 2" Extender to comfortably fit all wrist sizes
✦ MADE WITH LOVE ✦ This unique and heartfelt product is beautifully packaged and ready for giving. Makes a sentimental surprise for any awesome lady. Great gifts for Mom or Grandma on Mother's Day, anniversary, birthday, or wedding celebration.
✦ 90 DAY GUARANTEE ✦ To Ensure Your Complete Satisfaction, We Offer a 90 Day No-Questions-Asked Money Back Guarantee. All the metals we use are lead free, nickel free and hypoallergenic. Excellent customer service. PAVOI 100% guarantees your satisfaction.
✦ PROUDLY AMERICAN OWNED ✦ We are an American owned and operated company! Please search PAVOI on Amazon for more of our designs!

Elf Ears

Bestseller No. 1

6 Pair Fairy Pixie Elf Ears for Halloween Christmas Cosplay by Kbraveo

6 Pairs different design,You will get 2 Pcs short elf ears,2 Pcs long elf ears,2 Pcs half elf ears
Size fits most ears,occasion,cosplay,halloween,christmas,masquerade,carnivals and fancy dress parties
Extremely lifelike, give you a special experience.
The fairy goblin ears are made of latex,soft and comfortable material, can folded and knead, will not be deformed. It can be repeated to use
Good workmanship,can last for several years. Long elf ear is 4.72 inches in length, short elf ear is 3.94 inches in length. Half elf ears is 2.56 inches and 1.97 inches.

Chucky Mask

Bestseller No. 1

Wonder woman lasso
Skull and teeth necklace

Bestseller No. 1

Controse Dinosaur Necklace Mini T-Rex Skull Pendant 316L Stainless Steel

The stainless steel Dinosaur Necklace / Mini T-Rex Skull Pendant is made with high grade 316L stainless steel / Also included is a beautiful gift pouch. The pendant is well designed and nicely polished. The piece has a raw, edgy yet artful look
Size: W: 0.75" H: 0.67" with an adjustable necklace measuring 15"-18" . Material: High-Grade 316L stainless steel pendant and necklace. All our stainless steel jewelry is made of the highest quality materials that won't tarnish or rust and that are easy to maintain
Makes a Perfect Gift for many Occasions: Our dinosaur necklace / Mini T-Rex Skull Pendant makes a great gift idea for women on Valentine's Day, Mother's Day, Christmas (xmas), birthdays, graduations, weddings and anniversaries
Controse a Name You Can Trust: We have been in business for many years and promise to deliver only solid and durable jewelry pieces that are perfect to keep as daily jewelry for years to come
Product Guarantee: 30-Day Money Back Guarantee or Exchange. For any product inquiries or issues please contact us. We generally reply within 24 hours.

Black Magnifying glass

Bestseller No. 1

Black Fishnet Pantyhose

Sale

Bestseller No. 1

WEANMIX Fishnet Tights Thigh High Stockings Pantyhose High Waist Tights for Women (Black - Medium Hole)

Genuine WEANMIX Trademarked product: 90% Nylon, 10% Spandex. Made of high quality and durable velvet nylon, comfortably hug your legs with their stretch-fit, not easily torn. This fishnet tights is the best bet of WEANMIX for the year of 2022.
Comfortable Design: Sheer energy pantyhose with a high waist design, run resistant, non-slip. Silk touch and smooth look, the special triangular lace panty design, Transparent as the second skin pantyhose gives your legs a bare flawless look, Reinforced toe, moisture wicking, keep your legs dry and prevent direct sun damage
Occasion & Outfit: The compression pantyhose provide fashion style for any occasions, casual, home, office, party. And suitable for dresses, shorts, skirts, high heels, pointy flats, thigh boots, ankle boots, etc. They tend to look better on your legs than in the product photos. Also suitable as a gift for friends and family
Optimum Performance: One Size Suit for Height: 5'2 - 5'7 Weight: 100 - 200lbs. Please allow slight size deviation due to everyone has a different figure. It will be comfortable after 1-2 mins' wearing. Laundry Tips: Hand wash cold and air dry, or machine wash cold, gentle and air dry
Perfect 100% Money Back Guarantee: Your satisfaction is our top most priority. If you are not satisfied with any of our products, please contact us. We will provide a full refund or a free replacement

Eye-patch

Sale

Bestseller No. 1

Pirate Eye Patches 2 Pack Adjustable Amblyopia Lazy Eye Patches for Adults and Children, Black

☀【TREAT LAZY EYE】Helpful for daily patching for eye condition. This eye patch is ideal for any child that has to patch regularly.
☀【ADJUSTABLE STRAP】The adjustable strap makes pirate eye patches really comfortable and adjustable to fit just right.
☀【COMFORTABLE AND STYLISH】The eye patch is soft, durable, stylish and comfortable. It is not flat which helps not to put pressure on the eye. Very comfortable and elastic makes it easy to put on/take off.
☀【IDEAL FOR DRESS UP PARTY】Also a good eye mask for Halloween dress up party, masquerade etc.
【ADD FUN】The patch adds fun for life. One size fits most children.

Inflatable Unicorn horn

Sale

Bestseller No. 1

Black Rhinestone Whip

Sale

Bestseller No. 1

Outuxed 3200pcs Black Rhinestones 6 Size(1.6-6.4mm) FlatBack Crystal Rhinestones Gems for Crafts with Tweezers and Picking Pen

💎Black flat-back rhinestones set: This set contains 3200 black flat-back rhinestones with 6 sizes, 2 high-quality 8cm long picking pens and 1 pair of curved-tip tweezers. This rhinestones are not hotfix ones and has no glued back. You need extra glue to use them.
💎2 different tools: the picking pen is suitable for picking small rhinestones easily; curved-tip tweezers are more suitable for picking larger rhinestones.
💎High-quality package combination: This set includes flat-back rhinestones of 6 sizes, 1,000 1.6mm, 1000 2mm, 600 2.4mm, 400 3.2mm, 140 4.8mm, and 60 6.4mm.
💎High-quality flat-back rhinestones: Our rhinestones are made of high-quality glass with mature cutting technology, and they can be used in almost every field.
💎Wide range of applications: 3200 diamonds can not only be used to decorate your nails, face, etc., but also to DIY mobile phones, clothes, mirrors, shoes, etc. Our diamonds can be used on various fabrics.

Demon Horns With Teeth

Bestseller No. 1

Glow-In-The-Dark outfit

Bestseller No. 1

Temporary Tattoos – 1 Sheet Lotus Flower Design Body Paint Art Blacklight Reactive Light Festival Accessories Glow in the Dark Party Supplies | 7.2" x 5.2" Temp Great for EDM EDC Party Rave Parties

Durable: Available in 4 colors of the highest quality adhesive ink that last for 3-5 days, our luminous men's rave henna replacement glow in the dark body paint kit are the best blacklight tattoo temporary rave festival decorations do not peel off till you are tired of using them. These are your go-to body art rave accessories if you seek durability & vivid display of colors.
Safe Blacklight Temporary Tattoos: d'IRIS studio's glow in the dark temporary tattoos are the best neon body stickers / Rave jewelry with a backlight glow. Safe for your skin and environment, these glow in the dark flash tattoos are must-have glow accessories for adults.
Body Decor For Every Event: Looking for the best Blacklight party accessories? These colorful night glow sticker tattoos for adults and teens are the right temp tattoos for you. Our fiesta stickers / neon tattoos / glow in the dark tattoos temporary kit are great for glow rave, glow in the dark party, neon glow in the dark festival, musical festivals, black light party, rave night, & club night outings.
Easy To Use Light Up Acccessories: This premium rainbow art henna temporary tattoo is easy to apply and remove thanks to the die cut paper used in making the rave body stickers which adds a whimsical edge to the temp tattoos led alien party neon accessories for women.
Ingredients: Acrylates Copolymer, Propylene Glycol, Petrolatum, Linium Usitatissimum (Linseed) Seed Oil, Glycine Soja (Soybean) Oil, Mineral Oil (Paraffinum Liquidum), Iron Oxides (CI 77499), Blue 1 (CI 42090), Yellow 5 (CI 19140), Yellow 6 (CI 15985), Red 7 (CI 15850), Titanium Dioxide (CI 77891).

Black body glitter gel

Sale

Bestseller No. 1

Mehron Makeup Paradise AQ Glitter (.25 oz) (BLACK)

Dramatic sparkle finishes create unique, customized looks
Reflects light with a brilliant, sparkling luster
Glitter can be sprinkled on or pressed on, depending on the desired effect
Vegan and cruelty-free
Proudly Made in the USA since 1927

Dripping Blood Ghost Face Mask

Bestseller No. 1

Froiny Halloween Scary Mask Cosplay Costume Mask Scream Skull Ghost Mask Fake Face Masks for Adult Children

This mask conceals your face, however, it has see-through mesh in the eye socket area so that you can see ahead of you, and see-through mesh around your head and ears too.
Size: The size fits most adults regardless of gender.
The mask has stretchy black fabric on the back so it can be worn securely.
A lightweight plastic scary face with a black hood attached.
Whoever wears this will certainly gain attention at a party and will certainly look the part!

Evil Clown mask

Sale

Bestseller No. 1

Lab coat

Bestseller No. 1

VOGRYE Professional Lab Coat for Women Men Long Sleeve, White, Unisex (Small, White)

Soft fabric, as well as durability. High quality lab coats are needed to protect you in work environments.
Professional Lab Coat. Custom Styled for Men and Women. Size S-Bust 39.4"//Size M-Bust 41.3"///Size L-Bust 43.3"///Size XL-Bust 46.1"///Size 2XL-Bust 49.2".
Two Waist Pockets and one Chest Pocket with Pen Holder/ Modern Design.
Ignore size chart,please kindly refer to our size chart image , rather than follow the "Size Chart"; If you prefer the "Compression-Fitting",just choose one size down on the size chart
Garment Care: Machine washable, low ironing when necessary.

Black police Badge

Bestseller No. 1

Googly eyes

Bestseller No. 1

Upins 1000 Pcs Black Wiggle Googly Eyes with Self-Adhesive, 6mm 8mm 10 mm 12mm Mixed Packaging

You will get 1000 pcs plastic wiggle eyes in 4 different sizes--6mm, 8mm, 10mm,and 12mm.
Wiggle eye with self-adhesive,easy to peel and stick.
DIY scrapbooking crafts toy accessories,suitable for all craft projects,let you enjoy yourselves with friends and children.
They can be made into wiggle eyes animate puppets, pet rocks, photos, drawings,etc.
These cute googly eyes are good for creating fun designs on puppets, dolls, birthday cards,thank you card, Christmas card,2021 new year card etc.

Black classical beret

Bestseller No. 1

Halloween Themed bracelets

Sale

Bestseller No. 1

Motarto 60 Pieces Halloween Themed Slap Bracelet Halloween Snap Bracelets Toys Slap Bracelets Wristbands for Happy Halloween Favors, Assorted Halloween Designs

Packing: there are 60 slap bracelets with Halloween elements in the package, each of which is 8.7 x 1.2 inches, rich quantity and styles to provide you with a variety of inspiration, easy to match all kinds of Halloween costumes
Design: slap bracelet with a unique appearance can attract more attention, with various Halloween elements printed on the surface, such as castles, ghosts, pumpkins, potions, spiders, skeletons, witch hats, black cats, etc.; clear printed patterns finely show the unique design
Safety material: the inside of the slap bracelet is high quality metal core, the outside of it is tightly wrapped by soft PVC material, the edge is firmly sealed, not easy to break, high quality material can be stored for a long time, is the ideal Halloween party decoration
Easy to use: just pat the bracelet on the wrist and fit the wrist suitably; these slap bracelets will not damage or scratch your skin and can be worn for a long time; they can be worn on the wrist, ankle, arm, which are fashionable, beautiful and eye-catching
Wide application: slap bracelets are suitabel for Halloween party supplies, birthday gifts, game awards, student prizes and candy bags; with the appearance of the Halloween theme will be affected by the likes of people, they can play all day wearing these bracelets

Vampire Fangs

Bestseller No. 1

Scarecrow Small Deluxe Custom Fangs

Equipped with a quick and easy molding kit
Designed for people with smaller teeth, or aiming for a subtle look
Clip-on fit, reusable
Comfortable and realistic
Non-toxic and safe on teeth

Bleeding Heart Necklace

Bestseller No. 1

Controse Silver-Toned Stainless Steel Bleeding Heart Necklace with Pendant (17" - 19" Adjustable Chain)

The stainless steel Bleeding Heart Necklace with adjustable chain is decorated with beautiful red epoxy for style / The Bleeding Heart necklace and pendant are made with high grade 316L stainless steel / Also included is a beautiful gift pouch / The pendant is well designed and nicely polished / The piece has a raw, edgy yet artful look
Size: W: 1.1" H: 1.96" / Necklace: adjustable 17" - 19" chain / Material: High-Grade 316L stainless steel necklace and pendant / All our stainless steel jewelry is made of the highest quality materials that won't tarnish or rust and that are easy to maintain
Makes a Perfect Gift for many Occasions: Our bleeding heart necklace makes a great gift idea for women on Valentine's Day, Mother's Day, Christmas (xmas), birthdays, graduations, weddings and anniversaries
Controse a Name You Can Trust: We have been in business for many years and promise to deliver only solid and durable jewelry pieces that are perfect to keep as daily jewelry for years to come
Product Guarantee: 30-Day Money Back Guarantee or Exchange. For any product inquiries or issues please contact us. We generally reply within 24 hours.

Harry Potter charm bracelet

Bestseller No. 1

Black lipstick

Bestseller No. 1

REVLON Super Lustrous The Luscious Mattes Lipstick, 020 Onyx, 0.74 oz

NEW RULES OF MATTE: Our matte lipstick is comfortable, light and creamy- no annoying draggy, drying, or heavy feelings
ULTRA HYDRATING LIP MAKEUP: Our moisturizing matte lip color is infused with a botanical complex including agave, moringa oil, and capuacu butter to help your lips feel supple and look smooth
VELVETY FEEL: Smooth matte lipstick in one swipe. Velvety lip color that always feels good on your lips
LUXURIOUS PACKAGING: We embossed the lipstick bullet and housed it in a soft-matte black tube with gold accents
24 VIBRANT MATTE SHADES: Ranging from nudes, pinks, reds, browns and plums – each one delivers a true matte finish and feels addictively good on your lips

Grumpy old man mask

Bestseller No. 1

1PCS Walk Away I Am A Grumpy Old Man I Have Anger Issues And A Serious Dislike For Stupid People 3D Print Face Mask with Adjustable Ear-loop Nose Wire for Man Father's Day Fathers Fishers Adult

GREAT PRINT QUALITY- The anti-fade printing can withstand machine wash, hand wash, and even high-temperature wash without any reduction of the vibrancy of colors. You will find the mask stay in shape after repeated wash
METAL NOSE WIRE An M-shaped nose clip piece is metal and bendable for a snug fit. Besides our multilayer 3D printed mask comprises a replaceable pocket for PM 2.5 filter pad that will help you prevent dust from passing through and prevent fogging of the glasses
ADJUSTABLE EAR LOOPS BANDS Our fashion mouth covers have adjustable elastic ear strings and the tie straps can be adjusted to diverse different head sizes and shapes as well. We use rubber beads on the strap to tighten it
BREATHABLE Moisture-wicking fabric remains cool and comfortable and double-stitched polyester allows for easy care and is highly durable. Reusable washable windproof dust-proof masks for men and women
SIZE- Size 5.1" x 7" will be perfect for adults, women and men, father and mom, boyfriend and girlfriend, your family and your friends on several occasions such as Christmas, New Year's Eve, Mother's Day, Father's Day, etc.

Graveyard scene earrings

Bestseller No. 1

LEGO Star Wars: The Mandalorian The Razor Crest 75292 Exclusive Building Kit, New 2020 (1,023 Pieces)

Kids can role-play as heroic warrior The Mandalorian and play out action-packed Star Wars: The Mandalorian scenes with this detailed, LEGO brick model of The Razor Crest (75292) starship
This fun buildable toy includes 4 LEGO minifigures: The Mandalorian, Greef Karga, Scout Trooper and the Child, plus an IG-11 LEGO figure, all with cool weapons to role-play exciting battles
The Razor Crest has a dual LEGO minifigure cockpit, 2 spring-loaded shooters, cargo hold with opening sides/access ramps and carbonite bounty elements inside, sleeping area and detachable escape pod for creative play
This 1,023-piece construction playset offers a challenging build and combines brilliantly with other LEGO Star Wars sets, and makes a great holiday gift or birthday present for boys and girls ages 10+
The Razor Crest dreadnought measures over 5.5" (14 centimeter) high, 15" (38 centimeter) long and 11" (28 centimeter) wide, and it makes an eye-catching Star Wars: The Mandalorian display piece when it is not being used to transport vital cargo

Black fake teeth

Sale

Bestseller No. 1

Mehron Makeup Tooth FX with Brush (.25 ounce) (Black)

Tooth FX is a Theatrical Special Effects Tooth Paint to enhance character Makeup
Safe, non-toxic and cruelty-free
Paint onto teeth for a broken or missing tooth effect
Easy application with the brush applicator brush applicator
Proudly Made in the USA since 1927

Kiddies Mickey Mouse Ears

Bestseller No. 1

Disney Boys Mickey Mouse Cotton Baseball Cap - 100% Cotton

MICKEY MOUSE CAP: Kids will love sporting Disney's most beloved icon. The front panel showcases a bold Mickey applique design or printed fabric that brings your favorite animated character to life!
CUTE AND STYLISH: A classic design is given a touch of magic with bold colors and intricate stand out details. Two-tone panels and a mix of textures create an eye-catching contrast for any and every outfit.
PROTECTIVE AND COMFORTABLE: Have some fun in the sun with this cozy kid's baseball hat features a protective bill that helps shield your little one's eyes from the sun making outdoor activities and trips.
EASY TO USE AND CLEAN: Easily adjust it to fit your little one's head. A Velcro snap closure in the back allows you to easily fit it over little heads and as your kids grow you can readjust the hat to fit like a glove. You can hand wash in cold water and it will become new like it was the day you bought it.
AUTHENTIC DISNEY HAT: Make trips to theme parks more memorable with this quality crafted cap. This is an officially licensed Disney product and made from a long-lasting and durable 100% cotton fabric.

Black Phantom mask

Bestseller No. 1

Black skull Bandana

Bestseller No. 1

Harry Potter glasses

Bestseller No. 1

Big Mo's Toys Wizard Glasses - Round Wire Costume Glasses Accessories For Dress Up - 1 Pair

Big Mo's Toys Round Wizard Costume Glasses are perfect for Halloween and every day pretend play dress up.
These lenses have a diameter of 2.5", the glasses is a total of 5" wide, and the arm length is 5".
These Circular Fashion Eyeglasses fit kids and most adults and can be used for dressing up as a grandma or grandpa.
These Circle Glasses also work well for a Mr. Smee, Edna Mode, or Harry Potter Costume.
Big Mo's Toys items are made of High Quality materials that are Non-Toxic and Tested to ensure your Child's safety.

shark-biting hat

Bestseller No. 1

Shark Knit Beanie Hat for Adults and Kids

SHARK ATTACK: Whether you're planning a day at the aquarium, or a festive beach outing, you'll be ready to scream in the Shark Knit Beanie by elope
COSTUME AND EVERYDAY WEAR: Don't be fooled by the killer teeth, this hat is soft, stretchy, and comfortable for all day wear
FOR KIDS AND ADULTS: Tested for kids ages 3+, sized to fit most kids and adults
FUN ALL-YEAR ROUND: elope items are great for gifts, cosplay, costumes, every day fashion, or whimsical wear all-year round
EXCELLENT QUALITY: Designed for you with love and laughter by the elope team in Colorado Springs, USA; Made in China

Metal handcuffs

Bestseller No. 1

GLORYFIRE Metal Handcuffs Professional Grade Double Lock Carbon Steel in Black Perfect for Training and Daily Use

HIGHLY DURABLE: These handcuffs are made from high quality carbon steel to prevent rust and corrosion over time.
DOUBLE LOCK: Double locking feature allows you to choose the position the handcuffs stay in, so they will not move in either direction. Protect the user's hand!
PROFESSIONAL GRADE: These black carbon steel handcuffs are forged to the absolute highest standards to ensure 100% secure restraint locking.
SMOOTH SINGLE STRAND ACTION: The chain links are welded, ensuring the ability to walk. Smooth single strand action allows for fast and efficient cuffing.
After-sales Service: If you have any problem with the handcuffs at all, just contact us. If you choose us, we provide you with satisfactory products and good after-sales service.

Adult Food Funny Outfits

Sale

Bestseller No. 1

Freakin' Hot Cheesies Halloween Costume - Funny Snack Food Unisex Adult Outfit

HOT AS HECK: If you're a fan of that favorite red hot corn flavored snack, you'll love this Freakin' Hot Cheesies costume from Hauntlook
FREAKIN' HOT: This bag is hot like a parked car. It features that familiar bag desgin you've come to love, with a little bit of that Hauntlook humor added for effect!
FEEL THE HEAT: This is one of the easiest costumes you'll ever wear. Simply slip on the double sided poncho and wear your regular clothes underneath
DUSTY FINGERS: If you're a fan of munchies, check out our Blunt costume for a smoky and silly couples costume
WHAT'S YOUR #HAUNTLOOK?: If you love your costume, be sure to check out Hauntlook decorations, bags, and other spooky accessories!
Entertainment/Miscellaneous For Halloween Care Package
Looking to include fun and eerie looking items in your care box to give someone a good scare, a helpful Halloween supply or just an exciting holiday? Here are some of the most loved Halloween-themed items to shop for:
Mini Jack-O-Lantern Bear

Bestseller No. 1

Werewolf cookie jar

Bestseller No. 1

Stackable Kitchen Canisters Set, Pack of 5 Clear Glass Food Storage Jars Containers with Airtight Bamboo Lid for Candy, Cookie, Rice, Sugar, Flour, Pasta, Nuts

[Healthy choice] The airtight canisters set is made of food-grade high borosilicate glass, which is healthier than plastic jars. Withstands temperature -4℉~302℉ , suitable for all kinds of environments. Dishwasher and microwave safe.
[Truly Airtight] We upgrade glass food storage jar's lids for air-tight seal, keep food fresh longer and protect against air moisture or bugs. Great for wet or dry foods, baking goods , cookies, cereals, tea leaves and spices or other ingredients.
[Set of 5] 2x Small: 3.9 x 4.1 inches (10 x 10.5 cm), for powders, flour, coffee, tea, spice, salt, honey or sugar container. 2x Medium: 3.9 x 8.1 inches (10 x 20.5 cm), for nuts, jams, seeds,cut fruits and candy jars. 1x Large: 3.9 x 11 inches (10 x 28 cm), great for pasta, rice and etc.
[Convenient & Attractive ] 5 piece canister set in clear glass to find your kitchen goods quick and easy. The wooden lid and translucent glass offer minimalist and modern design that blends in perfectly with your appliances and kitchen decor.
[WIDELY USE] The functional jars are great for rice, cookies, teas, seeds, flour, sugar, baking powder, baking soda and etc. And you also can use them for homemade holiday gifts' package.

Halloween bubbles

Sale

Bestseller No. 1

180 Piece Bubble Wands, 18 Colors Mini Neon Bubble Toy Bulk With Box For Halloween, Easter Basket Stuffers, Assortment Bubble Party Favors For Outdoor Indoor Activity Use, Child Kid Classroom Reward

Super Value 180 Pack : 18 variety colors Bubble set neatly stored in a strong gift box. Enough colors so that everyone can choose their favorite color! 4 inch per one, it fit easily in pocket and do not leak.
Perfect Goodie Bags Stuffers: each small bubble toy made of non-toxic smelless soap Liquid, very safe to kids' skin and face. Recommend for Boys Girls children 3 years old and age up!
Magic Party Favor: add a string, lanyard, ribbon for the bubble tubes, will enhance the activitys' atmosphere. Very suitable for bridal baby shower parties, Valentine's Day, graduation ceremony, engagement party.
180 pcs super large serving can satisfy children blowing bubbles for hours of uninterrupted play with their friends, Also as Popular Choice for travel, picnics, Rainbow Party Supplies and Halloween passout.
Best use in family reunion, wedding, friendly Gathering, contest prizes, carnival Prize, yard BBQ. Fun toy for summer pool party and bath time activitie, kids can enjoying various birthday Celebration.

Halloween finger puppets

Sale

Bestseller No. 1

KAKALUOTE 5 Pieces Finger Puppets for Kids, Colorful Finger Hands Party Toys, Characters Finger Puppets Set for Toddler, Tiny Toys Party Favors, for Boys and Girls

👻Finger puppets Set: Rubber finger party toys for kids include Vampire, Frankenstein, Ghost, Pumpkin Monster, Witch. Each puppet measures about 1.3*1.5*2.9 inch, cute and fun finger puppet for children, have a great Party with kids!
👹Lively and interesting Party finger Toys: The finger puppets are great for party favors as candy bag fillers, surprise gift, school classroom rewards, etc. Enjoy your party now!
🤠Promote baby's growth: The toddler toys hand feels very soft, the baby can knead at will, promote the baby's tactile development, attract the baby's attention.Different Colorful character puppets, great for imagination activities, improve communication skills for kids.
🤢Safe and reliable material: Each puppet hole is snug to secure fingers, fit on your finger comfortably. Will not fall easily when swinging. These small and cute finger puppets for baby are made of high quality advanced PVC, soft and lightweight, safe for children or adult.
🤡A fantastic tool for parent-child interaction: You can tell a lot of stories about the finger puppets to your children. Kind, lovely and smiling finger hands puppets can certainly bring more fun and happy to your child's everyday story time activity, promote the relationship between children and parents.

Halloween stickers

Bestseller No. 1

Nertpow Halloween Sticker 50 Pack Pumpkin Stickers Decals Funny Party Stickers

You will get About 3-4 inches 50 pieces of Cool stickers No duplicates. and vibrant stickers will add color in life. Compliments and good mood !
Designed for teens. Fantastic gift for teens.
Perfect to embellish Laptops,Backpacks, Skateboards, Luggage, Cars, Bumpers, Bikes, Bicycles, Bedroom, Travel Case, Bicycle, Motorcycle, Snowboard.
Stickers Extra durable 100% vinyl Made, which has waterproof function, sturdy and strong adhesive. Easy to remove and doesn't leave any residue behind.The color hardly fades out, you just need to use your imagination and create works with our vinyl graffiti decals!

Halloween-themed Yoyo's

Bestseller No. 1

Duncan Toys Reflex Auto Return Yo-Yo, Beginner String Trick Yo-Yo, 1 Yo-Yo, Colors May Vary, Includes 1 Yo-Yo

AUTO RETURN YO-YO: The Reflex is the easiest yo-yo for new players. It returns without having to tug the string!
TAKE-APART DESIGN: With the Reflex yo-yo's take-apart design, removing knots is now as easy as twisting the halves in opposite directions, removing the knot, and just re-assembling.
CENTRIFUGAL CLUTCH: In the center of the yo-yo is a centrifugal clutch. As the yo-yo loses spin, this clutch engages around the axle and the Reflex automatically snaps back to the hand.
GREAT FOR BEGINNERS: The Reflex Auto Return Yo-Yo is one of Duncan's beginner yo-yo models, specially designed for learning the basics.
PRODUCT DETAILS: Starburst response system. Weighs 47.2g. 1 yo-yo included. Colors may vary.

Halloween PlayDough

Bestseller No. 1

Play-Doh, Treat-Without-the-Sweet, Halloween Bag, 15 1-ounce Cans

Treat without the sweet Halloween Bag comes with 15 one-ounce cans of Play-Doh modeling compound.
Hand these cans out on Halloween night to trick-or-treaters!
Give children something fun and function! Great substitute to sugary candy for kids.
This play-doh is tested for quality and durability and comes in an assortment of colors.
Made using safe materials

Halloween maze puzzle

Bestseller No. 1

Fall Placemats

Sale

Bestseller No. 1

CNNLUG Fall Leaves Placemats Set of 4 Country Placemats Colorful Placemats Pattern of Leaves and Flowers Heat-Resistant Placemats for Dining Table Decor, 18 X 12 Inch

✦【Suitable size】 18x12inches, included 4 pieces of placemats, moderate in size and thickness, very suitable for your kitchen table to use, can bring you a more comfortable dining experience.fall leaves place mats
✦【Professional quality】 Soft and comfortable linen material, durable, heat-insulating, and not easy to wear. Can be washed repeatedly, does not fade easily, suitable for daily use.leaf placemats
✦【HD printing】 Our harvest placemats adopt double-sided printing design, high-definition printing technology, vivid colors and clear patterns. Various patterns are available for you to choose, adding more fun to your home.
✦【Multi-purpose】Our fall placemat are perfect partners for kitchen tables, cafes, hotels, offices, and can bring more freshness to your work and life. It is also the best decoration gift for various holidays, parties or weddings.
✦【Cleaning method】 You can use machine wash, or we recommend you to wash it by hand and let it dry outdoors. Remember, don't bleach.thankful placemats

Halloween-themed book

Bestseller No. 1

ArtCreativity Halloween Coloring Books for Kids - Pack of 12-5 Inches x 7 Inches Mini Booklet - Fun Halloween Treats Prizes - Favor Bag Filler - Birthday Party Supplies - Art Gift for Boys and Girls

MAKE THEM SMILE: Treat the kiddos to some cute and spooky coloring fun this Halloween! These mini coloring books for kids are filled with Halloween themes that combine the magic of the holiday with fun creativity. Each set includes 12 Halloween coloring books both boys and girls will love.
UNLEASH THEIR CREATIVITY: Keep the little ones occupied for hours the productive way. These Halloween coloring books don't just make for tons of fun but are also a great way to help your little one express themselves. Get them Halloween treats that help them learn.
THOUGHTFULLY SIZED: Not too big; not too small. Each Halloween booklet measures 5" x 7". This means these creative Halloween gifts get to fit in most goody bags and still have enough coloring space for the little ones to do their thing.
COOL PARTY FAVORS: Throwing a Halloween-themed bash for the kiddies? These mini coloring books make awesome Halloween party favors to enthrall the kids. They also make great prizes for that contest or carnival that falls within this time of year. Ideal for ages 4+
BUY RISK-FREE: We fully stand behind our products with a total satisfaction and 100% money-back guarantee. Not satisfied with these Halloween goodies for kids? We'll send you a quick replacement or issue a full refund. Click 'Add to Cart' now to get the fun started risk-free!

Skeleton shaped pillow

Sale

Bestseller No. 1

Masquerade ornaments

Bestseller No. 1

12pcs Set Mini Masqurade Masks,Small Mardi Gras Mask Halloween Novelty Gifts Party Decoration.

Material: made of plastic and feather.No messy excess glue residue, and no discoloration.
Size:wide :2.5inch/6.5cm,high:3.9inch/9cm(including the feather),not for wear, supper mini masks for party decoration, novelty gifts.
Package including:12pcs mini masks.Color:mix 6 color(blue,purple,black,rose red,white,pink)
These party masks are used for party decoration, adorable centerpieces, dining-table decoration, cupcake decoration, perfect for masquerade prom, carnival ,halloween, mardi gras,Christmas party.
Perfect gifts for any occasions like wedding, anniversary, birthday.

Giant googly eyes

Sale

Bestseller No. 1

FINGOOO 7.5inch Giant Googly Wiggle Eyes with Self Adhesive,Large Eyes 2 Pack for Christmas Tree Party Decorations

【Size】7.5 Inches (18.8cm), 2 Sets of self-adhesive swinging eyes, individually packaged, very suitable for Halloween costumes and home decorations
【Easy to use】Just wipe off the film on the back and stick it somewhere you like. Googly eyes for crafts are not difficult for adults and children to use
【More usage scenarios 】Suitable for children's craft gatherings, these wagging eyes will bring a lot of fun to children and make your life more colorful. You can use your imagination with your family in more occasions

Zombie Ballerina Figurines

Bestseller No. 1

15 PCS Ballerina Birthday Decoration Dancing Girl Cake Toppers Ballerina Cake Topper Ballet Birthday Banner for Ballerina Ballet Birthday Party

Ballerina Cake Topper: Package Included 4 x Ballerina Cake Toppers, 1 x birthday cake topper, 5 x 4 cm pink ball cake topper, 5 x 4 cm white ball cake topper.
Ballerina Birthday Banner: You know you have that special little Ballerina, which is why a Ballerina party is the best way to celebrate her next birthday or a Baby Shower.
Ballerina Party Decoration: This Ballerina decoration is further distinguished with the use of real tulle, ribbon bow, lace and handmade flower, making it a dimensional embellishment that is truly fit for the ballerina.
Ballerina Birthday Decoration: We've taken the concept of a Ballerina birthday party and elevated it with high quality card stock.
Ballerina Cake Topper:These glitter ballerina cake toppers will add some sparkle to your celebration. Perfect for a little ones birthday or baby shower.

Plastic Tarantula Spider

Bestseller No. 1

FLORMOON Realistic Animal Figures - Spider Action Model Lifelike Insect Toy Figures - Educational Learning Toys Birthday Set for Boys Girls Kids Toddlers (Giant Whiteknee)

Safety Material - Made of high quality durable ABS plastic, Non-Toxic Paint and Odorless.
Perfect Gift - It's an awesome birthday gift or prize for kids and great action figures to play with and also look great as kid's room decoration. They would love that so much.
Educational Toys - These were great for education purposes, creative play, party favors and crafts. It will help to improve children's concentration and outsight, develop and train their imagination and creativity.
Insect animal figurines - will make any animal, used for school education project, or ocean themed party come alive! Animal figures are fun for any goody bag or as prizes for a school or church carnival.
Realistic Appearance - Our insect animal figurines set was made by hand painted with high realistically detailed appearance, cute face and childish eyes. Their uniquely molded textures and richly painted details make the animals vivid.

Mini Lunar Color Changing Lamp

Sale

Bestseller No. 1

Moon Lamp, LOGROTATE 16 Colors LED Night Light 3D Printing Moon Light with Stand & Remote/Touch Control and USB Rechargeable, Moon Light Lamps for kids friends Lover Birthday Gifts (Diameter 4.8 INCH)

Moon lamp with the diameter is 4.8 INCH, made with 3D printing technology, realistic full moon shape, the surface of the moon lamp is very close to the lunar moon, novelty and charming
Night Light with 16 color RGB, and the 16 colors can flash or fade or strobe, dreamlike and creative decorative lights, perfect decorative lights or gift for Christmas, thanksgiving, birthdays, party, wedding, anniversary, lover, kids, children bedroom, living room, dinning room and outdoor decoration, a favorite gift for your friends or lover
Moon light with remote & touch control model. And the REMOTE CONTROL DISTANCE CAN REACH TO 30 FEET. Use the remote control to change the color or also the brightness of the color, very convenient for you to choose your perfect color
Moon lamp with the build-in rechargeable battery, can charge on your computer / power bank or charge adaptor etc. No line hanging around, you can hold the moon light on your hand.
What You Get : 24-hour professional service center and 24/7/365 technical support. Just try it!

Skeleton bookmark

Sale

Bestseller No. 1

Raven Skull Bookmark,Bird Skull Charm Bookmark,Skeleton Bookmark,Goth Bookmark,Handmade Bookmark,N126

A.Material: Alloy & Glass Cabochon ,Color:as shown
B.Christmas Bookmark,best gift to your friends,family
C.Bookmark Size: 3.19 inch*0.91 inch,Cabochon Diameter: 2.0cm
D.100% Brand New And High Quality.Handmade item,Packing gift bag,Everyday Bookmark,Fast delivery
E.Beautiful handmade Bookmark for yourself or loved one.Chirstmas Gift,photo jewelry,wedding jewelry,valentines day gifts,best friend gifts,birthday gifts,anniversary gifts,friendship gifts

Halloween rubber ducks

Bestseller No. 1

JOYIN 18 Halloween Fancy Novelty Assorted Rubber Ducks for Fun Bath Squirt Squeaker Duckies, School Classroom Giveaway Toy Prizes Ducky, Trick or Treat Fillers Party Favor.

SUPER VALUE PACK. These Rubber Duck includes 18 Pieces of Assorted Halloween Rubber Ducks.
UNIQUE DESIGN & EASY TO USE. Rubber ducks naturally inspire water play. With their bright color and smooth texture. With these ducks presence in the bathtub you kids will have a fun time during bath time.
ENDLESS FUN. These may be called the most basic but this will provide your kids with hours of water fun. This will make their water immersion easy for their routine shower everyday.
PREMIUM QUALITY. Child Safe: Non-Toxic. Meet the US toy standard. Safety test approved.
CUSTOMER SATISFACTION. Providing a 100% satisfaction experience is our main priority to our customers. Feel free to message us through "contact sellers" if products don't meet your expectations. The celebrations start at JOYIN!

Mini skull stress balls

Bestseller No. 1

OYEFLY Squishy Toy Soft Exquisite Horror Doll Scented Stress Relief Toy Soft Toy Kawaii Collection Slow Rising Toy Decompression SimulationToys Cure Toy for Kid Gift Toys

Material:Elastic Environmentally PU ◆ Halloween Thanksgiving Easter Christmas Gift Squishy Simulation Apple Scented Charm Slow Rising Reliever Squeeze Stress Reliever Decompression Toys Kids' Soft Toddler Crafts Father'S Day Birthday Children'S Day Gift Scented Charm Squeeze Toy Stress Ball Rainbow Soft Toys Cats Stress Balls For Adults Rainbow Pig Penguin Keyring Peach Dog Soft Toy Galaxy Jumbo Peach Dog Stress Toy Giant
Size:11X7X6cm ◆ Newest Super Slow Rising Squishies Toy Lovely 15 Kawaii Rocket Scented Charm Toy Exquisite Kid Key Cell Phone Pendant Strap Gift Home Décor Squishy Toy Scented Charm Toys
Style: toy/collections ◆ Exquisite Simulation Apple Super Soft Toy Charms Pendant Kid Gift 15cm Squishys For Girls Squishy Toys Boys Pack Unicorn Mesh Balls Cake Animal Apple Alpaca Amazon Prime Animals Cute A Toy Scented Slow Rising Ball Banana Burger Bread Cat Hamburger Cheap Donut Dog Deer Doughnut
Odor: mysterious scented ◆ Kawaii Cute Cream Scented For Kids Adults Gift Lovely Toy Cell Phone Straps Key Chains Decor Pack Animal For Boys Squishys For Dinosaur Egg Elephant Emoji Biggest Ever Eyeball Football Food Fruit Galaxy Panda Human Body Kit Hedgehog Hot Ice Cream Icecream Cone Iphone Phone Cases Pat Zoo Sheep
Package: 1 pcs Toy ◆ Newest Lounger Float Pool Toy Super Lovely Strawberry Pendant Strap Gift Home Décor Lemon Llama Large Lamb Mushy Marshmallow Mcfluff Books Milk Carton Narwhal Ninja Net Fox Owl Octopus Stress Orange Packages Queen Quick Delivery Rainbow Rabbit Strawberry Roll

Mini Bloody brain

Bestseller No. 1

5 Surprise Mini Brands Mystery Capsule Real Miniature Brands Collectible Toy (2 Pack) (PVC Tube Packaging) by ZURU, Gold

SO MANY TO COLLECT: There are over 70 miniatures of your favourite brands to collect, including Lunchables, Kool Aid, Jell-O, Heinz Ketchup, BabyBel and more!
UNBOXING FUN: Enjoy the thrill of unboxing as you unwrap, peel and reveal 5 different surprises!
RARE MINIS: Can you find the rare metallic and glow in the dark minis? There are super rare GOLD minis to collect too
6 ACCESSORIES TO COLLECT: 6 miniature shopping accessories for storing and displaying your collection! Collect baskets, carts, shelves, cash registers and paper bags to create your own miniature shopping world!
PACKAGE INCLUDES: 2 x 5 Surprise Mini Brands Capsules

Godzilla Monsters figurine

Bestseller No. 1

Stuffed scaredy-cat
Mini Mummy Piñata

Bestseller No. 1

Donut Pinata (12.75 x 3 in, Pink)

DONUT PINATA: Easily fill with pinata stuffers such as: candies, chocolates, mini toys, or confetti
DONUT PARTY FUN: Ideal for birthday parties, donut themed parties, baby showers, gender reveal party, and school events; Kids and adults of all ages will join in on the fun!
DIMENSIONS: The pinata measures approximately 12.75 x 3 inches
HIGH QUALITY: Made of quality corrugated paper and tissue paper
WHAT'S INCLUDED: Comes with 1 pink sprinkled donut pinata per pack

Halloween Bloody shower curtain

Bestseller No. 1

Allenjoy 72x72 inch Halloween Bloody Shower Curtain Set with 12 Hooks Horror Scary Hallowmas Help Me with Hands Bathroom Curtain Durable Waterproof Fabric Bathtub Sets Home Decor

[Material and Size] :Polyester,72X72inch,Machine washable
[Package] :One fabric shower curtain Set with 12 Hooks
[Original Design] High quality resolution digital print with eye-catching details and lifelike colors.
[High-Quality] :Environmental friendly material, no odor, healthy to your family.Waterproof Texture,Does not let water ooze through and helps you keep your bathroom tidy, dry, and slip-proof,elegant.
[Occasion]:Not only used in the bath room, but also as a TAPESTRY, TABLECLOTH, SHEER CURTAIN used in the living room, bedroom, outdoor courtyard, farmhouse.

Voodoo Doll Toothpick holder

Bestseller No. 1

Voodoo Doll Toothpick Holder

Hand designed voodoo doll
Made of unpainted resin
Made to loosely hold toothpicks
3.25 inches long, 2.25 inches wide and 1 inch thick

Jar of Pumpkin slime

Bestseller No. 1

24 Pack Plastic Jars with Lids 16 oz (12 Pack) & 8 oz (12 Pack), Vivimee Clear Plastic Mason Jars, Leakproof Slime Containers for Peanut, Spice, Cookie, Candy and Dry Food, Empty Jars for Storage

【VERSATILE JARS】 – Our mixed sizes clear plastic jars with lids ( 16 oz & 8 oz) are great for storing goods such as cereals, pastas, nuts, beans, flour, sugar, popcorn kernels, seasoning, powders, jerky, bulk, creams, spices, pickles, mayo, or as a snack or candy jar, also great for homemade lotions, fragrances, body butters liquids and oils, DIY projects and much more. Perfect containers for either pantry, bathroom and grocery store for storage or play room for art & craft supplies.
【FOOD GRADE MATERIALS】 – These Vivimee small plastic containers with lids are made of quality food-grade PET material, which is a kind of durable plastic with 100% BPA FREE, reliable, durable and reusable. The clear plastic jars with this material will meet all your storage & organization needs in the kitchen, bathroom, craft closet or tool box.
【AIRTIGHT-SEAL DESIGN】 – The screw-on top lid creates an airtight seal to provide complete protection for your things inside. Efficiently prevents leaking and maintains the maximum freshness of food.
【SPACE SAVING】 – The clear plastic mason jars bottles let you have a clear look of spices and transparent bodies can be labeled to help you stay organized. The modern design and tops fit any spice rack, cabinet, organizer, drawers, or kitchen. The stackable design enables these cookie jars with lids save more space and fit efficiently into your refrigerator or cupboard, more organized and easier to navigate. Easy clean, hand wash suggested (Do NOT put in dishwasher).
【BUY WITH CONFIDENCE】– The 24/7 support will be provided towards giving our customers the high-quality storage plastic jars with high-quality packaging.

Shark socks

Bestseller No. 1

Animal Socks for Women Funny Animal Knit Socks Novelty Fuzzy Gluttonous Crocodile Eating Foot Socks (Women Average Size, Shark)

【MATERIAL】: This funny animal knit socks is made of Cotton. Superior quality, ultra soft and extra breathable fabric of this funny animal socks for women, knit crocodile socks for women.
【DESIGN】: Finest animal socks eating foot. Long sleeve shirt top, t-shirt pullover top, crewneck, round neck, flared sleeve, flared pants, bell bottoms, pants sets, animal knit socks, funny animal knit socks.
【SIZE】: Average Size for Women. Funny fuzzy socks, funny socks for women. Knit crocodile socks, foot eating animal socks.
【OCCASIONS】: Fuzzy socks for women animal. Perfect for fall autumn winter daily casual wear, dating, shopping, party, night club, cocktail and so on, great Winter Warm Socks for women men.
【CONTAIN】: A pair of Animal socks *1

Monster Pen

Bestseller No. 1

20 Pieces Rainbow Monster Pens Cute Monster Fluffy Pen for School Office Christmas Birthday Carnival Party Favor Supply

Novel pattern: our rainbow pen consists of funny facial expressions and fluffy plush in gradient colors, its different styles of eyes look adorable and novel, can easily attract children's love and preference
Practical effect: our lovely rainbow pens has a very soft and silky fur which possesses comfortable tactility, can enhance kid's sensory ability of tactility and vision, can keep children in active and good mood
Abundant quantity: you will receive 20 pieces of rainbow pens in bright and gradient colors, abundant enough for daily using and sharing with friends and classmates
Diverse applications: these delicate pens can nicely embellish home, office, classroom, hotel, restaurant, bridal shower party, garden party and Easter, they can also be sweet rewards or presents for students, classmates, friends and families
Easy to use: just twist the pen cap to open, with smooth writing blue ink, can bring you a comfortable writing experience, portable and convenient for carrying in your bag or pocket

Spooky Skeleton Bones

Bestseller No. 1

Colorful worms

Bestseller No. 1

60 Pcs Magic Twisty Worm Wiggly Twisty Fuzzy Worms on a String Magic Worm Toys for Party Supplies,12 Colors…

PACKAGE QUANTITY- Each pack contains 60 pieces of magic twisty worm toys in 12 colors, 5 pieces for each color.
WORM SIZE - The magic worm twisty is approx. 0.7 inch in diameter, 8.7 inch in length
MAGIC WORM KIT COLOR - 60 pcs 12 colors,5 pcs each color, including bright red, white, black, pink,violet, yellow, green, orange, purple, light blue ,neon pink ,tender greens.various colors to meet different needs and preferences
GREAT GIFT - These magic worm toys have bright colors, soft feel and beautiful packaging. They can be used as magic props, children's toys and cat toys, and various decorations. It is a great gift for your kids and friends.
BEST SERVICE - If you encounter any problems when using the magic worms, please contact us,We will resend the product to you or give you a full refund .

Howling Wolf Wax Seal Stamp

Bestseller No. 1

Popcornflix™ – Free Movies & TV

No subscription or fees!
Stream over 1500 movies & TV shows instantly.
Lots of popular genres, including: Comedy, Romance, Family/Kids, Drama, Urban, Action/Thrillers, Horror, Espanol, Documentaries, Bollywood and many more.
No limit on the number of movies that can be viewed!
English (Publication Language)

Plastic spider confetti

Bestseller No. 1

JiaUfmi 30g Halloween Confetti - Spider Web and Spider, Black, Cute Mix Plastic Halloween Confetti - for Shakers Embellishments or Table Scatter

Halloween table confetti: these party confetti are made of good quality plastic, spread out on a table to bring some sparkle to the Halloween dinner table
2 Styles confetti: features these halloween confetti shaped like pumpkin, witch, ghost, bat, 6mm blue five-pointed star, 6mm silver five-pointed star, very cute and excellent for decoration
Halloween party favor: coordinate with other Halloween decorations like balloon, banner, and other Halloween party accessories, suitable for decorating any halloween party
30g/1.05ounce of Halloween party confetti - contains spider webs confetti, spider confetti, 30 g/ 0.53 ounce of Halloween party confetti

Boo Dough PlayDough Wrappers

Bestseller No. 1

Play-Doh Modeling Compound 10-Pack Case of Colors, Non-Toxic, Assorted, 2 oz. Cans, Ages 2 and up, Multicolor (Amazon Exclusive)

10 cans of creative fun – kids can get creative with just the right colors They need in this Play-Doh 10-pack of 2-ounce cans!
Just the right colors to start - shape, squish, mix, and make it all. Great for lots of uses like Play-Doh refills, as a Play-Doh Starter set, or as an add-on to any Play-Doh toy (sold separately).
Shape your imagination – squishy, bright, non-toxic Play-Doh compound sparks imaginations For kids 2 and up who love arts and crafts like Modeling clay.
Easy-open, recyclable package - SHIPS in simple recyclable packaging that's easy to open and frustration free, and the Play-Doh cans and lids are also recyclable to help build a more sustainable world!

Halloween-themed Nail Polish

Bestseller No. 1

Beetles Halloween Gel Nail Polish Set, Hocus Pocus Collection Orange Black Glitter Gel Polish Nail Art Design Kit, Soak Off Nail Lamp LED Cured, 7.3ml Each Bottle

beetles Gel Nail Polish: This halloween set is a must have for you! Hocus Pocus set is including black glitter, witch purple, slime green, bright orange, blood red and orange glitter!
Healthy: 9 Toxin Free Ingredient makes it safe and has low odor.
Easy Application and Good Tenacity.With proper application, last at least 3 weeks.
Reminder: Cure under LED light for 90-120 secs. Base and Top coat required.If gel feels thick or tacky, place in hot water for 1-2 minutes, remove from water and shake well.
What you get: Color Number is: 345-346-347-348-349-350. 6 Gorgeous shades of Gel Polish, hassle-free and friendly customer service.

Skeleton candle

Bestseller No. 1

Skull Candle Holder OURASHERO Pack of 2 Skeleton Skull Candlestick Holder Tealight Cup Resin Candlestick Crafts for Party Halloween Christmas Spooky Bar Skull Decoration - Black (2pcs)

Skull Candle Holder - The mini skull candlestick is made of high quality resin. Light-weight, easy to carry, sturdy and durable, suitable for long term use
Decoration Occasion - Perfect to decorate Halloween parties haunted houses or yards giving your Halloween corner a spooky look. Also for Halloween candlelit dinners
Wide Application - Not only a practical candlestick and organizer for tiny office products, but also a decoration as a work of art, an eye-catching spotlight decoration for office, home, patio, restaurant, KTV, cafes, etc.
Perfect Gift - Suitable for friends, men, antique decoration lovers, apply to adult birthdays, anniversaries, Halloween, Christmas, New Year and Valentine's Day
Decorative & Practical - 9 x 6.5 x 6cm / 3.54 x 2.56 x 2.36inch. Quickly get this bold and multifunctional skull candle holder to your family and friends

Temporary Talking Hands Tattoo

Sale

Bestseller No. 1

BodyMark by BIC, Temporary Tattoo Marker, Skin Safe, Flexible Brush Tip, Long-Lasting, Assorted Colors, 8-Pack

Express yourself with BodyMark by BIC Temporary Tattoo Markers
Create your own skin-safe designs with cosmetic-quality temporary tattoo markers. Complies with cosmetic regulations. Follow all warnings and instructions. Not tested on sensitive skin
Flexible felt tip for thin or broad lines
Pack of 8 assorted markers with bright, long-lasting colors perfect for creating a wide variety of designs
Great for special occasions, sporting events, parties, festivals, and more

Halloween-themed Lego set

Bestseller No. 1

Lego Halloween set Bat & Pumpkin 40090

Features posable wings, ears and feet, and talons for holding the pumpkin
Includes a buildable pumpkin. Pose the cute bat's wings, ears and feet
Pick up the pumpkin! Makes a great seasonal gift for all LEGO fans
Measures over 3" (9cm) high, 7" (19cm) wide and 4" (10cm) deep

Halloween Playing cards

Sale

Bestseller No. 1

AQUARIUS Peanuts Great Pumpkin Playing Cards - Peanuts Themed Deck of Cards for Your Favorite Card Games - Officially Licensed Peanuts Merchandise & Collectibles

PEANUTS GREAT PUMPKIN DECK OF PLAYING CARDS: Nothing says Halloween like Charlie Brown. Pull up a pumpkin and deal out a hand with this officially licensed deck of playing cards featuring 52 scenes from the beloved holiday TV special
UNIQUE DESIGN ON EVERY CARD: This Peanuts deck of playing cards includes 54 cards (52 playing cards and 2 jokers). Every single playing card features its own distinct Great Pumpkin themed design and art. No two cards are alike
LOOKING FOR PEANUTS GIFTS? This Peanuts deck of cards is the ultimate gift for Peanuts fans of all ages. Perfect for game night, birthdays, stocking stuffers, white elephant, Holiday gifts, kids and adults will absolutely love receiving it
100% OFFICIALLY LICENSED PEANUTS MERCHANDISE: This deck of Peanuts playing cards is designed by AQUARIUS and officially authorized by Peanuts. They're the perfect piece of Peanuts memorabilia to add to your collection
THE AQUARIUS PROMISE: It's simple. We stand behind our products 100% and if you're not completely satisfied with your purchase, we'll offer you a full refund! Click the "Add to Cart" button today and buy with confidence

Halloween Activity Book

Bestseller No. 1

Pick Your Poison candy jar

Sale

Bestseller No. 1

Pick Your Poison Card Game: The "What Would You Rather Do?" Game for All Ages - Family Edition

"The 'Would You Rather' board game you've been waiting for finally exists" - Cosmopolitan
Spark fun conversations - You won't believe how messed up some of your friends' preferences are.
Endless combinations - With over 300 Poison Cards there are millions of possible card combinations.
From the creators of The Voting Game and Hot Seat and other board games.
Combine with the After Dark Edition for even more fun!

Trick-r-Treat Halloween Phone case

Bestseller No. 1

John Samhain Sam Carpenter Or Michael Myers Fan Halloween Trick Treat R - | Phone Case for iPhone 11, iPhone 11 Pro, iPhone XR, iPhone 7/8 / SE 2020| Phone Case for All iPhone 12, iPhone 11, iPhone

FSG PHONE CASE IS UNIQUE AND AWSOME LOOKING 100% CUSTOM DESIGNED CASE FOR ALL IPHONE!
APPLICABLE MODELS: iPhone 12 , iPhone 12 Pro , iPhone 12 Pro Max, iPhone 11 , iPhone 11 Pro , iPhone 11 Pro Max, iPhone X / XS, iPhone XR, iPhone XS MAX, iPhone 7/8, iPhone 7 Plus / 8 Plus.
Flexi Cases: Flexible, Elastic, and Durable TPU material allows a soft, comfortable grip.
Snap Cases: Combination of multi material, the back is made of glass, with better grip.
Tough Cases: Made of impact resistant TPU material with good shock absorption, protecting against drop and tear.
And that's it – 200+ Halloween Care Package Ideas perfect to spice up the holiday for family and friends. What's your favorite item on the list to receive in a care package? What items are essential for a Halloween Care Package to you?
Let's hear them through the comments section!