Have you ever been away from home? I mean really far away.
Not to another city, and not for a week or two.
Another country, a whole different world, for more than a year.
Away from your loved ones; your baby boy, your cute daughter, your lovely wife or girlfriend, your lovely parents, your annoying siblings and your awesome friends.
As a soldier, being stationed halfway around the world is tough, especially because of the people you left back home.
But one of the few things that make being away from your loved ones easier is receiving a care package from them.
Whether it is personal Items like body wash, lip balm, socks or food items like Beef jerky, barbecue sauce, or sentimental items like letters, a picture collage or a USB drive containing videos of what you've missed, these care packages really do make a huge difference.
In this article, we have compiled 200+ useful and thoughtful military care package ideas for your next box. With these items in your care package, your special one in the army would be thrilled to receive your next care package.
How to Make a Military Care Package
Start out by checking shipping instructions as well as limitations before anything else. This way, you can find out what can be included in the care package and what is not allowed. For example, items such as alcohol and illegal substances like hard drugs are strictly prohibited.
Next, decide where to buy your items and what sort of care box to use. They are usually obtained at post offices and online shipping companies. You can also choose to fill your care package yourself or order a care package online.
Ensure only necessities are included and avoid over-stuffing your Care Package.
Seal all items properly, keeping aside food and treats from substances with a strong odor. Also, make sure to fill the customs form usually at Postal Offices.
Remember to ensure that your shipping information is accurate, including the first and last name of the receiver, the unit as well as a full zip code to ensure your package gets to the right hands. A full list of items being sent in the Care Package would be requested for as well.
Lastly, it is always a good idea to include a good mix of personal items, non-perishable food items and sentimental items in a military care package.
List of items for care packages for soldiers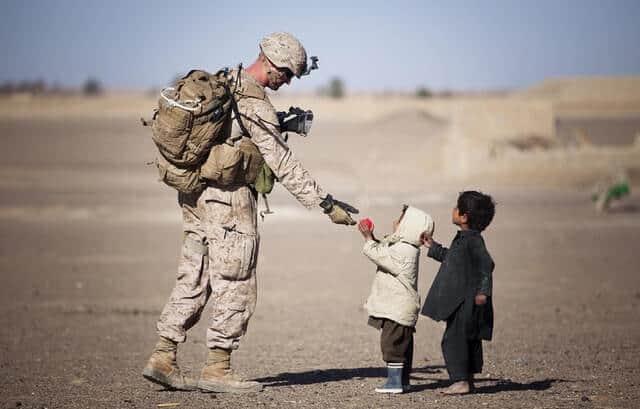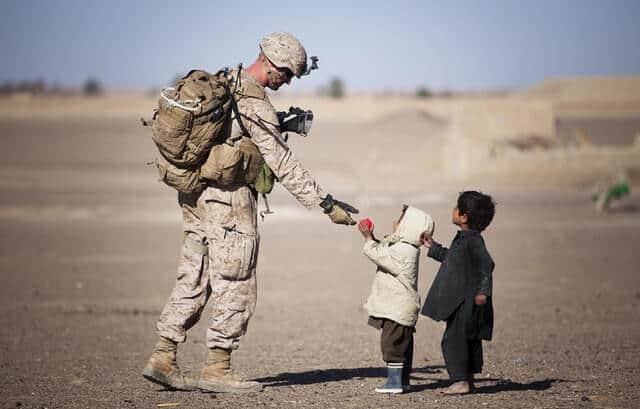 Finding the right deployment gift for a friend in the army or a military boyfriend could be tough, the following is a list of great items you can include in care packages for soldiers.
We have categorized the list of military care package ideas into:
Personal Military Care Package Ideas: Personal items such as socks, letters, etc.
Treats Military Care Package Ideas: Food and snack items; remember to avoid perishable food items.
Entertainment Military Care Package Ideas: Items such as loaded mp3 players, ebooks etc.
Wellness Military Care Package Ideas: Health-related items such as band-aids, lip balms, topical creams etc.
Personal Military Care Package Ideas
Soldiers usually work under the most uncomfortable circumstances, in deserted places where even the basic essentials are scarce. Here are some great ideas of personal items that are always in need by soldiers:
Treats Military Care Package Ideas
Another necessity that is always in need at military camps is good food. This is usually hard to find or very expensive to purchase. It is always a great thing to receive edibles in such situations. Here are some ideas for your next Care Package:
Instant Coffee

Bestseller No. 1

Folgers Classic Roast Instant Coffee Crystals, 8 Ounces

Contains 1 - 8 ounce easy-open flip-top Jar of Folgers classic roast instant coffee crystals
Delicious, 100% pure Folgers medium roast coffee
Ready in seconds, no coffee maker required
Folgers instant coffee crystals can be mixed with hot water or milk
Makes up to 120 suggested strength 6 fluid ounce servings per canister

Packets of BBQ sauce

Bestseller No. 1

Crackers

Sale

Bestseller No. 1

Kellogg's Club Crackers Original, Lunch Box Snacks, 13.7oz Box

Enjoy the light, flaky, and buttery deliciousness of Original Kellogg's Club Crackers as a simple, savory anytime snack
Crisp crackers with an iconic buttery taste and a hint of salt; Tasty stand-alone treat that's even more irresistible with toppings
No artificial colors or flavors; No cholesterol; Low in saturated fat (3g of total fat per serving, 0.5g monounsaturated fat, 2g polyunsaturated fat); Kosher Dairy
Makes for a satisfying bite at home, school, and on the go; Contains wheat and soy ingredients
Includes 1, 13.7-ounce box of ready-to-eat crackers; Packaged for freshness and great taste

Dried banana chips

Sale

Bestseller No. 1

Anna and Sarah Banana Chips Sweetened 2 Lbs in Resealable Bag

DELICIOUS BANANA CHIPS: Perfect sweet banana chips, lovely flavor. Always good alternative to stop your food craving.
PERFECT FOR SNACKING: Perfect snack for trail mixes, hiking, trips, or just to enjoy sweet bananas. Mix it with other snacks, dried fruits or nuts and double your enjoyment.
LOCK FOR FRESHNESS: Comes in a resealable bag and stays always fresh!
STORAGE INSTRUCTIONS: Store in a cool, dry area; after opening, place in tightly sealed airtight or heavy-duty plastic bag.
COUNTRY OF ORIGIN: Philippines - Packed in USA - Anna and Sarah brings you the flavors of the world.

Bottle of Mustard

Bestseller No. 1

LARATH 4 Pieces Mini Tomato Ketchup Bottle Portable Plastic Squeeze Squirt Condiment Bottles Honey Mustard Sauce Salad Dressing Container for Bento Box, 2 Colors

➤The body and cap are made of PE and PP material, lightweight and durable, safe environmentally friendly.
➤Seal cap keeps the air out and ensures freshness, don't worry about you leaking; Only need to squeeze gently when using.
➤Perfect for holding all condiments, for example BBQ sauce,ketchup, mustard, mayo, hot sauce, ect.
➤Size: 7.5*3.2cm/3*1.3inch; Portable design, delicate & cute, suitable for putting in your bento box and bags.
➤Package including 2 colors(Yellow/Red), each 2pcs, total 4pcs; You can use to carry different condiment sauces.

Gummy bear

Bestseller No. 1

Albanese World's Best 12 Flavor Gummi Bears, 5 Pound Bag

FRESH & FRUITY: Albanese 12-flavor gummy bears pack giant taste into one delicious gummi. After one bite of these fruity gummies, you'll taste the difference of giant fresh fruit flavors & a deliciously soft chew you won't find with other gummy candies.
STOCK UP THE FLAVOR: Whether you like them sweet, sour, big or small, Albanese gummi candies burst with fresh fruit flavors & you can stock up with a bulk pack of your favorite flavor. Delight your tastebuds with Albanese gummy worms, gummy bears & more!
PERFECT SNACK: Fat free, gluten free, and dairy free, Albanese assorted gummy candies are your new perfect sweet and soft snack. There's a reason Albanese gummies are the world's best & once you try our deliciously fruity assortment, we know you'll agree.
ALLERGY FRIENDLY: Peanut free, tree nut free, dairy free, MSG free, gluten free, and with no artificial sweeteners, Albanese gummy candies are an allergy friendly snack packed with a sweet, fruity flavor everyone can enjoy. Sweet gummies, giant flavor. Low sodium
RECIPE FOR SUCCESS: For over 30 years Albanese has been making delicious treats with high-quality ingredients here in the United States. Taste the difference in our gummies, chocolates, nuts, & mixes!

Cans of cheese dip

Bestseller No. 1

Granola bars

Bestseller No. 1

Quaker Chewy Lower Sugar Granola Bars, 3 Flavor Variety Pack (58 Pack)

Includes 58 individually wrapped Chewy 25% Less Sugar Granola Bars: (22) Chocolate Chip, (22) Peanut Butter Chocolate Chip, (14) Cookies & Cream
New Look. Same great taste. (Packaging may vary)
Made with real chocolate and 9-10 grams of 100% whole grains.
Made with 25% less sugar than regular Quaker Chewy Granola Bars.
Made with no artificial preservatives, artificial colors, or added colors.

Flavorings for water

Bestseller No. 1

Crush, Variety Pack, Liquid Water Enhancer – New, Better Taste! (4 Bottles, Makes 96 Flavored Water Drinks) – Sugar Free, Zero Calorie

WANT TO TAKE YOUR FAVORITE CRUSH DRINK WITH YOU BUT LEAVE ALL OF THE SUGAR BEHIND?
0 SUGAR, 0 CALORIES – These water enhancers are sugar free and calorie free, offering a tasty way to stay hydrated while cutting the sugary drinks out of your family's diet. Instead of sugary juice, drink flavored water. Instead of sugary soda, mix Crush into your SodaStream.
EASY TO USE ON THE GO -- MAKES 96 DRINKS -- conveniently use Crush liquid drink mix at home, at work, on-the-go. Add as much flavor as you want and notice the great value compared to bottled drinks. Crush Liquid Drink Mix mixes instantly into water, unlike powder drink mix. Each bottle makes 24 eight-ounce drinks.
DRINK MORE WATER – Doctors recommend drinking 8 glasses of water per day. Staying hydrated helps with cardiovascular health, energy levels, brain function, weight loss, clear skin and so much more!
SATISFACTION GUARANTEE-- If you are not totally satisfied with your order, just message us directly and we will refund your order.Crush drink mixes were created by our family business to make staying hydrated fun!

Peppermint tea

Bestseller No. 1

Organic Peppermint Tea Bags | 100 Tea Bags | Eco-Conscious Tea Bags in Kraft Bag | Raw from USA | by FGO

PEPPERMINT LEAF TEA BAGS - 100 Tea Bags filled with premium peppermint leaf from USA.
ORGANIC PEPPERMINT LEAF TEA - The tea is filled into tea bags and packed into foil-lined kraft bags in California
100 ECO-CONSCIOUS TEA BAGS - Our premium tea bags are constructed of Abacá Hemp Fiber Paper. They are free of dyes, adhesive, glue and chlorine bleach. No staples, strings, bags or extra waste - just delicious tea!
CERTIFIED USDA ORGANIC - All our products are certified USDA Organic by California Certified Organic Farmers (CCOF), a leader in organic certification. Look for the USDA Organic seal on our products!
LOVE IT OR WE BUY IT - We don't think you should pay for products that you don't love. If you aren't enjoying our Organic Peppermint Leaf Tea, simply let us know and we will refund your order - it's as easy as that!

Ravioli

Bestseller No. 1

Chef Boyardee Beef in Tomato & Meat Sauce Ravioli, 7.5 Oz. (Pack of 12)

Chef Boyardee Beef Ravioli in tomato and meat sauce is a fun meal for the kids, and is ready to serve in less than one minute
Six grams of protein per serving
No MSG and no preservatives
Fits a low carb lifestyle with 25 grams net carbs per serving (28 grams total carbs minus 3 grams dietary fiber)
Great for snacking

Dried Apple Slices

Sale

Bestseller No. 1

Cherry Bay Orchards - Dried Organic Apple Rings - Pack of Two 6oz Bags (12oz Total) - Natural, Gluten Free and GMO free with no Artificial Color or Additives - Healthy Dried Apple Slices

Two Pack of Cherry Bay Orchards Unsulfured Dried Apple Rings packed in 6oz resealable bags.
These dried apple slices are a perfectly wholesome addition in many applications or as a conveniently portable treat with our 6oz Resealable bags
Cherry Bay Orchards Organic Dried Apple Rings are prepared from sound, tree-ripened fruit that has been handpicked, washed, peeled, cored, sliced, and inspected.
These organic dried apple chips are dried to the specified moisture level, inspected, and packed in the USA
Our flavorful dried apples are completely natural and gluten free with no artificial color or additives, Kosher Star-K Certified dried fruit.

Smoked Oysters

Bestseller No. 1

Sugar Packets

Sale

Bestseller No. 1

Domino Sugar Packets, 500Count, Restaurant Quality

Approximately 500 0.10 oz. packets.
Great for coffee, tea and more. Great foodservice item No refrigeration necessary Kosher Certified.
Great foodservice item. No refrigeration necessary. Kosher Certified.
Kosher Certified.

Jelly Beans

Bestseller No. 1

Nutella

Bestseller No. 1

Bottle of Ketchup

Bestseller No. 1

Heinz Tomato Ketchup, 20 oz. Forever Full Inverted Plastic Bottle (Pack of 12)

12 ct. package of Heinz Ketchup, Forever Full, Inverted, No Seal to Peel bottles
Each bottle of Heinz Ketchup is 20 ounces
Traditionally for restaurant use, these bottles of Heinz Ketchup have a tamper-proof, non-removable cap
While this product does not include the same seal you're used to, it is still traditional Heinz Ketchup
To ensure our ketchup bottles aren't tinkered with on restaurant table tops, we utilize a non-removable cap. You simply flip the cap to start using. No seal to peel

Cheese Crackers

Sale

Bestseller No. 1

Ritz (RIUM9) RITZ Sandwich Crackers, Cheese, 64.8 Ounce (Pack of 48)

Each layers a mouthwatering cheese spread, made with real cheese, between two crisp Ritz Crackers.
Ritz Cracker Sandwiches are a great anytime snack and perfect for lunchboxes or quick meals.
Each individually wrapped pack is sealed for freshness and includes six Ritz Cracker Sandwiches.
This includes 48 - 1.35oz packs of Ritz Cracker Sandwiches with cheese.
Delicious Ritz Cracker Sandwiches are the classic go-anywhere snack that kids and adults love.

Licorice

Bestseller No. 1

Red Vines Licorice, Original Red Flavor Soft & Chewy Candy Twists, 3.5 lbs, 56 Ounce

RED VINES soft & chewy licorice candy twists in classic Original Red flavor
Iconic knob-topped candy jar holds about 159 Twists and is resealable to keep your candy fresh
Made in small batches using artisan candy-making techniques and the same original recipe as the very first RED VINES
RED VINES licorice candy has been proudly manufactured by the American Licorice Company for five generations
RED VINES Original Red Twists are always fat free, low sodium and Halal & Kosher certified

Sunflower seeds

Bestseller No. 1

DAVID SEEDS Roasted and Salted Original Jumbo Sunflower Seeds, Keto Friendly, 5.25 Oz, 12 Pack

Contains (12) 5.25 ounce bags of David original jumbo sunflower seeds, great for group and solo snacking
Hunger doesn't stop, even during crunch time. Munch on a tasty seed snack and keep your game face when minutes count
Fits a low carb lifestyle with 3 gram net carbs per serving
Snack on these satisfyingly crunchy and salty sunflower seeds whenever hunger strikes
Keto friendly snack: 9 grams of protein, 3 grams net carbs (5 grams total carbs minus 2 grams dietary fiber), and 0 gram added sugar per serving

Pringles Chips

Bestseller No. 1

Pringles Potato Crisps Chips, Variety Pack Snack Stacks, Lunch Box Snacks, 0.67 oz Cup (36 Cups)

Enjoy snacking moments everywhere with the outrageously delicious flavor and fun shape of these ready-to-go Pringles Potato Crisps in Original, Sour Cream and Onion, Cheddar Cheese, and BBQ
Convenient cups of stackable potato crisp varieties seasoned to savory perfection from edge to edge; Always tasty, never greasy
Original is Kosher Pareve; Sour Cream and Onion, Cheddar Cheese, and BBQ are Kosher Dairy; Variety Pack contains milk and wheat ingredients
Stack, snack, and savor at home and on the go; Pop open a cup anytime; Pack into a school lunch box, backpack or tote bag
Bulk snack box includes 36, 0.67- or 0.74-ounce cups of ready to eat potato crisps; 9 cups of Original; 9 cups of Sour Cream and Onion; 9 cups of Cheddar Cheese; 9 cups of BBQ; Individual snack packs packaged for freshness and great taste

Gatorade Powder

Bestseller No. 1

Gatorade Thirst Quencher Powder, Frost Glacier Freeze, 76.5 Ounce, Pack of 1

Don't count the days. Make the days count. Grab your home workout equipment then refuel and replenish during your at-home workout with the carbs and electrolytes from Gatorade Thirst Quencher.
When you sweat, you lose more than water. Replace what has been lost with Gatorade
Gatorade Frost has a light, crisp flavor that hydrates better than water, which is why it's trusted by some of the world's best athletes.
There's more to sweat than water. To properly rehydrate and refuel, you need to replace lost fluids, electrolytes and carbohydrates.
76.5 Ounce Powder makes 9 Gallons

Fruit snacks

Bestseller No. 1

Powdered Energy Drink Mixes

Sale

Bestseller No. 1

Coffee Creamer

Bestseller No. 1

Nestle Coffee mate Coffee Creamer, Original, Liquid Creamer Singles, Non Dairy, No Refrigeration, Box of 180

Non Dairy Coffee Creamer: Nestle Coffee mate Original coffee creamers add a rich, velvety smooth, classic creamer flavor to your cup of coffee
Perfect for Here or On the Go: Stir our liquid creamer into a cup of coffee for a delicious flavor that's lactose and cholesterol free; blends quickly and completely with hot and cold beverages
Delicious Flavor You Can Rely On: Shelf stable, no refrigeration needed, retain their delicious flavor at room temperature for up to 9 months; ship and store between 50°F and 80°F
Dietary Benefits: Non Dairy, Lactose Free, Cholesterol Free, Gluten Free, Kosher Dairy
Satisfaction Guaranteed: Covered by the Nestlé Professional 60 Day Satisfaction Guarantee for Select Products. See below for details

Energy Bars

Bestseller No. 1

CLIF BARS - Energy Bars - Best Sellers Variety Pack- Made with Organic Oats - Plant Based - Vegetarian Food- Care Package - Kosher (2.4 Ounce Protein Bars, 16 Count) Packaging & Assortment May Vary

Includes 16 total energy bars, with 2 of each flavor: Chocolate Chip, Chocolate Brownie, Sierra Trail Mix, Crunchy Peanut Butter, White Chocolate Macadamia Nut Flavor, Cool Mint Chocolate, Peanut Butter Banana with Dark Chocolate, and Blueberry Crisp
NUTRITION FOR SUSTAINED ENERGY: CLIF BAR is the ultimate performance energy bar, purposefully crafted with an ideal mix of protein, fat, and carbohydrates to sustain active bodies before and during long-lasting, moderate-intensity activity.
INGREDIENTS THAT ARE BETTER FOR THE PLANET: As part of our mission to help create a healthier, more sustainable food system, we make every bar with sustainably sourced chocolate and plant-based ingredients like almonds, peanuts, and organic rolled oats.
DELICIOUS FLAVORS, ENDLESS VARIETY: Satisfy any taste with a dazzling array of craveable CLIF BAR flavors, including classic favorites like Chocolate Chip and Crunchy Peanut Butter.
ENERGY ON THE GO: Whether you need sustained energy for hiking, climbing, skiing, or a long bike ride, CLIF BAR delivers wholesome, delicious energy that's all wrapped up and ready to go.

Nuts

Bestseller No. 1

Seasoned salt

Bestseller No. 1

Microwave Popcorn

Sale

Bestseller No. 1

Orville Redenbacher's Movie Theater Butter Microwave Popcorn, Gluten Free, 3.29 Ounce Classic Bag, 6-Count, Pack of 6

Contains 6 packages of (6) 3.29 oz. classic bags of Orville Redenbacher's Movie Theater Butter Popcorn
Orville Redenbacher's is the only leading popcorn brand that uses real butter (Select products contain real butter. See package ingredients for details.)
Orville Redenbacher's is also the only leading brand of microwave popcorn with no artificial preservatives, flavors, or dyes in all of our products—so grab your favorite popcorn bowl, pop it up in a jiffy, and have a jolly time pretending like you're at the movies
In 1952, Orville Redenbacher hand selected a small group of farmers to grow his exclusive kernel, and our family farmers still grow our special kernels today
Serve our buttery popcorn packs alongside your favorite sweet snacks to add a pop of fun (and flavor) to every occasion

Tuna fish

Sale

Bestseller No. 1

StarKist Chunk Light Tuna in Water, 5 oz. Can, Pack of 48

DELICIOUS, MILD FLAVOR: StarKist Chunk Light Tuna in Water can features the dolphin safe, wild caught tuna with a naturally mild flavor people have come to expect from StarKist. Try this in cool tuna salads and hot casseroles.
EXCELLENT SOURCE OF PROTEIN: Our Chunk Light Tuna is a natural source of protein and Omega 3s, plus it has 20g of protein and 90 calories per can. It's soy and gluten free and works well with Keto, Paleo, Mediterranean and Weight Watchers diets!
ADD VARIETY TO YOUR DIET: Tuna is a wholesome choice for a snack or meal. StarKist Chunk Light Tuna in Water is a great and easy way to add seafood to your diet.
VERSATILE: StarKist Chunk Light Tuna in Water is a versatile and easy way to liven up a meal. This canned tuna can be used in cool salads, hot casseroles, on sandwiches and even eaten on its own as a snack or meal!
BULK 48 PACK: Buy your tuna in bulk with the StarKist 48-Pack of canned tuna. These tuna in water cans are easy to store and great to have handy for when hunger strikes – whether you're on the go, at the office or at home.

Cocoa powder

Bestseller No. 1

Anthony's Organic Cocoa Powder, 2 Pound, Gluten Free & Non GMO

Organic Cocoa/Cacao Powder
Batch Tested and Verified Gluten Free
Naturally full of Antioxidants and Magnesium - Fine milled Cacao
Unsweetened & Non-Alkalized - 10-12% Fat Content
Great for plant based, raw, gluten free, paleo, vegan, and organic recipes!

M & M Candies

Bestseller No. 1

Soup

Bestseller No. 1

Pacific Foods Organic Creamy Moroccan Sweet Potato Soup, 32 oz

Sweet Potato and Chickpea are blended with aromotic spices typically used in Moroccan cosine like coriander, cumin, and cinnamon.
Warm and comforting spices balance perfectly with a splash of apple cider vinegar for a tangy finish.
Vegan
Heat in microwave or on the stovetop
Refrigerate after opening and use within 7-10 days

Pack of marshmallows

Bestseller No. 1

Sarah's Candy Factory Vegan Jumbo Campfire Vanilla Marshmallow Perfect for S'mores and Snacking (24 Oz in Jar)

JUMBO MARSHMALLOWS: Dehydrated marshmallow bits, Vegan jumbo size marshmallows.
MARSHMALLOWS:They can easily be added to a bowl of cereal or sweet treats and Baking, or on a steaming mug of hot chocolate.
FUN SIZE & TOAST: Delightful snacks over the fire for camping, cookouts, bonfires or enjoy straight make it fun to add to any special baked treat, whether mixed in or added as a topping.
COMES IN A JAR: Reusable jar is convenient and keeps your marshmallows fresh from at home or work.
SARAH'S CANDY FACTORY: Made in the USA and repacked from bulk by Sarah's Candy Factory.

Oreo Cookies

Sale

Bestseller No. 1

OREO Double Stuf Chocolate Sandwich Cookies, Family Size, 3 Packs

Three family size packs of OREO Double Stuf Chocolate Sandwich Cookies
Chocolate wafer cookies stuffed with twice the OREO creme
Bulk cookies in a convenient family pack are great for dessert recipes and lunches
OREO bundle with three family packs so there's enough for your next party or event
Kosher cookies are always made with real cocoa

Protein Powder

Sale

Bestseller No. 1

Optimum Nutrition Gold Standard 100% Whey Protein Powder, Vanilla Ice Cream, 2 Pound (Packaging May Vary)

Packaging may vary - New look, with the same trusted quality
Gold standard 100% whey blend – 24 grams blended protein consisting of whey protein isolate, whey protein concentrate, and whey peptides to support lean muscle mass – they don't call it the Gold Standard of quality for nothing
Over 5 gram of BCAAs – Help build lean and strong muscles with naturally occurring BCAAs
3-4 gram carbs, 1-3 gram sugar, and 1-1.5 gram fat, gluten free, no sucralose in double rich chocolate flavor
Instantized – Improves mixability to prevent lumps and clumps

Hot Chocolate Packets

Bestseller No. 1

Swiss Miss Marshmallow Hot Cocoa Mix, 1.38 Ounce Envelopes, Count of 30, Pack of 1

Includes (1) 30-count box of Swiss Miss Marshmallow Hot Cocoa Mix with 1.38-ounce packets
Swiss Miss classics milk chocolate flavor hot cocoa mix with marshmallows contains 160 calories per serving
This creamy, delicious hot beverage features mini marshmallows loved by moms and kids
Starting with real milk, this classic Swiss Miss Marshmallow Hot Cocoa Mix has the timeless flavor that brings delight with every sip
After hours playing in the snow, reach for this hot cocoa mix with mini marshmallows as a delicious treat for kids and a moment of relaxation for you

Herbal Tea

Bestseller No. 1

Stash Tea Fruity Herbal Tea 6 Flavor Tea Sampler, 6 boxes With 18-20 Tea Bags Each

Herbal Tea Variety Pack: This fruit flavor herbal tea sampler includes 1 box each of Meyer Lemon, Acai Berry, Wild Raspberry Hibiscus, Lemon Ginger, Mango Passionfruit, and Strawberry Pomegranate
Incomparable Quality: From herbal, black, and green to white, or oolong, our premium tea bags are packaged in stay fresh foil wrappers to deliver a high quality cup , from morning chai to bedtime chamomile
Find Your Flavor: With over 150 teas to choose from including loose leaf, iced tea, green tea, decaffeinated black tea, chai, herbal teas and more, you're sure to find your next favorite with Stash
Proud To Be A B Corp: We believe diversity and boldness should be in our community and society, as well as in our cup; As a certified B Corp we act in the best interests of our people, partners, and planet
Stash Tea: Brought to life in 1972 by 2 Portland hippies, we believe that tea is an opportunity to excite the senses and surprise your taste buds with a diverse range of bold flavors

Hot Sauce

Bestseller No. 1

Steve-O's Hot Sauce For Your Butthole (5 oz)

Just hot enough for your butthole to know about it and too delicious for your mouth to ever forget.
FLAVOR: Steve-O's Hot Sauce for Your Butthole is made with a Garlic Habanero flavor. Gluten free, great tasting, and just spicy enough to feel it again later.
HOW HOT IS IT? Hot Sauce for your butthole is pretty hot, which is why you'll feel it later on in the day. But it's not so hot that you can't add a little bit to your favorite meals for a little extra kick.
USES: With a unique garlic and habenaro flavor, some of our favorite meals to use Steve-O's hot sauce on are wings, burgers, stir fry, and chili. But it's not limited, Hot Sauce for Your Butthole is a great replacement for all of your favorite hot sauces.
ABOUT THE CREATOR: Created and taste-tested by none other than the great Steve-O.

Mints

Bestseller No. 1

Life Savers Pep O Mint Hard Candy, 50-Ounce Party Size Bag

Contains (1) 50-ounce party size bag of Life Savers Pep O Mint Candy
Filled with icy peppermint flavor, Life Savers Mints are a hole lot of fun
Keep your breath fresh with the refreshing taste of Life Savers Mints
Life Savers mints are great for the breakroom or the reception desk
Stock up on your favorite mints with this bulk candy package

Ramen Noodles

Bestseller No. 1

Maruchan Ramen Chicken, 3.0 Oz, Pack of 24

COOKS IN 3 MINUTES: Cooking Directions: 1.) Boil 2 cups of water in a saucepan, add noodles and cook for 3 minutes stirring occasionally. 2.) Turn off heat, add contents of seasoning packet, stir well for 1 minute until seasoning is fully dissolved. Makes 2, 8 oz. servings. 3.) Product is very hot. Allow to cook, serve and enjoy.
PACKED WITH FLAVOR: Chicken flavor. Not your ordinary chicken noodle soup. Enjoy ramen perfectly seasoned with the savory taste of chicken.
FAMILY FAVORITE: Maruchan ramen is one of the nation's favorite ramen soup brands. Maruchan offers a wide variety of delicious Ramen flavors including less sodium Ramen and authentic ethnic flavor products. Maruchan Ramen makes a creative addition to any recipe. The possibilities are endless.
GREAT COLLEGE GIFT: Ramen is a staple snack for college kids so help feed their late-night study cravings with Maruchan ramen! Send a snack care package to your college student.
SIZE: 24 pack/count of 3 oz units

Protein Pancake Mix

Bestseller No. 1

Performance Protein Pancake and Waffle Mix with Whey Protein by Birch Benders, 16 Grams Protein Per Serving, Non-GMO Verified, Just Add Water, 48 Ounce (16oz 3-pack)

3-pack of 16 ounce pouches. Feeds a crowd! Makes 78 four-inch pancakes or waffles.
You got to eat to compete. Feed your inner Olympian with our powerful pancakes, packed with protein, calcium, fiber, and iron to help fuel your daily victories. We put the pro in protein so you can go all the whey. Protein Pancakes for winners!
Supercharged with Whey Protein (16 grams protein per 2-pancake serving) and certified Non-GMO
Preparation is a breeze: simply scoop the desired amount of mix into a bowl, add water, mix, and make! That's right, JUST ADD WATER — no eggs or milk necessary! Don't want to use it all at once? Our resalable closure keeps the mix fresh for next time. Easier, healthier, tastier — these pancakes have it all!
Family owned and crafted with love

Redbull

Bestseller No. 1

Red Bull Energy Drink, 8.4 Fl Oz (24 Count)

Red bull editions: Same wings, choose your taste
Case of twenty four 8.4 fluid ounce Red Bull Energy Drink cans
Red Bull Energy Drink formula contains high quality ingredients, including caffeine, taurine, B group vitamins and real sugars
Red Bull cans are made of 100 percent recyclable aluminum
Vitalizes body and mind

Dried fruits

Bestseller No. 1

Instant Oatmeal

Bestseller No. 1

Quaker Instant Oatmeal, 4 Flavor Variety Pack, Individual Packets, 48 Count

Good Source of Fiber: Quaker Oats provide a good source of fiber to support a healthy digestive system; See nutrition facts for total fat per serving
Quaker Oats help support a healthy heart; Diets rich in whole grain foods and other plant foods and low in saturated fat and cholesterol may help reduce the risk of heart disease
Contains 48 packets: 23 maple and brown sugar, 13 apples and cinnamon, 7 cinnamon and spice, 5 peaches and cream flavor

Peanut butter

Bestseller No. 1

Jif Creamy Peanut Butter, 16 Ounces (Pack of 3)

Contains 3- 16 Ounce Jars of Jif Creamy Peanut Butter
A gluten-free peanut butter that has 7g protein (7% DV) per serving*
Contains no artificial preservatives and Non-GMO**
Every jar contains that mouthwatering fresh roasted peanut taste
Spread the love and create something delicious for your family, from simple snacks to baked goods and more

Gum

Bestseller No. 1

EXTRA Spearmint Sugarfree Chewing Gum, 15 Pieces (Pack of 10)

Contains ten (10) 15 stick packs of EXTRA Spearmint Sugar Free Chewing Gum
Refresh your day from tongue to toe with spearmint gum
Never run out with 10 packs of long-lasting, refreshing flavor
Share sugarfree chewing gum for more sweet moments
Invigorate your day with the fresh sensation of green mint

Beef Jerky

Bestseller No. 1

Jack Link's Beef Jerky, Teriyaki, ½ Pounder Bag - Flavorful Meat Snack, 11g of Protein and 80 Calories, Made with Premium Beef - 96 Percent Fat Free, No Added MSG or Nitrates/Nitrites

GOOD SOURCE OF PROTEIN: Protein is an essential part of your diet and Jack Link's Beef Jerky is a delicious way to get more every day. With 11 grams of protein and 80 calories per serving, it's a must-have snack to help keep you satisfied and energized all day
MADE WITH 100% PREMIUM BEEF - Jack Link's Beef Jerky is made from lean cuts of 100% premium beef, then seasoned with simple ingredients like water and salt. Our delicious beef jerky is 96% fat free with no added MSG or Nitrates/Nitrites
FULL OF FLAVOR – Each strip of Teriyaki Beef Jerky is marinated with our special blend of soy, garlic, ginger and brown sugar. Then, it's slow cooked over hardwood smoke for the perfect smoky flavor. It's the perfect combo of East meets West delicious!
PERFECT EVERYDAY SNACK – How did ancient civilizations fuel themselves to build pyramids or win sword battles? Meat. If it worked for them, Jack Link's beef jerky can definitely help you power through a late day at work, tackle your honey-do list or fuel a workout
RESEALABLE SHARING SIZE –The jumbo 1/2 pound sharing size bag is resealable so your beef jerky will always be fresh and as delicious as the first time you opened it! It's perfect for sharing with family and friends or to stash in your secret spot and keep all to yourself

Rice Kripsies Treats

Bestseller No. 1

Rice Krispies Treats Marshmallow Snack Bars, Original, Kids Snacks, School Lunch, 0.78 oz Bars (54 Bars)

An irresistible dessert snack for any occasion; Great for gift baskets, school lunches, afternoon snacks, and late-night bites
Puffed, oven-toasted rice cereal plus the sweet flavor of soft marshmallows in every delicious bite
Family-favorite, on-the-go snacks that are perfect for both kids and adults; no high fructose corn syrup
Conveniently packaged and ready to travel; Pop a square in your kid's backpack or lunchbox; Stow some in your tote bag or desk for anytime snacking
Includes 1, 41.9-ounce bulk snack box with 54, 0.78-ounce Kellogg's Rice Krispies Treats; Individually wrapped for freshness and great taste

Instant Mac And Cheese

Bestseller No. 1

[OTTOGI] MAC & CHEESE SPAGHETTI, Extra Creamy, instant cup ramen (130g) - 2 Pack

Asian Style Noodle Ramen - The most popular product of Korean instant noodle. Gourmet macaroni and noodle with Mascarpone Cheese. Mac & Cheese with its milky cheese has a delectable cheesy goodness you can't get away from.
Number One consumer's satisfaction ramen: Ottogi ramen have the number 1 consumer's satisfaction reviews in Korea. Ottogi America with the exclusive knowledge and experience of Korean foods. The top priority is serving America with a diversity of Traditional High quality Korean food products. Ottogi brand which have been proven their #1 marketability and popularity from many other countries in Asian and Eastern Europe.
Mac & Cheese Spaghetti: Extra Creamy Mascarpone Cheese with macaroni & waveless noodle. Ideal meal for breakfast and lunch time
0% TRANS FAT, 0% CHOLESTEROL
Easy to make, ready to eat in minutes. Microwavable and very convenient on the go food.

Chicken Salad (in foil paper)
Packets of Hot Cider
Sausages

Bestseller No. 1

CharcutNuvo: Organic Beef Sausage Variety Pack - 10oz, 5 Pack - Organic, Paleo, Non-GMO - Cooked, Grass-Fed, USA Beef - No Antibiotics, Hormones, Gluten, Dairy or Added Sugar - No Nitrites or Nitrates

GRASS-FED QUALITY WITH THE TOP VARIETY: Enjoy our top, fan-favorite, organic, paleo, and U.S. grass-fed beef sausages including our Beef Andouille Sausage, Polish Beef Sausage, Smoked Beef Bratwurst, Beef Hot Links Sausage, and Uncured Beef Frankfurters.
REAL, ORGANIC INGREDIENTS: Our organic sausage links are made with consciously sourced, quality, grass-fed and paleo U.S. meats, and real ingredients that are Non-GMO and contain zero hormones or antibiotics. We never use artificial ingredients and our sausages don't contain any added sugars, gluten, dairy, nitrites, or nitrates.
SLICE AND SERVE: Each sausage comes fully cooked and smoked to perfection, so you can have an easy, delicious meal ready in minutes.
THE ULTIMATE SAUSAGE SNACK: Take gatherings, picnics, or office parties with family and friends to the next level with our high-quality, USA-raised, paleo, grass-fed, and non-GMO sausage.
100% SATISFACTION GUARANTEE: If you don't absolutely love this product simply reach out so we can make it right.

Salsa

Bestseller No. 1

Casa Sanchez, Salsa Medium, 15 Ounce

SERVING SIZE EQUALS TWO TABLESPOONS
SERVING SIZE EQUALS TWO TABLESPOONS
SERVING SIZE EQUALS TWO TABLESPOONS
SERVING SIZE EQUALS TWO TABLESPOONS
SERVING SIZE EQUALS TWO TABLESPOONS
Entertainment Military Care Package Ideas
The physical and mental stress more than anything else has unpleasant implications in the lives of soldiers. This is why it is always a good idea to include relaxing and fun items in their Care Package as a form of distraction. Here are some ideas:
Wellness Military Care Package Ideas
Having a stable health is crucial to performance, and most importantly for soldiers who require agility more than anything else. Here are some helpful items to keep their energy levels up and their bodies active and healthy as it should be:
And that's it, 200+ of the most appreciated items to include in a care package to the military.
Now, your turn – what do you think should be included in a care package for a soldier? What items should be avoided?