Have you ever been away from home? I mean really far away.
Not to another city, and not for a week or two.
Another country, a whole different world, for more than a year.
Away from your loved ones; your baby boy, your cute daughter, your lovely wife or girlfriend, your lovely parents, your annoying siblings and your awesome friends.
As a soldier, being stationed halfway around the world is tough, especially because of the people you left back home.
But one of the few things that make being away from your loved ones easier is receiving a care package from them.
Whether it is personal Items like body wash, lip balm, socks or food items like Beef jerky, barbecue sauce, or sentimental items like letters, a picture collage or a USB drive containing videos of what you've missed, these care packages really do make a huge difference.
In this article, we have compiled 200+ useful and thoughtful military care package ideas for your next box. With these items in your care package, your special one in the army would be thrilled to receive your next care package.
How to Make a Military Care Package
Start out by checking shipping instructions as well as limitations before anything else. This way, you can find out what can be included in the care package and what is not allowed. For example, items such as alcohol and illegal substances like hard drugs are strictly prohibited.
Next, decide where to buy your items and what sort of care box to use. They are usually obtained at post offices and online shipping companies. You can also choose to fill your care package yourself or order a care package online.
Ensure only necessities are included and avoid over-stuffing your Care Package.
Seal all items properly, keeping aside food and treats from substances with a strong odor. Also, make sure to fill the customs form usually at Postal Offices.
Remember to ensure that your shipping information is accurate, including the first and last name of the receiver, the unit as well as a full zip code to ensure your package gets to the right hands. A full list of items being sent in the Care Package would be requested for as well.
Lastly, it is always a good idea to include a good mix of personal items, non-perishable food items and sentimental items in a military care package.
List of items for care packages for soldiers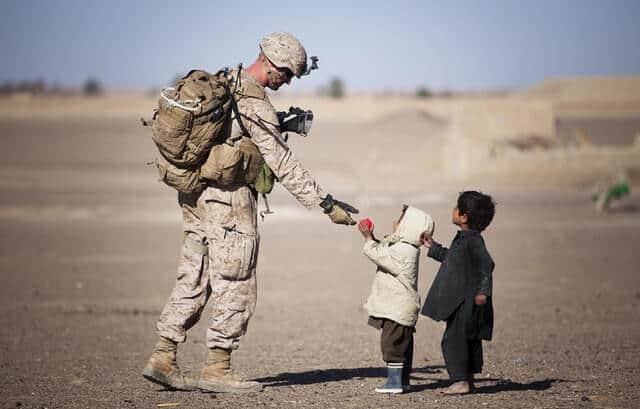 Finding the right deployment gift for a friend in the army or a military boyfriend could be tough, the following is a list of great items you can include in care packages for soldiers.
We have categorized the list of military care package ideas into:
Personal Military Care Package Ideas: Personal items such as socks, letters, etc.
Treats Military Care Package Ideas: Food and snack items; remember to avoid perishable food items.
Entertainment Military Care Package Ideas: Items such as loaded mp3 players, ebooks etc.
Wellness Military Care Package Ideas: Health-related items such as band-aids, lip balms, topical creams etc.
Personal Military Care Package Ideas
Soldiers usually work under the most uncomfortable circumstances, in deserted places where even the basic essentials are scarce. Here are some great ideas of personal items that are always in need by soldiers:
Socks
Open When Letters
Knit Hats
Notepad and pens
Hand-held mini fan
Lens cleaning cloth
Twizzlers
Floss
Coffee mug
Small Hot Pots
Travel Mugs
Moleskin (for boots)
Shoelaces
Gun Cleaning Supplies
Mini Alarm clocks
Gel liners
Ziplock bags
Inflatable pillow
Toilet paper
Photo Pendant of Home
Fingerless gloves
Mints
Packets of peanuts
Multi-grater
Pocket Knife
Laundry Detergent
Stamps
Loofah Sponges
Warm blankets
Napkin
Washcloth
Bedsheets
Hand Lotion
Paper plates
Pillowcase
Lip balm
Shampoo/Conditioner
Disposable Razors
Pack of cotton T-shirts
Beanies
Shower gel
Air Fresheners
Vegetable Spiralizer
Deodorant/Body Spray
Hot water bottle
Shaving Cream
Cotton Buds
Nail File
Hair comb/brush
Baby wipes
Microwave plates
Shower Towels
Mini Multi-tool
Duct tape
Aluminum foil
Combination lock
Mouthwash
Pocket Calendar
Scarves
Undershirts
Mini Flag
Treats Military Care Package Ideas
Another necessity that is always in need at military camps is good food. This is usually hard to find or very expensive to purchase. It is always a great thing to receive edibles in such situations. Here are some ideas for your next Care Package:
Instant Coffee
Packets of BBQ sauce
Crackers
Dried banana chips
Bottle of Mustard
Gummy bear
Cans of cheese dip
Granola bars
Flavorings for water
Peppermint tea
Ravioli
Dried Apple Slices
Smoked Oysters
Sugar Packets
Jelly Beans
Nutella
Bottle of Ketchup
Cheese Crackers
Licorice
Sunflower seeds
Pringles Chips
Gatorade Powder
Fruit snacks
Powdered Energy Drink Mixes
Coffee Creamer
Energy Bars
Nuts
Seasoned salt
Microwave Popcorn
Tuna fish
Cocoa powder
M & M Candies
Soup
Pack of marshmallows
Oreo Cookies
Protein Powder
Hot Chocolate Packets
Herbal Tea
Hot Sauce
Mints
Ramen Noodles
Protein Pancake Mix
Redbull
Dried fruits
Instant Oatmeal
Peanut butter
Gum
Beef Jerky
Rice Kripsies Treats
Instant Mac And Cheese
Chicken Salad (in foil paper)
Packets of Hot Cider
Sausages
Salsa
Entertainment Military Care Package Ideas
The physical and mental stress more than anything else has unpleasant implications in the lives of soldiers. This is why it is always a good idea to include relaxing and fun items in their Care Package as a form of distraction. Here are some ideas:
Magazines
Kraft Gift Box
Mini board games
Webcam for video calls
Sketch Pad
Stress Balls
Journals
Wireless Headphones
Mp3 Player
Jigsaw Puzzles
Book Light
E-book Gift Cards
Flash Drive
Adult Coloring Books
Gift Cards
Mini Frisbee
Inspirational Paperback Books
Water balloons
Handheld Electronic Gaming Device
Disposable Cameras
Comic Books
Word Search
Card games
Phone cards
Scrapbook of recent activities at home
GPS Watch
Dice
Dominoes
Bouncy balls
Cracker Jacks
Mitts
Crossword puzzles
Hacky Sack
Mini Squirt Guns
Mini Tumbling Tower Game
Waterproof Earbuds
CD Player
Yo-Yo's
Travel-size Checkers
Harmonica
Batteries for electronic devices
Recent Newspapers
Music CDs
Wellness Military Care Package Ideas
Having a stable health is crucial to performance, and most importantly for soldiers who require agility more than anything else. Here are some helpful items to keep their energy levels up and their bodies active and healthy as it should be:
Health Books
Band-Aids
Kool-Aid Packets
Sunglasses
Lozenges
Running Belt
Multivitamin
Safety Goggles
Aloe Vera Gel
Eye Drops
Athlete's Foot Cream
Activity Tracker
Face wash
Trekking Socks
Hand-held Head Massager
Rapid Relief Cold Packs
Hand and Foot Warmers
Pain-relieving topical cream
Winter Hats
Aromatherapy oils
Exfoliating body scrub
Insect Repellent cream
Antacids
Cough drops
Foot massager
Aspirin Packets
Eat Dirt book
Fly swatters
Eye Mask
Hot water bottles
Cooling Bandanas
Dust Masks
Heat Wraps
Mosquito net
Fly Tape
Inflatable Neck Pillow
Foot Powder
Body Massage Tool
Running Gloves
Acumobility Ball
EmergenC
Watch and Heart Rate Monitor
Nasal Spray
Cod-liver oil
Water Purification Tablets
Non-Drowsy Cold Medicine
Foam Roller
Running Shorts
Absorbent Grips
Smartphone Running Armband
Ropeless Jump Rope
Shoulder strap pad
Bug Spray
And that's it, 200+ of the most appreciated items to include in a care package to the military.
Now, your turn – what do you think should be included in a care package for a soldier? What items should be avoided?